Madmen in Authority
With concerns about Italy's public debt growing, Italian populists have taken a page from US President Donald Trump's playbook and threatened to blow up the eurozone if they don't get their way. The European Union must resist the temptation to engage in a dangerous game of chicken.
PRINCETON – In The General Theory of Employment, Interest, and Money, John Maynard Keynes famously worried that, "Madmen in authority, who hear voices in the air, are distilling their frenzy from some academic scribbler of a few years back."
Yet even without prescriptive theories, feigning "frenzy" or madness can also be a plausible, powerful, and rather contagious negotiating strategy. In the early 1970s, US President Richard Nixon adopted the tactic to convince the North Vietnamese that he had his finger on the "nuclear button," and that they had better negotiate a deal to end the war – or else. And in 1986, President Ronald Reagan met with Mikhail Gorbachev in Reykjavik and surprised him by proposing that the United States and the Soviet Union both destroy all of their nuclear weapons.
Whether a crisis is escalating or de-escalating, the madman strategy's effectiveness seems to depend on the extent to which a political leader's "insanity" is ambiguous – so much so that even historians won't know where to draw the line between sincerity and artifice.
With President Donald Trump's on-again, off-again approach to a nuclear summit with North Korea, along with his bluster over new sanctions against Iran, the madman strategy seems to have made a dramatic comeback. It is now being adopted by many other leaders, and quickly spilling over into new domains, including debates about reforming the European monetary and political system.
Recently, the eurozone debt crisis, dormant since 2012, has looked as though it could erupt again. With interest rates so low, the Italian government's massive public debt has appeared sustainable. But with financial markets increasingly jittery over political developments in Italy, it is easy to imagine a world in which interest rates rise and remain elevated, in which case the Italian debt could pose a serious threat to the eurozone, and even to the global economy.
Investors' fear of another eurozone debt crisis have been spiking since the populist Five Star Movement and right-wing League party failed to form a government after months of post-election gridlock. The M5S/League coalition, which won a combined parliamentary majority in the March 4 election, have clearly taken a page out of the Trump playbook, hoping to use Italy's debt to extract concessions from the EU.
Will it work? The first, and most basic, component of the madman strategy is an ability to introduce a level of uncertainty that is damaging to other countries. This is why the strategy doesn't really work for smaller countries, as Greece's new government in 2015 quickly learned after dabbling in brinkmanship with its European creditors.
Assuming a country is big enough to rattle global markets (as Italy clearly is), three other factors determine the success of a madman strategy. For starters, its government must be able to convince everyone else that it is being driven toward "insane" acts by voters. The idea is that it is actually irrational for a democratically elected government to act prudently if doing so means inviting punishment from voters who are committed to myopic but deeply felt positions. In the case of Italy, populists capitalized on voters' disenchantment with a center-left party whose pro-European stance had failed to deliver results.
There must also be a visible division between "hawks" and "doves" within the madman government. In any negotiation, the other parties will offer concessions to strengthen the doves, knowing full well that a failure to do so will enrage the hawks, who will then move forward with their doomsday plans. With Trump, this dynamic exists within a single personality that is prone to violent, unpredictable swings between openness and anger. But it also exists within Trump's cabinet, with John Bolton, the hardline national security adviser, playing the role of the hawk.
In the case of the M5S/League coalition, a hawk was needed as a counterweight to Italy's pro-EU president, Sergio Mattarella. That is why the populists' choice for Minister of Economy and Finance was Paolo Savona, an 81-year-old economist whom the former Italian economy minister Vincenzo Visco has described as "radically and suicidally anti-German." When Mattarella rejected the nomination, the M5S/League quit the talks, precipitating the current crisis.
Finally, to succeed, a madman government needs to have a plausible war plan for causing a general disruption. For example, the M5S/League coalition suggested that it might issue a parallel currency, which lent further credibility to its threat of pursuing fiscal expansion in defiance of EU rules.
As more governments, parties, and leaders come to imitate the madman strategy, the scope for agreement in any negotiation will narrow, and will become more likely. In fact, hardline German economists have already responded to Italy's political crisis by circulating petitions to block any eurozone reform that could be regarded as a concession.
But exposing the dangers of the madman strategy will not be enough to defeat it. Voters also must be convinced that better alternatives are available, and that European integration can still safeguard their interests. In the months before Italy's next election and the EU parliamentary elections in May 2019, EU leaders will have some – but not much – time to show that European integration is about more than political paralysis and economic stagnation.
Otherwise, we might soon be reacquainted with the madman strategy's grim side. Before his abdication in 1918, German Kaiser Wilhelm II did not need to pretend to be unstable; he really was. With a penchant for saber-rattling speeches and outrageous newspaper interviews, he had something in common with America's Tweeter-in-Chief.
In another disturbing historical parallel, he often boasted about his ability to reach agreements with the Russian and British monarchs, to whom he was related. In the event, as the crisis of diplomacy was escalating in July 1914, he suddenly announced a grand new peace initiative. But it was too late. The game of chicken had spread, and the world's leading powers hurtled together toward catastrophe.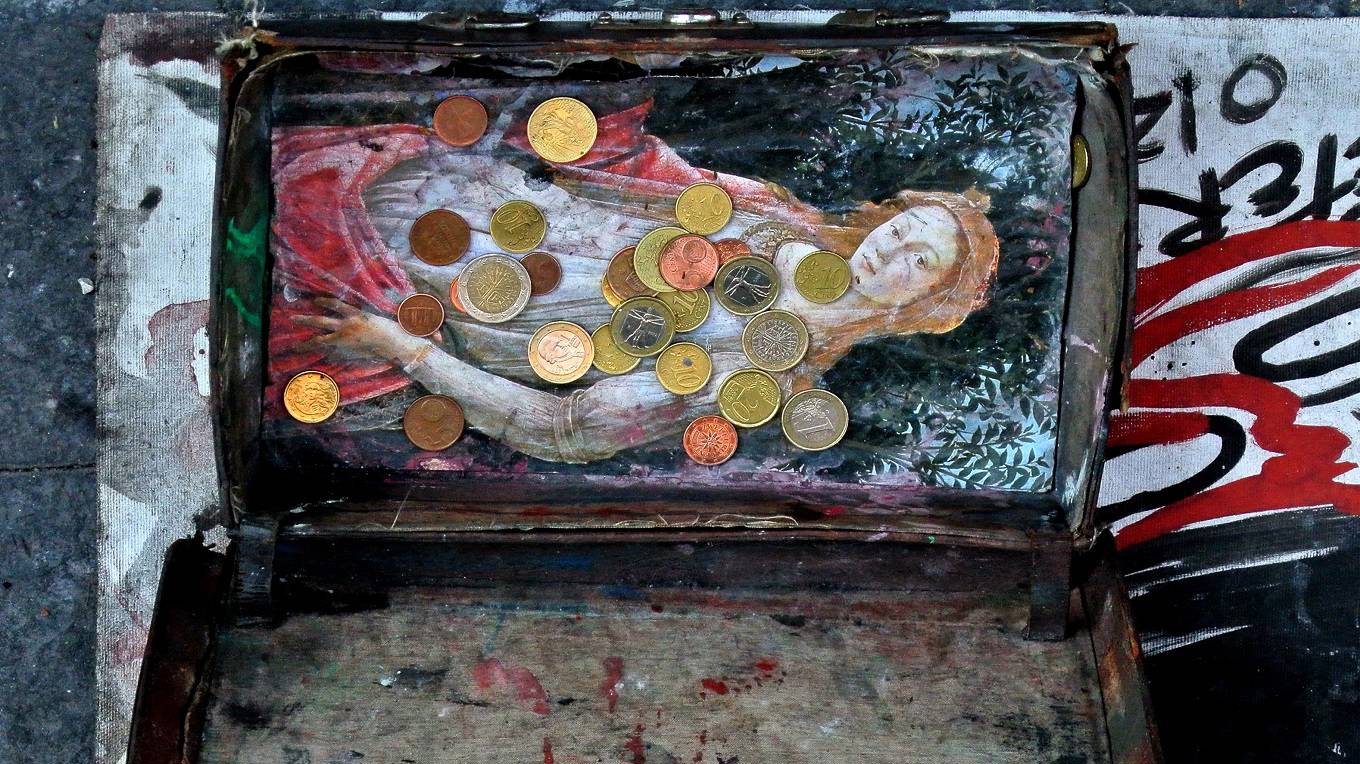 Italy's Slow-Motion Euro Train Wreck
Financial markets have finally woken up to the fact that Italy could soon be ruled by a populist government with designs to take the country out of the eurozone. And, given Italy's tepid economic performance since adopting the single currency a generation ago, there is little reason to think that the current crisis is a one-off event.
NEW YORK – The arrival in power of a populist, Euroskeptic government in Italy has focused investors' minds like few other events this year. The yield differential, or spread, between Italian and German bonds has widened sharply, indicating that investors view Italy as a riskier bet. And Italian equity prices have fallen – particularly in domestic bank shares, the best proxy of country risk – while insurance premia against a sovereign default have increased. There are even fears that Italy could trigger another global financial crisis, especially if a fresh election becomes a de facto referendum on the euro.
Even before Italy's March election, in which the populist Five Star Movement (M5S) and the right-wing League party captured a combined parliamentary majority, we warned that the market was being too complacent toward the country. Italy now finds itself in more than just a one-off political crisis. It must confront its core national dilemma: whether to remain shackled by the euro or try to reclaim economic, political, and institutional sovereignty.
We suspect that Italy will compromise and remain in the eurozone in the short run, if only to avoid the damage a full-scale rupture would cause. In the long run, however, the country could increasingly be tempted to abandon the single currency.
Since Italy returned to the European Exchange Rate Mechanism in 1996 – after withdrawing from it in 1992 – it has surrendered its monetary sovereignty to the European Central Bank. In exchange, it has enjoyed much lower inflation and borrowing costs, resulting in a dramatic reduction in interest payments – from 12% of GDP to 5% – on its massive public debt.
Still, Italians have long been uncomfortable with the lack of an independent monetary policy, and that sense of lost control has gradually overshadowed the advantages of euro membership. The adoption of the euro has had massive implications for the millions of small and medium-size enterprises that once relied on periodic currency devaluation to offset the inefficiencies of Italy's economic system and remain competitive.
The inefficiencies are well-known: labor-market rigidities, low public and private investment in research and development, high levels of corruption and of tax evasion and avoidance, and a dysfunctional and costly legal system and public bureaucracy. And yet several generations of Italian political leaders have cited "external constraint," rather than domestic necessity, when pushing through the structural reforms required for euro membership – thereby reinforcing the sense that reforms have been imposed on Italy.
The loss of monetary sovereignty means there are effectively two chains of political command in Italy. One extends from the German government, through the European Commission and the ECB, down to the Italian presidency, treasury, and central bank. This "institutional" chain of command ensures that Italy meets its international commitments and maintains strict adherence to EU fiscal rules, regardless of domestic political developments.
The other chain of command starts with the Italian prime minister and extends through the government ministries that are responsible for domestic affairs. In most cases, the two chains of command are aligned. But when they are not, a conflict inevitably ensues. Hence the current crisis, which came to a head when the prime minister-designate tried to appoint the Euroskeptic economist Paolo Savona as Italy's next economy and finance minister without first consulting the other chain of command. The appointment was duly rejected by the Italian president.
Let us return to the question of whether Italy will now choose to break free of its straitjacket. Despite the euro's advantages, it has not delivered for Italy economically. Italy's real (inflation-adjusted) per capita GDP is currently lower than it was when the euro experiment began in 1998, whereas even Greece has managed to register growth, despite its depression from 2009 onward.
Some would explain this poor performance by arguing that the eurozone is an incomplete monetary union, and that its "core" countries like Germany drain labor and capital from "periphery" countries like Italy. Others might counter that Italians failed to conform to the rules and standards, and to implement the reforms, upon which a successful monetary union is based.
But the real explanation no longer matters. The prevailing narrative in Italy holds the euro responsible for the country's economic malaise. And political parties that have either openly or implicitly called for leaving the eurozone currently hold a parliamentary majority, and would likely retain it in another election later this year or in early 2019.
If Italians were confronted with the choice of retaining or abandoning the single currency, recent polls suggest that they would initially decide to stay, for fear of a run on Italian banks and public debt, as Greece experienced in 2012-2015. But the long-term costs of remaining in a club dominated by inherently deflationary, German-dictated rules might tempt Italians to leave. That decision could come in the midst of another global financial crisis, recession, or asymmetric shock that pushes several fragile countries out of the euro at the same time.
Like the United Kingdom's Brexiteers, Italians might convince themselves that they have what it takes to succeed on their own in the global economy. After all, Italy has a large industrial sector that is capable of exporting worldwide, and exporters would benefit from a weaker currency. Italians might be tempted to think: Why not escape the euro before those industries fold or end up in foreign hands, as is already happening?
If Italians do eventually go down this path, the immediate costs will be borne by domestic savers, whose nest eggs will be redenominated in depreciated liras. And the costs would be still greater if an Italian exit precipitated another financial crisis with bank holidays and capital controls. Faced with these possibilities, Italians – like the Greeks in 2015 – might blink and stay. But they also might decide to close their eyes and take the plunge.
Though Italy would be better off staying in the eurozone and reforming accordingly, we fear that an exit could become more likely over time. Italy is like a train whose engine has derailed; it might be only a matter of time before the cars behind it start coming off the track.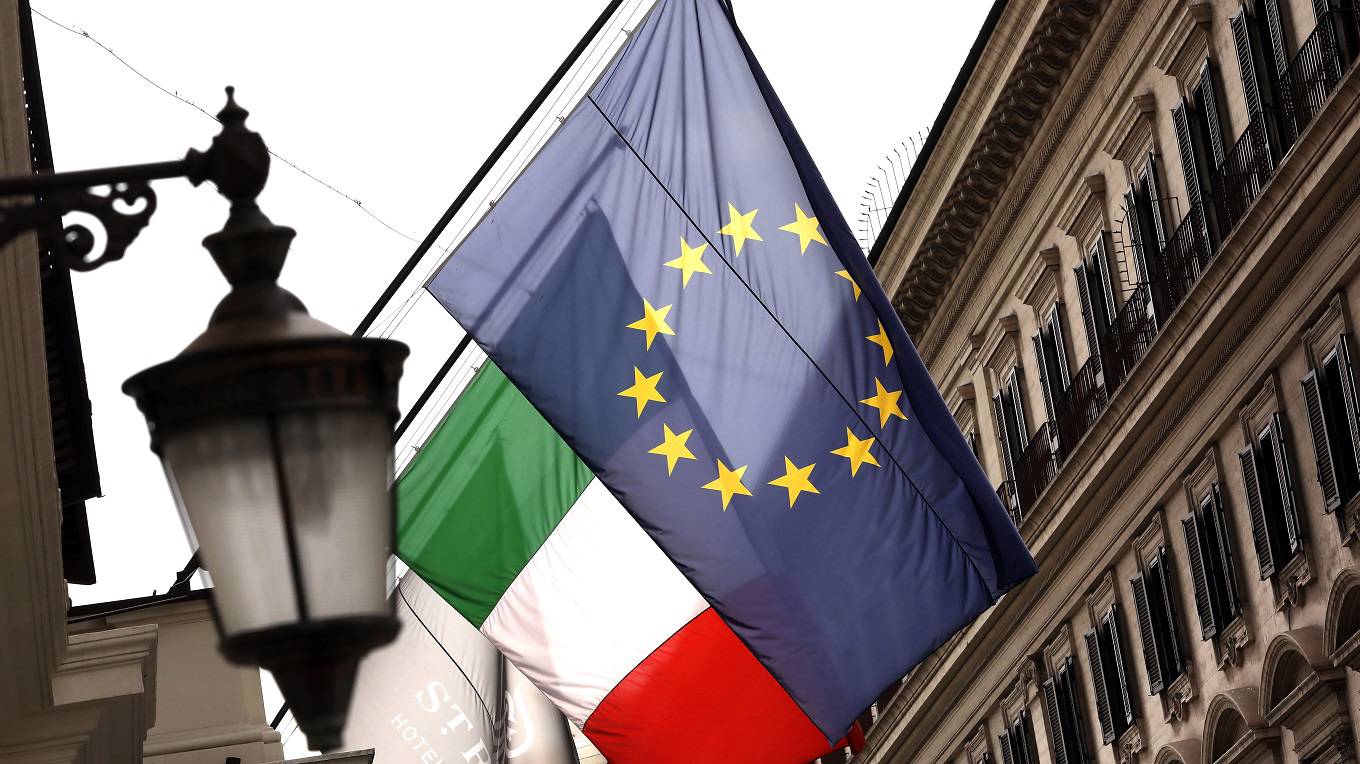 What Italy's Crisis Means for Europe
Though Euroskeptics have failed to form a new Italian government, both Italy and the European Union are entering a new phase of deep uncertainty. In the absence of a robust growth agenda that addresses Italy's structural economic weaknesses, another euro crisis could be in the offing – and this one would be far worse than the last.
MILAN – Since the populist Five Star Movement and the right-wing League captured a combined parliamentary majority in Italy's March 4th election, Italian politics has been at an impasse, with the two parties struggling to form a government. But now, with President Sergio Mattarella having rejected a M5S/League proposal to appoint the staunchly Euroskeptic economist Paolo Savona as Minister of Economy and Finance, the situation has taken a dramatic turn.
Rather than explore more moderate alternatives, the coalition has abandoned negotiations and called for a new election. An attempt to form an interim technocratic administration chosen by Mattarella was followed by a clash with the populists, which could have led to a constitutional crisis and spooked the markets. Now the situation seems to have changed again, and a coalition government is back on the table. But the situation remains highly fluid – and volatile.
This is the first time in Italy's postwar history that a coalition of parties from the political extremes has attempted to form a government without any input from centrist forces. For their part, M5S and the League represent two different, but possibly overlapping, constituencies. Whereas M5S's stronghold is in Italy's poorer south, the League's is in the country's prosperous north, where a large small-business community harbors fears of immigration, globalization, and high taxes.
Neither party represents Italians who want change but still support Italy's membership in the European Monetary Union (EMU). These voters' voice has been relatively subdued, but now Mattarella is tenaciously channeling it.
A new election could take place as soon as this fall, or early in 2019. Either way, it will now essentially be a referendum on the euro. The campaign will be bitter and divisive, and the outcome will not generate greater certainty about the future. Elections to the European Parliament will be held in May 2019, and the situation in Italy will no doubt mobilize nationalist and Euroskeptic parties hoping to change the European Union's political equilibrium.
Given that Italy is a founding EU member state with a long pro-European tradition, it is worth asking how we arrived at this point, and how the EU should respond.
Italy's economic problems are rooted in low productivity, unfavorable demographics, and weak governance in many parts of the country – all of which pre-date the introduction of the euro in 1999. While Italy's mainstream political leaders hoped that eurozone membership would create the conditions for far-reaching economic reform, the euro has instead deprived Italy of the means to engage in competitive devaluation.
With the exception of Greece, Italy has fared worse than any other euro member state since the 2008 financial crisis. But there is no use playing the blame game. Responsibility lies partly with the EU and its pro-cyclical policy rules, but mainly with Italy's past leaders, all of whom failed to address its structural problems.
The Italian story is different from the Irish, Spanish, and Portuguese boom-bust narrative of recent years. Italy experienced neither a credit-fueled boom during its first decade of euro membership, nor a traditional bust. The country's problems are structural and will require a creative reform program that addresses the deep causes of its dismal economic performance over the past 20-plus years. Unfortunately, neither EU-recommended fiscal discipline nor populist-style fiscal profligacy will fix this fundamental problem.
Instead, Italy needs aggressive action to help the truly productive parts of the economy grow faster and exploit potential external demand. Rather than designing industrial policies to subsidize the losers, Italy should be providing opportunities for new market entrants, to reverse the high rate of emigration by skilled young people. Italy also needs more public investment in infrastructure and education, which will require addressing corruption, inefficient judicial processes, and ineffective local institutions – problems that have dogged Southern Italy, in particular.
Beyond this domestic agenda, Italy also needs to pursue reforms vis-à-vis the EU, starting with a relaxation of constraints on public spending for pro-growth investments and new partnerships. More investment will require additional fiscal space. But, more importantly, Italy and the EU both need new ideas, and more trust on each side.
Of course, whether the EU would even engage in such a discussion in the absence of credible Italian leadership remains an open question. EU rules cannot easily accommodate the problems of a country that is unable to consolidate its debt as a result of structurally weak growth – even if it has run large primary surpluses for years.
More broadly, whereas the discussion about reforming eurozone economic governance has long focused on enhancing risk-sharing mechanisms to strengthen resilience against economic shocks and financial crises, that emphasis is somewhat beside the point in Italy's case, because it offers no cure for structural weakness. Addressing the latter will require deeper EU-level cooperation on a growth agenda, which presupposes a formal deal on the timing and schedule of fiscal consolidation.
The economic agenda proposed by Italy's populist parties is fanciful and unconvincing. But that is no excuse for the EU to maintain the status quo. It is time for EU leaders to start thinking outside the box to formulate a growth strategy for the bloc's fourth-largest member state. At this point, Italy looks more like Japan than Spain or Portugal, and policies need to reflect that fact.
Italy and the EU are at an inflection point. In the absence of concerted action, we may well be sleepwalking toward another euro crisis – one that would be much harder to overcome than the last, and which could threaten the current composition of the EU itself.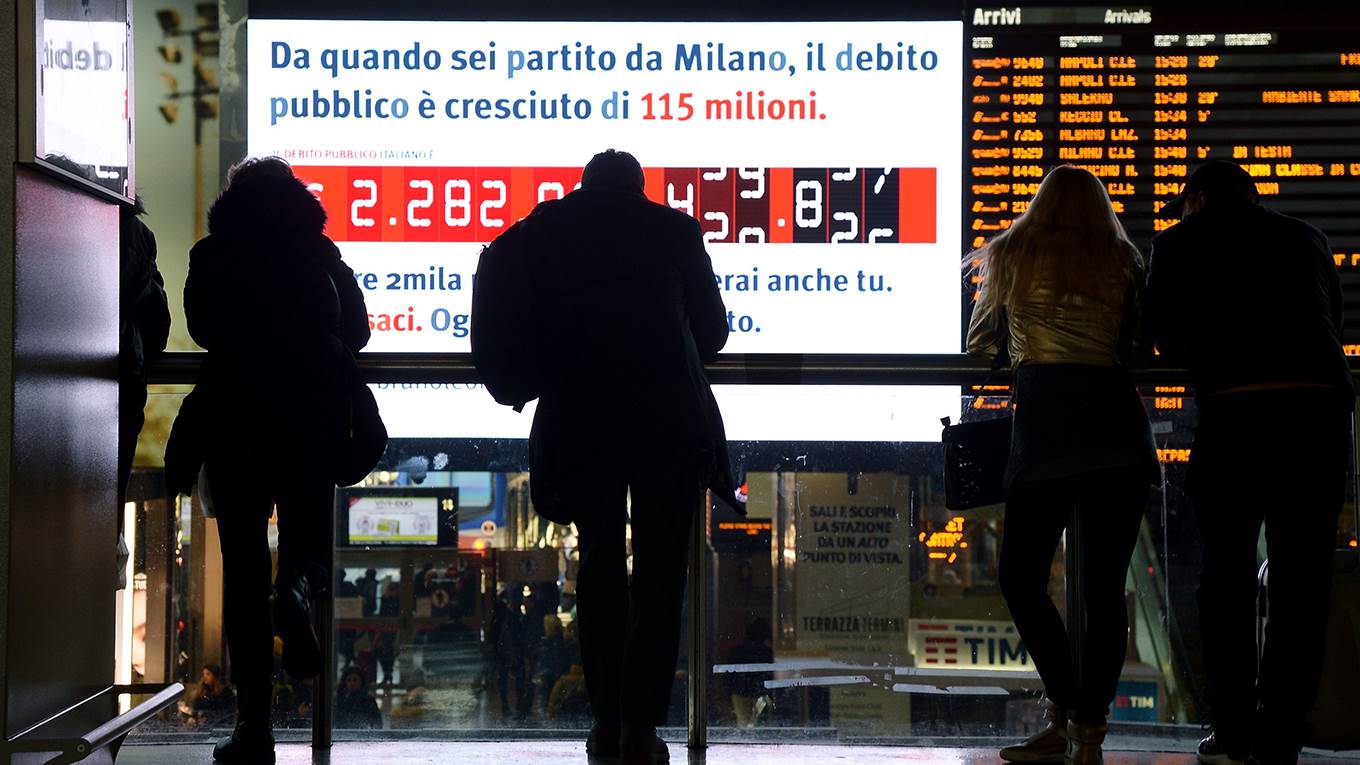 Italy's Long, Hot Summer
Severe political uncertainty, chronic slow growth, and a sovereign-debt level currently hovering around 160% of GDP already is enough for Italy to trigger a debt crisis. And there is no plausible resolution that would not generate additional risks and complications.
STOCKHOLM – The political upheaval and social unrest fueling the current crisis in Italy should surprise no one. On the contrary, the only uncertainty was when exactly matters would come to a head. Now they have.
Italy's per capita GDP in 2018 is about 8% below its level in 2007, the year before the global financial crisis triggered the Great Recession. And the International Monetary Fund's projections for 2023 suggest that Italy will still not have fully recovered from the cumulative output losses of the past decade.
Among the 11 advanced economies that were hit by severe financial crises in 2007-2009, only Greece has suffered a deeper and more protracted economic depression. Greece and Italy were the two economies carrying the highest debt burdens at the outset of the crisis (109% and 102% of GDP, respectively), leaving them poorly positioned to cope with major adverse shocks. Since the crisis erupted a decade ago, economic stagnation and costly banking weaknesses have propelled debt burdens higher still, despite a decade of exceptionally low interest rates.
Greece has already faced more than one "credit event" and, while Italy has also had a couple of close calls, the spring of 2018 is turning out to be its most tumultuous episode yet. The summer will probably be worse, bringing Italy closer to a sovereign debt crisis.
On the surface, general government debt appears to have stabilized since 2013, at around 130% of GDP. However, as I have stressed here and elsewhere, this "stability" is misleading. General government debt is not the whole story for Italy, even setting aside the private debt loads and the recent renewed upturn in nonperforming bank loans (a daunting legacy of the financial crisis).
When evaluating Italy's sovereign risk, the central bank's debts (Target2 balances) must be added to those of the general government. As the most recent available data (through March) show, these balances increase the ratio of public-sector debt to GDP by 26%. With many investors pulling out of Italian assets, capital flight in the more recent data is bound to show up as an even bigger Target2 hole. This debt, unlike pre-1999, pre-euro Italian debt, cannot be inflated away. In this regard, it is much like emerging markets' dollar-denominated debts: it is either repaid or restructured.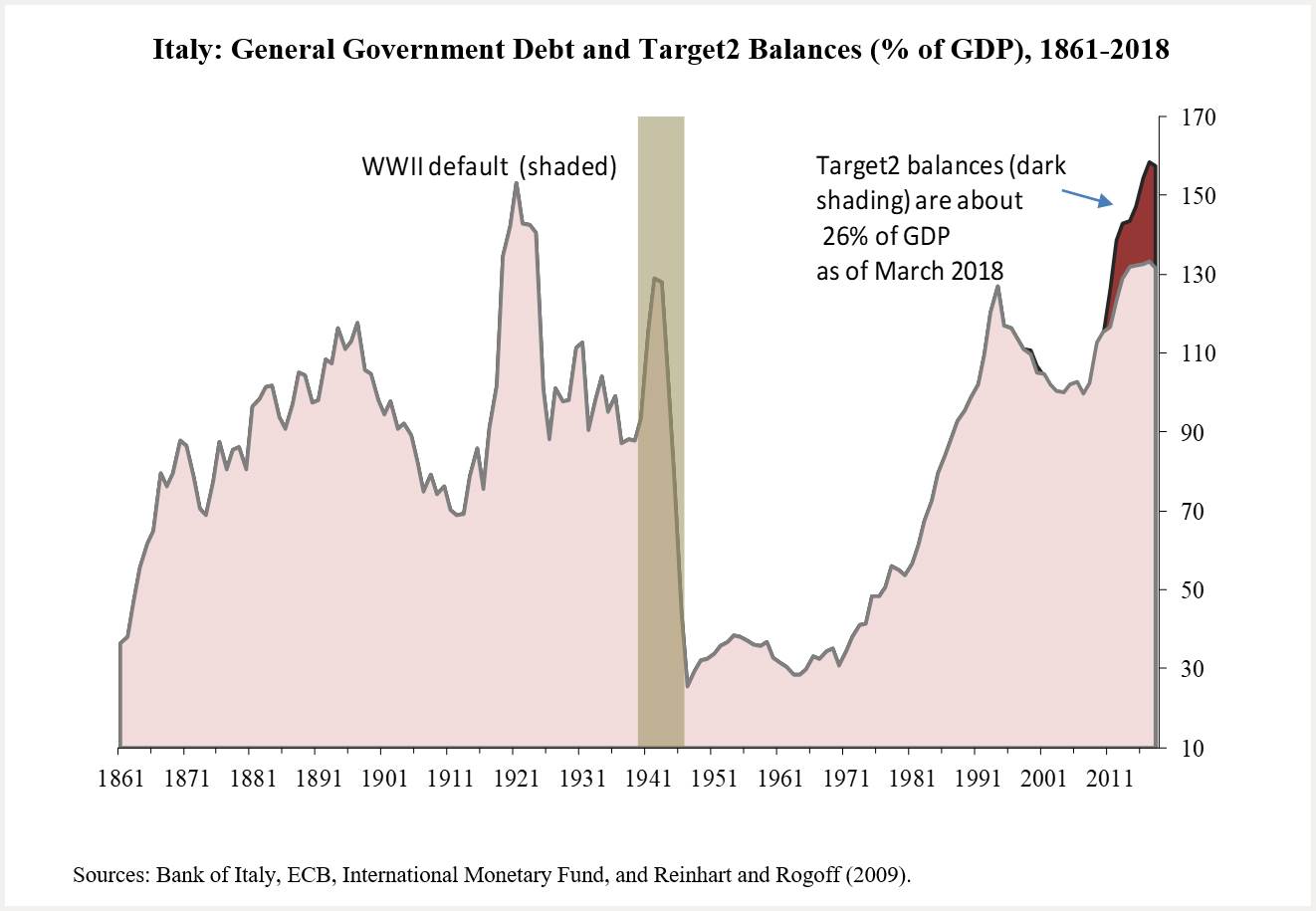 Severe political uncertainty against a backdrop of chronic slow growth and a sovereign-debt level currently hovering around 160% of GDP already is enough to trigger a debt crisis. Adding to these fundamentals, populist rhetoric about introducing a quasi-currency or small-denomination IOUs (presumably to finance ambitious spending plans and larger budget deficits), and about not honoring the Bank of Italy's debt, adds fuel to the financial fire.
Italy's instability is already having international repercussions, and the current bout of global uncertainty is far from over. Close to home, as Italian bond yields climb and oscillate with the rumor mill, yields for Spanish, Portuguese, and Greek bonds have been driven higher. Moreover, the Italian story is unfolding as Greece closes in on an agreement in June about its exit late this summer from dependence on Europe's bailout framework. One can only hope that political contagion from Italy does not further complicate these negotiations.
Farther afield, the weakness in the euro has translated into dollar strength, which means a sustained beating for emerging markets, particularly those with US dollar debt. The flight to quality that accompanies outbreaks of financial turbulence is reinforcing a shift away from some of the riskier asset classes of which emerging markets are a part. International equity markets have not been exempt from contagion.
How do such episodes typically end? The most desirable outcome – rapid resolution that places the source of contagion on a sustainable growth path – appears improbable in Italy's case. Meaningful debt renegotiations are seldom swift: creditors want repayment, and debtors want a write-down. As Christoph Trebesch and I have documented, negotiations seldom get it right on the first – or even the third – try. Initial restructuring agreements tend to fall short of the magnitude needed to achieve debt sustainability.
Still, it is difficult to see how restructuring of Italy's debt can be avoided altogether. The alternative – exclusive reliance on a bailout – is tempting, as it may temporarily calm markets. But a bailout would only kick the can down the road. The fact that Greece's debt problems still have not been resolved should serve as a warning.
In the mildest of scenarios, only Italy's official debt – held by other governments or international organizations – would be restructured, somewhat limiting the disruptions to financial markets. Yet restructuring official debt may not prove sufficient. Unlike Greece (post-2010), where official creditors held the lion's share of the debt stock, domestic residents hold most of Italy's public debt. This places a premium on a strategy that minimizes capital flight (which probably cannot be avoided altogether). At this stage, policymakers should aim for a resolution of Italy's woes that does not generate additional risks and complications. But there is little reason to expect them to hit the target.