The Global Trade Game
History is less likely than game theory to provide useful insights into where the latest trade dispute between the US and China may be heading. The question, ultimately, is whether new tariffs will eventually lead to a more cooperative game, or to a competitive one in which everyone loses.
CAMBRIDGE – The trade confrontation between the United States and China is heating up. After firing an opening salvo of steep tariffs on steel and aluminum, the US administration has released a plan for a 25% tariff on 1,333 Chinese imports – worth about $50 billion last year – to punish China for what it views as decades of intellectual property theft. China has fired back with a plan to slap 25% levies on a range of US goods, also worth about $50 billion. In response to what he labels "unfair retaliation," US President Donald Trump is now said to be considering yet another set of tariffs, covering another $100 billion worth of imports from China. Economists and market analysts are scrambling to figure out what will come next.
One might be tempted to rely on historical experience. But, given today's economic, political, and social conditions, history is likely to be a poor guide. More useful insights come from game theory, which can help us to determine whether this exchange of tariffs will ultimately amount to strategic posturing that leads to a more "cooperative game" (freer and fairer trade), or develop into a wider "non-cooperative game" (an outright trade war). The answer will have significant consequences for the economic and policy outlook, and markets prospects.
The rapid expansion of trade in recent decades has given rise to a web of cross-border inter-dependencies in production and consumption. Supply chains now can have as many significant international links as domestic ones, and a substantial share of internal demand is being met by products partly or wholly produced abroad. As technological innovation further reduces entry barriers for both producers and consumers, the proliferation of these linkages becomes even easier, amplifying what already is essentially a spaghetti bowl of cross-border relationships and dependencies.
For the longer-term health of both individual participants and the overall system, these relationships must function effectively, based on a cooperative approach that is deemed credible. If not, they risk resulting in a lower level of growth and welfare. This is why the current confrontation between the US and China has raised fears of serious damage, particularly if it leads to ever-greater protectionism and a wider "trade war." But this outcome is not guaranteed.
For international economic interactions to work well, they must also be viewed as fair. That is currently not the case among many segments of the global population. As it turns out, two key assumptions on which the virtually unfettered pursuit of economic (and financial) globalization has been based in recent decades have turned out to be over-simplifications.
The first assumption was that the benefits of trade would naturally be shared by most of the population, either directly or because of appropriate redistribution policies implemented in the now-faster growing economies. Second, it was assumed that the major participants in global trade – including the emerging economies that joined this process and, later, its anchoring institutions, such as the World Trade Organization – would eventually embrace the basic principles of reciprocity, continuing gradually to reduce both tariff and non-tariff barriers.
As these assumptions have proved to be excessively optimistic, the standing and sustainability of pro-trade policies have suffered. The result has been a marked rise in nationalist populism – a trend that has led to new trade restrictions, the ongoing re-negotiation of existing arrangements (such as the North American Free Trade Agreement), and a backlash against supranational institutions (such as the United Kingdom's vote to exit the European Union).
So what about the next steps? As currently set up, the international economic order needs to function as a cooperative game, in which each participant commits to free and fair trade; the commitments are credible and verifiable; mechanisms are in place to facilitate and monitor collaboration; and cheaters face effective penalties.
Current trade tensions could conceivably destroy this cooperative game, triggering a shift to a non-cooperative one, with elements of a "prisoner's dilemma," in which self-interested action turns out to be both individually and mutually destructive. But, given that this would mean losses for virtually all countries, it may be possible to avoid it, with the help of a few targeted policy responses.
For starters, systemically important but not sufficiently open countries – beginning with China – should liberalize their economies more rapidly (particularly by reducing non-tariff barriers) and adhere to internationally accepted norms on intellectual property. Moreover, existing trade arrangements should be modernized as needed, so that they better reflect current and future realities, while companies and others that benefit disproportionately from trade should intensify their pursuit of socially responsible activities. Multilateral surveillance and reconciliation mechanisms – not just at the WTO, but also at the International Monetary Fund and the World Bank – should be revamped, and the functioning of the G-20 should be improved, including through the establishment of a small secretariat that facilitates greater policy continuity from year to year.
Given how many countries have an interest in maintaining a cooperative game, such policy actions are not just desirable; they may be feasible. As they help to create a stronger cooperative foundation for fairer trade, these measures would also constitute a necessary (though not sufficient) step toward countering the alienation and marginalization of certain segments of the population in both advanced and emerging economies.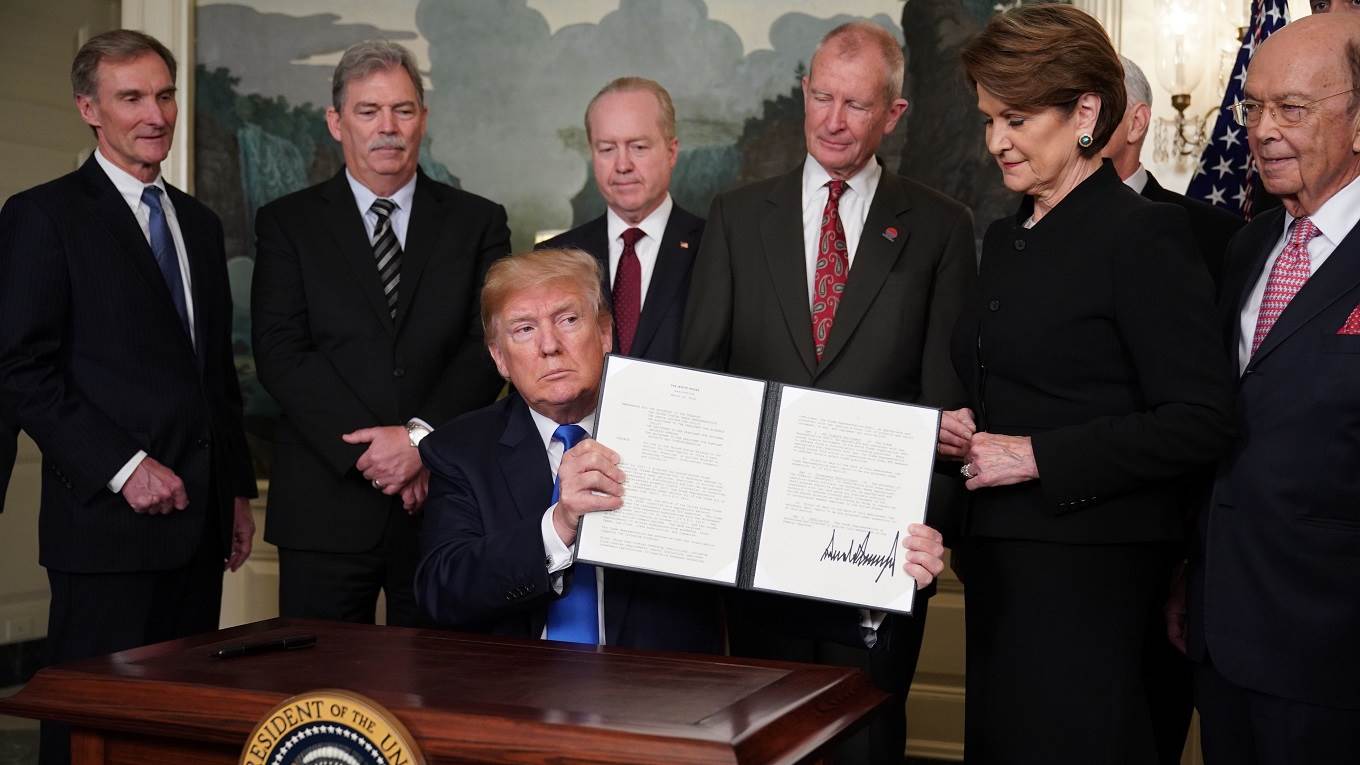 Trump's Trade Confusion
US President Donald Trump's recently announced import tariffs on steel, aluminum, and $60 billion in other goods that the US imports from China each year are in keeping with his record of responding to nonexistent problems. Unfortunately, while Trump captures the world's attention, serious real problems go unaddressed.
NEW YORK – The trade skirmish between the United States and China on steel, aluminum, and other goods is a product of US President Donald Trump's scorn for multilateral trade arrangements and the World Trade Organization, an institution that was created to adjudicate trade disputes.
Before announcing import tariffs on more than 1,300 types of Chinese-made goods worth around $60 billion per year, in early March Trump unveiled sweeping tariffs of 25% on steel and 10% on aluminum, which he justified on the basis of national security. Trump insists that a tariff on a small fraction of imported steel – the price of which is set globally – will suffice to address a genuine strategic threat.
Most experts, however, find that rationale dubious. Trump himself has already undercut his national-security claim by exempting most major exporters of steel to the US. Canada, for example, is exempted on the condition of a successful renegotiation of the North American Free Trade Agreement, effectively threatening the country unless it gives into US demands.
But there are a host of issues in contention, involving, for example, lumber, milk, and cars. Is Trump really suggesting that the US would sacrifice national security for a better agreement on these minor irritants in US-Canadian trade? Or perhaps the national-security claim is fundamentally bogus, as Trump's secretary of defense has suggested, and Trump, as muddled as he is on most issues, realizes this.
As is often the case, Trump seems to be fixated on a bygone problem. Recall that, by the time Trump began talking about his border wall, immigration from Mexico had already dwindled to near zero. And by the time he started complaining about China depressing its currency's exchange rate, the Chinese government was in fact propping up the renminbi.
Likewise, Trump is introducing his steel tariffs after the price of steel has already increased by about 130% from its trough, owing partly to China's own efforts to reduce its excess capacity. But Trump is not just addressing a non-issue. He is also inflaming passions and taxing US relationships with key allies. Worst of all, his actions are motivated by pure politics. He is eager to seem strong and confrontational in the eyes of his electoral base.
Even if Trump had no economists advising him, he would have to realize that what matters is the multilateral trade deficit, not bilateral trade deficits with any one country. Reducing imports from China will not create jobs in the US. Rather, it will increase prices for ordinary Americans and create jobs in Bangladesh, Vietnam, or any other country that steps in to replace the imports that previously came from China. In the few instances where manufacturing does return to the US, it will probably not create jobs in the old Rust Belt. Instead, the goods are likely to be produced by robots, which are as likely to be located in high-tech centers as elsewhere.
Trump wants China to reduce its bilateral trade surplus with the US by $100 billion, which it could do by buying $100 billion worth of US oil or gas. But whether China were to reduce its purchases from elsewhere or simply sell the US oil or gas on to other places, there would be little if any effect on the US or global economy. Trump's focus on the bilateral trade deficit is, frankly, silly.
Predictably, China has answered Trump's tariffs by threatening to respond to their imposition with tariffs of its own. Those tariffs would affect US-made goods across a wide range of sectors, but disproportionately in areas where support for Trump has been strong.
China's response has been firm and measured, aimed at avoiding both escalation and appeasement, which, when dealing with an unhinged bully, only encourages more aggression. One hopes that US courts or congressional Republicans will rein in Trump. But, then again, the Republican Party, standing in solidarity with Trump, seems suddenly to have forgotten its longstanding commitment to free trade, much like a few months ago, when it forgot its longstanding commitment to fiscal prudence.
More broadly, support for China within both the US and the European Union has been waning for a number of reasons. Looking beyond the US and European voters who are suffering from deindustrialization, the fact is that China is not the gold mine it was once perceived to be for American corporations.
As Chinese firms have become more competitive, wages and environmental standards in China have risen. Meanwhile, China has been slow to open up its financial markets, much to the displeasure of Wall Street investors. Ironically, while Trump claims to be looking out for US industrial workers, the real winner from "successful" negotiations – which would spur China to open its markets further to insurance and other financial activities – is likely to be Wall Street.
Today's trade conflict reveals the extent to which America has lost its dominant global position. When a poor, developing China started increasing its trade with the West a quarter-century ago, few imagined that it would now be the world's industrial giant. China has already surpassed the US in manufacturing output, savings, trade, and even GDP when measured in terms of purchasing power parity.
Even more frightening to many in the advanced countries is the real possibility that, beyond catching up rapidly in its technological competence, China could actually lead in one of the key industries of the future: artificial intelligence. AI is based on big data, and the availability of data is fundamentally a political matter that implicates issues such as privacy, transparency, security, and the rules that frame economic competition.
The EU, for its part, seems highly concerned with protecting data privacy, whereas China does not. Unfortunately, that could give China a large advantage in developing AI. And advantages in AI will extend well beyond the technology sector, potentially to almost every sector of the economy. Clearly, there needs to be a global agreement to set standards for developing and deploying AI and related technologies. Europeans should not have to compromise their genuinely held concerns about privacy just to promote trade, which is simply a means (sometimes) to achieving higher living standards.
In the years ahead, we are going to have to figure out how to create a "fair" global trading regime among countries with fundamentally different economic systems, histories, cultures, and societal preferences. The danger of the Trump era is that while the world watches the US president's Twitter feed and tries not to be pushed off one cliff or another, such real and difficult challenges are going unaddressed.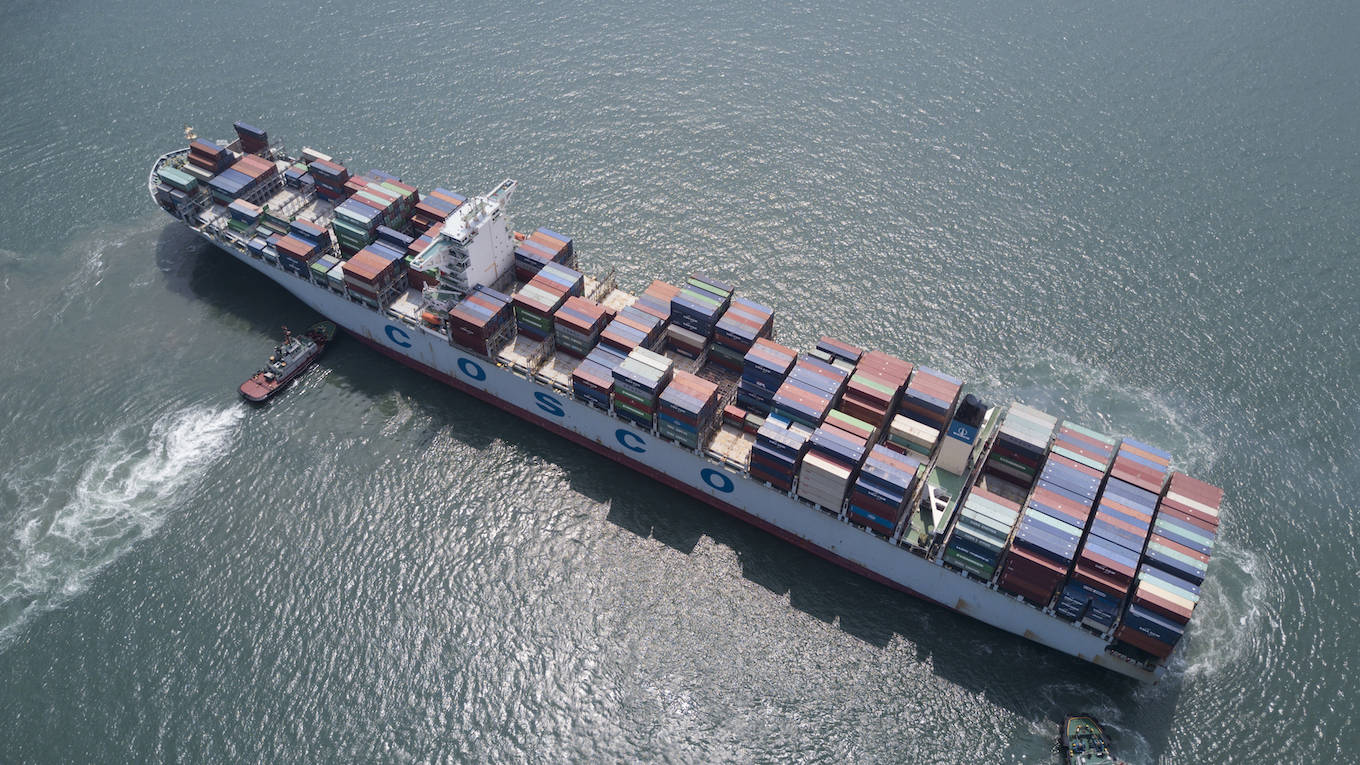 Trade Wars in a Winner-Take-All World
In the old competitive economy, trade wars might be easy to win for a country with a large trade deficit. But, in the emerging winner-take-all economy, a war designed to force the rest of the world to open up, thereby allowing the aggressor's own winning firms to earn higher rents, is an altogether different proposition.
BRUSSELS – With President Donald Trump's new trade tariffs, the United States has been transformed from the global multilateral trading system's leading champion and defender to its nemesis. But it would be very difficult for an erratic politician suddenly to overturn long-established structures and mechanisms, were it not for a more fundamental economic shift.
The first formal manifestation of today's trade tensions occurred in the steel sector – an "old economy" industry par excellence, one that is plagued, especially in China, by enormous excess capacity.
Excess capacity is a recurrent phenomenon in the steel sector, and has always produced friction. Back in 2002, President George W. Bush's administration imposed steep tariffs on steel imports, but relented when a World Trade Organization dispute-resolution panel ruled against the US. Although Trump administration trade hawks remember this ruling as a loss, most economists agree that it was ultimately good for the US economy, which does not gain from taxing a major input for many other industries.
In any case, today's tariffs differ from Bush's in a crucial way: they specifically target China. Under section 301 of the US Trade Act of 1974 – which empowers the president to act if US industry has been damaged by a foreign government's unjustified actions – Trump has imposed steep tariffs on some $50 billion worth of Chinese imports. And China has already hit back, introducing steep tariffs on imports of 128 US-made products.
So why is Trump risking a trade war? His administration's main complaint is that China requires foreign companies to reveal their intellectual property (IP) as a condition of access to the domestic market. And it is true that this requirement can do serious damage to US tech companies – as long as those companies are dominant in their industries.
For a major player in social networks or search engines, for example, the cost of entering a new market is essentially zero. Since the existing software can easily serve many more millions of users, they just need to translate their interface into the local language, meaning that entering a new market mostly means more profits. But if such companies are forced to reveal their IP, their business models are destroyed, as local players can then compete effectively in that market – and potentially in others.
This is not the case for companies operating in competitive industries. For them, producing and selling more abroad costs much more, limiting the marginal profits that can be reaped. In other words, in the more competitive "old" economy, the gains of opening new markets are much smaller. That is why lobbying by potential exporters for better access to markets with high tariffs has usually been muted – hence the lack of resistance to India's protectionism.
This is changing in the new "winner-take-all" tech economy: with IP-owning winners missing out on massive profits when a big market like China is protected or closed, trade conflicts become more acute. Meanwhile, trade policy becomes focused primarily on re-distributing rents, with employment and consumer interests viewed as secondary. (Under competitive conditions, policymakers place a higher priority on maximizing trade's potential to boost productivity and create high-quality employment.)
Monopoly rents translate into high market valuations. And, indeed, the new economy giants have a much higher stock-market value than their "old economy" equivalents. The three largest US tech companies are worth over 50 times more than the three largest US steel producers.
The looming trade war promises to be asymmetric. The US – home to all the dominant tech firms – will struggle to find allies against China. After all, in Europe and Japan, IP-owning companies operate mostly in more competitive industries, meaning that China's demand for that IP will have less of an impact.
Making European support even harder to come by, some European governments are eager to secure their share of rents from US firms. This is the ultimate aim of European efforts to raise taxes on the profits of digital multinationals, though such a tax is unlikely to do the job.
Proponents of that tax argue that profits should be taxed where they are earned, with the implicit argument being that they are earned where the consumers are. But this is an arbitrary criterion. US firms can legitimately claim that their "European" profits are just a return on their IP, which can formally be localized anywhere, preferably in a low-tax jurisdiction. A European tax on these companies is thus unlikely to yield substantial revenues.
In the old competitive economy, trade wars might be easy to win for a country with a large trade deficit. But in the emerging winner-take-all economy, a trade war launched with the goal of forcing the rest of the world to open up, thereby allowing the aggressor's own winning firms to earn higher rents, is an altogether different proposition.
So the US government is essentially arranging its diplomatic guns behind its Internet giants, while Europe and China are baying for their monopoly profits. This is more destructive than a zero-sum game: it will do serious damage to the global trading system, leaving everyone worse off.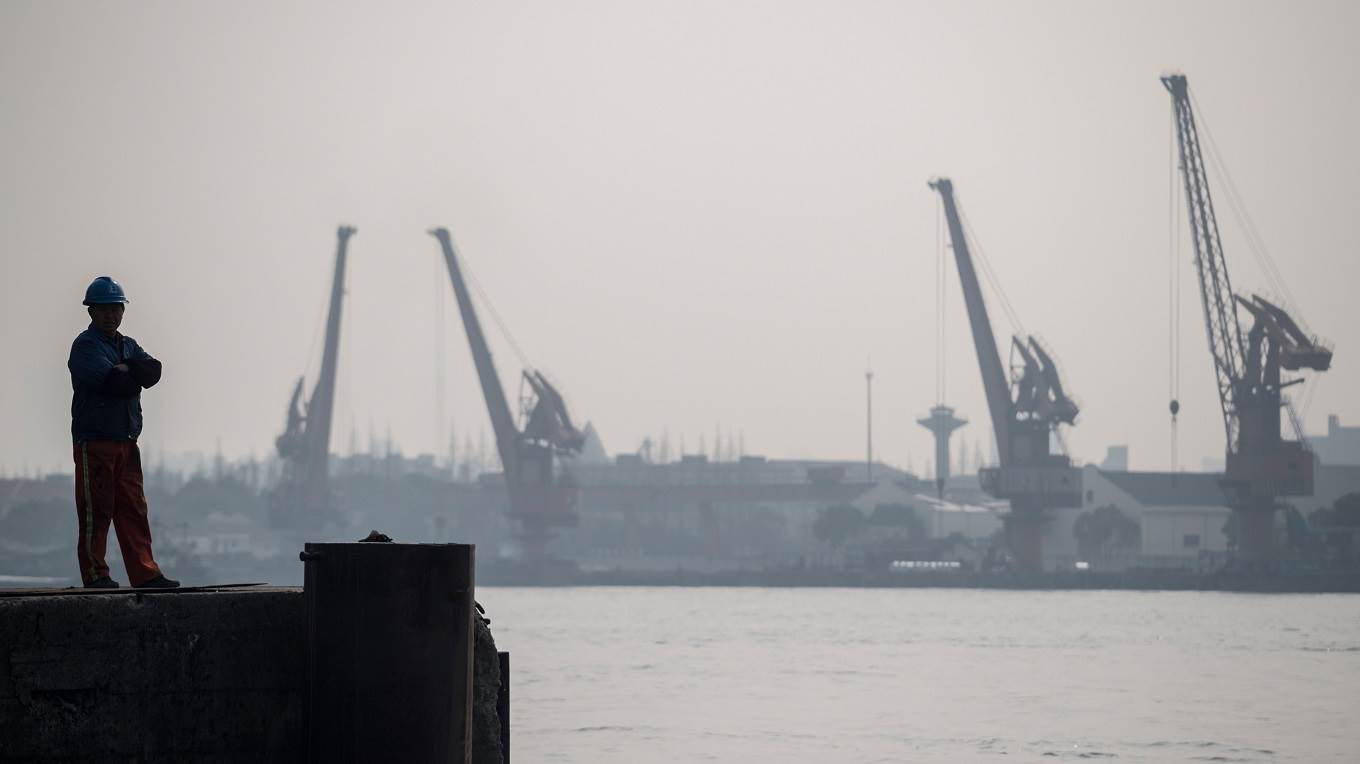 High Tariffs on Chinese Imports Would Weaken America
The US has long capitalized on its position as the world's biggest economic power and largest trader to ensure that trade deals serve its interests. Now, with the US abandoning free trade, China can take up the mantle of promoting it, thereby improving its image and demonstrating its commitment to global governance and development.
BEIJING – Until the 1970s, the United States' foreign trade was largely balanced. Beginning in the middle of that decade, however, the trade surplus for services increased significantly, while the deficit for goods started to expand. This imbalance has become a key concern in American political and economic circles. President Donald Trump argues that the widening US external deficit reflects unfair international rules that benefit its trade partners, with China receiving the most attention.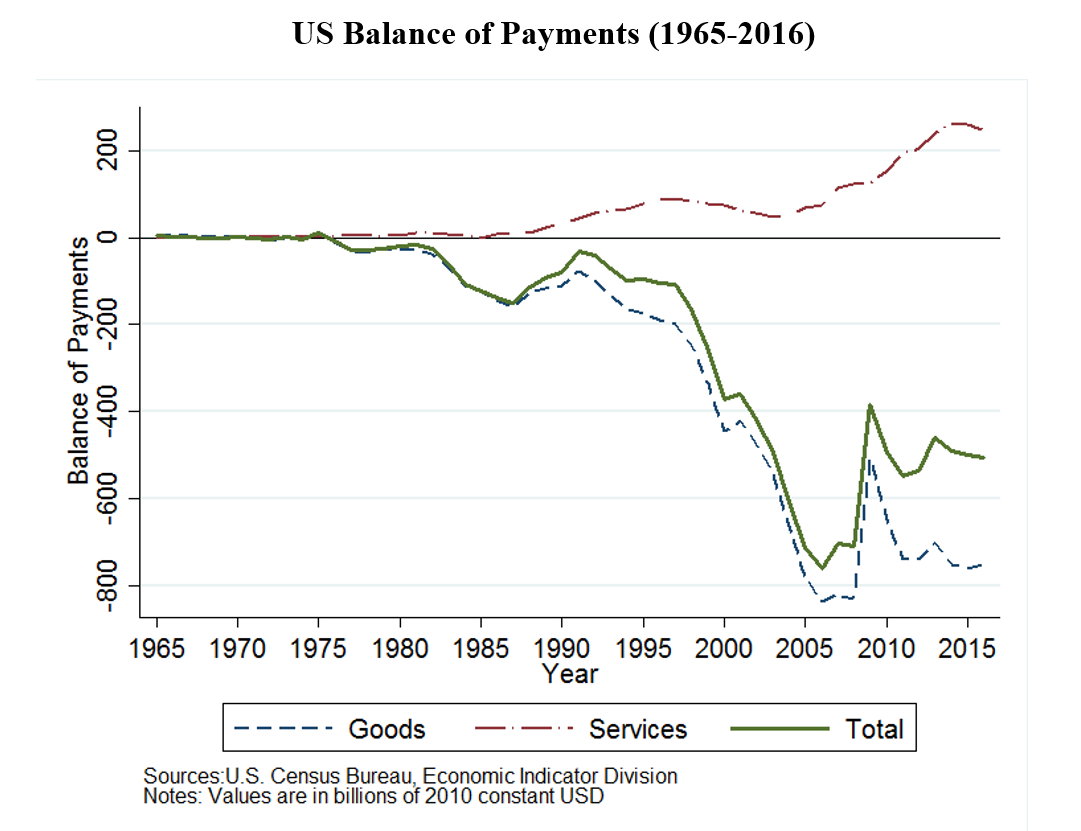 To understand the current China-US trade relationship, two points should be considered. First, until 1985, China had a trade deficit with the US. Then the imbalance shifted, and China registered a $60 million trade surplus with the US, which accounted for 0.3% of the total US external deficit. In 2016, however, the US trade deficit with China amounted to $347 billion, accounting for 44% of its total deficit. Second, the size of other countries' surplus with the US has not increased much. Japan's trade surplus with the US was $103 billion in 1985; by 2007, it had increased to only $130 billion.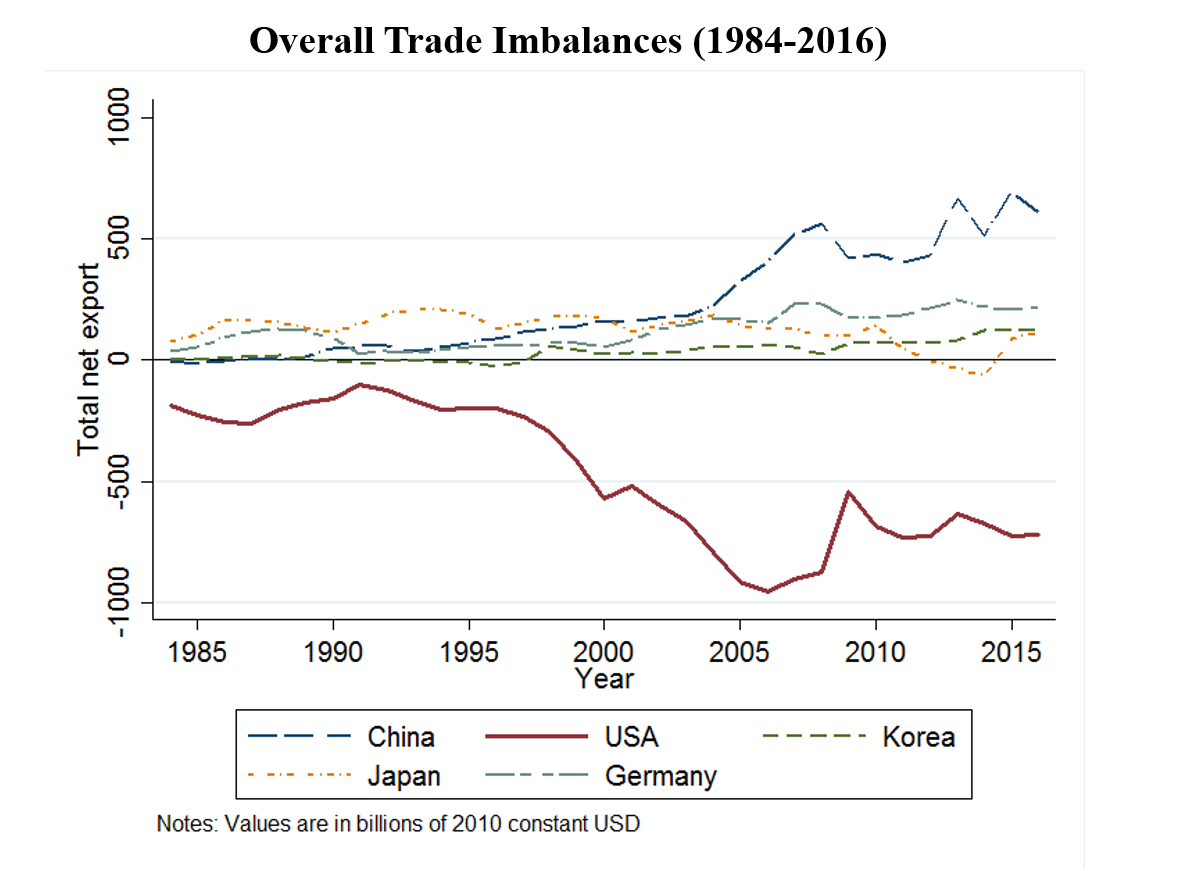 The continued growth of US trade deficits, particularly since the mid-1980s, reflects monetary expansion by the Federal Reserve, which has inflated real estate and stock prices; thanks to the resulting wealth effect, consumption has increased and saving has decreased. At the same time, the US fiscal deficit has increased dramatically, owing especially to debt-financed US military intervention in the Middle East and elsewhere. Because the dollar is no longer pegged to gold and is an international reserve currency, the US can sustain its trade deficit by printing more dollars to support imports.
East Asian economies leveraged their comparative advantage – low wages – to produce labor-intensive consumer goods. Starting from the 1950s and 1960s, the US began importing these products from East Asia and registered a trade deficit with the region.
The increase in China's trade surplus with the US since 1985 has been driven primarily by the evolution of the East Asian economy. As its wage levels rose, the US began importing consumer goods from Japan; then it shifted to importing these goods from the four "Asian tigers" – Hong Kong, Singapore, South Korea, and Taiwan – before finally sourcing most of these imports from China.
However, while China's trade surplus with the US rapidly increased, the contribution of the East Asian region to the US trade deficit declined. As the ratio of its trade deficit with China to its total trade deficit rose to more than 40% from 0.3%, the ratio of its trade deficit with East Asia to its total trade deficit dropped to about 50%, from more than 100% in the early 1990s. In other words, East Asia, including China, is not the main cause of the rapid expansion of the US trade deficit.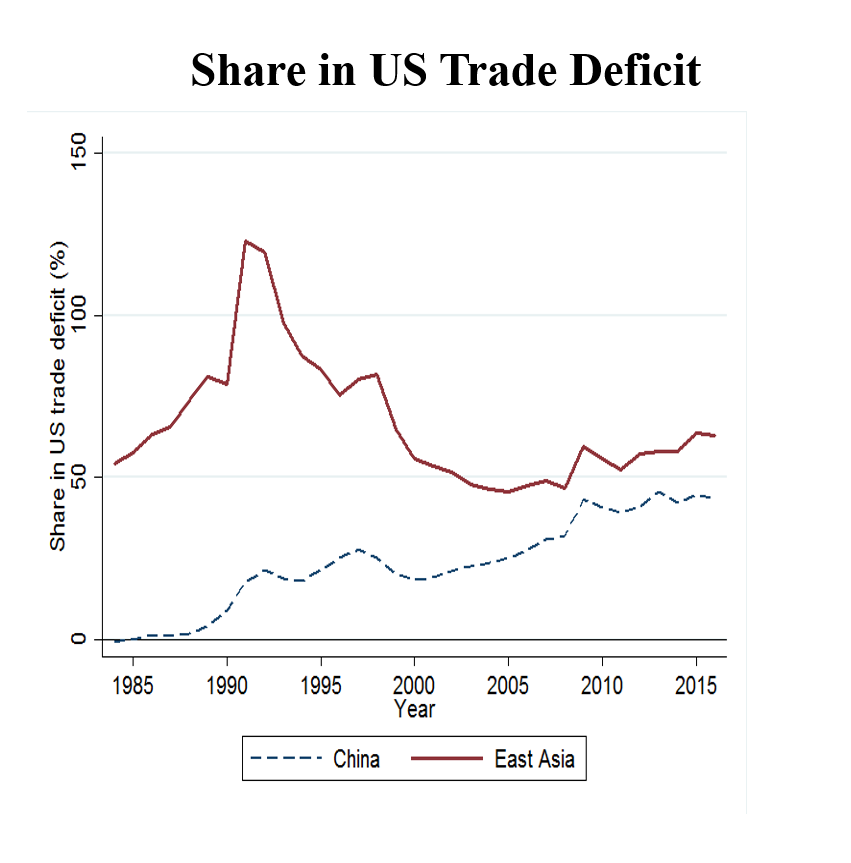 Moreover, the size of China's trade surplus with the US has been systematically overstated, because the capital-intensive components of its labor-intensive manufacturing products are primarily imported from South Korea and Taiwan. This is a direct result of the international production network based on each economy's comparative advantage. As China's labor costs rise, its trade surplus with the US will be transferred to countries and regions that have lower labor costs and are willing to accommodate labor-intensive manufacturing.
One country that will not benefit from this shift in labor-intensive manufacturing is the US, which lost its comparative advantage for such products a half-century ago. The possibility that it will manufacture these types of products again is slim, to say the least.
This implies that US consumers will bear the costs of the Trump administration's tariffs on Chinese imports. US consumer demand for daily necessities will not change simply by raising the costs of imported products. The US will either continue to import from China, with its consumers paying more, or it will import from Vietnam, India, and Africa. However, because prices of goods from these economies are higher, a shift in US imports would cut the bilateral deficit with China, but cause its deficits with these countries to rise. The result, therefore, is the same: the US consumer would pay more for the same products.
The politically motivated imposition of high US tariffs on imports from China would fly in the face of reciprocity, contradict the win-win principle of trade, and jeopardize the interests of US voters. China can take some measures to fight back, such as raising tariffs on imports of selected US products; but it should prevent trade disputes from escalating into a trade war. Whereas the US imports tens of thousands of Chinese products, China imports a narrow range of products from the US, such as soybeans, corn, computer chips, and aircraft. China's imposition of higher tariffs on imports from the US would thus have a bigger impact on US producers than vice versa.
In the past, the US took advantage of its position as the world's biggest economic power and largest trader to rule out any multilateral trade provisions that did not serve its interests; otherwise, the US would not promote free trade. Now, with the US abandoning free trade, China can take up the mantle of promoting it, thereby improving its image as a major power and demonstrating its commitment to global governance and development.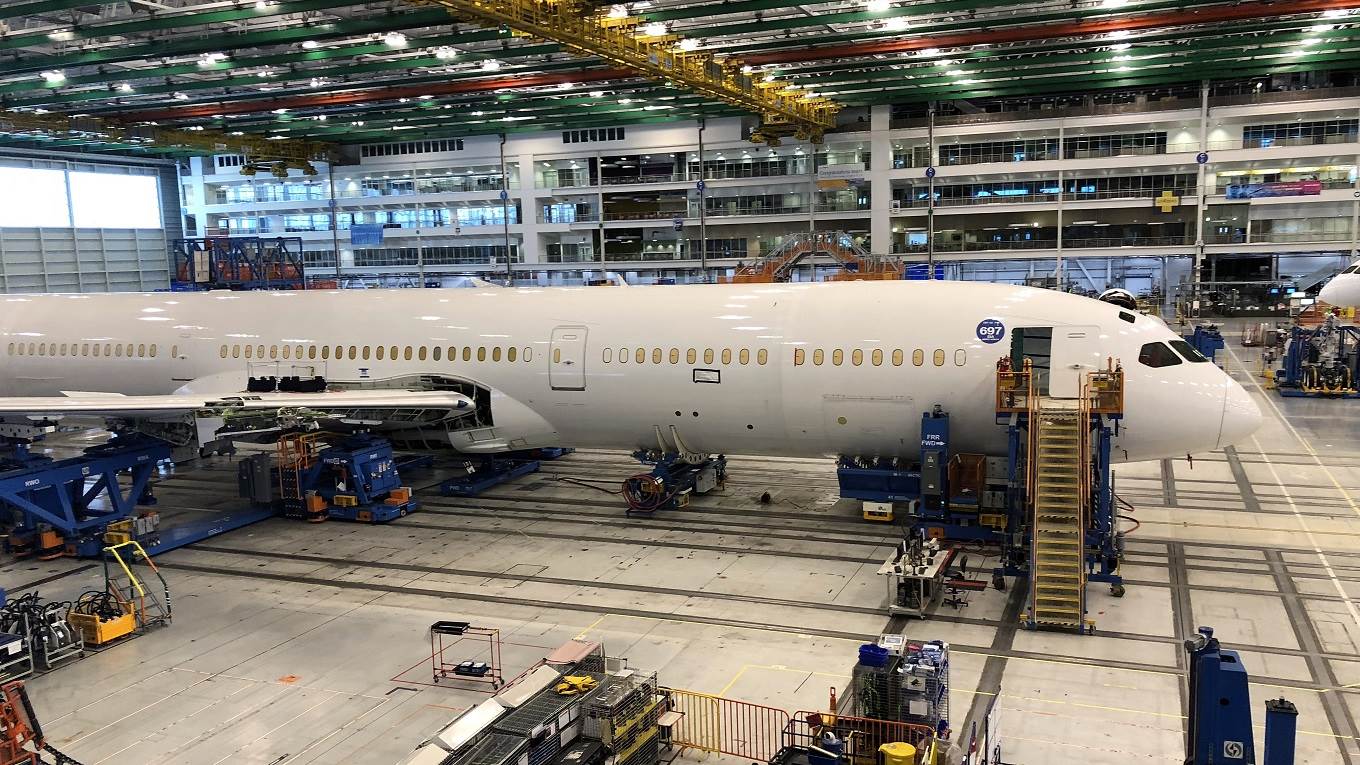 The Dark Matter of Trade
Donald Trump has argued that trade wars are easily won by the country with the deficit, because the other party has more to lose. But just as trade has moved from goods to services and on to knowledge, so may trade wars, with a tariff on steel answered by a tax on Amazon or Google.
CAMBRIDGE – If you are flying a plane, it is useful to know how to keep it level. To do so, you must be able to read the instruments. If the plane is flying level, but you think it is heading down, you may pull back on the yoke and put the plane into a stall. This is what may be happening today with US trade policy.
At the core of the problem are two questions: whether the United States has a trade deficit, and, if so, what to do about it. The Trump administration says the US does have a deficit, and that the solution is an easy-to-win trade war.
Economists tend to dispute Trump's answer to the second question. They argue that external imbalances are the reflection of domestic imbalances. In every transaction, what one party calls spending, the other calls earning. So, the sum of all market participants' earnings must equal their total spending. But if you divide the world into two types of people – residents and non-residents – then the only way that non-residents can earn more than they spend in your country is if the residents are spending more than they earn. So external deficits reflect residents' spending in excess of income – in which case the problem will not go away through a trade war, unless it forces residents to spend less, by, say, taxing them with tariffs. But the government is doing everything it can to achieve the opposite: it is lowering taxes and increasing spending by record amounts, thus aggravating the imbalance. Trade policy is not the answer to trade deficits.
But the first question remains: Is there a trade deficit to begin with? Is the plane heading down, requiring action? This ends up being a tricky question. Once upon a time, most international transactions involved trade in goods, which are bulky, so it was easy for customs agents at ports, airports, and land borders to report them to the statistical office. In the year to September 2017, the US balance of goods exported and imported recorded a deficit of $789 billion, or about 4% of GDP.
But the problem is that international trade today does not comprise only goods. It also includes services, such as travel, tourism, telecommunications, transportation, insurance, and others. In the same period, the US ran a services surplus of $242 billion, implying that, when added to the deficit in goods, the US is in the red by $547 billion, or 2.8% of GDP. In the case of the bilateral relationship with Canada, including services turns the deficit into a surplus.
There are other corrections as well, like interest and dividends paid and earned, as well as labor remittances. When all of these are included in what is known as the current-account balance, the US had an external deficit in 2017 of $450 billion, or 2.3% of GDP.
The accounting implication of this deficit is that it must be paid either by running down financial assets or by increasing liabilities – that is, by increasing net debt (net of assets). And as the debt increases, interest on it must be paid, leaving less money to spend. If unchecked, the accumulation of debt will sooner or later force an end to the deficit.
From 1999 to 2017, the sum of all the official current-account deficits has amounted to $9.4 trillion. In 1999, the net interest and dividend income of the US amounted to $11 billion. That would be the income generated by a net asset position of $275 billion if we assume a rate of return of 4%. But since then, given the estimated current-account deficit, the US should have borrowed, in net terms, $9.4 trillion. Added to the initial positive net asset position of $275 billion, the US should be in the red for $9.1 trillion. And if we assume that the US borrowed the money at 4%, then it should be paying out $364 billion a year, in net terms, to its foreign creditors.
But the amount the US pays for its supposed $9.1 trillion in net debt is nothing. Instead, it made $208 billion in the year to September 2017, a difference of $572 billion. If that were the consequence of owning some kind of asset that yields 4% a year, it means that instead of owing $9.1 trillion, the US accumulated an asset worth $5.2 trillion. The difference is a whopping $14.3 trillion.
What is going on? Why can the US run a deficit, borrow from the rest of the world, not pay for it, and make out like bandits instead? And what is this weird asset that is worth 73% of GDP?
In a 2005 joint paper with Federico Sturzenegger, the current Governor of the Central Bank of Argentina, we called this weird asset "dark matter." Like its cosmic equivalent, it cannot be directly observed, but its effects can be felt, not through its gravitational force, but through its financial return. Our work showed that it is mostly coming from the international value of each country's technology, in ways that are poorly captured by the way the statistics are put together, but it is real. We can see it in the extraordinary value coming from the international activities of Amazon, Apple, Facebook, Google, Hollywood, and Uber, which are poorly captured as exports of either goods or services. It is a financial return to the deployment of technology abroad, a return that other countries actually pay.
Once dark matter is taken into account, there is no US external deficit. If the current position is maintained, there will be no real accumulation of debt that would require an increase in net future payments to the rest of the world. Ignoring the reality of dark matter implies acting as if the plane was nose-diving when it is actually flying high.
Donald Trump has argued that trade wars are easily won by the country with the deficit, because the other party has more to lose. Think again. There is no deficit. Just as trade has moved from goods to services and on to knowledge, so may trade wars. A tariff on steel may be answered by a tax on Amazon or Google. In fact, the European Union, for other reasons, is already moving in that direction. Being in the dark about the dark matter of trade may lead the world to a truly dark place.