Getting to Yes With Kim Jong-un
There are of course no guarantees that Donald Trump's upcoming summit with the North Korean leader will succeed. What is clear is that successful denuclearization will require a combination of bold political decisions – say, formally ending the Korean War, opening liaison offices, or relaxing some economic sanctions – and realistic prudence.
SEOUL – Has North Korea's ruler, Kim Jong-un, made a strategic decision to trade away his nuclear program, or is he just engaged in another round of deceptive diplomacy, pretending that he will denuclearize in exchange for material benefits for his impoverished country?
This is, perhaps, the key question in the run-up to the summit between Kim and US President Donald Trump in Singapore on June 12. Until then, no one will know the answer, perhaps not even Kim himself.
Optimists tend to believe that Kim's declared intention to denuclearize is sincere. They highlight the fact that North Korea's economy has changed fundamentally since he succeeded his father, Kim Jong-il, in 2011. It is now more open, with foreign trade accounting for almost half of GDP, the result of a gradual marketization process that began in the mid-1990s. But with this openness comes vulnerability, which explains Kim's active diplomatic efforts to prevent serious economic disruption from the existing international sanctions regime.
Unlike his father, the 34-year-old Kim has been active in pursuing pro-market economic growth and may be aiming to emulate Deng Xiaoping, the architect of China's reforms in the late 1970s. Kim's recent sacking of three senior old-guard military officials may hint that he is ready to offer some important concessions to prepare a favorable diplomatic environment for concentrating on economic development. The key question remains whether Trump is now ready to embrace Kim's North Korea as President Richard Nixon did with Deng's China.
Pessimists, however, caution against believing that Kim is serious about denuclearization. There is so far no evidence, they argue, that Kim is different from his father (and grandfather, Kim Il-sung), when it comes to adhering to international agreements. They are skeptical, for example, that North Korea will cooperate fully on three major issues.
First, despite Kim's declaration, it remains unclear whether he is agreeing to "complete, verifiable, and irreversible dismantlement" (CVID) of North Korea's nuclear weapons program. His commitment remains aspirational and lacks substance or operational content. Second, given North Korea's bad track record, the pessimists think it unlikely that Kim will permit intrusive nuclear inspections, which is a critical component of CVID. Finally, North Korea has not yet clarified the terms of its denuclearization. Its past official position – withdrawal of US troops from South Korea and an end to the bilateral alliance, would be a non-starter.
But there may be a way to achieve denuclearization that satisfies both optimists and pessimists. To find it requires taking a step back and considering the most fundamental reason for the diplomatic failures of the last three decades: the high level of mutual distrust, which has made a small and weak country like North Korea, surrounded by big powers, paranoid about its own security. In order to address this problem at the root, the US should have taken a political approach, rather than focusing repeatedly on concluding a narrowly defined military-security deal.
For example, President George H.W. Bush's administration declined North Korea's offer to establish diplomatic relations in 1991-92, when the fall of the Soviet Union heightened Kim Il-sung's sense of insecurity. Likewise, North Korea's major complaint regarding the October 1994 Geneva Agreed Framework was that the US did not keep its promise to improve political relations with North Korea. The Clinton administration tried a political approach in 2000, but it was too little too late.
The first Trump-Kim summit may not be able to resolve all three major issues dividing the US and North Korea all at once. But that does not mean the summit will be a failure. For the first time, the US is tackling the fundamental cause of the North Korea problem, rather than focusing on its symptoms. And this is why Trump's seemingly impromptu decision to meet Kim face to face is meaningful and productive, especially if he can bolster Kim's confidence that he and his regime will be safe without nuclear weapons and that the international community will help him to focus on economic growth.
That said, Trump would be well advised to leave the details of the denuclearization process in the hands of diplomats who have much experience in dealing with North Korea. In the meantime, he will need to rebuild an international coalition to maintain effective economic sanctions, which is the most powerful leverage for persuading Kim to accept CVID. Here, close cooperation with China will be essential. Moreover, the US should reward critical concessions by North Korea – for example, permission to conduct intrusive inspections of its entire nuclear program by international inspectors – even before the completion of CVID.
There are of course no guarantees that it will work. What is clear is that successful denuclearization of North Korea will require a combination of bold political decisions – say, formally ending the Korean War, opening liaison offices, or relaxing some economic sanctions – and realistic prudence.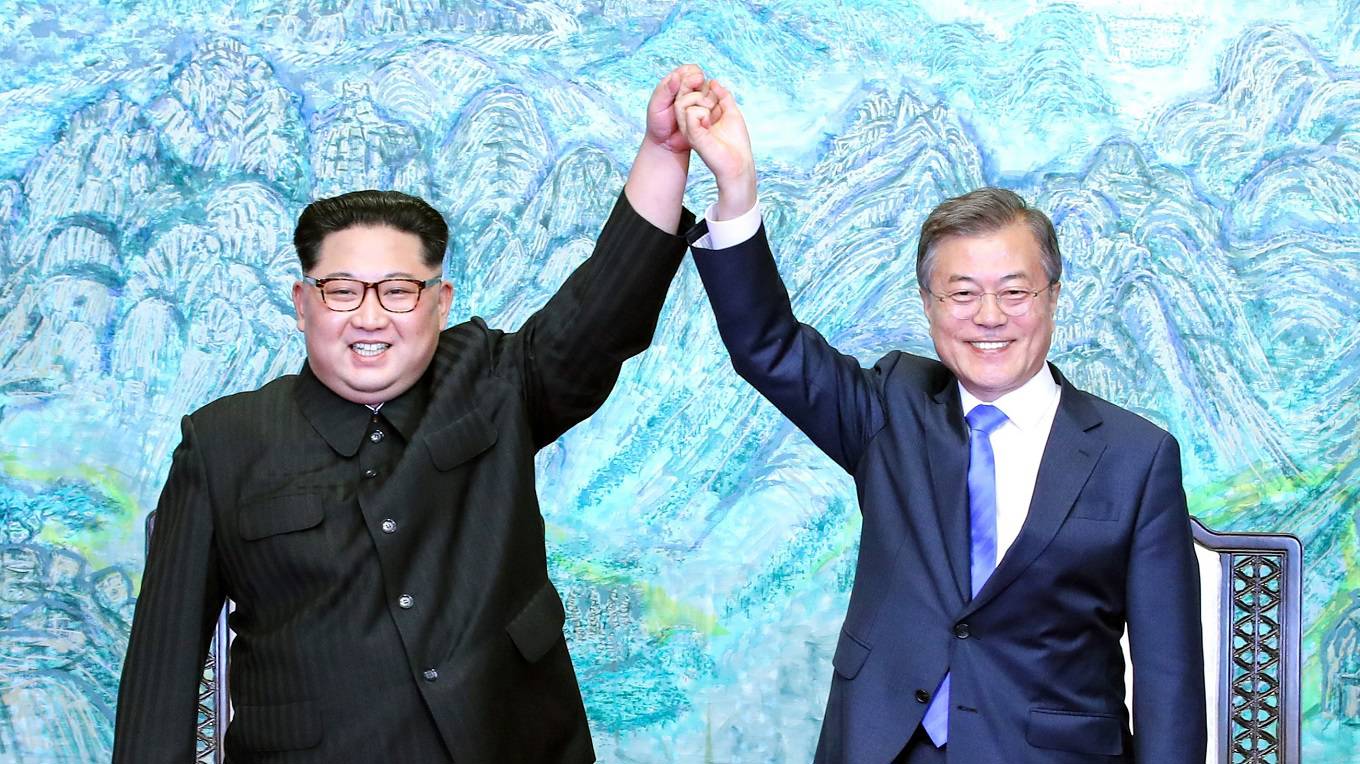 What to Expect From the Trump-Kim Summit
An amicable meeting between South Korean President Moon Jae-in and the North Korean dictator, Kim Jong-un, has added momentum to an apparent diplomatic rapprochement on the Korean Peninsula this year. But before US President Donald Trump starts celebrating, he should consider the challenges that lie ahead.
DENVER – Since the April 27 summit between South Korean President Moon Jae-in and his North Korean counterpart, Kim Jong-un, US President Donald Trump has sought, unsurprisingly, to portray himself as the mastermind behind inter-Korean diplomacy. But, despite the rays of hope emanating from the peninsula, Trump may come to regret having taken center stage, especially as his own summit with Kim draws closer.
In preparation for that event – now tentatively scheduled for late May or early June – Trump will likely eschew reading or listening to expert advice, and will allow himself to be buffeted by conflicting information. After all, he is reportedly unable to absorb comprehensive, organized policy briefings, and his opinions tend to reflect those of whomever he spoke to last. Beyond that, he is generally guided by a sense of indignation against his predecessors, especially President Barack Obama, for having been too gullible or unfocused to solve the problem at hand.
But the emotional Moon-Kim meeting in Panmunjom, the "peace village" on the border of the two Koreas, poses an enormous challenge for Trump, who wants a big, showy display of his own deal-making magic, so that he can tell the world, "Now you see the crisis; now you don't." Unfortunately, North Korea's desire for nuclear weapons cannot simply be conjured away.
At best, a Trump-Kim summit will produce more vague formulations of what might be possible through further talks. For a preview of just how vague and imprecise such diplomatic pronouncements can be, consider Moon and Kim's joint statement from their bilateral summit, in which they claim to share the dream of a denuclearized Korean Peninsula.
Most likely, Kim will offer Trump assurances that sound even more encouraging than what he offered Moon – but not by much. Specifically, the North Koreans will argue that their nuclear arsenal is for self-defense – a logical response to decades of supposed US enmity. They will frame Trump's willingness to meet Kim as a welcome first step along the road to denuclearization; and they will return the gesture with some corresponding concession, such as a freeze on testing nuclear weapons or long-range missiles.
But on the question of whether North Korea will return to the status of a non-nuclear state and rejoin the Nuclear Non-Proliferation Treaty, Kim will demur. That, the North's leaders will say, would take much longer, and would require more step-by-step measures by the US and its regional allies to remove "mistrust" – a favorite North Korean concern.
Trump, for his part, will not take well to anything that is "step by step," so he will seek shortcuts to achieving something that resembles his stated objective. Given that he has criticized America's forward bases in the past, he may suggest a dramatic gesture to show that the US has no intention of using its troops in South Korea against the North. Kim, no doubt, will be interested, and he might even agree to shake hands on something along the lines of "denuclearization" in exchange for US troop withdrawals. But he will still plead for more time.
Trump could also raise the issue of US citizens who are currently incarcerated in North Korean prisons. To this, Kim will probably respond that securing any prisoner's release is difficult, given North Korea's "independent" judiciary; but he will present himself as a humanitarian willing to do what he can to help. And he might even express sorrow for Otto Warmbier, the American college student who was released from North Korean custody in a coma last year, never regained consciousness, and died shortly thereafter. He will not, however, take any responsibility for the beatings Warmbier apparently endured.
The Trump-Kim summit will have warm atmospherics. Kim will probably regale Trump with his plans for economic development and his goal of making North Korea's capital, Pyongyang, a world-class city with – you guessed it – a world-class hotel. More to the point, he will explain the logic of why sanctions must be suspended before he can even start to lay the groundwork for denuclearization.
Trump will need more than that in order to claim success. One possibility is that he will confront Kim on North Korea's fluid definition of "denuclearization." Even with no agreement on a timetable, Kim might at least have to acknowledge that denuclearization means the complete, verifiable, and irreversible dismantling of his country's nuclear-weapons program.
At any rate, to prove that he is not being played "like a fiddle," Trump will need to carry out several tasks simultaneously. For the sake of public opinion in South Korea, he will have to chart a course between upholding the spirit of the inter-Korean summit and not giving in on sanctions relief. He also must not do anything to weaken the US's alliances with South Korea and Japan, which will require him to maintain close contact with both Moon and Japanese Prime Minister Shinzo Abe throughout the process, lest either leader feels ignored or undermined.
Moreover, he will need to keep all alternatives on the table, even though military options are becoming less tenable in the context of inter-Korean dialogue. Most important, he will need to get the North Korean regime at least to acknowledge that genuine denuclearization is the goal, and to agree to a process for continued dialogue, perhaps culminating in another summit.
Whatever the outcome, Trump would do well to ask himself if it is any better than the Joint Comprehensive Plan of Action with Iran, which he has described has "the worst deal ever." Then again, persuading Trump to engage in self-reflection could prove to be the toughest challenge yet.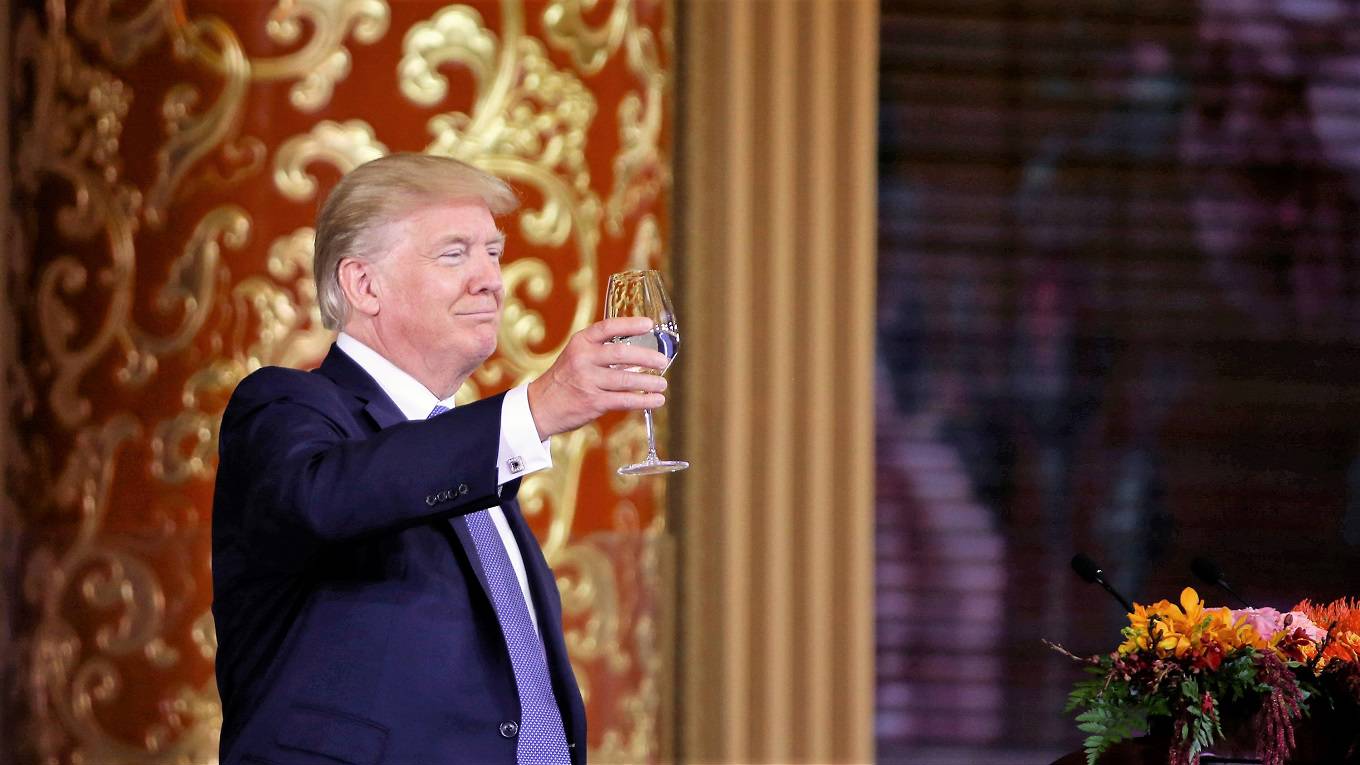 The Divine Right of Donald
While the US presidency has grown stronger over the years, during the Trump administration Congress has been especially timid and subordinate. Will Trump's recent claims to quasi-royal authority change that?
WASHINGTON, DC – US President Donald Trump may not seem to have much in common with North Korean dictator Kim Jong-un, but Trump's autocratic tendencies are becoming more apparent by the day. Propositions regarding the extent of presidential power that once would have been considered preposterous – both constitutionally and according to longtime practice – are now being discussed as if they were normal ideas.
Kim might find in Trump – the first US president to meet with a North Korean leader (a gift to Kim before talks even begin) – a kindred spirit, at least compared to previous US presidents. But America's founders would be appalled at what has become of the ideas they enshrined in the US Constitution. Determined not to establish another king, they considered the Congress more significant than the presidency and put it first in the US Constitution, with presidential powers defined in Article II. Trump is taking direct aim at an essential concept: that the president can be held accountable to the citizens.
While the presidency has grown stronger over the years, during the Trump administration Congress has been timid and subordinate. That is because the leaders of the Republican Party – which controls both the House of Representatives and the Senate – are frightened of Trump's base. They cannot afford to alienate the roughly 30-35% of Americans who passionately back him, ignore his personal transgressions, tolerate his degradation of the country's civil discourse, favor his brutal treatment of immigrant families, and don't mind that he is leaving the US almost friendless in the world.
That base constitutes a very high percentage of Republicans who vote in primaries, where nominees for the House and Senate are chosen. No surprise, then, that Republican members of Congress, wary of being challenged in party primary elections, are reluctant to take on that base, which Trump has been cultivating. So long as his base remains intact, so will much of his strength.
The few elected Republicans who have spoken out strongly against some of Trump's practices are among the unusually high number of incumbents who have decided not to seek reelection. Most are tired of the deep partisanship that has infected US politics, and the consequent near-paralysis in Congress. But the president's claims on power have become so extraordinary that even some loyal Republicans are growing restive.
The furor over Trump's monarchical concept of the presidency erupted recently when The New York Times exposed letters that the president's lawyers had written to US Special Counsel Robert Mueller, who is leading the investigation into issues related to obstruction of justice and possible collusion between Trump's presidential campaign and Russia. Trump's lawyers set forth astonishingly broad claims of authority, and Trump tweeted his agreement with several of them – including that the president can pardon himself, thereby quashing any legal charges against him. Of course, those who claim such authority, including Trump, hasten to insist that there will be no reason to use it.
This week, House Speaker Paul Ryan, heretofore a Trump loyalist who had let some of his Republican flock take unprecedented actions to undermine Mueller's probe, sent tremors through Washington when he let it be known that he thought it unwise for a president to pardon himself. Ryan apparently meant that it would be a bad idea politically, rather than a bad idea in principle.
Ryan, one of 44 House Republicans leaving Congress after this term (and possibly sooner if his most conservative and now restive troops have their way), then issued a somewhat bolder declaration of independence. He agreed with the powerful conservative congressman Trey Gowdy's rejection of Trump's claim that the FBI had infiltrated spies into his 2016 campaign. This particular Trump fantasy was based on the fact that the FBI, following routine practice, had asked an informant to look into suspicious relationships between Trump campaign aides and Russians connected to President Vladimir Putin's regime.
Trump's unrelenting attacks on the FBI, wrecking careers and demoralizing an institution that plays a crucial role in keeping America safe, had become too much for Gowdy. But Trump had already successfully bullied the deputy attorney general who is supervising the investigation into sharing highly sensitive information with his allies on Capitol Hill, upending all precedent. And it was assumed that what Trump's allies learned would be fed to the White House, undermining the crucial concept of congressional oversight of the executive branch.
But Trump's lawyers have argued that his constitutional powers extend even further. They claim, for example, that the president can end the Mueller investigation at any time and for any reason. Moreover, they argue that, because the president is effectively in charge of the investigation, Trump cannot be held to have obstructed justice – because he can't obstruct himself. Nor, Trump's attorneys insist, can the president be subpoenaed to appear before a grand jury – a scenario that they are frantic to avoid, in order to prevent their client, an inattentive, compulsive liar, from testifying under oath and possibly facing a perjury charge.
But the most outlandish claim was made by former New York City Mayor Rudy Giuliani, who joined the president's team after the letters to Mueller were written. Giuliani asserted that Trump could have shot and killed former FBI director James Comey in the Oval Office and not be indicted for it. His point was that no president can be indicted, only impeached by the House of Representatives, perhaps to be followed by conviction by the Senate, which requires a two-thirds vote, or 67 senators, a high bar to removing the president from office. So, for now, members of the president's team are focused on ensuring that he has the 34 Senate Republicans needed to keep him in office.
No one outside the investigation knows what evidence Mueller has accumulated and what he is still seeking. Meanwhile, the president tries to undermine public faith in the investigation by attacking it routinely, to some effect, all the while picking fights with America's closest allies and displaying sympathy for the world's autocrats.
Trump's proclamations about the quasi-monarchical scope of his power speak not of his innocence, but of his panic and growing desperation. Americans are waiting for more Republicans to speak up.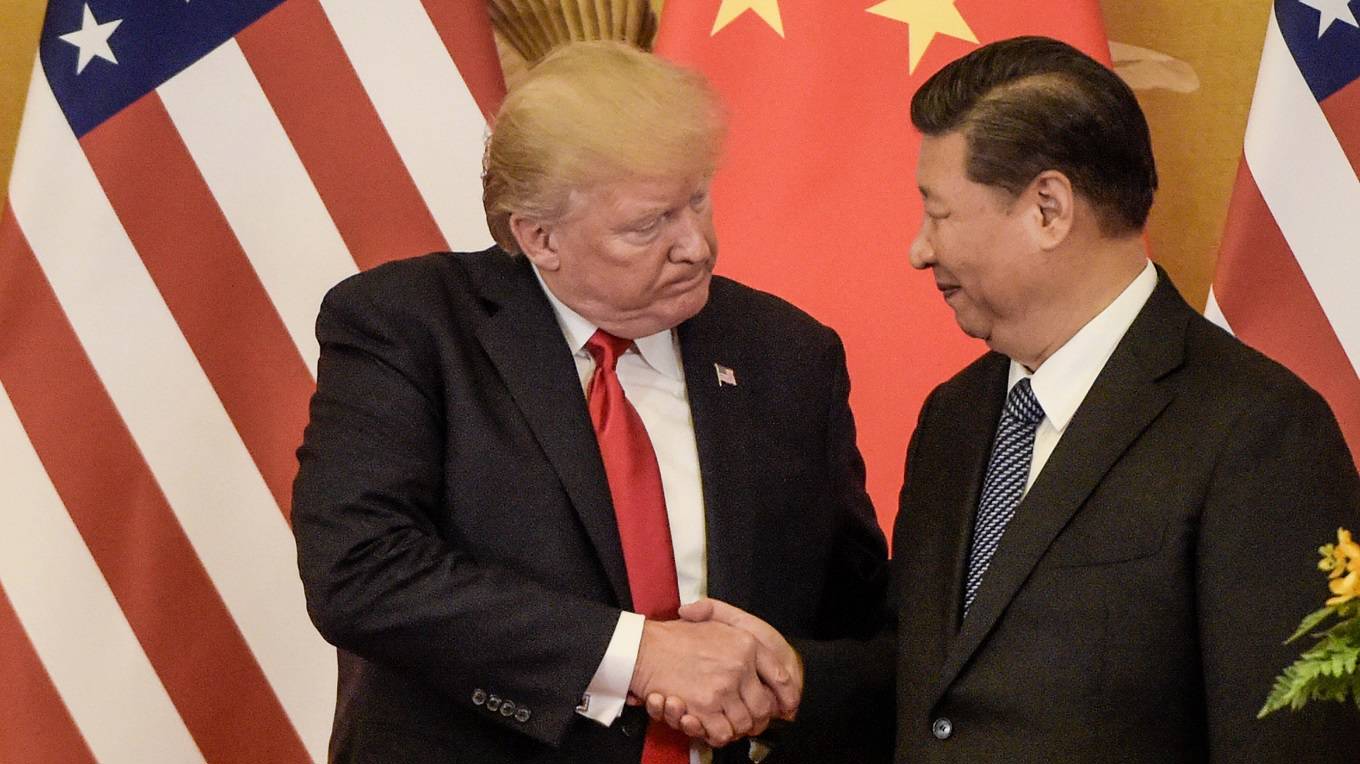 Xi's Strong Hand Against Trump
Donald Trump's recently announced trade tariffs and upcoming summit with North Korea give China an unprecedented opportunity to prove its strength before the eyes of the world. If Xi Jinping suspects that such a display will bolster China's international standing while undercutting that of the US, he may decide to act accordingly.
LONDON – The world will soon witness a historic test of wills between China and the United States, two superpowers whose leaders see themselves as supreme. In the immediate sense, it will be a battle over trade. But also at stake is the strategic leadership of East Asia and, eventually, the international order. As things stand, China holds a stronger position than many people realize. The question is whether Chinese President Xi Jinping will feel confident or brazen enough to want to prove it.
The test of wills was hardly China's choice; but nor does it come as a surprise. US President Donald Trump's recently announced import tariffs on steel, aluminum, and other Chinese-made goods are in keeping with his brand of economic nationalism. And his decision to accept North Korea's invitation to hold bilateral talks on its nuclear program reflects the same "bring it on" attitude that he applied to the North's earlier threats of war.
The upcoming test will be historic because it promises to reveal the true strengths and attitudes of the world's rising power vis-à-vis the weakened but still leading incumbent power. For better or worse, the result could shape the world for decades to come.
On the trade front, China's large bilateral surplus with the US could mean that it has more to lose from a trade war, simply because it has more exports that can be penalized. It is often said that surplus countries will always be the biggest losers in any tit-for-tat escalation of tariffs and other barriers.
But this assumption misses multiple points. For one thing, China is more economically resilient to the effects of a trade war than it used to be. Trade as a share of its total economic activity has halved in the past decade, from more than 60% of GDP in 2007 to just over 30% today.
China also has major advantages in terms of domestic politics and international diplomacy. As a dictatorship, China can ignore protests by workers and companies suffering from US tariffs. In the US, where mid-term congressional elections will be held this November, the outcry from exporters, importers, and consumers facing higher costs will be heard loud and clear.
Of course, Trump, too, might ignore protests against his trade war if he is convinced that taking on China will please his core voters and win him re-election in 2020. But congressional Republicans will probably feel differently, especially if their states or districts are among those being singled out by Chinese import tariffs.
In terms of international diplomacy, Trump's trade war will help China present itself as the defender of the rules-based international order and multilateral institutions such as the World Trade Organization. To be sure, not all countries would follow China's lead. The WTO does not recognize China as a market economy, owing to the Chinese government's significant involvement in industry and alleged theft of intellectual property.
But China will have a chance to play the victim, while arguing that the US now poses the single largest threat to the global trading system that it helped create. And if a US-initiated trade war drags on, China's case will become only stronger as more countries suffer the disruptive effects of tariffs.
Of course, China may choose not to fight Trump's trade war at all. With symbolic concessions – such as an agreement to import US-produced liquefied natural gas or promises to offer new guarantees for intellectual-property rights – it could convince Trump to stand down. But if Xi suspects that a show of strength will bolster China's international standing while undercutting that of the US, he may decide to act accordingly.
The North Korea issue is more complicated. But here, too, China will have an advantage. Even barring real progress in the talks, China already looks like a good global citizen. Over the past year, it has been pressuring the North Korean leader, Kim Jong-un, to negotiate. By participating in coordinated economic sanctions against the Kim regime, and by reportedly capping vital exports of oil and other essentials to the North, China has played its part in bringing Kim to the table.
On paper, the fundamental question is whether North Korea will be willing to abandon its nuclear-weapons program, the fruit of more than 30 years of work. And as China well knows, North Korea would never give up its nuclear weapons without major changes in the military balance on and around the Korean Peninsula.
Kim will likely offer to denuclearize solely on the condition that the US withdraw its forces from South Korea, and perhaps from Japan, too. Barring that, he would not feel secure enough to do without the nuclear deterrence on which he has staked his regime's survival. For his part, Trump could not possibly accede to such a condition. At best, he could agree on a process through which such extraordinary moves might be discussed at a later date.
Either way, China comes out on top. In the event of stalemate, it will have gotten Kim to the table and put America in the position of being a refusenik. And if the US does agree to any military concessions, China's strategic position will be strengthened.
The only real question for Xi, then, is whether he wants to assert China's top-dog status now, or sometime in the future.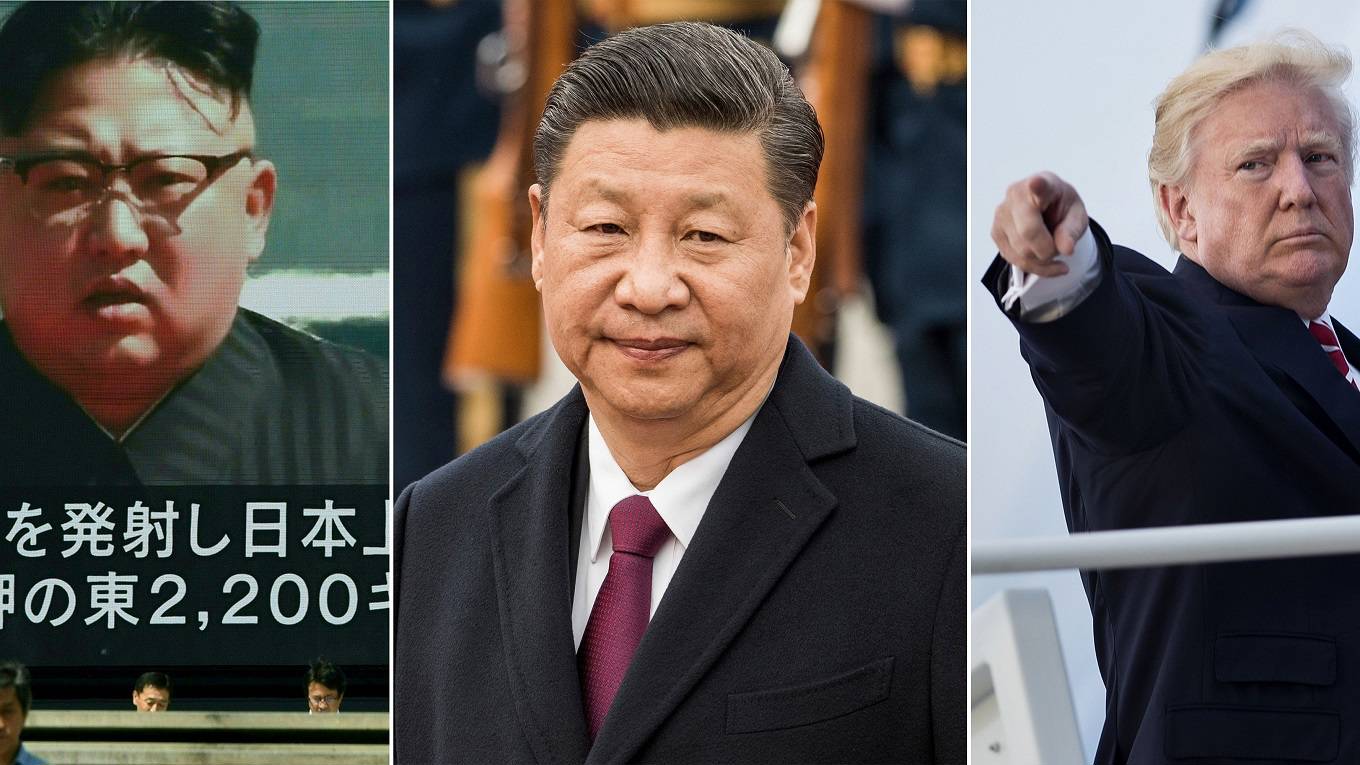 A North Korean Opportunity for America and China
China and the US have a shared interest in making nuclear diplomacy work and ensuring that any US-North Korean summit succeeds. A US-North Korean summit that averted a crisis that would benefit neither the US nor China would remind people in both countries of the value of Sino-American cooperation.
NEW YORK – It is not obvious, but North Korea could be the best thing for the relationship between the United States and China since the collapse of the Soviet Union. Whether or not that potential is realized, it is not difficult to understand why it exists.
The contemporary Sino-American relationship was born nearly a half-century ago on a foundation of shared concern about the threat posed to both countries by the Soviet Union. It was a textbook case of the old adage, "The enemy of my enemy is my friend."
Such a relationship could survive just about anything – except the disappearance of the common enemy. And this is of course precisely what happened with the end of the Cold War in 1989 and the demise of the USSR at the beginning of 1992.
The US-China relationship, however, showed surprising resilience, finding a new rationale: economic interdependence. Americans were happy to buy vast quantities of relatively inexpensive Chinese manufactured goods, demand for which provided jobs for the tens of millions of Chinese who moved from poor agricultural areas to new or rapidly expanding cities.
For its part, the United States was mesmerized by the potential for exporting to the vast Chinese market, which was hungry for the more advanced products it wanted but could not yet produce. Many in the US also believed that trade would give China an increased stake in preserving the existing international order, increasing the odds that its rise as a major power would be peaceful. The related hope was that political reform would follow economic growth. Calculations such as these led to the US decision to support China's entry into the World Trade Organization in 2001.
Now, years later, the economic ties that had become the foundation of the Sino-American relationship have increasingly become a source of friction that threaten it. China exports far more to the US than it imports, contributing to the disappearance of millions of American jobs, and has not opened up its market as expected or delivered on promised reforms. Moreover, China's government continues to subsidize state-owned enterprises, and either steals intellectual property or requires its transfer to Chinese partners as a condition of foreign companies' access to the domestic market.
This critique of China is widely embraced by US Republicans and Democrats alike, even if they disagree with many of the remedies proposed by the Trump administration. And the criticism is not limited to economic affairs. There is growing concern in the US about China's increasing assertiveness beyond its borders. The Belt and Road Initiative appears to be less a development program than a geo-economic tool to expand Chinese influence. China's broad claims to the South China Sea and its creation of military bases there are viewed throughout the region as a provocation.
China's domestic political development has also disappointed observers. The abolition of the presidential term limit and President Xi Jinping's concentration of power have come as an unwelcome surprise to many. There are also concerns about the suppression of dissent (often cloaked in the guise of Xi's anti-corruption drive), the clampdown on civil society, and the repression of western China's Uighur and Tibetan minorities. The net result is that it is now commonplace for official US government documents to pair China with Russia and to speak of it as a strategic rival.
All of which brings us back to North Korea, whose nuclear weapons and long-range missiles are viewed by China as a genuine threat – not to itself, but to its regional interests. China does not want a conflict that would disrupt regional trade and lead to millions of refugees streaming across its border. It fears that such a war would end with a unified Korea firmly in America's strategic orbit. Nor does it want Japan and other neighbors to rethink their long-standing aversion to developing nuclear weapons of their own. The Chinese government also opposes South Korea's missile defense system (acquired from the US in response to North Korea's missile deployments), which China sees as a threat to its own nuclear deterrent.
The US does not want to live under the shadow of a North Korea that possesses long-range missiles capable of delivering nuclear payloads to American cities. At the same time, the US has no appetite for a war that would prove costly by every measure.
China and the US thus have a shared interest in making diplomacy work and ensuring that any US-North Korean summit succeeds. The question for China is whether it is prepared to put enough pressure on North Korea so that it accepts meaningful constraints on its nuclear and missile programs. The question for the US is whether it is willing to embrace a diplomatic outcome that stabilizes the nuclear situation on the Korean Peninsula but does not resolve it for the foreseeable future.
A US-North Korean summit that averted a crisis that would benefit neither the US nor China would remind people in both countries of the value of Sino-American cooperation. And the precedent of the world's two major powers working together to resolve a problem with regional and global implications might provide a foundation for the next era of a bilateral relationship that, more than any other, will define international politics in this century.