Confronting a New Era of Anti-Semitism
In recent years, there has been a worrying upsurge of anti-Semitic incidents, including threats to, or actual attacks on, synagogues and other Jewish institutions, and the desecration of graves in US cities. But even in these troubled times, rays of hope can be found in unexpected places – like Germany and Russia.
LONDON – Ambassador Ronald Lauder, the President of the World Jewish Congress, had much on his mind when we met in London on a rainy day in early March. The tall, distinguished 73-year-old art collector, homme d'affaires, and philanthropist was clear-minded about a number of issues, even on five hours of sleep.
At the top of his list of concerns is a worrying upsurge of anti-Semitic incidents, not least in his native United States. These include threats to, or actual attacks on, synagogues and other Jewish institutions, and the desecration of graves in St. Louis, Missouri, and other cities. "Even in the US, the country with the strongest Jewish community in the diaspora," Lauder laments, "anti-Semitism is alive and kicking."
Anti-Semitism comes in waves, and each historical epoch provides its motives. Christian anti-Semitism blamed Jews for the crucifixion of Jesus. This anti-Semitism, which systematically marginalized Jews in the medieval and early modern periods, was supplanted by a pseudo-scientific race-based discourse that culminated in Auschwitz. When the sheer enormity of the Jewish Holocaust was revealed, these ideas slithered back into the shadowy world of the extreme right. But the anti-Semitism rearing its head again in Europe now sometimes comes from the far left as well.
Lauder, for his part, is particularly concerned about developments in Hungary, France, and the United Kingdom. In Hungary, dubious historical figures such as the Regent Admiral Miklós Horthy have been rehabilitated – and even commemorated – in domestic political discourse. Horthy persecuted Jews for decades before Nazi Germany invaded Hungary. Today's far-right Jobbik party is his direct political heir.
In France, the National Front's Marine Le Pen has distanced herself from the morbid anti-Semitic obsessions of her father, Jean-Marie Le Pen, in favor of opportunistically attacking French Muslims. But she has still called for a ban on yarmulkes and kosher slaughter as part of a promise to crack down on public displays of religion. Should Le Pen win the presidency and make such discrimination a reality, Lauder hopes that all French men will take to wearing small skullcaps in a show of solidarity.
Last but not least, in Britain, the Labour Party under Jeremy Corbyn has become a catchall protest party, and is now the political home for Palestinian Solidarity Campaign (PSC) activists, even though there are only 20,000 Palestinians in Britain. The PSC is the driving force behind the Boycott, Divestment, and Sanctions (BDS) movement, which often conflates opposition to Israel with hatred of Jews.
BDS activists have picketed Jewish-owned businesses – from single shops in Glasgow to the retail giant Marks & Spencer – while making many university campuses increasingly uncomfortable for Jewish students. The movement's frequent likening of Israel to apartheid South Africa is especially nasty, given that many South African Jews fought against apartheid, sometimes from within the ranks of the African National Congress.
Lauder may be a worldly diplomat, but he is also ready to fight. He reports that, in the United Kingdom, there are ongoing efforts to contest local councils' right to introduce "gestural" BDS motions aimed at banning procurement from Israeli businesses. And at the "street level," the advocacy group Jewish Human Rights Watch maintains an excellent website that monitors PSC and BDS acts of intimidation.
Lauder, during his time at the WJC, has personally enlisted world leaders of all stripes, from the late Venezuelan president, Hugo Chávez, to Russian President Vladimir Putin, to join the battle against anti-Semitism. Among Putin's few redeeming qualities is a revulsion to anti-Semitism. And, as it happens, Russia's Jewish community is thriving. Jewish kindergartens and other schools are full, and five new Jewish universities have opened. Moreover, according to a survey conducted by the Russian Jewish Congress, anti-Semitic attitudes in Russia are among the lowest in the world, at 8% of those polled.
The WJC was founded in Geneva in 1936, beneath the dark clouds of an earlier period of anti-Semitism. But it would be wrong to assume that fighting anti-Semitism is the organization's sole focus. It played a leading role in helping Jews escape from the former Soviet Union, and in defending the religious freedoms of those who remained there.
The WJC is also a major player in Holocaust-remembrance efforts. And it works to return Jewish families' stolen assets, by confronting museums that do not closely trace the provenance of art works.
In addition, the WJC is active in fostering Jewish communities around the world. Ironically, Germany is the only European country with a growing Jewish community, now 125,000-strong. A renaissance of Jewish culture is now occurring: many new synagogues have opened; and a majority of the faculty and students in Judaic studies courses are Gentiles.
Still, this cultural rejuvenation has not been trouble-free. Leaders of the far-right Alternative for Germany (AfD) party routinely question the need for Holocaust monuments, including the particularly moving "Memorial to the Murdered Jews of Europe" near Berlin's Brandenburg Gate.
In Lithuania, the WJC sponsors a center that is working to revive Yiddish, the language that Eastern European Jews spoke for 800 years. And it is helping to promote broader inter-religious dialogue, notably with the Roman Catholic Church, by encouraging more student-exchange programs. These efforts are geared toward removing one of the primary sources of anti-Semitism: mutual ignorance and incomprehension.
When talking to Lauder, one quickly gets the impression that his combination of urbanity and insight makes him exactly the right person to speak for the world Jewish community in these troubled times. With headstones being smashed in Philadelphia, of all places, my encounter with Lauder could have left me filled with gloom; instead, it left me feeling optimistic.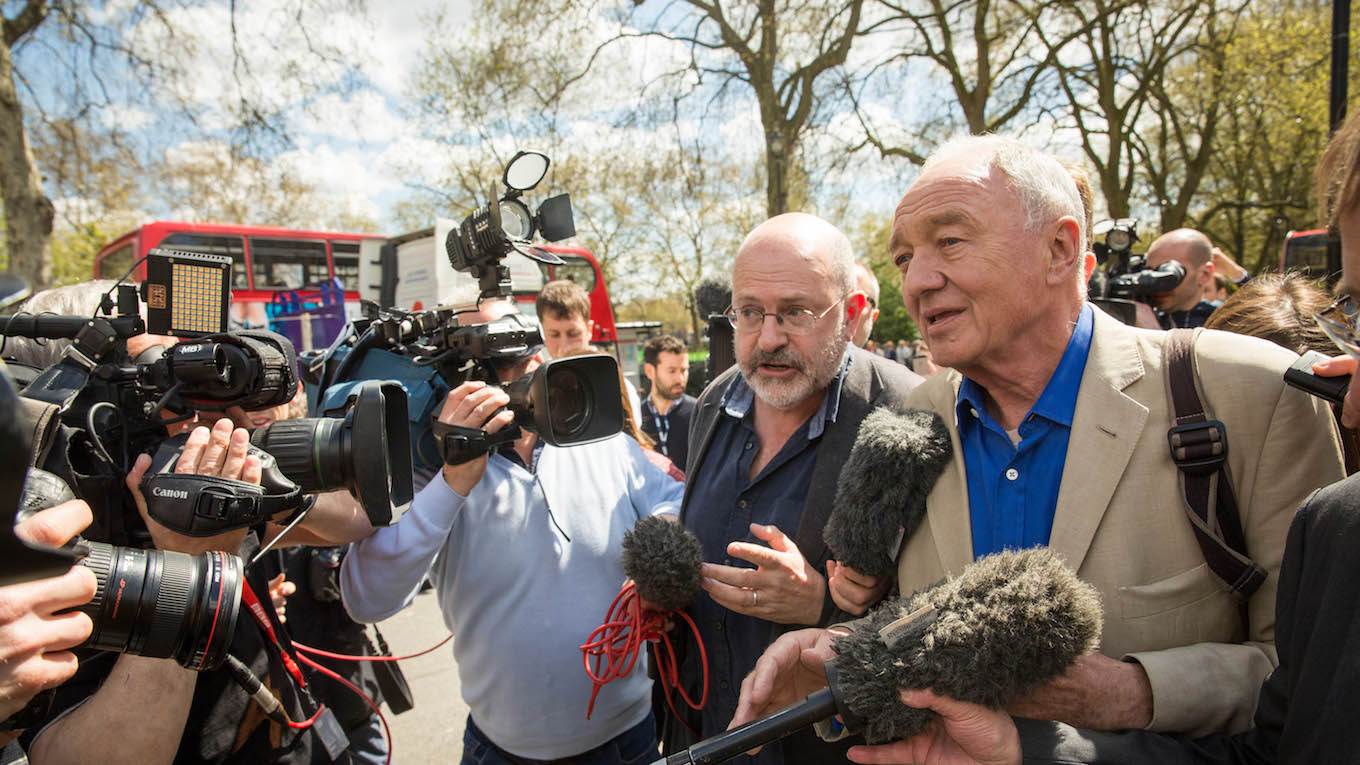 Anti-Semitism From the Left
It is a common conceit among leftists in Europe that racial prejudice, including anti-Semitism, is a uniquely right-wing phenomenon. Former London Mayor and Labour politician Ken Livingstone has provided a valuable reminder that this was never so.
NEW YORK – The former London mayor and left-wing Labour politician Ken Livingstone has been suspended from his party for claiming that Hitler was a Zionist in the early 1930s. According to Livingstone, "before he went mad and ended up killing six million Jews," Hitler had merely wanted to expel them from their own countries to Palestine. And that, supposedly, made him a Zionist.
Historically, this is nonsense: Hitler never promoted Palestine as a Jewish state. And the implication that the Führer's hatred of the Jews put him on the same side as Jews who wished to build their own state to escape from violent anti-Semitism is offensive, to say the least.
But Livingstone was probably being sincere when he said in his defense that "a real anti-Semite doesn't just hate the Jews in Israel, they hate their Jewish neighbor...It's a physical loathing." Hating Jews in Israel is fine, then, because they are "Zionists," and the sentiment isn't visceral. Jeremy Corbyn, the left-wing leader of Livingstone's party, was no doubt equally sincere when he said that anti-Semitism could not possibly be a problem on the left, because Labour has always been "anti-racist."
It is a common conceit among leftists in Europe that racial prejudice, including anti-Semitism, is a uniquely right-wing phenomenon. This probably goes back to the Dreyfus affair of the late nineteenth century. When the French army captain Alfred Dreyfus was falsely accused of treason in a rigged trial in 1894, French society was divided between mostly conservative anti-Dreyfusards and liberal defenders of the Jewish officer. The conservatives were often staunch Roman Catholics, who felt deeply uncomfortable with the secular French Republic, which they associated with liberals and Jews.
Reactionary French anti-Semitism, however, reflected a wider trend in twentieth-century Europe. Blood-and-soil nationalists, right-wing Christians, fanatical anti-Bolshevists, and authoritarians obsessed with social order were often anti-Semitic. Jews fared best under leftist governments.
This makes it easy to forget that a streak of anti-Semitism has always tainted the left as well. Stalin was of course notorious for persecuting Jews, or "rootless cosmopolitans" as he called them, whom he regarded as natural agents of capitalism and traitors to the Soviet Union. But well before Stalin, Karl Marx himself, although Jewish by birth, set the tone for a vicious type of anti-Semitism that infected the left, especially in France.
It was Marx who wrote, "Money is the jealous God of Israel," and that Hebrew was "the muse of stock exchange quotations." Marx was not oblivious to the dangers of anti-Semitism. He simply thought they would go away once the worker's paradise had been established. In this, he was clearly mistaken.
When the state of Israel was founded in 1948, the Soviet Union and leftists in general were quite sympathetic. For several decades, socialists of Russian and Polish extraction dominated Israeli politics. Zionism was not yet regarded as a noxious form of racism, along with apartheid in South Africa. There was no need to "hate the Jews in Israel."
Things began to change in the early 1970s, after the occupation of the West Bank and other Arab territories. Two intifadas later, the Israeli left finally lost its grip, and the right took over. Israel became increasingly associated with the very things leftists had always opposed: colonialism, oppression of a minority, militarism, and chauvinism. For some people, it was perhaps a relief that they could hate Jews again, this time under the guise of high-minded principles.
At the same time, and for much the same reasons, Israel became popular on the right. People who might have been fervent anti-Semites not so long ago are now great champions of Israel. They applaud the Israeli government's tough line with the Palestinians.
Israel, in a common right-wing view, is a bastion of "Judeo-Christian civilization" in the "war against Islam." As the Dutch demagogue Geert Wilders once put it: "When the flag of Israel no longer flies over the walls of Jerusalem, the West will no longer be free."
It is remarkable how often the old anti-Semitic tropes turn up in the rhetoric of these cheerleaders for Israel. But this time it is Muslims, not Jews, who are the target. Muslims in the West, we are repeatedly told, can never be loyal citizens. They always stick to their own kind. They will lie to people outside their faith. They are naturally treacherous, a fifth column, bent on world domination. Their religion is incompatible with Western values. And so forth.
The genuine threats coming from a violent revolutionary movement within the Islamic world can make such assertions seem plausible to many people. But, in most cases, they should be recognized for what they are: tired old prejudices meant to exclude an unpopular minority from mainstream society. Islamist violence only helps to boost the politics of hatred and fear. Many Western warriors in the so-called war against Islam are nothing but our modern-day anti-Dreyfusards.
None of this excuses the vile language of Livingstone and others like him. Left-wing anti-Semitism is as toxic as the right-wing variety. But the role of Israel in Western political debate shows how prejudices can shift from one group to another, while the underlying sentiments remain exactly the same.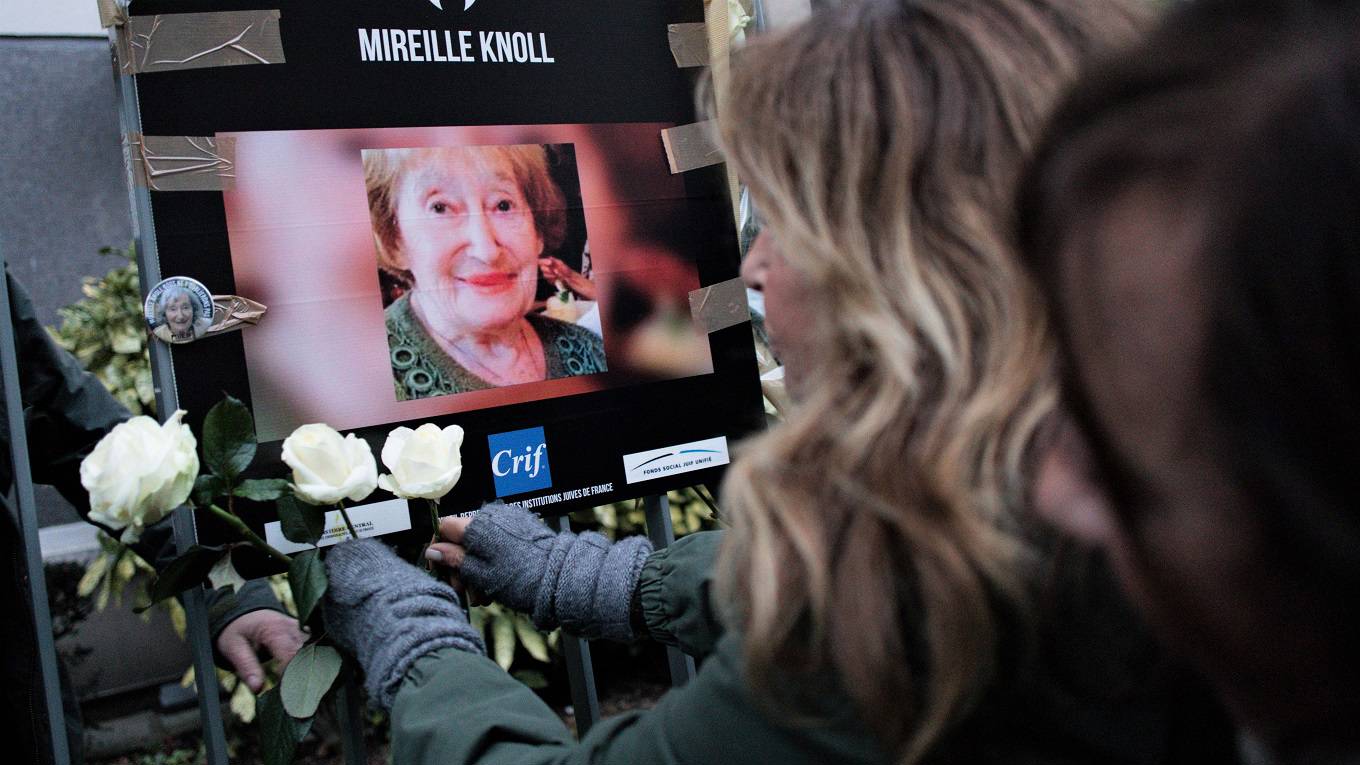 Fighting Anti-Semitism Requires Free Speech
Under France's constitutional system, secularism allows for the harmonious coexistence of different faiths, because it prevents any belief system from encroaching on others' individual liberties. But now this system is being challenged by a campaign to silence critics of radical interpretations of Islam.
PARIS – The populist surge across the West has brought with it, no surprise, a rising tide of anti-Semitism. In the United Kingdom, the Labour party is bedeviled by charges that its leader, Jeremy Corbyn, tolerates anti-Semitic comments among his hard-left supporters. In Hungary, a key component of recently re-elected Prime Minister Viktor Orbán's campaign was a barely disguised anti-Semitic attack against the philanthropist George Soros.
In France, anti-Semitism comes from two directions: the far-right National Front and certain sections of the country's large Muslim community. And the means by which France is combating its anti-Semitic outbursts could well prove to be a useful model for other countries to follow.
For starters, the French social contract is based on the peaceful coexistence of different religions, none of which can be sponsored by the state. At the same time, the rule of law necessarily takes priority over any specific religious precept.
So, for example, regardless of whether there are imams who recommend or tolerate female circumcision, the ritual cutting of girls' genitals is a crime, punishable by up to 20 years in prison. Likewise, polygamy is illegal in France. So, even if an immigrant comes from a country where such practices are permitted, French courts will not recognize his marriage to more than one wife. Nor will they recognize any challenges to gender equality, even those based on religious beliefs.
Under France's constitutional system of secularism (laïcité), religion is confined to the personal and private sphere. To borrow from the French poet Louis Aragon, this ensures mutual respect between those who believe in the hereafter and those who do not ("Celui qui croyait au Ciel / Celui qui n'y croyait pas"). Thus, in many French schools, teachers avoid mentioning religion whenever possible.
These fundamental principles have guaranteed peaceful religious coexistence since the end of World War II, despite the trauma of the war years and the large influx of Muslims that followed the Algerian War. Sadly, these principles are now being threatened, not so much by the National Front and other populists (whose leaders have been prosecuted for anti-Semitic musings and Holocaust denial), but by the growing influence of radical and hardline interpretations of Islam. This influence is felt not just in particular communities, but throughout French political and civil society, owing to the rise of advocacy and activist organizations with obscure origins and funding, some of which promote the establishment of Sharia law.
For those wielding this influence, the goal is to create a culture of victimization among French young people of Arab origin. The hope is that they will embrace the Palestinian cause and, in the most extreme cases, exact revenge on Israelis or on Jews in France. It is little wonder, then, that anti-Semitic incidents in France have dramatically increased in recent years, leading French President Emmanuel Macron to declare that anti-Zionism is "a reinvented form of anti-Semitism."
The most recent victim of anti-Semitic violence was Mireille Knoll, an 85-year-old Holocaust survivor who was murdered on March 23, allegedly by a young neighbor she had often welcomed into her home. According to French investigators, the man reportedly shouted "Allahu Akbar" while viciously killing her.
After the murder, thousands of people took to the streets in Paris to mourn and express their anger. For most of those marching, it was yet another sad reminder of the 2012 attack on a Jewish school in Toulouse, the 2015 massacres at the offices of the satirical newspaper Charlie Hebdo and at a kosher grocery, and many other similar incidents.
Meanwhile, those stoking anger over the Israeli-Palestinian conflict have launched a campaign of intimidation against anyone who would dare to identify the sources of today's anti-Semitism. Consider the case of Georges Bensoussan, a highly regarded historian and author of the 2012 book Jews in Arab Countries. In a 2015 radio appearance, Bensoussan referred to a 2014 survey which found that French Muslims were 2-3 times more likely to harbor anti-Jewish sentiments than French people generally, and surmised that such views are learned at home.
Soon thereafter, the Collective Against Islamophobia in France and the International League Against Racism and Anti-Semitism filed separate legal complaints against Bensoussan, accusing him of inciting racial hatred. Bensoussan was cleared of any criminal wrongdoing in March 2017, but the entire episode was reminiscent of the 2007 prosecution of Charlie Hebdo cartoonists for their depiction of the Prophet Muhammad. In these and many other cases, intellectuals and artists who have long fought against racism have found themselves accused of it.
So far, the formal legal challenges brought against critics of Islam have failed, because French courts and tribunals have seen through the false accusations of racism. But the strategy of intimidation could always score a victory in the future. To ensure that no voice is wrongly silenced, French democratic institutions must continue to defend free speech, the most precious of all human rights – and the one most necessary to overcome hate in all its many guises.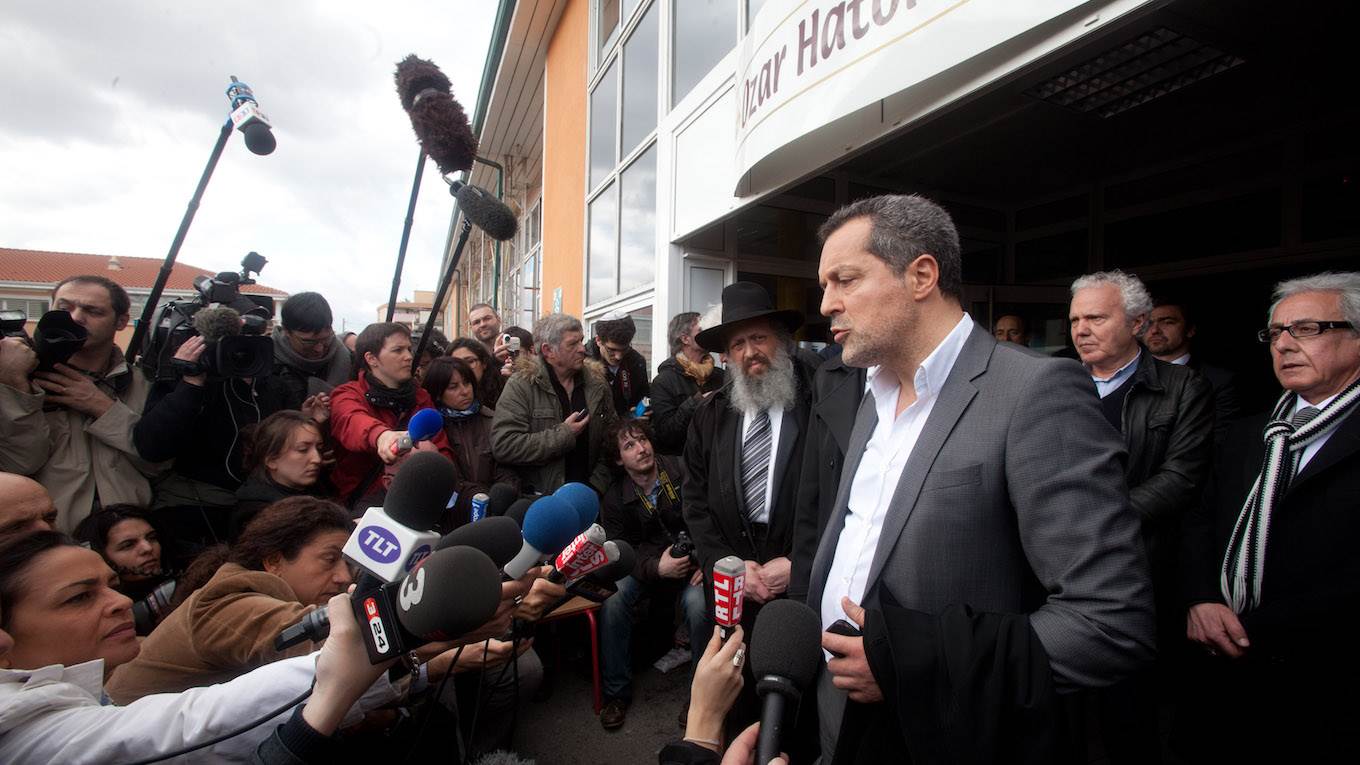 The Trauma of France's Jews
In the aftermath of recent attacks on synagogues in France, British and American media reports made comparisons to the Nazi era, with some even referring to a French Kristallnacht. Such hyperbole must be firmly rejected, for it offends the memory of those who suffered at the hands of the collaborationist Vichy regime.
PARIS – "Death to the Jews!" In Paris and other French cities, the hate-filled words ring out. Attacks on synagogues have taken place for the first time since the Dreyfus Affair at the end of the nineteenth century. In suburban areas near Paris, such as the town of Sarcelles, known for its climate of religious and ethnic tolerance, groups of young people have deliberately targeted Jewish properties.
Faced with the spectacular rise of anti-immigrant populism in France, and now with anti-Zionist demonstrations (which often coincide with an updated version of anti-Semitism), the French Jewish community is anguished and puzzled. Some of its members are quietly asking themselves whether there is a future for them in the land of human rights.
French Jews are rediscovering the dual trauma that they experienced during the twentieth century: the death-camp deportations of World War II and their flight from Algeria following its independence in 1962. It is to be expected that these episodes color – and tend to exacerbate – the emotions of the present.
French descendants of Eastern European Jews have not yet fully come to terms with a continent – including Vichy France – that they still associate with the Holocaust, whereas Jews from the Maghreb tend to resent the fact that even in France, they remain surrounded by "Arabs." Indeed, a significant portion of the Jewish community in the south of France votes for the far-right National Front, which, under the leadership of Marine Le Pen, has concentrated its xenophobia on Muslims.
In this tense setting, it comes as no surprise that the question of whether anti-Semitism has returned to France, after a seven-decade hiatus, is making international headlines. British and American media reports have made comparisons to the Nazi era, with some even referring, in the aftermath of attacks on French synagogues, to a French Kristallnacht.
Such hyperbole must be firmly rejected, for it offends the memory of those who suffered as a result of Vichy France's collaboration with Nazi Germany. After the Gestapo arrested my father in Nice in 1943, he was escorted by French gendarmes to the transit camp at Drancy, in the Paris suburbs, before being deported to Auschwitz. In 2014, by contrast, the French state defends the synagogues and denounces any form of anti-Semitism.
But even if the French state is not anti-Semitic, anti-Semitism does exist in France – and probably more so recently than in the postwar period. And the worsening situation in the Middle East has, of course, played a key role in this, particularly the shocking images from Gaza. The asymmetrical war being waged there by Israel seems disproportionate to a majority of world opinion, not just Arabs and Muslims.
To be sure, no state can passively accept rocket attacks on its cities. And, yes, Hamas deliberately chooses to place its military arsenal in highly populated areas under the involuntary protective shield of innocent civilians – or those Israeli officials sometimes refer to, with barely concealed mistrust, as the "uninvolved."
But the strategy of terror used by the Israeli authorities to deter further attacks or to restore a temporary "quiet" has been costly not only in terms of Palestinian lives lost and Israeli soldiers killed; it has also contributed to the deterioration of the security of Jews around the world. In France, too, many of them express – often quietly – both their deep love for what Israel is and their deep concern for what Israel is now doing.
It is one thing to say that the Middle East conflict should not be exported to France. It is another to recognize the inevitable impact of images of dead Palestinian women and children on communities in France that feel close to Palestine the way that Jews feel close to Israel. If the images from Gaza seem to resonate so much in France, it is partly a matter of sheer numbers: the largest Muslim community in Europe faces the largest Jewish community in Europe.
But it is not only a question of numbers. The young thugs who have attacked synagogues come mostly from the ranks of the unemployed and frustrated. They vent their rage at a system that does not integrate them. They even resent the Republic's commemoration of Jews' suffering during WWII. For them, past horror is abstract; only the present horror can be felt.
The encounter between the images of today's Middle East and the discontent of Muslim minorities (sometimes influenced by radical fundamentalist ideologies) should not be allowed to obscure traditional French anti-Semitism, white and bourgeois, which still lingers and is never far beneath the surface. Thanks to the Internet, it, too, has begun to emerge more often.
But the French state does what it has to do to repress and contain anti-Semitism. Comparisons to Nazi-era Europe do nothing to reassure a community that, despite all of the major historical differences between then and now, cannot quite shake the feeling that it is dancing on the rim of a volcano.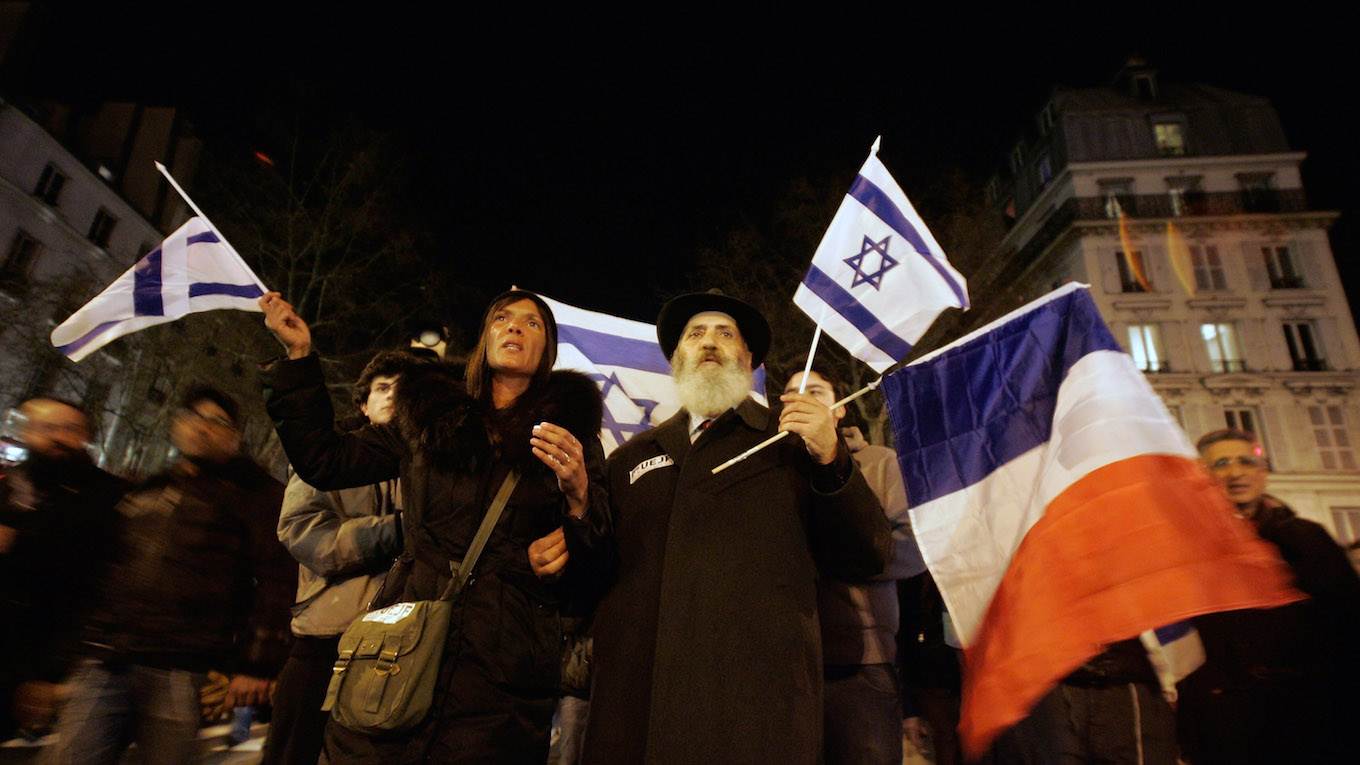 Dark Continent
We still know too little about Mohammed Merah, who killed seven people during his rampage in and around Toulouse, to ascertain whether he was affiliated with al-Qaeda, as he claimed. But, in the reactions to his killing spree, we see values and ideas that are all too familiar.
STOCKHOLM – Rabbi Shneur Kesselman estimates that he has been the victim of 100 or so anti-Semitic confrontations since he arrived in the southern Swedish city of Malmö in 2004. The latest was just a few days ago, when some young immigrants in a car spotted him on his way home after the evening service at the synagogue. The driver accelerated up onto the sidewalk as if trying to run him over.
Kesselman leads the Jewish congregation in Malmö, a town where many Jews are now afraid to wear a yarmulke or a Star of David in public. With his big beard and black hat, he stands out as an orthodox Jew, and is constantly spat upon, cursed at, and threatened. About a dozen families in his congregation have decided to leave the city for Israel or the United States, and the Simon Wiesenthal Center, named after the famous Nazi-hunter, has issued a warning for Jews visiting the town.
But Malmö's problems are not unique to Sweden. Anti-Semitic hate crimes are on the rise in many parts of Europe. In Germany and Austria, most such crimes are still committed by right-wing extremists, but, elsewhere in Western Europe, the increase reflects attitudes among young immigrant males – a finding documented by an exhaustive report released by the US State Department in 2005.
The recent murders of four Jews – a rabbi and three schoolchildren – in Toulouse constitute one of the worst anti-Semitic crimes of the last decade in Europe. We still know too little about Mohammed Merah, who killed seven people in total during his rampage, to ascertain whether he was affiliated with al-Qaeda, as he claimed, and we should be careful to draw conclusions about the cause and nature of his crime before the investigation has run its course. But, in the reactions to his killing spree, we see values and ideas that are all too familiar.
A few days after the murders, roughly 30 people, mostly women dressed in niqab, gathered in Toulouse to honor Merah's memory. A schoolteacher in northern France asked her class for a moment of silence in his memory. Jewish graves were vandalized in Nice. In Sartrouville, walls were covered with graffiti saying, "Long live Merah," "Vengeance," and "Fuck the kippa." Merah was described as a martyr on the pages of newly established Facebook groups.
We may not know much about Merah, but we are, unfortunately, increasingly well acquainted with this imported anti-Semitism, which is proving to be extremely difficult for European societies to confront. No one wants to blame or stigmatize another minority for anti-Semitic hate crimes, but Europe's Jews are finding themselves in an increasingly difficult situation.
Europeans often choose to avoid the problem by viewing it as a conflict between two groups, with responsibility falling equally on both sides. When I asked Malmö's mayor, Ilmar Reepalu, about the threats against Malmö's Jews, he claimed that the city's Jewish community was being "infiltrated" by the Sweden Democrats – an anti-immigration party with roots in the Swedish neo-Nazi movement – with the implication that Malmö's Jews were on an equal footing with the anti-Semites persecuting them.
Reepalu had to retract his claim as soon as the interview was published. Yet he acted on the popular notion that anti-Semitic attacks by Arab youths in Europe are part of a cycle of reciprocal violence that yields a kind of moral equivalence.
Hate-crime statistics reveal a different picture. European countries – among them France, Sweden, and the United Kingdom – experienced a sharp increase in anti-Semitic hate crime during the Gaza war three years ago. In Britain, 317 attacks were reported in 2009, compared to 112 in 2008. In France, the number of violent attacks rose to 195 in 2009, compared to 50 the year before. There have been no reports of a corresponding increase in Jewish violent crime against Muslims. Indeed, such crime appears not to exist at all.
Two plausible scenarios follow. First, Jewish families, frightened of the future, will increasingly leave Europe for Israel or the US, underscoring yet another disgraceful chapter in the history of European anti-Semitism, albeit this time imported from the Middle East. There are already indications of this emigration. According to the Jewish Agency for Israel, French Jews constitute one of the largest groups of immigrants currently moving to Israel, which the Agency links to growing anti-Semitism in France. In 2003, for example, roughly 1,800 French Jews moved to Israel, and 20% indicated that they might consider moving.
In the second scenario, the conflict in the Middle East is fully imported to Europe, and young Jewish men meet the threat to their communities with equal force. This would result in escalating violence between Jews and Muslims within European communities.
Perhaps, as a third alternative, European welfare states should check their priorities. France, Sweden, the UK, and other European nations guarantee a long list of positive rights and entitlements for their citizens. But they are failing to fulfill one of the core functions of any state: to protect citizens from physical harm, even when those citizens display their Jewishness in public.
Read more from our "Europe's Immigration Dilemma" Focal Point.