Europe's Crisis Starts at Home
According to conventional wisdom, the biggest threat to the European project is "illiberal" saboteurs on the periphery of the European Union who have decided not to play by the rules. But what this narrative misses is the even deeper divide within EU member states, including bastions of liberalism such as France and Germany.
LONDON – Deep divisions within Europe are increasingly threatening the values upon which the European project of "ever closer union" is based. In 2015, during the refugee crisis, many commentators saw a divide between German Chancellor Angela Merkel's Willkommenskultur (welcoming culture) and Hungarian Prime Minister Victor Orbán's vision of ethnic purity: a Western Europe of bridges versus an Eastern Europe of walls.
But another threat to European unity comes from within individual countries. In Germany, talks to form a center-left, center-right coalition have broken down. In the Netherlands, it took Prime Minister Mark Rutte 208 days to form a new government after elections in March. In the United Kingdom, the political establishment is in disarray over Brexit. And in Poland, white nationalists and neo-Nazis recently staged a massive march through the streets of Warsaw.
Which gulfs are wider – those between member states or those within them? The answer to that question matters a great deal. If Europe's biggest problem is that it is divided along national borders, then liberal-leaning countries like France and Germany could try to change the balance of power within increasingly illiberal countries.
Every EU country agreed to a set of liberal-democratic standards (part of the so-called Copenhagen Criteria) when it joined the club. But, over time, the governments of Hungary and Poland have decided that they no longer want to abide by the rules. One solution could be to create a smaller club with better benefits. Countries that wish to join this privileged inner circle would have to agree to a new – or rather, the original – set of rules; and countries that break the rules would be left out. There would finally be a cost to breaching EU standards.
But this solution could work only if the biggest problem is the divide between member states. As for the divisions within member states, consider Germany. After the federal election in September, Merkel embarked on a fascinating experiment, in which she tried to unite her center-right Christian Democratic Union (CDU), its more nativist sister party, the Christian Social Union (CSU), the pro-business Free Democrats (FDP), and the left-wing Greens.
Merkel is a talented negotiator, and far better suited to write about "the art of the deal" than others we won't bother mentioning. But it remains to be seen if she can heal the divisions in her own country.
While the Greens would like to uphold the Willkommenskultur, the CSU's position on migration is closer to that of the Visegrád Group (the Czech Republic, Hungary, Poland, and Slovakia). In fact, at the height of the refugee crisis in 2015, the CSU hosted Orbán at one of its party conferences.
Moreover, while the Greens are European federalists who support greater economic solidarity with Greece and Italy, the FDP channels the fiscal discipline of the Finns, the Dutch, and German Swabians. They are staunchly opposed to deeper European economic integration.
Many hoped that Merkel would succeed in forging a "Jamaica" coalition (named after the colors of that country's flag). But, in the end, the experiment failed. The FDP abandoned the talks out of frustration that, as its leader Christian Lindner put it, "The four discussion partners have no common vision for modernization of the country or common basis of trust."
Even without a Jamaica coalition, Germany still has a stable liberal majority in the Bundestag. The same cannot be said for the rest of the EU, where almost every other member state is now a "50-50 society": half cosmopolitan, half communitarian. In these countries, the government at any given time represents whichever side won the latest round in an ongoing culture war.
In the UK, for example, 52% of voters opted to leave the EU. The country is now hurtling toward an isolated state of provincialism and xenophobia, but its leaders keep telling the public that Britain will be better off on its own. For those who believe it, the fact that the UK will lose a say in EU decisions affecting its economic environment doesn't seem to matter.
France, on the other hand, has an energetic new pro-European president, Emmanuel Macron, who is committed to preparing his country for the years ahead. And yet France is not much more cosmopolitan than Britain. In the first round of the presidential election this spring, the nativist campaigns of Marine Le Pen, Jean-Luc Mélenchon, and Nicolas Dupont-Aignan collectively won 46% of the vote – almost as much as the UK's "Leave" campaign.
Clearly, the EU is both a society of states and of citizens. That means intra-national divides are as important as the diplomatic spats between countries.
Earlier this year, a Brookings Institution report tried to determine if Europe is an "optimal political area," a concept borrowed from economist Robert Mundell's theory of "optimal currency areas." The report concluded that cultural and institutional differences between EU countries have not changed much over the past three decades of European integration. But it also found that the divisions between countries are far smaller than the differences within countries. Or in other words, on the issue of freedom of movement, there is greater polarization between London and the British Midlands than between the UK and Poland.
Creating a flexible or multi-tiered Europe could solve some short-term problems, by bringing together coalitions of the willing to address specific issues. But it could also introduce new dangers. After all, most European countries, regardless of what tier they are on, will still be 50-50 societies that could opt in or out of deeper integration with a single election or referendum. In the future, one cannot rule out the possibility that Le Pen will be elected president of France, or that the anti-EU Five Star Movement will come to power in Italy. By the same token, the more moderate Civic Platform might return to power in Poland.
Confronting the intra-societal challenge to the European project will not be easy. It is a deep, generational problem that goes to the heart of national identity, history, and geography. No quick institutional fix can solve a problem like that.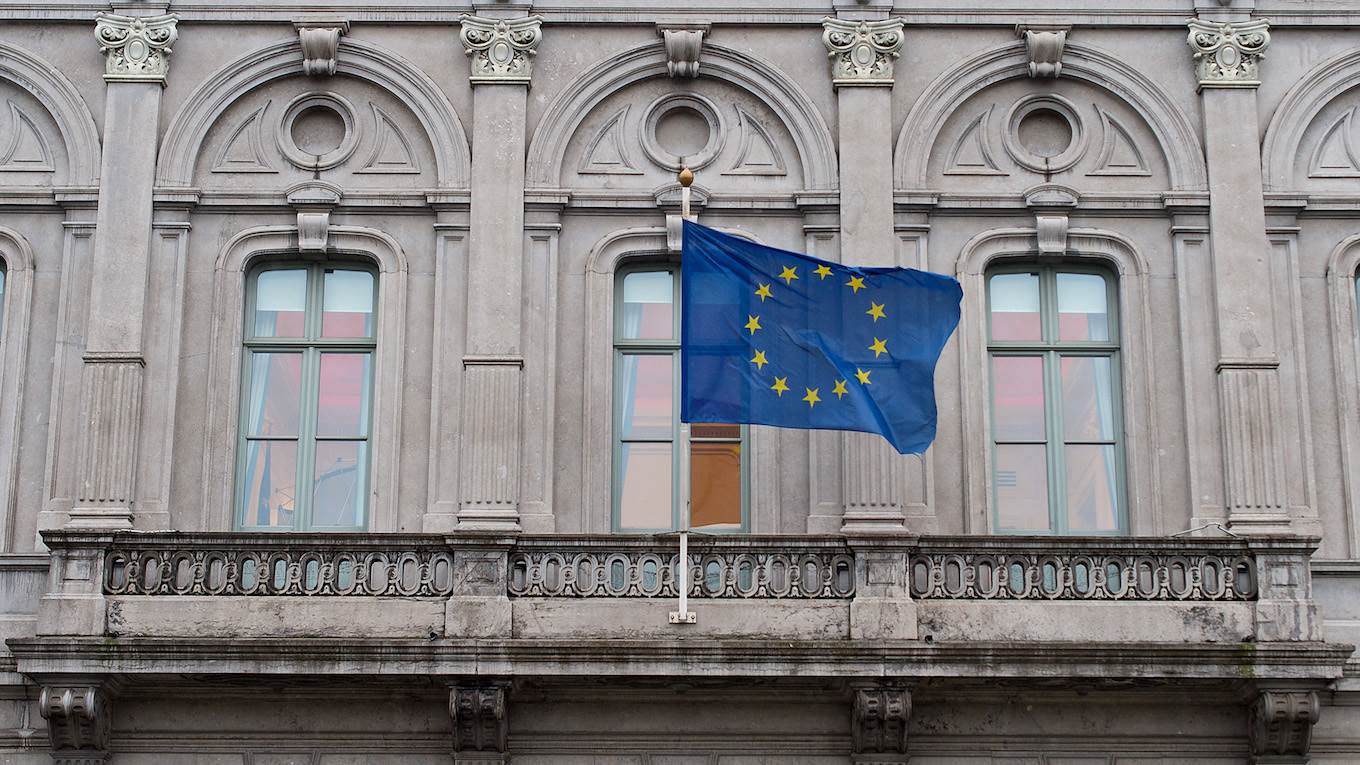 A Europe of Citizens
A genuine and legitimate shift in sovereignty to an EU executive requires a stronger connection between the people and those acting on their behalf. In other words, the EU needs a transnational constituency.
MADRID – Last month was another cruel one for Europe, culminating in the horrific terrorist attacks in Brussels on March 22. The aftermath has seen a new round of soul searching, with Europeans mulling over the European Union's institutional failures and sheer incompetence, not to mention the existential challenge it currently faces.
Such considerations seem to arise frequently these days, as Europe encounters a seemingly endless series of emergencies, from the Greek crisis to the influx of refugees. Yet complacency remains the order of the day, with EU leaders adopting to a crisis-response mentality that privileges reaction over action and perpetuates the cycle of destabilization.
The fact that crises have become the EU's new normal has reinforced the notion, already ubiquitous among Europhiles and Eurocrats, that we will simply continue to muddle through. This approach is both misguided and dangerous.
As it stands, European unity is disintegrating rapidly. The just-concluded referendum in the Netherlands, in which Dutch voters overwhelmingly rejected an association agreement between the EU and Ukraine, is merely the latest example. If the EU is to survive this slow-motion train wreck, let alone thrive in the long run, bold action – not just valiant rhetoric – is urgently needed.
It is time to decide whether the EU is a truly transnational undertaking or merely a vessel for inter-governmental arrangements. If it is the latter, we should call a spade a spade. But, in that case, we should understand that we – both the EU and individual countries – are effectively resigning ourselves to increasing irrelevance. Paying little more than lip service to a common approach in critical areas leaves problems unaddressed and opportunities unexplored. Simply put, with an "every man for himself" approach, everyone will sink.
A transnational undertaking is the superior option. But it is also the more difficult one, because it demands deep and fundamental changes in how the question of European integration is approached.
The original sin of the European project is that, Brussels notwithstanding, there is no European constituency. Events, policies, and challenges are all viewed through a national lens. The refugee crisis has brought this into sharp relief; but every stress on the European system brings to the fore nationalist perspectives.
And why shouldn't this be the case? After all, political accountability – not to mention tax money – flows from citizens to the national capitals. But the split between the EU and national governments is a false one. Subsidiarity, properly applied and understood as decision-making power at the appropriate level of government, is and must remain a guiding principle of European action. There are, however, times when collective action is needed. For such action to be effective, the EU level cannot be a place for scapegoating and bloviating.
National political figures cannot continue to claim that Brussels or the European Commission is the source of all their problems, and pursue self-centered and shortsighted measures that ultimately exacerbate crises. Nor can EU officials continue to shrug their shoulders and blame national politicians for failing to implement proposed EU-wide measures. Instead, the EU needs real authority to execute policy.
One Brussels insider recently noted to me that the EU, propelled by its crises, is already entering a new phase of empowerment, where it, not its member states, has real implementing authority. And, indeed, there are assorted examples of the EU assuming something of an executive position; notably, the EU is expected to play a leading role in implementing its recent deal with Turkey to resolve the refugee crisis.
But a genuine and legitimate shift to an effective EU executive requires a stronger connection between the people and those acting on their behalf. In other words, we must create a transnational constituency.
This is not a new idea. There has long been support for the idea of European citizenry, and the EU treaties include provisions that could serve as stepping stones to this end. But limited progress on this front reflects popular sentiment. In the five years since Eurobarometer began asking survey participants whether they feel like citizens of the EU, the number responding positively has increased by only 2% (from 62% in 2010 to 64% in 2015).
Deepening the political links among Europeans requires institutional reform based on collective action, awareness, and ownership. The seeds of such an endeavor – from replacing the elegant but bloodless Spitzenkandidaten system with direct EU-wide elections for European Commission President to considering a limited but direct EU tax to establish a clear line of accountability – are already available.
Such efforts would certainly face serious political headwinds; the current system is, after all, quite comfortable for many. But the process of unraveling is already underway. Only a conscious European citizenry can weaken the centrifugal forces that emerge in every crisis, because only such a citizenry can ensure accountability at the EU level, compel officials to formulate and execute effective policy, and thereby break the cycle of blame that has become entrenched in European decision-making. Creating this awareness would be a long-term process, but it is essential.
At a time of such difficult challenges, strengthening transnationalism might seem extreme and unachievable. But unless we recognize the real reasons that we continue to be battered by crises, we will be doomed to continue muddling through until there is no EU left.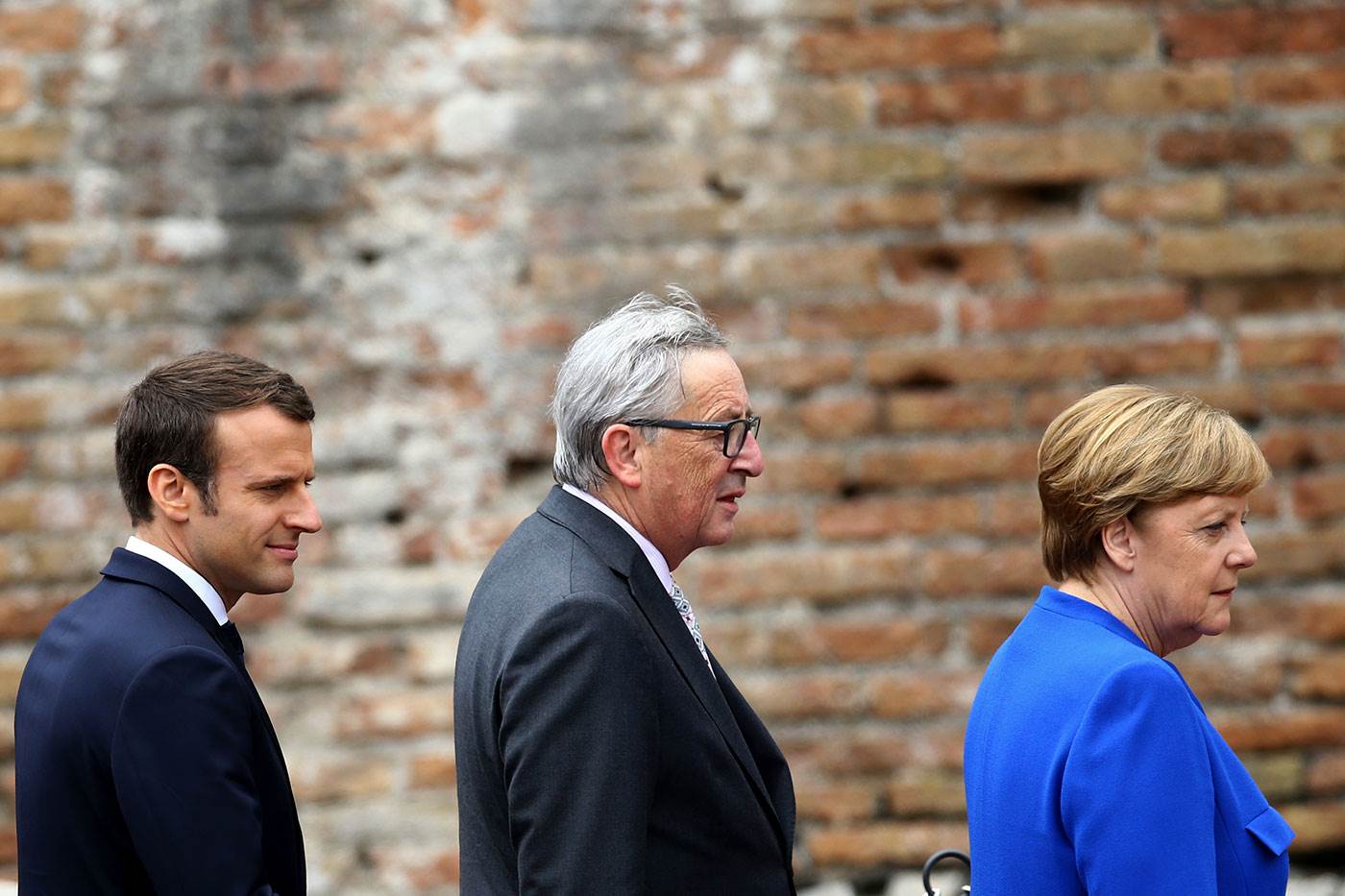 The Renewal of Europe's Center?
Despite their differences, British Prime Minister Theresa May, French President Emmanuel Macron, and German Chancellor Angela Merkel have one thing in common. All are building a new type of politics – a kind of centrist populism – that is increasingly filling the gap left by the waning of traditional political parties' influence.
PRINCETON – British Prime Minister Theresa May, French President Emmanuel Macron, and German Chancellor Angela Merkel are different in many ways. May unexpectedly assumed her position last year after the Brexit vote, when her predecessor, David Cameron, resigned. Macron has even less experience: the presidency, which he just took over last month, is his first-ever elected position. Meanwhile, Merkel has served as chancellor since 2005 (and a parliamentarian since 1991), making her Europe's longest-serving head of government.
But these three European leaders also have a lot in common. They are all in a relatively strong position domestically. Indeed, May and Merkel both appear likely to win their countries' general elections this week and in September, respectively, and Macron secured a decisive victory in France. More important, they are all building a new type of politics to fill the gap left by the decline in traditional political parties' influence.
The new political paradigm is founded on a kind of centrist populism, which blends support for globalization with a healthy dose of social protection and a generous pinch of patriotism. And it is highly personal. May is unambiguously the key attraction in the British election, and her divided Conservative Party is now downplaying the party label. Merkel, too, has become the central figure in a changing Christian Democratic Union party, which lacks alternative leaders. Macron created his own party.
This particular political revolution has been largely missed by commentators, who have tended to misinterpret the weakness of traditional parties, particularly those of the center left, as a fundamental threat to democracy. The rise of right-wing and illiberal populism in almost every major industrial country over the last year has reinforced this perception.
But the right-wing populist tide may now be on its way out, having proven less contagious and less easily internationalized than many expected. The explanation probably lies partly in the United States' experience since electing Donald Trump as its president – an experience that Europeans seem to have little interest in emulating.
In fact, Europe's Trump-supporting nationalists, Geert Wilders in the Netherlands and Marine Le Pen in France, attracted far fewer votes than opinion polls anticipated. This suggests that Europeans are not eager to go to political extremes so much as they are frustrated with a particular mode of political behavior.
In the second half of the twentieth century, a stable pattern emerged in most developed countries, with power alternating between center-right and center-left parties. The parties may have looked like bitter rivals, but they resembled each other in that they did not appeal to extremes, but fought for the political center. Their tax policies, for example, involved some redistribution, but nothing too radical in either direction.
By the 1990s, however, that dynamic was strained by the impact of globalization and voters' fear of job losses to cheaper labor abroad. In response to the challenges raised by greater economic openness, center-left parties linked globalization with liberal stances on social issues.
But that updated form of social democracy – called "New Labour" in the United Kingdom – had little to offer center-left parties' traditional core voters, who began to look for alternatives, just as some of their center-right counterparts did. Yet they were not, it now seems clear, necessarily seeking a radical approach. After all, when offered a new version of moderate politics, many embraced it.
The new centrist political mix harkens back to the days before hyper-globalization. Indeed, as May, Merkel, and Macron remake politics in their respective countries, they are all standing firmly on national tradition.
May's Conservative rejection of extreme economic liberalism as "untrammeled free markets" and "selfish individualism," for example, recalls traditional British paternalism. Her promises to improve the health system, curb exorbitant pay packages of top executives, and deliver more social housing (which tenants could then purchase) looks reassuringly familiar, even old-fashioned (especially when viewed alongside her pledge to let Parliament vote to lift a nearly two-decade-old ban on fox hunting).
Macron represents a different tradition, deeply embedded in the French national psyche but largely lost in recent presidencies. He focuses on France's tradition as a modern and dynamic country with high-quality engineering schools and prestige infrastructure projects. The French president he most closely resembles is Valéry Giscard d'Estaing, who also tried to style himself not as a Gaullist, but as a modernizer who would (literally) speed up the national anthem.
Merkel is traditional in a characteristically German way: she deliberately emphasizes pragmatic action over ideology. She is most like Giscard's counterpart among German chancellors, the social democrat Helmut Schmidt, who also broke with his party and emphasized management and competence.
In fact, the promise of individual competence is a critical element of this new European politics. May is portrayed as the only person who can be trusted to negotiate Brexit. Macron is uniquely qualified to work with Germany and the European Union. Merkel is a safe pair of hands.
But the challenges facing May, Macron, and Merkel would be difficult for even the most competent leader. They begin with Brexit negotiations and, for France and Germany, continue to difficult reforms of the eurozone and the EU. While Brexit, by removing an anti-integrationist country power from the EU, may well give a greater impetus to Franco-German cooperation, it will do nothing to remove many formidable obstacles to progress.
The reality is that the new politics that has taken over three major European countries remains fundamentally fragile. It lacks institutional support, in the form of a strong political party, which it may be incapable of acquiring, given its focus on heroic leaders. And, given the combination of complex agendas and high expectations, those leaders may fail. Europe's political center, now masterfully riding a wave of confidence, could suddenly find itself high and dry.