America's Supply-Side Scam
Congressional Republicans' proposed tax cuts are no recipe to "make America great again." Lacking in saving, outsize US budget deficits spell nothing but serious trouble ahead on the balance-of-payment and trade fronts.
NEW HAVEN – Tax cuts masquerading as tax reform are the best way to describe the thrust of Washington's latest policy gambit. The case is largely political – namely, the urgency of a Republican Congress to deliver a legislative victory for a Republican president. The consequences, however, are ultimately economic – and, unsurprisingly, likely to be far worse than the politicians are willing to admit.
Taking the lead from President Donald Trump, the political case for tax cuts is that they are essential to "make America great again." Over-taxed and cheated by bad trade deals, goes the argument, America needs tax relief to revive its competitive prowess.
Notwithstanding the political pandering to hard-pressed middle-class families, corporate America is clearly the focus of these efforts, with proposed legislation aiming to reduce business tax rates from 35% to 20%. Never mind that US companies currently pay a surprisingly low effective corporate tax rate – just 22% – when judged against post-World War II experience.
And pay no attention to the latest tally of international competitiveness by the World Economic Forum, which finds the US back in second place (out of 137 countries). And, of course, don't draw comfort from the lofty stock-market valuations of the broad constellation of US companies. Forget all that, Republicans insist: cut business taxes, they say, and all that ails America will be cured.
There are times when the politicization of economic arguments becomes dangerous. This is one of those times. The US simply can't afford the current tax cuts making their way through Congress. According to the nonpartisan Congressional Budget Office, the cuts will result in a cumulative deficit of about $1.4 trillion over the next decade. The problem arises because America's chronic saving shortfall has now moved into the danger zone, making it much more difficult to fund multi-year deficits today than was the case when cutting taxes in the past.
The so-called Kennedy tax cuts of 1964 and the Reagan tax cuts of 1981 are important cases in point. The net national saving rate – the broadest measure of domestic saving, which includes depreciation-adjusted saving of households, businesses, and the government sector – averaged 10.1% during those two years (1964 and 1981). In other words, back then the US could afford to enact major tax cuts.
That is not the case today, with the net domestic saving rate a mere 1.8% of national income. Even during the two tax cuts that followed – the second installment of Reagan's fiscal program in 1986, and the initiatives of George W. Bush in 2001 – the net national saving rate averaged 4.2%, more than double the current level.
Both experience and macroeconomic theory indicate what to expect. Saving-short economies simply cannot go on deficit-spending binges without borrowing surplus saving from abroad. That is what brings the balance-of-payments and trade deficits directly into the debate over fiscal policy.
Significantly, the US current account was in slight surplus during the big tax cuts of 1964 and 1981 – in sharp contrast to today's deficit of 2.6% of GDP. With fiscal deficits likely to push an already-low domestic saving rate even lower – possibly back into negative territory, as was the case from 2008-11 – there is a great risk of a sharply higher current-account deficit. And a bigger current-account deficit means that the already-large trade deficit will only widen further, violating one of the main tenets of Trumponomics – that making America great again requires closing the trade gap.
It is at this point where the tale goes from fact to fiction. Trump and the congressional Republican majority insist that the proposed tax cuts will be self-financing, because they will spur economic growth, causing revenues to surge. This so-called supply-side argument, first advanced in support of the Reagan-era tax cuts, has been a lightning rod in US fiscal policy debates ever since.
Reality has turned out quite differently than the supply-siders envisioned. Yes, the economy recovered spectacularly from a deep recession in 1981-1982. But that was due largely to an aggressive easing of monetary policy following the Federal Reserve's successful assault on double-digit US inflation.
By contrast, the fiscal nirvana long promised by supply siders never materialized. Far from vanishing into thin air, federal budget deficits ballooned to 3.8% of GDP during the 1980s, taking public debt from 25% of GDP in 1980 to 41% by 1990.
Not only did the supply siders' self-funding promises go unfulfilled; they also marked the beginning of the end for America's balance-of-payments equilibrium. From 1960 to 1982, the current account was basically in balance, with a surplus averaging 0.2% of GDP. On the heels of the budget deficits of Reaganomics and the related plunge in national saving, the current account swung sharply into deficit, averaging -2.4% of GDP from 1983 to 1989. And it has remained in deficit ever since (with the exception of a temporary reprieve in the first two quarters of 1991 due to external funding of the Gulf War).
Far from a recipe for greatness, the Trump fiscal gambit spells serious trouble. Lacking in saving, outsize US budget deficits point to sharp deterioration on the balance-of-payment and trade fronts. Nor will creative supply-side accounting alter that outcome. A "dynamic scoring" by the nonpartisan Tax Policy Center suggests growth windfalls might prune the multiyear deficit from $1.4 trillion to $1.3 trillion over the next decade – hardly enough to finesse America's intractable funding problem.
George H.W. Bush said it best when he was campaigning for the Republican presidential nomination in April 1980. He rightly criticized the "voodoo economic policy" of his opponent, Ronald Reagan. For today's saving-short US economy, déjà vu is a painful understatement of what lies ahead.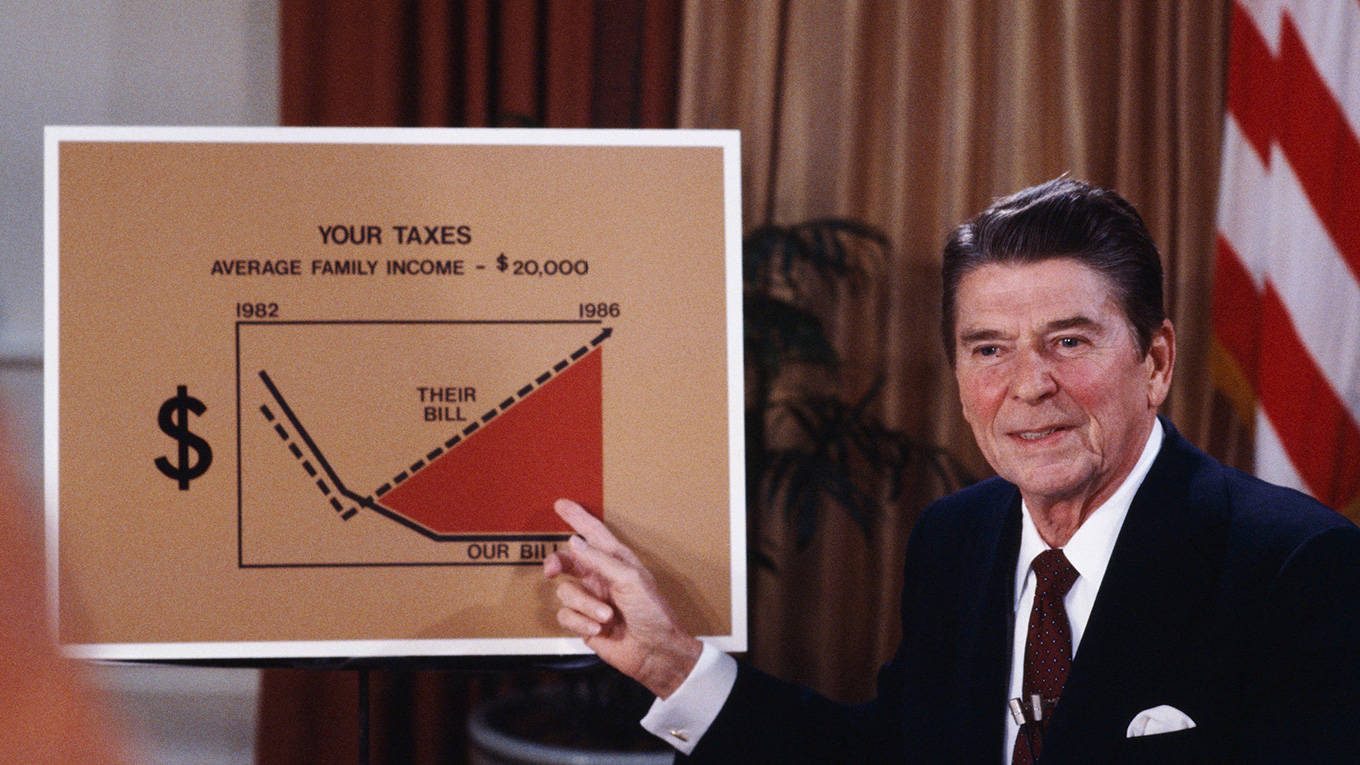 Reagan's Tax Reforms Revisited
The US has plenty of experience with irresponsible tax cuts. Yet its leaders seem not to have learned their lesson. Should Republicans secure the legislative victory they so desire, the entire country – with the exception, perhaps, of the wealthiest few – will lose.
WASHINGTON, DC – Congressional Republicans must, President Donald Trump has commanded, pass their sweeping US tax bill by Christmas. Otherwise, they will have no major accomplishment to show for an entire year during which they have controlled the legislative and executive branches of government. Having apparently failed in their seven-year campaign to deprive millions of Americans of health insurance, they dare not fail in their Scrooge-like campaign to transfer billions of dollars from the middle class to the ultra-rich.
In an effort to rally support for the tax bill, Trump recently sought to invoke Ronald Reagan's tax initiatives of the 1980s. And he has a point, though not the one he intended. Recalling what transpired under Reagan might shed some light on the Republicans' murky current proposals.
There were actually two huge tax bills during the Reagan years – the Economic Recovery Tax Act of 1981 and the Tax Reform Act of 1986 – and they differed in almost every respect. The 1981 legislation was not true tax reform, but a rushed and poorly coordinated frenzy of fiscally irresponsible cuts to both corporate and personal income taxes. The 1986 law was the well-thought-out result of an extended, deliberate, and bipartisan process, designed to be revenue-neutral, with low marginal income tax rates balanced by fewer deductions, particularly on the corporate side.
The 1986 reform was a model of how to carry out fiscal reform, whereas the 1981 process was a model to avoid. Yet it is the latter that the Republicans' current tax "reform" most resembles.
As in 1981, the current process has been rushed, with scant deliberation – the usual hearings have not been held – and not even a pretense of bipartisan cooperation. Almost every day brings news of some radical change in the legislation proposed in either the House of Representatives or the Senate. The situation is so volatile that we may not know everything the bill contains – and which special interests won out – until after it is passed.
It goes without saying that thorough deliberation is essential to good legislation, not just to secure the political buy-in of others, but also to avoid drafting errors and limit unintended consequences. Moreover, fiscally responsible reforms involve hard choices, and tend to work only if they are drafted with a spirit of shared sacrifice: "I will give up my cherished benefit, if you give up yours."
Far from pursuing careful deliberation and smart compromise, US Republicans today are pretending that the cuts for which they are striving will carry no costs. If they get their way, these self-professed fiscal conservatives will blow up the budget deficit, just as they did in 1981 under Reagan, and just as they did again in 2001 and 2003, thanks to the massive tax cuts enacted under President George W. Bush.
To be sure, the current proposals do not get everything wrong. Reducing the US corporate income tax rate would be a good move, provided that the lost revenue were recouped through the elimination of business loopholes, such as the corporate interest deduction and the favored treatment of carried interest. But the legislation cuts the corporate tax rate too much and closes too few loopholes to achieve anything close to revenue neutrality.
But Reagan's 1986 reform prioritized working families over corporations, such as through the expansion of the Earned Income Tax Credit. The current proposed legislation does the opposite. It aims to achieve its supposedly restrained goal of limiting revenue losses to $1.5 trillion over ten years by allowing households' tax cuts to expire before the decade is over, while corporations enjoy their cuts indefinitely. Taxes on families earning less than $75,000 would rise, on average, relative to today.
Of course, today's Republicans do not admit that their plan isn't revenue-neutral. Like their counterparts in 1981, not to mention during the Bush era, they claim that the cuts will stimulate the economy so much that overall tax receipts will stay the same or even rise. Yet such claims have been rejected by virtually all mainstream economists, including the economic advisers of both Reagan and Bush. Those administrations implemented their cuts anyway – and, as economists had warned, budget deficits increased sharply.
The tax cuts that the Trump Republicans are attempting to pass today would be even more damaging. There is good reason to fear much more serious long-term consequences of the rise in the budget deficit, owing to two key issues of timing – one cyclical and the other demographic.
The 1981 tax cuts went into effect at the onset of the 1981-1982 recession, a time when some short-term fiscal stimulus came in handy. The opposite is true today. With a 4.1% unemployment rate, the US economy does not need more stimulus. In fact, the US Federal Reserve is expected to raise interest rates again in December, to prevent the economy from overheating.
Moreover, the baby boom generation is now retiring at a rate of about 10,000 people per day, meaning that Medicare and Social Security outlays – for health insurance and pensions, respectively – will increase rapidly. Despite the slowdown in the growth of per capita health-care costs in recent years, the Medicare trust fund is projected to be depleted by 2029, and the Social Security trust fund by 2034.
Meanwhile, the national debt held by the US public stands at 76% of GDP, compared to just 25% when Reagan took office and 46% when George H.W. Bush left office 12 years later. Total national debt, including bonds held by the Fed, stands at 104% of GDP today, compared to only 31% in 1980. In short, this is the wrong time to be increasing the budget deficit and borrowing more – particularly with interest rates set to rise further.
The US has much experience with irresponsible tax cuts. Yet its leaders seem not to have learned their lesson. Should Republicans secure the legislative victory they desire, the entire country – with the exception, probably, of the wealthiest few – will lose.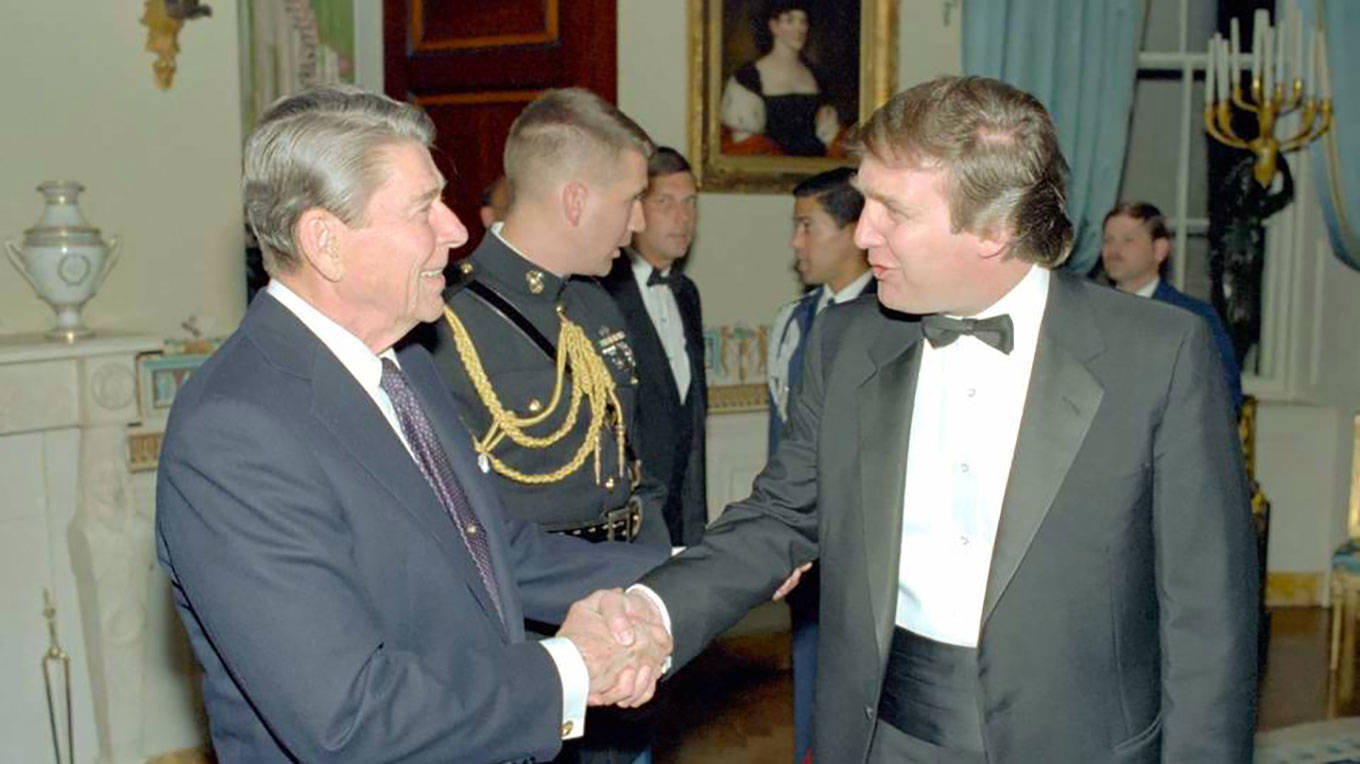 Déjà Voodoo
A Trump administration staffed by plutocrats – most of whom gained their wealth from rent-seeking activities, rather than from productive entrepreneurship – could be expected to reward themselves. But the Republicans' proposed tax reform is a bigger gift to corporations and the ultra-rich than most had anticipated.
NEW YORK – Having failed to "repeal and replace" the 2010 Affordable Care Act ("Obamacare"), US President Donald Trump's administration and the Republican congressional majority have now moved on to tax reform. Eight months after assuming office, the administration has been able to offer only an outline of what it has in mind. But what we know is enough to feel a deep sense of alarm.
Tax policy should reflect a country's values and address its problems. And today, the United States – and much of the world – confronts four central problems: widening income inequality, growing job insecurity, climate change, and anemic productivity growth. America faces, in addition, the need to rebuild its decaying infrastructure and strengthen its underperforming primary and secondary education system.
But what Trump and the Republicans are offering in response to these challenges is a tax plan that provides the overwhelming share of benefits not to the middle class – a large proportion of which may actually pay more taxes – but to America's millionaires and billionaires. If inequality was a problem before, enacting the Republicans' proposed tax reform will make it much worse.
Corporations and businesses will be among the big beneficiaries, a bias justified on the grounds that this will stimulate the economy. But Republicans, of all people, should understand that incentives matter: it would be far better to reduce taxes for those companies that invest in America and create jobs, and increase taxes for those that don't.
After all, it is not as if America's large corporations were starved for cash; they are sitting on a couple of trillion dollars. And the lack of investment is not because profits, either before or after tax, are too low; after-tax corporate profits as a share of GDP have almost tripled in the last 30 years.
Indeed, with incremental investment largely financed by debt, and interest payments being tax-deductible, the corporate tax lowers the cost of capital and the returns to investment commensurately. Thus, neither theory nor evidence suggests that the Republicans' proposed corporate tax giveaway will increase investment or employment.
The Republicans also dream of a territorial tax system, whereby American corporations are taxed only on the income they generate in the US. But this would only reduce revenue and further encourage American companies to shift production to low-tax jurisdictions. A race to the bottom on corporate taxation can be prevented only by imposing a minimum rate on any corporation that engages in business in the US.
America's states and municipalities are responsible for education and large parts of the country's health and welfare system. And state income taxes are the best way to introduce a modicum of progressivity at the subnational level: states without an income tax typically rely on regressive sales taxes, which impose a heavy burden on the poor and working people. It is thus perhaps no surprise that the Trump administration, staffed by plutocrats who are indifferent to inequality, should want to eliminate the deductibility of state income taxes from federal taxation, encouraging states to shift toward sales taxes.
Addressing the panoply of other problems confronting the US will require more federal revenues, not less. Increases in standards of living, for example, are the result of technological innovation, which in turn depends on basic research. But federal government support of research as a percentage of GDP is now at a level comparable to what it was 60 years ago.
While Trump the candidate criticized the growth of US national debt, he now proposes tax cuts that would add trillions to the debt in just the next ten years – not the "only" $1.5 trillion that Republicans claim would be added, thanks to some growth miracle that leads to more tax revenues. Yet the key lesson of Ronald Reagan's "voodoo" supply-side economics has not changed: tax cuts like these do not lead to faster growth, but only to lower revenues.
This is especially so now, when the unemployment rate is just over 4%. Any significant increase to aggregate demand would be met by a corresponding increase in interest rates. The "economic mix" of the economy would thus shift away from investment; and growth, already anemic, would slow.
An alternative framework would increase revenues and boost growth. It would include real corporate-tax reform, eliminating the tricks that allow some of the world's largest companies to pay miniscule taxes, in some cases far less than 5% of their profits, giving them an unfair advantage over small local businesses. It would establish a minimum tax and eliminate the special treatment of capital gains and dividends, compelling the very rich to pay at least the same percentage of their income in taxes as other citizens. And it would introduce a carbon tax, to help accelerate the transition to a green economy.
Tax policy can also be used to shape the economy. In addition to offering benefits to those who invest, carry out research, and create jobs, higher taxes on land and real-estate speculation would redirect capital toward productivity-enhancing spending – the key to long-term improvement in living standards.
An administration of plutocrats – most of whom gained their wealth from rent-seeking activities, rather than from productive entrepreneurship – could be expected to reward themselves. But the Republicans' proposed tax reform is a bigger gift to corporations and the ultra-rich than most had anticipated. It avoids necessary reforms and would leave the country with a mountain of debt; the consequences – low investment, stalled productivity growth, and yawning inequality – would take decades to undo.
Trump assumed office promising to "drain the swamp" in Washington, DC. Instead, the swamp has grown wider and deeper. With the Republicans' proposed tax reform, it threatens to engulf the US economy.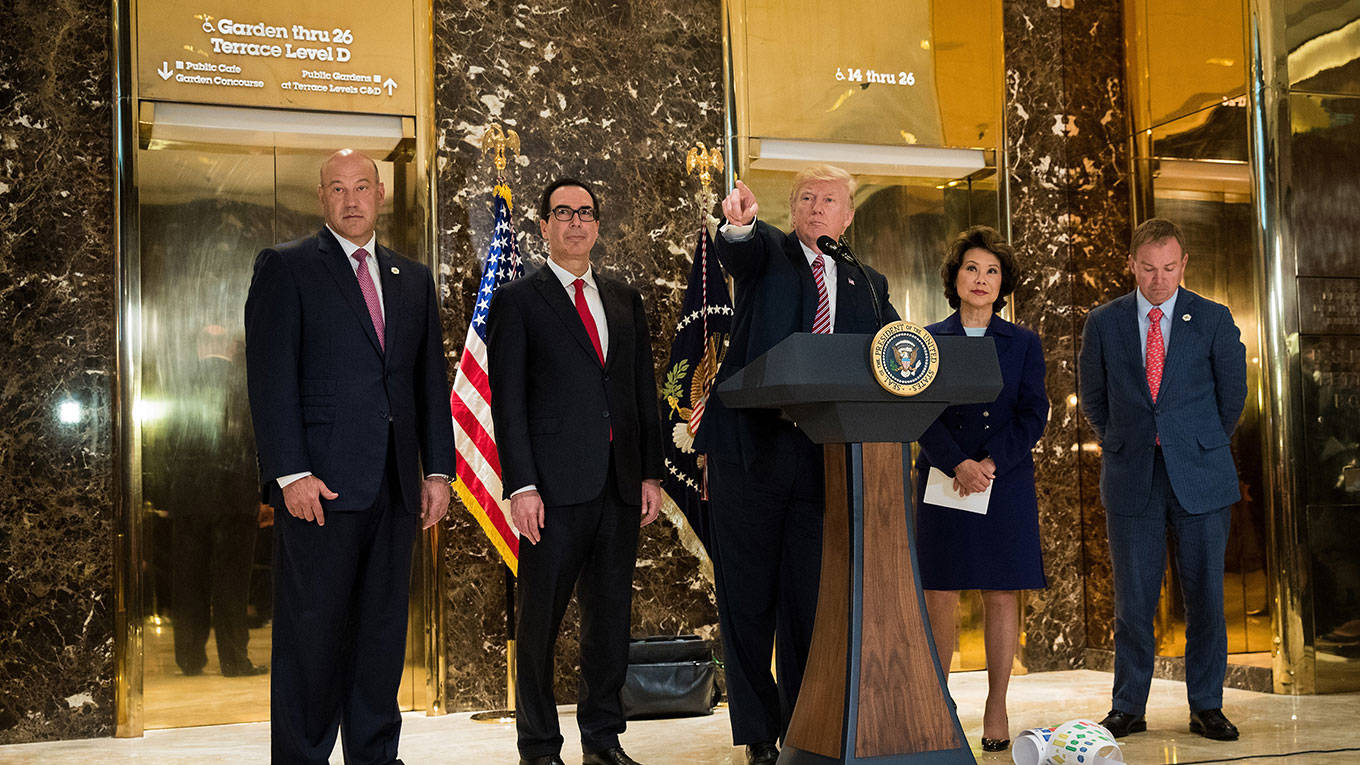 America's Tax-Cut Peronists
American populism in the Trump era, though promising great gains for working people, will in fact benefit only those who are already rich. That's quite a twist on anything Argentina's Juan Perón could have imagined pulling off, but, if left unchecked, the result, in terms of economic hardship and national decline, will be the same.
WASHINGTON, DC – Name the country. Its leader rails against foreigners, erects various import barriers, and pushes for low interest rates and lots of cheap credit for favored sectors. Government debt is already high, but the would-be strongman in power decides to pile on even more by increasing the budget deficit, arguing that this will boost prosperity to previously unattainable levels. While the government claims to represent the common people, state contracts are awarded to friends of friends.
The answer, of course, is Argentina under Juan Perón, who was in power from 1946 to 1955 (and again briefly in 1973 and 1974), and many of his successors. One of the richest countries in the world around 1900 was laid low by decades of unsustainable economic policies that made people feel good in the short run but eventually ended in disaster, such as runaway inflation, financial crisis, and periodic debt defaults. (To be clear, Argentina's economic policies today are quite different; for deep and up-to-date analysis, I recommend the work of my colleague Alberto Cavallo.)
But if your answer was the United States under President Donald Trump, you would not be far off. There is reason to fear that the US is now on the path to what was previously known as Latin American populism.
Consider the remarkable volte-face of the Republican Party on fiscal responsibility. There used to be a national debt clock in the hearing room of the House Financial Services Committee, and Republicans would rant about government profligacy as it ticked upward. When I was in that room recently, the clock was "under repair."
Self-proclaimed "fiscal conservatives," such as Mick Mulvaney (a former member of the House of Representatives who now runs government finances as head of the Office of Management and Budget), are close to enacting a massive tax cut, despite knowing that it will drive up the deficit and the national debt. Mulvaney and his colleagues could not care less.
Despite controlling both Houses of Congress and the presidency, the Republicans are beset by internal divisions. As a result, they are finding it hard to "pay for" the tax cuts with any reduction in tax expenditures (incentives for various activities such as corporate borrowing, mortgage financing, or retirement saving). But Republicans are deeply committed to gigantic tax cuts, in large part because their donors are demanding that they enact them. As a result, the US will merely end up with bigger budget deficits.
Facts used to matter in Washington, at least a little bit. But this is no longer the case in the age of Trump, at least not when it comes to taxes. Instead, the strategy has been to state, in a bald-faced manner whatever one wants to believe and heap ill-mannered abuse on anyone who cites evidence to the contrary.
In Chapter 3 of White House Burning, James Kwak and I reviewed what happened after the tax cuts enacted in 2001 under George W. Bush. Great promises were made about the cuts, including that they would help most Americans. But while they did help rich people become richer, there is no evidence that they delivered faster growth or higher incomes for the middle class. Instead, they boosted the budget deficit and contributed significantly to increasing the US national debt (by around $3 trillion through 2010), which weakened the government's ability to respond to crises, either in terms of national security or financial instability.
I have testified repeatedly before Congress on matters of fiscal policy. During the financial crisis of 2008-2009, Republicans were certainly interested in the facts. But this quickly tapered off, most notably in the House of Representatives. In fact, Kevin Brady, the representative who told me most clearly that he was not interested in looking at even moderately inconvenient facts, is now Chair of the House Ways and Means Committee, which plays a key role in what happens with taxes.
Ron Wyden, the senior Democrat on the Senate Finance Committee, calls the proposed Republican tax cuts "a middle-class con job." He is being polite.
The cut in corporate taxes that the Republicans are likely to support will not boost wages significantly. As the Congressional Research Service, describing the broader blueprint put forward by House Speaker Paul Ryan, has put it, "the plan's estimated output effects appear to be limited in size and possibly negative."
Including all possible positive effects of the Republican proposals, the Tax Policy Center has concluded that federal government "revenue would fall by between $2.4 trillion and $2.5 trillion over the first ten years and by about $3.4 trillion over the second decade."
The Trump administration has responded to this type of sensible, fact-based analysis in the way one has come to expect: by being rude.
American populism in the Trump era, though promising great gains for working people, will in fact benefit only those who are already rich. To be fair, this is quite a twist on anything Perón could have imagined pulling off. The results of irresponsible populism, however, are always the same.