The Big Picture brings together a range of PS commentaries to give readers a comprehensive understanding of topics in the news – and the deeper issues driving the news. The Big Question features concise contributor analysis and predictions on timely topics.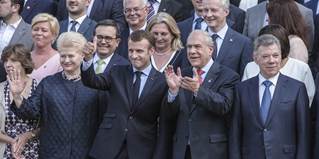 Saving Multilateralism
The institutions of international cooperation established after World War II are the bête noire of populists and nationalists everywhere. But unless the sources of growing public discontent with the status quo are addressed, such forces will only become stronger, with dire implications for global stability and security.
In this Big Picture, Angel Gurría calls on world leaders to address the areas where multilateralism has not delivered broadly shared benefits. A crucial first step, Mohamed El-Erian argues, is to develop a new economic paradigm to replace the discredited Washington Consensus.
Ngaire Woods suggests that process could be improved with diverse coalitions of stakeholders driving international cooperation forward. Otherwise, Brahma Chellaney warns, the world could end up a hostage to the competing interests and petty whims of a new G2: America and China.
Featured in this Big Picture
https://prosyn.org/WWtMkPb;