The Big Picture brings together a range of PS commentaries to give readers a comprehensive understanding of topics in the news – and the deeper issues driving the news. The Big Question features concise contributor analysis and predictions on timely topics.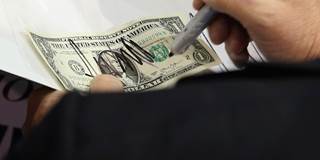 The Greenback's Payback
Behind the spectacle of US President Donald Trump's tariffs and tweets, monetary conditions are increasingly driving economic developments in both the US and China. Could a surging dollar alongside a falling renminbi upend Trump's economic-policy agenda, or even the global economy?
In this Big Picture, Kaushik Basu points out that, because his trade war is based on the false premise that China is still amassing dollar reserves to boosts its own exports, Trump should be careful what he wishes for. In fact, as Paola Subacchi explains, US tariffs could force the Chinese central bank to start dumping its dollar-denominated assets, driving up US interest rates.

Meanwhile, Nouriel Roubini worries that Trump will double down on his protectionist policies when he realizes that a stronger dollar is increasing the US trade deficit. And Benjamin J. Cohen warns that Trump could even decide to launch a "currency war" against the renminbi, potentially destabilizing global financial markets.
Featured in this Big Picture
https://prosyn.org/I22pVFo;