The Big Picture brings together a range of PS commentaries to give readers a comprehensive understanding of topics in the news – and the deeper issues driving the news. The Big Question features concise contributor analysis and predictions on timely topics.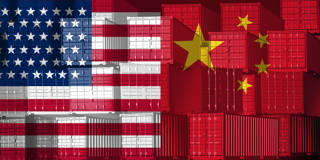 The Global Economy's Geopolitical Timebomb
China's weaker-than-expected economic recovery since abandoning its zero-COVID policy, together with the continued escalation of tensions with the United States, has raised doubts about its ability to achieve the economic dominance that was once considered inevitable. Is the global economy's rising star losing its shine?

Yu Yongding, a former member of the People's Bank of China's Monetary Policy Committee, does not think so, arguing that pessimism about China's economic prospects is not warranted. With a carefully designed fiscal stimulus focused on infrastructure investment, "China should be able to achieve GDP growth of around 6% in 2023" – well above the government's target of 5-5.5%.
But, according to Fudan University's Zhang Jun, China's government has good reason for lowering its growth targets. It has shifted its focus from rapid growth to job creation and macroeconomic stability, not least to cope with an "unfavorable external environment," including geopolitical factors that have led to "an unprecedented surge in cross-border restrictions."
Northwestern University's Nancy Qian highlights one example of such restrictions: a new bipartisan bill that would "prohibit anyone associated with 'foreign adversaries' like China from purchasing US farmland." The law would do nothing to help American food producers and consumers, she observes, but that is not the point. "For those behind it, the proposed ban is a low-cost way to capitalize on the escalating rivalry between the US and China."
To be sure, New York University's Nouriel Roubini notes, US officials have attempted to "establish guardrails for strategic competition with China," and Chinese officials continue to insist that they have "no interest in economic decoupling," Nonetheless, prospects for cooperation look increasingly remote." The US and China "remain on a collision course."
If conflict does erupt, Yale's Stephen S. Roach warns, the US will incur high costs, in the form of "slower economic growth, higher inflation, and possibly a weaker dollar." Following Treasury Secretary Janet Yellen's recent declaration that the US is prepared to accept "trade-offs" between its national security and economic interests, it is worth highlighting the "US penchant to over-hype the security threat" that China poses.
Featured in this Big Picture
https://prosyn.org/ZRgQtjX;