Il Centro Reggerà
CAMBRIDGE – Dopo gli eventi del 2017, la domanda più importante che gli Stati Uniti – e per molti versi il mondo – devono affrontare è questa: diventa realtà la terribile profezia di Will Yeats secondo cui "le cose vanno in pezzi; il centro non può reggere"? Continuerà ad apparire che "i migliori mostrano scarsa convinzione, mentre i peggiori sono animati da intensa passione"? È difficile non preoccuparsi, ma è troppo presto per prefigurare già un fallimento.
Oggi, gli Stati Uniti hanno un presidente che usa regolarmente Twitter per lanciare invettive contro i leader di stati dotati di armi nucleari, i mezzi di informazione americani, i membri del suo gabinetto, e le minoranze religiose e razziali, mentre incensa coloro che offendono i valori della democrazia, della tolleranza e del diritto internazionale.
Sulla scena mondiale, paesi come Cina, Russia, Turchia e Arabia Saudita sono più autoritari, più nazionalisti e più truculenti di quanto fossero un anno fa. E poi c'è il leader sicuramente più belligerante e forse più bizzarro della Corea del Nord, un paese che sta per sviluppare la capacità di fornire armi nucleari a lungo raggio.
Nel 2017, anche l'Europa ha dovuto affrontare delle difficoltà. A parte la decisione del Regno Unito di procedere con il suo ritiro dall'Unione Europea, per la prima volta da decenni l'estrema destra ha guadagnato seggi al Bundestag tedesco, ed in una serie di elezioni europee i partiti ed i candidati di estrema destra hanno raggiunto risultati migliori di quanto non sia mai avvenuto prima. A metà novembre, 60.000 persone hanno sfilato attraverso Varsavia chiedendo una "Europa bianca".
C'è quindi molta intensa passione. E gran parte di essa è mirata su tradizioni e concezioni che hanno reso gli ultimi decenni i migliori della storia umana, in termini di tenore di vita, emancipazione umana, progresso scientifico e artistico, riduzione del dolore e della sofferenza, o minimizzazione delle morti premature e violente.
Le cose si terranno insieme? Qualche tipo di centro reggerà? I mercati finanziari offrono una visione straordinariamente ottimistica. Il mercato azionario statunitense ha segnato un record dopo l'altro nell'anno trascorso dall'elezione di Donald Trump alla presidenza, mentre gli indicatori della volatilità del mercato azionario e della volatilità futura attesa sono a livelli molto bassi rispetto agli standard storici. E alcuni mercati azionari del mondo hanno ottenuto risultati finanche migliori.
Subscribe to Project Syndicate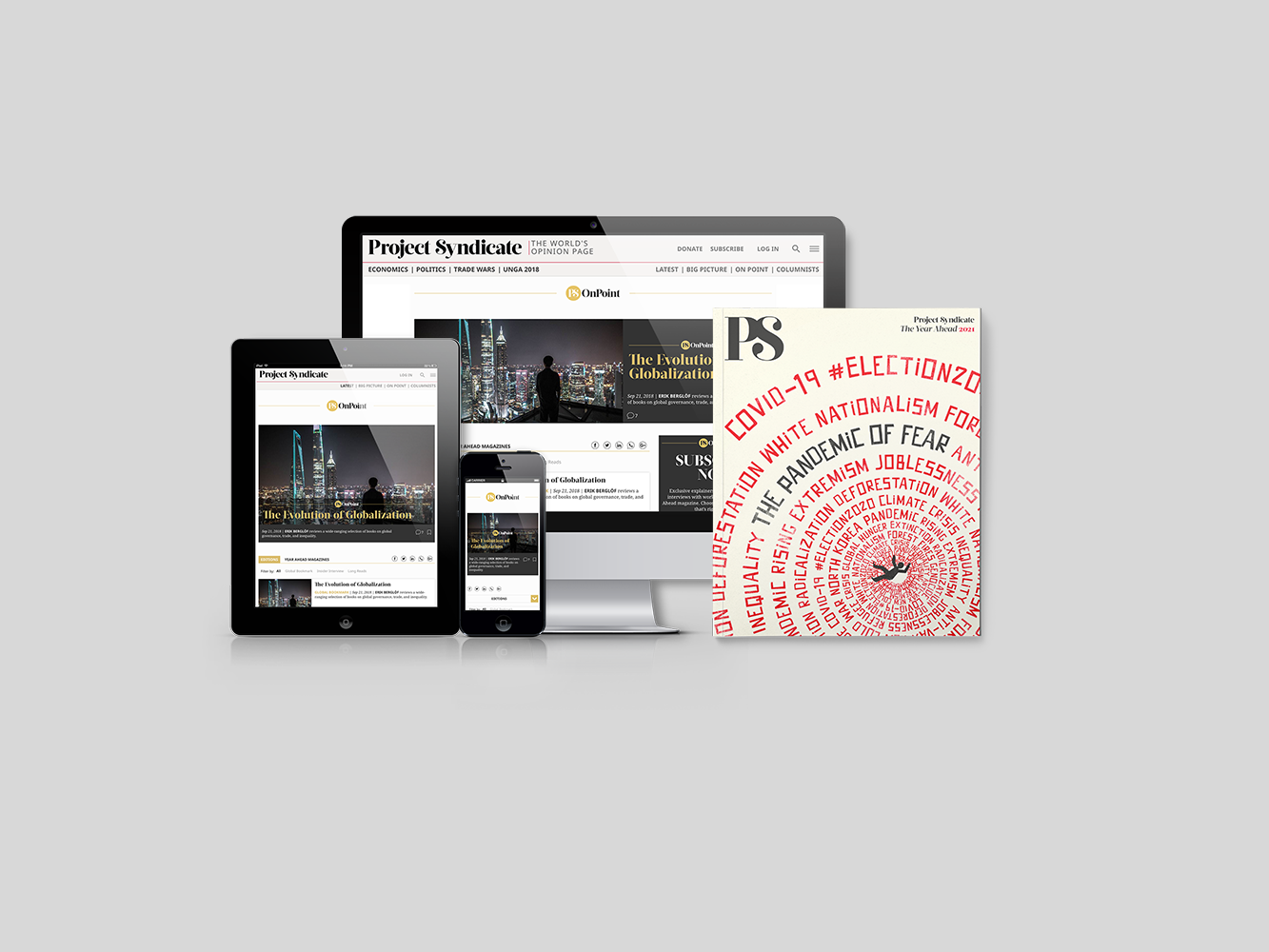 Subscribe to Project Syndicate
Enjoy unlimited access to the ideas and opinions of the world's leading thinkers, including weekly long reads, book reviews, topical collections, and interviews; The Year Ahead annual print magazine; the complete PS archive; and more – for less than $9 a month.
Gli alti prezzi azionari e la bassa volatilità possono sembrare sorprendenti, in realtà essi probabilmente riflettono la bassa correlazione esistente tra risultati del mercato azionario ed eventi geopolitici. Ad esempio, l'attacco giapponese a Pearl Harbor, l'assassinio del presidente John F. Kennedy e gli attacchi terroristici dell'11 settembre non hanno avuto un impatto significativo sull'economia. I maggiori movimenti del mercato azionario, come quelli del 1987, si sono generalmente verificati in giorni in cui non si registravano notizie esterne importanti.
I mercati azionari sono positivi perché comprendono singole società e, quest'anno, i profitti delle imprese sono stati particolarmente in aumento e prevedibili. È difficile giudicare quanto a lungo questo durerà, e c'è il rischio che gli investitori si stiano indebitando sempre più o stiano perseguendo strategie – come le versioni contemporanee delle assicurazioni di portafoglio – che li costringeranno a vendere qualora i mercati declinassero. Vale la pena ricordare che, guardando indietro, i mercati non sembrano essere stati straordinariamente in ebollizione prima della crisi del 1987.
C'è anche la questione della salute delle istituzioni finanziarie. Mentre le grandi aziende sembrano molto meglio capitalizzate e molto più liquide rispetto a prima della crisi, gli indicatori di rischio di mercato suggeriscono che non possiamo considerarci fuori pericolo come molti suppongono. Nonostante gli aumenti apparentemente elevati di capitale e le conseguenti flessioni della leva finanziaria, non sembra che gli stock bancari siano diventati molto meno volatili, come la teoria finanziaria potrebbe prevedere qualora il capitale diventasse abbondante.
I mercati finanziari sono largamente citati, anche dal presidente degli Stati Uniti Donald Trump, in quanto nel momento attuale offrono conforto. Ma una ricaduta nella crisi finanziaria avrebbe probabilmente conseguenze politiche catastrofiche, portando al potere nazionalisti populisti anche più deleteri. In uno scenario del genere, il centro non reggerebbe.
Al di là dei rischi a breve termine che condizionano i prezzi, c'è la questione di una recessione economica. La buona notizia è che prevale la fiducia in gran parte del mondo. È improbabile che l'inflazione acceleri senza controllo ed imponga uno slittamento verso politiche fiscali e monetarie depressive. La maggior parte degli osservatori considera basso il rischio di recessione a breve termine.
Ma le recessioni non sono mai previste con successo, anche soltanto con sei mesi di anticipo. Negli Stati Uniti l'attuale espansione va avanti da molto tempo, e il rischio di errori politici è molto concreto, a causa della leadership economica altamente problematica dell'amministrazione Trump. Io sarei propenso a porre la probabilità annuale di recessione nei prossimi anni al 20-25%. Quindi le probabilità sono più alte che mai che l'economia americana cada in recessione nei prossimi tre anni.
Il rischio da un punto di vista puramente economico è che la strategia tradizionale per la lotta alla recessione – una riduzione di 500 punti base del tasso dei fondi federali – quest'anno non sarà disponibile, data la presenza di un limite inferiore pari a zero per i tassi di interesse. Né è chiaro se esisterà la volontà o lo spazio per un'espansione fiscale.
Ciò significa che la prossima recessione, come l'ultima, potrebbe essere protratta e profonda, con gravi conseguenze globali. E anche la capacità politica di una risposta globale, come quella dimostrata al vertice del G-20 di Londra del 2009, sembra essere assente. Basta confrontare le visioni globali del presidente americano Barack Obama e del primo ministro britannico Gordon Brown di quei tempi con quelle di oggi di Trump e del primo ministro Theresa May.
Rabbrividisco al pensiero di cosa potrebbe significare una seria recessione per la politica e le politiche. È difficile immaginare di evitare una ripresa del protezionismo, del populismo ed dell'ostracismo. In tale scenario, come in un'altra crisi finanziaria, il centro non reggerebbe.
Ma nei prossimi anni, io credo che il più grande rischio non sia né un crollo del mercato né una recessione. È invece un circolo politico vizioso, in cui la conclusione degli elettori per i quali il governo non funziona efficacemente per loro diventa una profezia che si autoavvera. I candidati eletti su piattaforme di rancore delegittimano i governi che guidano, alimentando ulteriori risentimenti e nuovi leader ancora più problematici. Il cinismo pervade.
In quale altro modo si può spiegare la candidatura di Roy Moore al Senato degli Stati Uniti? Moore, che è stato licenziato due volte per giusta causa dal suo incarico alla Corte Suprema dell'Alabama, e che è credibilmente accusato di aver aggredito sessualmente ragazze adolescenti quando era trentenne, potrebbe entrare al Senato degli Stati Uniti, visto che molti dei suoi colleghi fanno finta di niente.
Se i cittadini di un paese perdono la fiducia nella capacità del loro governo di migliorare la loro vita, il governo ha un incentivo a raccogliere il sostegno popolare concentrando l'attenzione sulle minacce che solo esso stesso può affrontare. Ecco perché nelle società pervase dalla rabbia e dall'incertezza sul futuro, la tentazione di stigmatizzare i gruppi di minoranza aumenta. Ed è il motivo per cui c'è una tendenza degli operatori ad ingigantire le minacce straniere.
Stiamo vedendo questo fenomeno in tutto il mondo. Il presidente russo Vladimir Putin, il presidente turco Recep Tayyip Erdoğan e il presidente cinese Xi Jinping hanno tutti reso il nazionalismo parte centrale della loro strategia di governo. Così ha fatto anche Trump, che ha esplicitamente respinto la comunità internazionale a favore dell'idea che esista solo una lotta incessante tra gli stati-nazione per vantaggi competitivi.
Quando la maggiore potenza del mondo, dopo aver sostenuto l'idea di una comunità internazionale per quasi 75 anni, la respinge in favore di accordi ad hoc, gli altri non hanno altra scelta che seguire l'esempio. I paesi che non possono più fare affidamento sugli Stati Uniti si sentono obbligati a provvedere alla propria sicurezza. Gli avversari dell'America cercheranno inevitabilmente di colmare i vuoti lasciati dal ritiro degli Stati Uniti.
Le modifiche alle politiche fiscali, normative o di bilancio possono essere annullate – anche se con difficoltà – da un'amministrazione successiva. La percezione che gli Stati Uniti non siano più pronti a difendere i propri alleati nella comunità internazionale è molto meno reversibile. Anche se gli USA riprendessero i loro impegni precedenti, persisterebbe la sensazione che le promesse infrante una volta possono essere infrante di nuovo. E una volta che gli altri paesi intraprendessero un nuovo percorso, potrebbero risultare incapaci o riluttanti ad invertire la rotta.
Il centro reggerà, dunque? L'ordine internazionale resterà sostanzialmente stabile? La risposta dipenderà dalle scelte dell'amministrazione Trump e dalle risposte degli altri governi. Ma nel guardare all'America, gli altri paesi vedranno oltre il suo presidente, il cui consenso popolare tra l'altro continua a diminuire. Ecco perché è più importante che mai che tutti gli Americani proclamino il loro costante impegno a favore della democrazia e della prosperità in patria e per la leadership della comunità globale.