Wird das Zentrum standhalten?
CAMBRIDGE – Die wichtigste Frage, vor der die USA – und in vielfacher Hinsicht die Welt – nach den Ereignissen des Jahres 2017 stehen, ist Folgende: Wird Yeats' bange Prophezeiung (aus dem Gedicht The Second Coming)– "Zerfall … das Zentrum hält nicht stand" – eintreffen? Wird der Anschein weiterhin sein: "Bar jeder Überzeugung sind die Besten, die Schlechten voller leidenschaftlicher Besessenheit."? Es fällt schwer, sich keine Sorgen zu machen, doch ist es verfrüht, von einem Zusammenbruch auszugehen.
Die USA haben derzeit einen Präsidenten, der regelmäßig seinen Twitter-Account nutzt, um die Führer von nuklear bewaffneten Staaten, die amerikanischen Nachrichtenmedien, Mitglieder seines eigenen Kabinetts und religiöse und ethnische Minderheiten mit Schimpftiraden zu überschütten, und zugleich jene mit Lob überhäuft, die die Werte der Demokratie, der Toleranz und des Völkerrechts verleumden.
Länder wie China, Russland, die Türkei und Saudi-Arabien sind autoritärer, nationalistischer und widerspenstiger auf der Weltbühne als noch vor einem Jahr. Und dann ist da der wohl eindeutig streitlustigere und möglicherweise unberechenbarere Führer von Nordkorea, einem Land, das kurz davor steht, die Fähigkeit zu erwerben, nukleare Langstreckenraketen ins Ziel zu bringen.
Europa hatte es 2017 ebenfalls mit Prüfungen zu tun. Nicht nur entschied sich das Vereinigte Königreich, seinen Austritt aus der Europäischen Union voranzutreiben; in Deutschland schaffte zudem die extreme Rechte erstmals seit Jahrzehnten den Einzug in den Bundestag, und auch anderswo in Europa schnitten rechtsextreme Parteien und Kandidaten bei Wahlen besser ab denn je. Mitte November marschierten 60.000 Menschen durch Warschau und verlangten ein "weißes Europa".
Es gibt also jede Menge leidenschaftliche Besessenheit. Und viel davon richtet sich gegen Traditionen und Übereinkünfte, die die letzten Jahrzehnte – was den Lebensstandard, die menschliche Emanzipation, den wissenschaftlichen und künstlerischen Fortschritt, die Verringerung von Schmerz und Leid oder die Verringerung der Zahl frühzeitiger und gewaltsamer Todesfälle angeht – zu den besten der menschlichen Geschichte gemacht haben.
Wird ein Zerfall ausbleiben? Kann irgendeine Art von Zentrum standhalten? Die Finanzmärkte jedenfalls sehen die Lage derzeit bemerkenswert optimistisch. Der US-Aktienmarkt hat in dem Jahr seit der Wahl Donald Trumps zum Präsidenten einen Rekord nach dem anderen gebrochen, während die Indikatoren für die realisierte und erwartete künftige Volatilität des Aktienmarktes im historischen Vergleich ein sehr niedriges Niveau aufweisen. Und einige Aktienmärkte weltweit haben sich sogar noch besser entwickelt.
Subscribe to Project Syndicate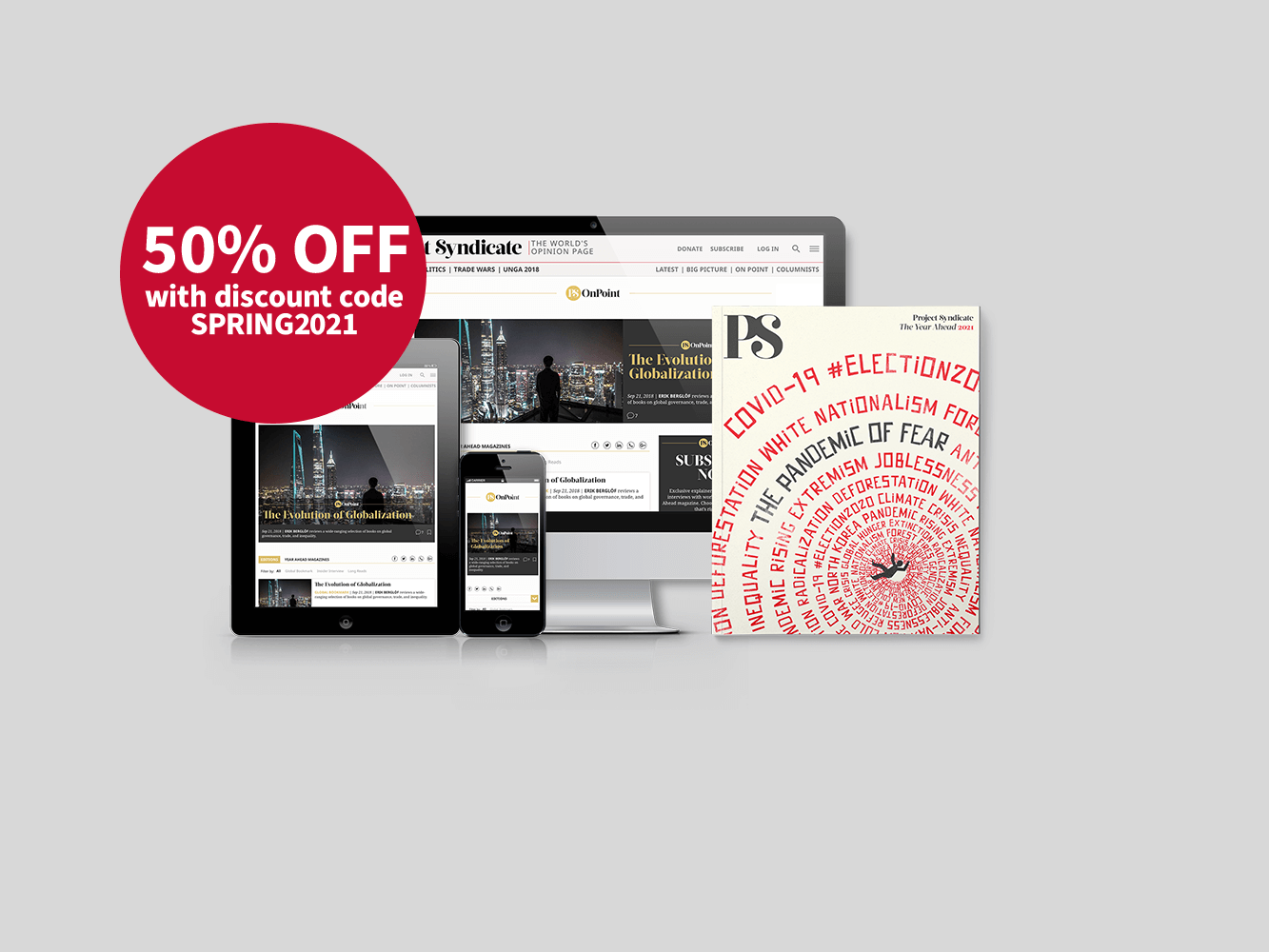 Subscribe to Project Syndicate
Enjoy unlimited access to the ideas and opinions of the world's leading thinkers, including weekly long reads, book reviews, topical collections, and interviews; The Year Ahead annual print magazine; the complete PS archive; and more. All for less than $5 a month.
Die hohen Aktienkurse und niedrige Volatilität mögen überraschen, spiegeln jedoch vermutlich das geringe Ausmaß wieder, in dem die Ergebnisse an den Aktienmärkten und geopolitische Ereignisse korrelieren. So hatten etwa der japanische Angriff auf Pearl Harbor, die Ermordung von Präsident John F. Kennedy und die Terroranschläge vom 11. September keine nachhaltigen Auswirkungen auf die Konjunktur. Die größten Bewegungen am Aktienmarkt, wie etwa der Kurssturz von 1987, ereigneten sich in der Regel an Tagen, wo es keine bedeutenden externen Nachrichten gab.
Die Aktienmärkte entwickeln sich gut, und sowohl der Anstieg der Unternehmensgewinne als auch deren Berechenbarkeit waren 2017 bemerkenswert. Wie lange dies so bleibt, ist schwer einzuschätzen, und es besteht die Gefahr, dass die Investoren zunehmend Fremdkapital aufnehmen oder Strategien verfolgen – wie etwa derzeitige Versionen der Portfolioversicherung –, die bei einem Marktrückgang Verkäufe auslösen. Man sollte sich erinnern: Im Rückblick scheint es, dass die Märkte vor dem Kurssturz von 1987 nicht durch eine besonders ausgeprägte Blasenbildung geprägt waren.
Dann ist da die Frage der Gesundheit der Finanzinstitute. Während Eigenkapitalausstattung und Liquidität der großen Unternehmen deutlich besser zu sein scheinen als vor der Krise, legen Risikoindikatoren nahe, dass wir nicht so weit außer Gefahr sind wie viele annehmen. Trotz anscheinend großer Zunahmen beim Eigenkapital und folglichem Verschuldungsrückgang sieht es nicht so aus, als hätte die Volatilität bei den Bankaktien deutlich nachgelassen, wie es die Finanztheorie bei überreichlicher Kapitalausstattung erwarten ließe.
Die Finanzmärkte werden von vielen, darunter US-Präsident Donald Trump, als Stütze in der gegenwärtigen Situation angeführt. Doch ein Rückfall in eine Finanzkrise dürfte katastrophale politische Folgen haben und würde noch toxischere populistische Nationalisten an die Macht bringen. In einem derartigen Szenario würde das Zentrum nicht standhalten.
Über die Art kurzfristiger, von den Märkten eingepreister Risiken hinaus ist da die Frage eines wirtschaftlichen Abschwungs. Die gute Nachricht ist, dass die Stimmung in den meisten Teilen der Welt positiv ist. Ein unkontrollierbarer Anstieg der Inflation, der abrupt eine restriktivere Fiskal- und Geldpolitik erzwingen würde, erscheint unwahrscheinlich. Die meisten Prognostiker betrachten das kurzfristige Risiko einer Rezession als gering.
Doch lassen sich Rezessionen nie erfolgreich vorhersagen, nicht einmal sechs Monate im Voraus. Die derzeitige wirtschaftliche Expansion in den USA hält bereits eine lange Zeit an, und es besteht angesichts der hochproblematischen wirtschaftlichen Führung der Trump-Regierung ein sehr reales Risiko politischer Fehlentscheidungen. Ich würde die jährliche Rezessionswahrscheinlichkeit in den kommenden Jahren auf 20-25% schätzen. Damit läge die Wahrscheinlichkeit, dass die USA in den nächsten drei Jahren in die Rezession geraten, bei über 50%.
Rein wirtschaftlich betrachtet besteht die Gefahr darin, dass die traditionelle Strategie zur Bekämpfung einer Rezession – eine Senkung des Zinssatzes auf Sichteinlagen um 500 Basispunkte – in diesem Jahr nicht zur Verfügung stellt, weil die Untergrenze des Zinskorridors bereits bei null liegt. Auch ist unklar, ob die Bereitschaft oder der Spielraum für eine fiskalische Expansion bestehen wird.
Dies bedeutet, dass die nächste Rezession – wie die letzte – langwierig und tief sein könnte und ernste globale Folgen haben könnte. Und die politische Fähigkeit zu einer globalen Reaktion, wie sie auf dem Londoner G20-Gipfel 2009 erkennbar war, scheint ebenfalls nicht vorhanden. Man vergleiche bloß die globalen Visionen von US-Präsident Barack Obama und dem britischen Premierminister Gordon Brown damals mit jenen von Trump und Premierministerin Theresa May heute.
Es schüttelt mich bei dem Gedanken, was eine schwere Rezession für die Politik bedeuten würde. Es ist schwer vorstellbar, dass ein Wiederaufleben von Protektionismus, Populismus und der Suche nach Sündenböcken vermeidbar wäre. In einem derartigen Szenario wird, wie bei einer weiteren Finanzkrise, das Zentrum nicht halten.
Das größte Risiko in den kommenden Jahren ist meiner Ansicht nach jedoch weder eine Krise an den Finanzmärkten noch eine Rezession. Vielmehr ist es ein politischer Teufelskreis, bei dem die Schlussfolgerung der Wähler, dass die Regierung nicht effektiv für sie arbeitet, zu einer selbsterfüllenden Prophezeiung wird. Auf der Grundlage von Ressentiments gewählte Kandidaten delegitimieren die von ihnen geführten Regierungen, was weitere Ressentiments anheizt und zu noch problematischeren neuen Regierungen führt. Es herrscht weitverbreiteter Zynismus.
Wie anders lässt sich die Kandidatur von Roy Moore für einen US-Senatssitz erklären? Moore, der zweimal aus triftigem Grund als Richter am Obersten Gerichtshof des US-Bundesstaates Alabama entlassen wurde und dem glaubhaft vorgeworfen wird, dass er als über 30-Jähriger wiederholt junge Mädchen sexuell belästigt habe, könnte in den US-Senat kommen, während viele seiner Kollegen wegschauen.
Wenn die Bürger eines Landes das Vertrauen in die Fähigkeit ihrer Regierung, ihr Leben zu verbessern, verlieren, hat die Regierung einen Anreiz, sich um öffentliche Unterstützung zu bemühen, indem sie sich auf Bedrohungen konzentriert, denen nur sie allein begegnen kann. Aus diesem Grund steigt in Gesellschaften, in denen Wut und allgemeine Unsicherheit über die Zukunft herrschen, die Versuchung, Minderheiten zu stigmatisieren, und es besteht auf Regierungsseite die Tendenz, ausländische Bedrohungen aufzubauschen.
Wir sehen dieses Phänomen überall auf der Welt. Der russische Präsident Wladimir Putin, der türkische Präsident Recep Tayyip Erdoğan und der chinesische Präsident Xi Jinping haben alle den Nationalismus zu einem zentralen Bestandteil ihrer Regierungsstrategie gemacht. Dasselbe gilt für Trump, der die internationale Gemeinschaft ausdrücklich zugunsten der Idee ablehnt, dass es nur einen ununterbrochenen Kampf zwischen Nationalstaaten um Wettbewerbsvorteile gebe.
Wenn die vorherrschende Weltmacht, die seit fast 75 Jahren die Idee der internationalen Gemeinschaft hochgehalten hat, diese zugunsten von Ad-hoc-Übereinkünften verwirft, haben andere keine Wahl, als das ebenfalls zu tun. Länder, die sich nicht länger auf die USA verlassen können, fühlen den Druck, sich selbst um ihre Sicherheit zu kümmern. Amerikas Gegner werden zwangsläufig versuchen, die Lücken zu füllen, die der Rückzug der USA hinterlässt.
Änderungen in der Steuer-, Regulierungs- und Haushaltspolitik lassen sich, wenn auch mit Mühe, durch eine folgende Regierung zurücknehmen. Die Wahrnehmung, dass die USA nicht länger bereit sind, zu ihren Verbündeten zu stehen, lässt sich viel weniger leicht rückgängig machen. Selbst wenn die USA ihre früheren Verpflichtungen wieder aufnehmen, wird das Gefühl bleiben, dass einmal gebrochene Versprechen auch wieder gebrochen werden können. Und wenn andere Länder erst einmal einen neuen Weg einschlagen, sind sie möglicherweise nicht im Stande oder geneigt, erneut Kurs zu wechseln.
Wird also das Zentrum halten? Wird die internationale Ordnung weitgehend stabil bleiben? Die Antwort wird von den Entscheidungen der Trump-Regierung und den Reaktionen anderer Länder abhängen. Doch werden andere Länder, wenn sie Amerika beobachten, auf mehr achten als nur seinen Präsidenten, insbesondere da dessen Zustimmungsraten weiter sinken. Daher ist es wichtiger denn je, dass alle Amerikaner ihr fortdauerndes Bekenntnis zu Demokratie und Wohlstand zu Hause und zur Führungsrolle in der Weltgemeinschaft erklären.
Aus dem Englischen von Jan Doolan