The Big Picture brings together a range of PS commentaries to give readers a comprehensive understanding of topics in the news – and the deeper issues driving the news. The Big Question features concise contributor analysis and predictions on timely topics.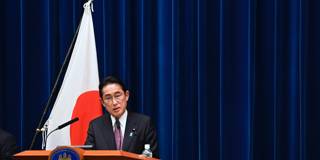 Japan's Bet on Hard Power
Japan increasingly seems to be leaving its post-World War II pacifism behind. As the global security environment deteriorates, the country has announced measures to deepen its strategic alliance with the United States and committed to do much more to ensure its own defense, including by nearly doubling its military spending and acquiring counterstrike capabilities under a new national security strategy.
As Harvard's Joseph S. Nye, Jr., points out, relying on a strong alliance with the US is "by far the safest and most cost-effective option" for ensuring Japan's security. The new measures announced by Japanese Prime Minister Fumio Kishida and US President Joe Biden last month are thus very good news, as they reinforce the US security guarantee and provide "reinsurance" in the event that Donald Trump or a similarly unreliable president returns to the White House.
For his part, Bill Emmott, Chair of the International Institute for Strategic Studies and the Japan Society of the United Kingdom, praises the Kishida government's "determination to… deter others from attempting 'unilateral changes to the status quo'" in East Asia. This commitment to deterrence is both the most important and the most difficult task that Japan has set for itself.
That is partly because, as Brahma Chellaney of the Center for Policy Research points out, China tends to avoid armed conflict, instead employing "salami tactics" that slice away other countries' territories with a "combination of stealth, deception, and surprise." To prevent China from altering the regional status quo further, Japan will have to take a proactive approach to countering China's hybrid warfare.
Japan's new strategic vision did not begin with Kishida. Rather, it "represents the culmination of a long-term shift that began under Kishida's predecessor, Abe Shinzō," explains Taniguchi Tomohiko, a former special adviser to Abe, who was assassinated last year. While Abe's bold stance evoked considerable concern, it amounted to a rejection of an "absurd" situation: "Before Abe, if China had attacked a US warship near Japan's territorial waters, the Japanese military would not have gotten involved."
Upholding this approach is even less tenable at a time when security risks are escalating rapidly. As Abe pointed out last year – in his last-ever commentary – Japan has a "big role" to play in realizing the vision of a free and open Indo-Pacific – one in which China does not follow Russia's example in Ukraine by invading Taiwan.
Featured in this Big Picture
https://prosyn.org/BAlUJUf;