The Big Picture brings together a range of PS commentaries to give readers a comprehensive understanding of topics in the news – and the deeper issues driving the news. The Big Question features concise contributor analysis and predictions on timely topics.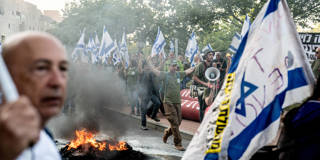 Is Israel's Democracy in Danger?
In March, relentless popular protests forced Israeli Prime Minister Binyamin Netanyahu to suspend his drive to overhaul the judicial system, including by stripping the Supreme Court of much of its power to rule against the government and expanding politicians' influence over the selection of judges. Now, his religious-nationalist coalition government has revived much of the legislation, though opposition remains as fierce as ever.
In this Big Question, we ask Ido Baum, Shlomo Ben-Ami, Nicholas Reed-Langen, and Yofi Tirosh how the proposed judicial overhaul, and the massive popular resistance to it, will change Israel.
Featured in this Big Question
https://prosyn.org/fuEcrci;