The Big Picture brings together a range of PS commentaries to give readers a comprehensive understanding of topics in the news – and the deeper issues driving the news. The Big Question features concise contributor analysis and predictions on timely topics.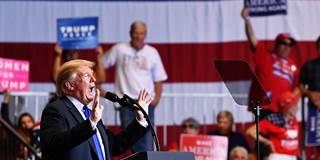 Crossing the Trade Rubicon
The total value of Chinese goods being targeted by US tariffs now exceeds the value of China's total imports from the US. What will China do next now that dollar-for-dollar measures are no longer an option?
In this Big Picture, Minxin Pei suggests that China's weaker position in the dispute could lead it to pursue more radical measures if realism does not prevail. But Anatole Kaletsky argues that China can simply wait out the conflict by stimulating domestic demand, until the blowback on American businesses and consumers forces Trump to back down.
Looking at the long term, Jeffrey D.Sachs predicts that Trump's escalation of the conflict will merely solidify China's conviction that it must escape from its dependence on theUS-led global order. And Anne Krueger points out that by undercutting the World Trade Organization, the Trump administration has disabled a mechanism for resolving trade disputes that has served the US extremely well.
Featured in this Big Picture
https://prosyn.org/jd3C2dj;