The Big Picture brings together a range of PS commentaries to give readers a comprehensive understanding of topics in the news – and the deeper issues driving the news. The Big Question features concise contributor analysis and predictions on timely topics.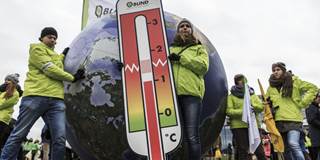 Climate Countdown 2040
This week, the United Nations Intergovernmental Panel on Climate Change released an ominous new report, warning that without a complete overhaul of the global economy within the next decade, the most devastating effects of climate change will be felt as soon as 2040. Has humanity already lost this battle with itself?
In this Big Picture, Carl Bildt rejects despair, noting that advances in renewable energies are proceeding faster than almost anyone expected they would. And Monica Araya and Carlos Manuel Rodriguez hold up Costa Rica as an example of how straightforward policies to realign incentives can rapidly decarbonize key sectors of the economy.
Meanwhile, Christiana Figueres and May Boeve show that a global mass movement is emerging to pressure the politicians who continue to drag their feet on the issue. Vinod Thomas suspects that this year's extreme weather events could finally make climate change an election issue, particularly in the United States. And Peter Singer shows that even the courts have been brought into play, now that advocacy groups are suing the US government for its failure to take the climate threat seriously.
Featured in this Big Picture
https://prosyn.org/YlZobNZ;