The Big Picture brings together a range of PS commentaries to give readers a comprehensive understanding of topics in the news – and the deeper issues driving the news. The Big Question features concise contributor analysis and predictions on timely topics.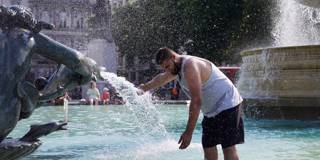 Can Humanity Handle the Heat?
The Big Question is a regular feature in which Project Syndicate commentators concisely address a timely topic.
Recent record temperatures of more than 40º Celsius in the United Kingdom, and outbreaks of wildfires in several European countries, again highlight the challenges posed by ongoing climate change. The need for robust, scalable systems to counter extreme heat is clear – but developing and implementing them will require political will as well as technological innovation.
In this Big Question, we ask Michael R. Bloomberg, Kristie L. Ebi, Rachel Kyte, Rushad Nanavatty, and Carlo Ratti what the world can do to stay cool.
Featured in this Big Question
https://prosyn.org/qXvnbHU;