The Big Picture brings together a range of PS commentaries to give readers a comprehensive understanding of topics in the news – and the deeper issues driving the news. The Big Question features concise contributor analysis and predictions on timely topics.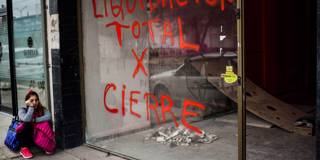 Argentina, Again
Despite receiving the largest rescue package in the International Monetary Fund's history, Argentina under President Mauricio Macri's reformist government is in the grip of yet another debt crisis. What went wrong this time?
In this Big Picture, Jayati Ghosh of Jawaharlal Nehru University argues that the IMF's insistence on austerity has once again undercut the benefits of the lending package. The Lowy Institute's Stephen Grenville agrees, and adds that the Fund's longstanding approach to resolving foreign debt and managing capital-flow volatility has made matters worse.
By contrast, Anne O. Krueger, a former IMF first deputy managing director, thinks that Argentina hasn't gone nearly far enough in reducing the size of the state sector and implementing other difficult reforms. Even so, notes Allianz's Mohamed E. El-Erian, all parties involved share some of the blame, and any reform effort must be homegrown, not imposed from abroad.
Featured in this Big Picture
https://prosyn.org/Q3nmvwx;