The Big Picture brings together a range of PS commentaries to give readers a comprehensive understanding of topics in the news – and the deeper issues driving the news. The Big Question features concise contributor analysis and predictions on timely topics.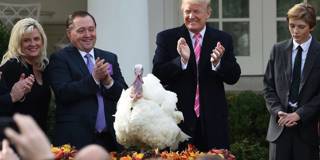 A Tax Plan that's All Stuffing?
US President Donald Trump has set a Christmas deadline for enacting the Republican tax plan, and economic observers are virtually unanimous in judging it a turkey. A scheme that squeezes the middle class and blows out the fiscal and current-account deficits may pass, but it will never fly.
Featured in this Big Picture
https://prosyn.org/YJEcr2t;