Наше будущее с нулевыми выбросами парниковых газов
НЬЮ-ЙОРК – Решение созданной людьми проблемы изменения климата, наконец-то, стало совершенно очевидным. Благодаря быстрому развитию технологий в области энергетики с нулевыми выбросами углекислого газа и в области устойчивых продовольственных систем, мир реально может прекратить выбросы парниковых газов к середине века, причём с малыми или даже нулевыми дополнительными затратами и с огромной пользой для безопасности и здоровья. Главным препятствием является инертность: политики продолжают потакать индустрии ископаемого топлива и традиционному сельскому хозяйству в основном потому, что они либо не знают ничего лучшего, либо из-за своей продажности.
Глобальное потепление (как и огромная проблема загрязнения воздуха) в основном является следствием сжигания ископаемого топлива – угля, нефти и газа. Ещё одна важная причина разрушения окружающей среды – сельское хозяйство, в частности, вырубка лесов, избыточное применение удобрений, выбросы метана домашним скотом. Энергетическая система должна совершить переход от сильно загрязняющих атмосферу ископаемых видов топлива к чистым источникам энергии с нулевыми выбросами (таким как ветер и солнце), а продовольственная система должна перейти от выращивания кормового зерна и домашнего скота к производству более здоровых и питательных продуктов. Подобная комбинированная энерго-продовольственная трансформация приведёт к снижению объёмов чистых выбросов парниковых газов до нуля к середине века, а в дальнейшем, благодаря поглощению атмосферного углекислого газа лесами и почвой, они станут отрицательными.
Достижение нулевого уровня выбросов к середине века (а затем и отрицательного), скорее всего, позволит достичь поставленной цели ограничить глобальное потепление 1,5º по Цельсию относительно доиндустриальной температуры Земли. Крайне тревожит то, что потепление уже достигло 1,1ºС, при этом мировая температура повышается примерно на 0,2ºС каждое десятилетие. Именно поэтому мир обязан достичь нулевого объёма выбросов как минимум к 2050 году. Переход к чистой энергетике позволит ежегодно предотвращать сотни тысяч смертей от загрязнения воздуха, а переход к здоровой и экологически устойчивой диете позволит предотвращать примерно десять миллионов смертей каждый год.
Низкозатратный переход к чистой энергетике сегодня реально осуществим во всех регионах мира благодаря резкому падению себестоимости солнечных и ветряных электростанций, а также прорывам в технологиях хранении электроэнергии. Общесистемные затраты на возобновляемую энергетику, включая передачу и хранение электроэнергии, уже сейчас почти на равных с ископаемым топливом. Тем не менее, ископаемые виды топлива продолжают пользоваться государственными преференциями в виде субсидий, что вызвано неустанным лоббированием своих интересов крупными угольными и нефтяными компаниями, а также отсутствием планов, связанных с альтернативной, возобновляемой энергетикой.
Ключевой шаг – масштабное увеличение генерации электричества из возобновляемых источников, главным образом за счёт ветра и солнца. Тем временем некоторые виды конечного потребления энергоресурсов, например, в автомобильном транспорте и для отопления жилья, будут электрифицированы напрямую. Другие конечные потребители (промышленность, морские перевозки, авиация, автоперевозки грузов) перейдут на чистые виды топлива, производимые с помощью электроэнергии из возобновляемых источников. В число чистых видов топлива (с нулевыми выбросами) входят водород, синтетическое жидкое топливо, синтетический метан. Одновременно фермеры должны переходить к производству продовольствия на растительной основе.
Продолжающееся строительство угольных электростанций в Азии, а также непрекращающаяся вырубка лесов в странах Юго-Восточной Азии, Африки и в Бразилии, подвергает наш климат, воздух и питание колоссальному и совершенно ненужному риску. В США администрация Трампа выступает за ископаемое топливо, несмотря на огромный потенциал Америки в сфере возобновляемой энергетики, что так же абсурдно, как и новые призывы популистского президента Бразилии Жаира Болсонару развивать Амазонку, то есть вырубать там леса.
Subscribe now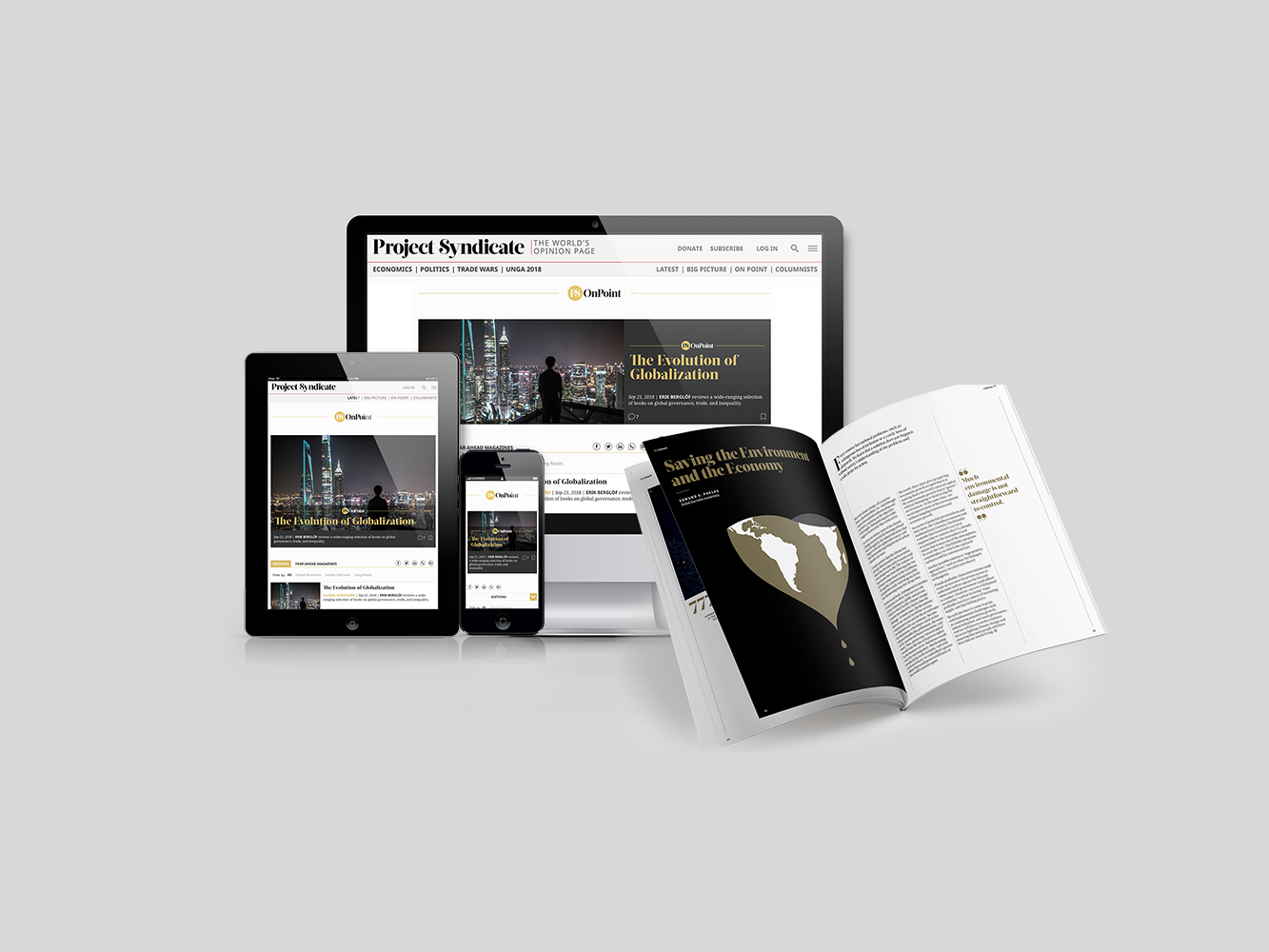 Subscribe now
Get unlimited access to OnPoint, the Big Picture, and the entire PS archive of more than 14,000 commentaries, plus our annual magazine, for less than $2 a week.
Так что же делать?
Самая срочная мера на сегодня – обучать правительства и бизнес. Национальные правительства должны подготовить технические инженерные оценки потенциала своих стран для решения задачи прекращения выбросов парниковых газов к середине века. Тем временем бизнес и банки обязаны срочно проанализировать технологически убедительные аргументы в пользу чистых и безопасных систем энергетики и продовольствия.
Как показало важное новое исследование, во всех регионах мира имеется потенциал использования энергии ветра, солнца и воды, что позволяет декарбонизировать энергосистему. В странах, расположенных на более высоких широтах, таких как США, Канада, северные страны Европы и Россия, можно в сравнительно большей степени, чем в тропических странах, осваивать энергию ветра. При этом все страны способны перейти на электромобили, а в грузовиках, кораблях, самолётах и на заводах использовать топливо с нулевыми выбросами углекислого газа.
Подобная трансформация энергосектора создаст новые рабочие места – их будет на миллионы больше, чем придётся сократить в отраслях ископаемого топлива. Акционеры компаний, подобных ExxonMobil или Chevron, которые отказываются осознать грядущую энергетическую трансформацию, в итоге дорого за это заплатят. В предстоящие годы их инвестиции в ископаемое топливо превратятся в неликвидные активы.
Правительства и комиссии, регулирующие энергосектор, должны потребовать, чтобы все новые мощности энергогенерации имели нулевой уровень выбросов углекислого газа. По мере старения и закрытия старых электростанций на ископаемом топливе они будут заменяться «чистыми» электростанциями, причём на конкурентной основе, например, с помощью аукционов по закупке мощностей возобновляемой энергетики. В частности, Китаю и Индию следует прекратить строительство новых угольных электростанций на своей территории, а страны, экспортирующие капитал, подобно Китаю и Японии, должны прекратить финансирование строительства новых угольных электростанций в других странах Азии (к примеру, в Пакистане и на Филиппинах).
Компании из частного сектора будут активно конкурировать, пытаясь ещё больше снизить себестоимость систем возобновляемой энергетики, включая генерацию и хранение электроэнергии, а также конечное потребление (электромобили, электрическое отопление и электроплиты, новая водородная экономика). Правительствам следует установить лимиты выбросов, а частному сектору придётся конкурировать, предлагая низкозатратные решения. Власть и бизнес совместно должны будут финансировать новые исследования и разработки, чтобы снижать издержки ещё больше.
В сфере землепользования история аналогична. Если Болсонару действительно считает, что он устроит бум в бразильской экономике, позволив дальнейшую вырубку лесов в Амазонии ради посевов сои и скотоводческих ранчо, ему надо подумать об этом как следует ещё раз. Подобный проект приведёт к изоляции Бразилии, вынудив крупнейшие продовольственные компании прекратить закупку бразильских продуктов из-за угрозы массовой отрицательной реакции потребителей во всём мире.
Потребление еды развивается в другом направлении. Есть большая новость: сеть Burger King, создав совместное предприятие с компанией Impossible Foods, начала переход к бургерам на растительной основе. «Невероятные бургеры» на вкус очень похожи на мясные, но в них, благодаря находчивым химикам, используются растительные ингредиенты, что позволяет любителям бургеров наслаждаться любимой едой и при этом сохранять планету.
Преобразив наши энергетические и продовольственные системы, мы получим низкозатратную энергию и здоровое, приносящее удовлетворение питание, не разрушая при этом природу. Школьники старших классов, которые устраивают забастовки ради климатической безопасности, выполнили свою домашнюю работу. Политики, подобные Трампу и Болсонару, должны теперь выполнить свою или же уйти прочь с дороги.