Bezemisní budoucnost
NEW YORK – Řešení člověkem vyvolané změny klimatu je konečně zřetelně na dohled. Díky svižnému pokroku technologií na poli energetiky s nulovými emisemi uhlíku a systémů udržitelného potravinářství dokáže svět do poloviny století realisticky skoncovat s emisemi skleníkových plynů při nanejvýš drobném nárůstu nákladů a s přesvědčivými přínosy pro bezpečnost a zdraví. Hlavní překážkou je setrvačnost: politici dál zvýhodňují odvětví fosilních paliv a tradiční zemědělství hlavně proto, že neznají nic lepšího nebo jsou upláceni.
Většina globálního oteplování a obrovská zátěž nečistot v ovzduší je důsledkem spalování fosilních paliv: uhlí, ropy a plynu. Dalším hlavním zdrojem ničení životního prostředí je zemědělství, včetně odlesňování, nadměrného používání hnojiv a emisí metanu z hospodářských zvířat. Energetická soustava by od silně znečišťujících fosilních paliv měla přejít k čistým zdrojům energie, které neuvolňují uhlík, například k větrné a solární energii, a potravinová soustava by od krmných obilovin a živočišných výrobků měla přejít ke zdravějším a výživnějším produktům. Tato kombinovaná energetická a potravinářská transformace by přinesla pokles čistých emisí skleníkových plynů na nulu do poloviny století a poté jejich čistý úbytek, neboť lesy a půdy atmosférický oxid uhličitý pohlcují.
Dosažením čistých nulových emisí do poloviny století a následnou zápornou emisní bilancí bychom pravděpodobně dosáhli cíle omezit globální oteplení na 1,5º Celsia oproti předprůmyslové teplotě Země. Je zneklidňující, že oteplení dosáhlo už 1,1ºC a každých deset let se globální teplota zvýší asi o 0,2ºC. Právě proto musí svět dosáhnout čistých nulových emisí nejpozději do roku 2050. Příklon k čisté energetice by každoročně odvrátil statisíce úmrtí v důsledku znečištěného ovzduší a posun ke zdravým, environmentálně udržitelným jídelníčkům by mohl předejít zhruba deseti milionům úmrtí ročně.
Laciný přechod na čistou energii je dnes možný ve všech oblastech světa, díky klesající nákladnosti sluneční a větrné energie a průlomům v uchovávání energie. Celkové systémové náklady obnovitelných zdrojů energie, včetně přenosu a ukládání, jsou v současnosti zhruba stejné jako u fosilních paliv. Ta se přesto stále těší vládnímu zvýhodňování skrze subvence, v důsledku neustálého lobbingu velkých uhelných a ropných korporací a absence plánování obnovitelných alternativ.
Klíčovým krokem je rozsáhlé zvýšení výroby energie z obnovitelných zdrojů, hlavně větrných a slunečních. Některá využití energie blíž spotřebě, například automobilová doprava a vytápění domácností, se přímo elektrifikují. Jiní spotřebitelé – v průmyslu, lodní dopravě, letectví a autodopravě – budou spoléhat na čistá paliva vyráběná za použití obnovitelné elektřiny. K čistým (bezemisním) palivům patří vodík, syntetické kapaliny a syntetický metan. Současně by se farmy měly přiklonit k potravinám rostlinného původu.
Pokračující výstavba uhelných elektráren v Asii, společně s odlesňováním, k němuž dochází v jihovýchodní Asii, Africe a Brazílii, vystavují naše klima, ovzduší a výživu obrovskému a naprosto zbytečnému riziku. Ve Spojených státech tuto absurditu ještě posiluje propagace fosilních paliv ze strany Trumpovy administrativy, navzdory obrovskému potenciálu Ameriky v obnovitelné energetice. Totéž platí pro čerstvé volání populistického prezidenta Brazílie Jaira Bolsonara po rozvoji Amazonie – tedy po jejím odlesnění.
Subscribe now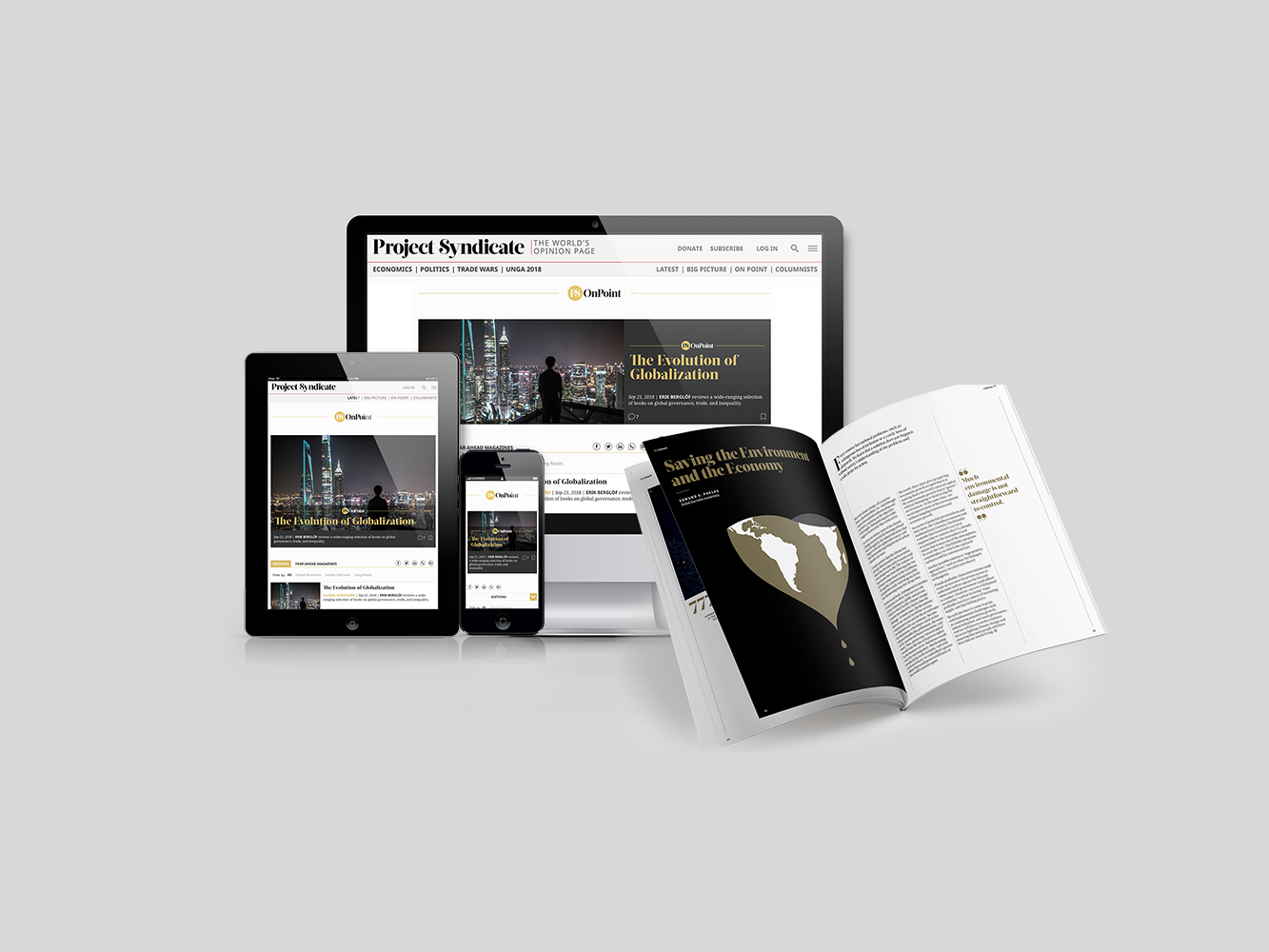 Subscribe now
Get unlimited access to OnPoint, the Big Picture, and the entire PS archive of more than 14,000 commentaries, plus our annual magazine, for less than $2 a week.
Takže: co dělat?
Nejnaléhavějším krokem je teď vzdělávat vlády a firmy. Národní vlády by měly připravit odborně technické posudky potenciálu svých zemí skoncovat do poloviny století s emisemi skleníkových plynů. Podniky a banky by se měly naléhavě zabývat technologicky přesvědčivými důvody pro zavádění čistých a bezpečných energetických a potravinářských soustav.
Důležitá nová studie dokládá, že všechny regiony světa mají ve větru, slunci a vodě potenciál dekarbonizovat energetickou soustavu. Země ve vyšších zeměpisných šířkách, třeba USA, Kanada, země severní Evropy a Rusko, mohou z větru čerpat relativně víc než tropické země. Všechny mohou přejít na elektrická auta a pohánět kamiony, lodě, letadla a továrny novými palivy s nulovými emisemi uhlíku.
Tato energetická transformace vytvoří o miliony pracovních míst víc, než kolik jich zanikne v odvětvích fosilních paliv. Akcionáři společností jako ExxonMobil a Chevron, kteří si odmítají připustit nadcházející energetickou transformaci, zaplatí nakonec vysokou cenu. Jejich pokračující investice do fosilních paliv uvíznou v budoucích letech na mělčině.
Vlády a orgány pro regulaci veřejné infrastruktury by měly vyžadovat, aby byl veškerý nový elektrárenský výkon bezuhlíkový. Jak se budou odstavovat stará, dožívající zařízení spalující fosilní paliva, měla by je na konkurenčním základě, například prostřednictvím aukcí obnovitelné energie, nahrazovat čistá energetika. Zejména Čína a Indie by na svém území měly přestat stavět nové uhelné elektrárny a země vyvážející kapitál jako Čína a Japonsko by měly přestat financovat nové uhelné elektrárny ve zbytku Asie, třeba v Pákistánu a na Filipínách.
Firmy v soukromém sektoru budou intenzivně soupeřit, aby ještě dál snížily náklady systémů obnovitelné energetiky, včetně výroby elektřiny, uchování energie, jejího využití blíž ke spotřebě, například v elektromobilech či při elektrickém vytápění a vaření, a nové vodíkové ekonomiky. Vlády by měly stanovit emisní limity a soukromý sektor by měl soupeřit v zajištění laciných řešení. Vláda a podniky by společně měly financovat nový výzkum a vývoj, aby vyvolaly další pokles nákladů.
S využíváním půdy se to má stejně. Jestli se Bolsonaro opravdu domnívá, že otevřením Amazonie dalšímu odlesňování kvůli pěstování sójových bobů a chovu dobytka vyvolá brazilský hospodářský boom, měl by se znovu zamyslet. Taková snaha by Brazílii izolovala a významné navazující potravinářské společnosti by tváří v tvář hrozbě masivního globálního odporu spotřebitelů přinutila přestat nakupovat brazilské produkty.
Spotřebitelské potraviny míří jinam. Velkou novinkou je, že Burger King v novém podniku s Impossible Foods směřuje k hamburgerům na rostlinné bázi. Jejich "nemožné burgery" chutnají stejně jako hovězí hamburgery, ale důmyslné zpracování využívající rostlinných ingrediencí umožňuje milovníkům hamburgerů pochutnat si a zároveň šetřit planetu.
Proměnou našich energetických a potravinových systémů si můžeme zajistit levnou elektřinu a zdravé, uspokojující stravování, aniž bychom plenili životní prostředí. Středoškoláci stávkující za klimatickou bezpečnost odvedli svůj kus práce. Politici jako Trump a Bolsonaro musí odvést ten svůj, anebo jít z cesty.
Z angličtiny přeložil David Daduč