Endlich Frieden für den Jemen?
PARIS – Der seit langem andauernde Konflikt im Jemen präsentiert sich derzeit reifer für eine Lösung als jemals zuvor. Jemeniten auf allen Seiten sind durch die Kämpfe erschöpft und haben den im März von UN-Generalsekretär António Guterres ausgerufenen Appell für einen weltweiten Waffenstillstand inmitten der Covid-19-Pandemie rasch und bereitwillig aufgegriffen. Im darauffolgenden Monat kündigte die von den Saudis geführte Koalition im Jemen einen zweiwöchigen einseitigen Waffenstillstand an, den sie anschließend noch verlängerte.
In den vom UN-Sondergesandten für den Jemen, Martin Griffiths, vermittelten Verhandlungen haben die kriegführenden Parteien bereits bedeutende Fortschritte in Richtung eines Waffenstillstandsabkommens erzielt. Darüber hinaus erklärte sich der von den Vereinigten Arabischen Emiraten unterstützte separatistische Südliche Übergangsrat im Juni bereit, die Gespräche mit der von den Saudis unterstützten jemenitischen Regierung wieder aufzunehmen und damit die Kämpfe in den Provinzen Abyan, Shabwa und Sokotra zu beenden.
Der Iran, der die (formell als Ansar Allah oder Helfer Gottes bezeichneten) Huthi-Rebellen unterstützt, hat keinen strategischen Grund, einem Abkommen im Weg zu stehen. Von entscheidender Bedeutung ist, dass internationale Mächte, darunter die Vereinigten Staaten, Russland, China, Indien und führende europäische Staaten zwar um Zusammenarbeit im Hinblick auf den Jemen ringen, jedoch die Fortschritte in Richtung eines Endes der Kämpfe wohl nicht behindern werden.
Vom Kreml über Whitehall bis zum Weißen Haus wird weithin anerkannt, dass das Leiden im Jemen beendet werden muss. Unsere Länder haben nichts davon, wenn der Bürgerkrieg weitergeht. Tatsächlich verabschiedete der UN-Sicherheitsrat am 1.Juli eine Resolution, in der Guterres' Appell für einen weltweiten Waffenstillstand unterstützt wird. Diese Entscheidung kann genutzt werden, um dem Jemen zu helfen.  
Es gibt viel, worauf man aufbauen kann, aber die Gelegenheit muss ergriffen werden. Das momentan bestehende Zeitfenster zur Beendigung des Bürgerkriegs wird nicht lange offen bleiben, und die jüngsten Fortschritte befinden sich jetzt in Gefahr. Schließt sich dieses Fenster ohne dass die Kriegsparteien ein Friedensabkommen erzielen, läuft der Jemen Gefahr, noch weiter in Chaos und Konflikte abzugleiten, wodurch auch das Schreckgespenst einer fortgesetzten Katastrophe an der strategisch wichtigen Meeresstraße Bab el-Mandab an Aktualität gewinnt.
Die tragischen Konflikte in Libyen und Syrien haben sich zu komplizierten Stellvertreterkriegen ausgeweitet, die internationaler Vermittlung nicht zugänglich sind. Das trifft auf den Jemen nicht in diesem Maße zu, auch weil weniger externe Akteure direkt in den Konflikt involviert sind. Allerdings läuft dem Jemen die Zeit davon. Angesichts der rapide ansteigenden Zahl an Covid-19-Infektionen und der Unfähigkeit des Landes, auf die Pandemie zu reagieren, wäre es untragbar, die derzeitige Chance auf Frieden zu verpassen.
Subscribe to Project Syndicate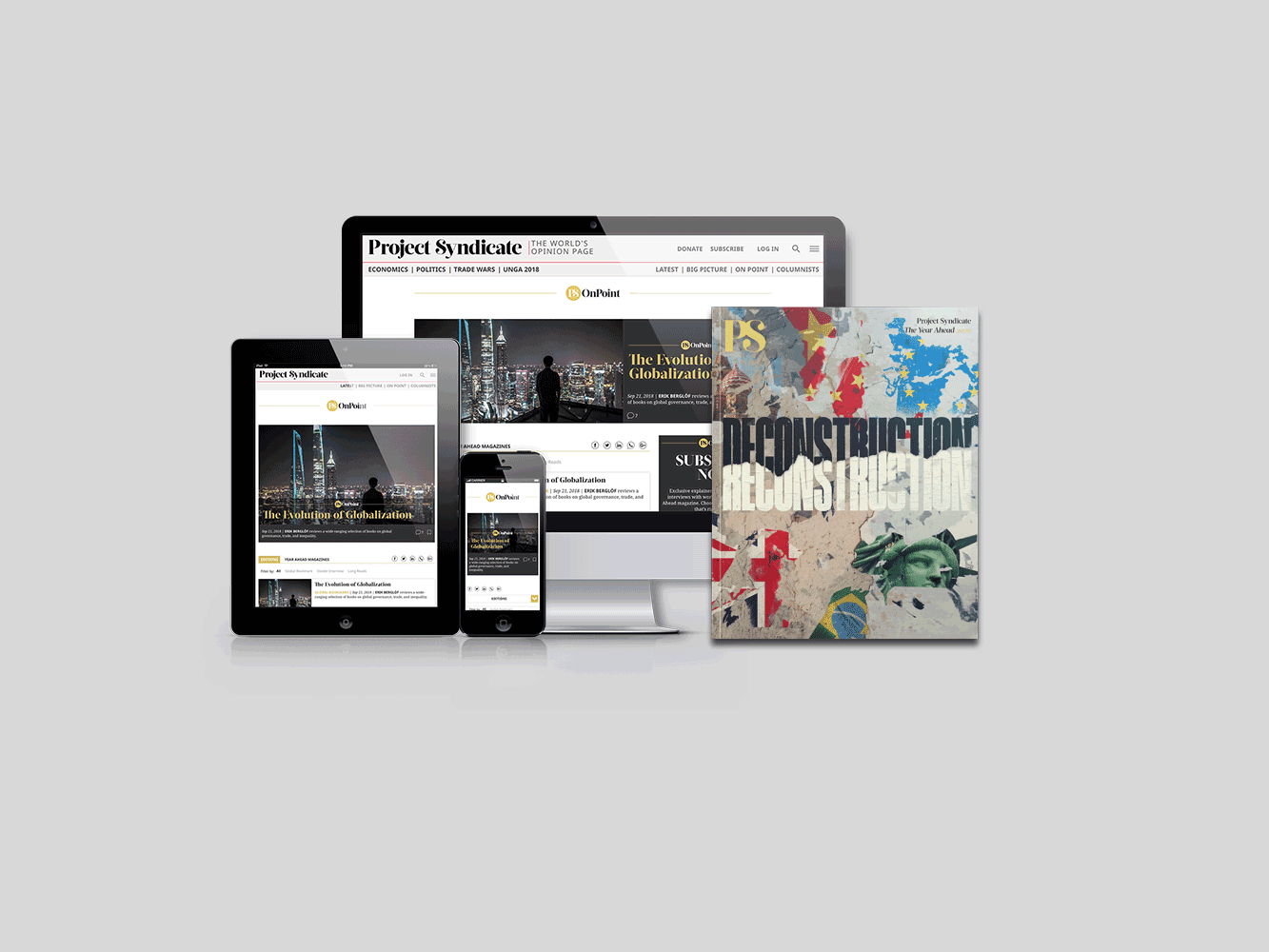 Subscribe to Project Syndicate
Enjoy unlimited access to the ideas and opinions of the world's leading thinkers, including weekly long reads, book reviews, and interviews; The Year Ahead annual print magazine; the complete PS archive; and more – all for less than $2 a week.
Zu den verbleibenden Hindernissen für einen dauerhaften Waffenstillstand und eine politische Einigung zählen die Bedingungen für die Öffnung des Flughafens von Sanaa und des Hafens von Al-Hudaida. Die im April verkündete Erklärung des Südlichen Übergangsrates über die Selbstverwaltung sowie die darauf folgende Gewalt haben den Friedensprozess ebenfalls kompliziert. Und der Angriff der Ansar Allah auf Riad am 23. Juni unterstreicht die Gefahr einer weiteren Eskalation der Kämpfe zwischen den Huthis und der von den Saudis geführten Koalition. Doch keiner dieser Stolpersteine ist unüberwindbar.
Die drohende humanitäre Katastrophe im Jemen und die Friedensforderungen der Bevölkerung erfordern Maßnahmen auf drei Ebenen. Aufbauend auf der unilateralen Waffenpause der von den Saudis geführten Koalition sollten die kriegführenden Parteien zunächst den von der Uno vermittelten Waffenstillstandsvorschlag akzeptieren und unverzüglich umsetzen.
Zweitens sollten die von den Saudis unterstützte Regierung unter Präsident Abed Rabbo Mansur Hadi und der Südliche Übergangsrat die Gespräche über die Umsetzung des von beiden Seiten unterzeichneten Abkommens von Riad vom November 2019 fortsetzen. Die Ankündigung des Südlichen Übergangsrates vom 29. Juli, wonach man die Ambitionen in Richtung Selbstverwaltung aufgeben würde, stellt einen bedeutenden Schritt dar, von dem man hofft, dass er zu einer weiteren Deeskalation der Spannungen führen wird.
Drittens muss die internationale Gemeinschaft alle Konfliktparteien ermutigen, die jüngsten positiven Impulse in eine umfassende, dauerhafte und gerechte politische Lösung umzuwandeln. Eine auf Machtteilung beruhende Lösung würde dem Jemen den Wiederaufbau ebenso ermöglichen wie eine florierende Zukunft und die Wiederherstellung guter Beziehungen zu seinen Nachbarn. Vom Golf-Kooperationsrat angeführte Wiederaufbaubemühungen im Jemen und eine Wiederbelebung des regionalen Handels würden diesen Prozess unterstützen und eine neue Ära der Zusammenarbeit am Golf und auf der arabischen Halbinsel einläuten. Obwohl die Kriegsparteien die ersten Schritte nach vorn unternehmen müssen, kommt regionalen und globalen Akteuren eine wichtige Rolle zu, wenn es darum geht, den Konflikt jetzt zu beenden.
Der G20-Gipfel in Riad im November dieses Jahres bietet Saudi-Arabien die Gelegenheit, internationale Führungsstärke an den Tag zu legen und Fortschritte im Jemen zu demonstrieren. Ein stärkeres Engagement für ein Abkommen durch die internationale Gemeinschaft und insbesondere durch die Weltmächte kann den Ausschlag zugunsten eines dauerhaften Abkommens geben.
Frieden ist in erster Linie für die leidgeprüften Menschen im Jemen von entscheidender Bedeutung. Eine dauerhafte Lösung wäre aber auch ein vertrauensbildender Schritt in Richtung Stabilität im Nahen Osten und würde in einer Zeit zunehmender internationaler Friktion und Polarisierung ein umfassenderes positives Signal aussenden.
Gelegenheiten zur Beilegung eines anhaltenden Bürgerkrieges bieten sich selten. Die Beendigung des Konflikts im Jemen würde Leben retten, Hoffnung in eine scheiternde Region bringen und womöglich Inspiration für eine instabile Welt sein.
Aus dem Englischen von Helga Klinger-Groier