China: el Estado vigilante y sus grandes bases de datos
LAHORE – La decisión tomada por el Partido Comunista de China (PCCh) está semana con respecto a eliminar los límites de tiempo aplicables al mandato presidencial parece abrir la puerta para que el presidente Xi Jinping no sólo sea "Presidente de todo" sino también "Presidente para siempre". La medida fue recibida con consternación en todo el mundo, pero a su vez, también, intensificó un debate en curso entre los expertos en China sobre si la mayor amenaza para China es tener demasiado, o muy poco, poder ejecutivo.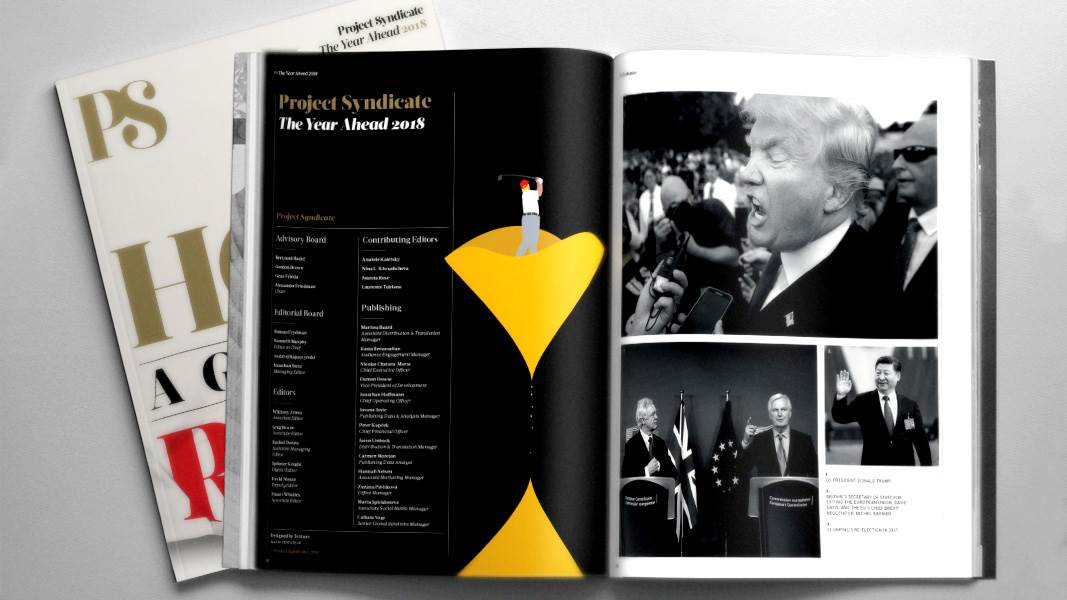 The Year Ahead 2018
The world's leading thinkers and policymakers examine what's come apart in the past year, and anticipate what will define the year ahead.
La posición que uno adopta con respecto a esa pregunta parece depender en gran medida de si uno es politólogo, economista o tecnólogo. Muchos politólogos y académicos del derecho, por ejemplo, argumentan en contra del cambio, porque consideran que el modelo de liderazgo colectivo que el PCCh estableció después del año 1979 fue uno de sus mayores éxitos. Los límites para los términos de mandato presidencial de ese modelo y el sistema de revisión por pares para la toma de decisiones de alto nivel han proporcionado los controles necesarios para evitar que se repitan las catástrofes de la Era de Mao, como por ejemplo el Gran Salto Adelante y la Revolución Cultural.
De hecho, el nuevo orden político posterior al año 1979 a menudo ha permitido una genuina batalla de ideas, particularmente entre la Liga de Jóvenes Comunistas estatistas y las elites costeras quienes favorecen una mayor liberalización económica. China puede seguir siendo una sociedad cerrada de muchas maneras, pero sus principales formuladores de políticas han demostrado tener predisposición y mente amplia para experimentar y aprender a través de la prueba y el error.
Al mismo tiempo, muchos economistas están menos preocupados por el poder ejecutivo excesivo, debido a que piensan que es aún más peligroso tener un gobierno demasiado débil para modificar el modelo económico del país cuando eso sea necesario. Entre los desafíos económicos actuales que enfrenta el gobierno se encuentran el crecimiento más lento, la espiral de endeudamiento – en especial entre las empresas estatales –  y los intereses creados que obstaculizan las reformas estructurales.
La mayoría de los economistas admiten que el modelo de liderazgo colectivo ha evitado desastres. Pero, a su vez, argumentan que también impidió la reforma, y ​​permitió que el PCCh se convierta en un sindicato de corrupción y amiguismo que se encuentra ideológicamente despojado y carente de propósito.
Al final de la presidencia de dos mandatos de Hu Jintao en el año 2013, muchos temían que el modelo de liderazgo colectivo fuera inadecuado para enfrentar los intereses económicos creados, hacer frente a la desigualdad y proveer bienes públicos básicos. De hecho, ya en el año 2007, el primer ministro de Hu, Wen Jiabao, había llegado a la conclusión de que la trayectoria económica de China era "inestable, desequilibrada, descoordinada e insostenible".
Por el contrario, según sostienen los economistas, Xi ha comenzado a dar vuelta las cosas al luchar por un "partido más limpio". Su masiva campaña anticorrupción ha encarcelado a miles de funcionarios del partido de todos los niveles, y ha restablecido la reputación del PCCh entre sus miembros de base. Los economistas admiten que la campaña de Xi también ha eliminado convenientemente a muchos de sus potenciales rivales. Pero, ellos argumentaran que su posición fortalecida ahora le permite reemplazar un modelo de crecimiento basado en deuda financiada con crédito con algo más sostenible.
Por supuesto, queda por ver si dichos economistas están en lo correcto. A pesar del éxito de Xi con respecto a consolidar su poder y extender su control indefinidamente, hay motivos para dudar de que él estaría dispuesto a arriesgarse con un nuevo modelo económico, si la sostenibilidad resulta ser incompatible con el mantenimiento de un crecimiento rápido.
Este es el punto en el que entran los tecnólogos, quienes ofrecen nuevas formas de corregir o evitar posibles errores. Además de suplantar el modelo de liderazgo colectivo por uno centrado en la personalidad de un líder supremo, Xi también ha expandido significativamente el Estado vigilante. El gobierno usa cada vez más circuitos cerrados de televisión (CCTV), grandes bases de datos e inteligencia artificial con el objetivo de estudiar el comportamiento, las esperanzas, los miedos y los rostros de los ciudadanos chinos, de modo que pueda impedir la disidencia y los desafíos a su autoridad.
Por otra parte, bajo el mandato Xi, el gobierno estableció bases de datos de "crédito social" en línea, lo que sugiere que eventualmente podría lanzar una sola calificación para todos los ciudadanos chinos, que incluye calificaciones crediticias, comportamiento en línea, registros de salud, expresiones de lealtad al partido y otra información.
La belleza de una dictadura con grandes bases de datos es que podría sostenerse a sí misma más a través de "pequeños empujones" para manipular las perspectivas y comportamiento de las personas y menos a través de amenazas directas y castigos que se tornan en un espectáculo público. Y, mientras más tiempo pasen los ciudadanos chinos en línea, más podrá el gobierno controlar lo que ven y hacen allí.
Las tecnologías digitales también permitirán que el gobierno responda más rápidamente al descontento público, o permitirán que evite por completo dicho descontento, si tiene la habilidad de discernir o predecir cambios en la opinión pública. Teniendo en cuenta que muchas dictaduras colapsan como resultado de tener información deficiente, las tecnologías digitales podrían convertirse en un profiláctico aún más poderoso contra la mala toma de decisiones en comparación con los límites de tiempo que se aplican al mandato presidencial.
Si hay algo en lo que todos – cientistas políticos, economistas y tecnólogos – pueden estar de acuerdo, es en que Xi está construyendo el régimen vigilante más poderoso e intrusivo de la historia de la humanidad. Queda por verse si su abordaje para "hacer que China sea grandiosa otra vez" fortalecerá su mano férrea o terminará siendo una debilidad fatal. Sin embargo, ya que China desempeña un papel cada vez más importante en la economía mundial a través de sus inversiones y proyectos de infraestructura, las repercusiones de lo que suceda en este país se sentirán en todas partes, y durante los años venideros. En cierto sentido, Xi podría terminar siendo, al fin y al cabo, un "presidente de todo y para siempre".
Traducción del inglés: Rocío L. Barrientos.