¿Usará China las redes sociales como armas?
ATLANTA – Desde las elecciones presidenciales estadounidenses de 2016, con sus revelaciones de la intromisión rusa, las autoridades europeas han estado alertas a ataques similares, pero no son los únicos en prestar atención. También los líderes chinos piensan que pueden aprender de los éxitos del Kremlin.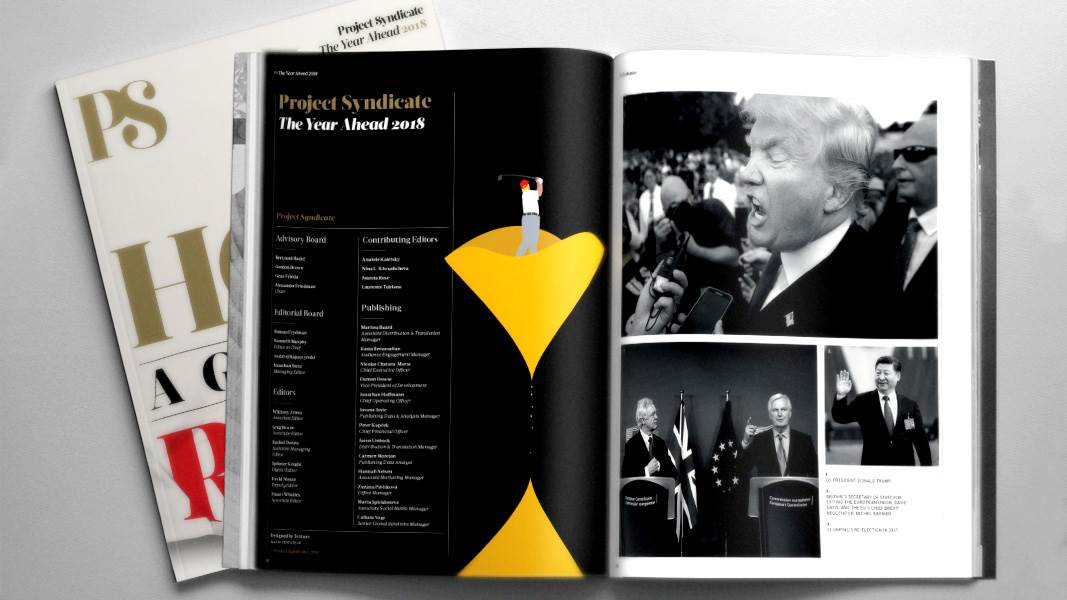 The Year Ahead 2018
The world's leading thinkers and policymakers examine what's come apart in the past year, and anticipate what will define the year ahead.
Para el Presidente chino Xi Jinping, mantener la estabilidad dentro de su país es una prioridad máxima, como lo subraya el presupuesto anual chino de seguridad interna. Bien por sobre los $100 mil millones, la cifra oficial es baja. Como las partidas para defensa, el número real es mucho mayor debido a gastos ocultos, como por ejemplo los destinados a investigación y desarrollo.
Por ejemplo, China está explorando cómo se pueden usar la inteligencia artificial (AI) y el big data para monitorear áreas tan diversas como las redes sociales y el gasto en tarjetas de crédito, y tiene planes de asignar a todos sus ciudadanos una calificación de fiabilidad social para eliminar potenciales alborotadores. La estrategia orwelliana del régimen se centra directamente en las redes sociales y en controlar no solo lo que se dice, sino los flujos de información hacia el país y alrededor de él.
Más aún, las autoridades han exigido de las compañías tecnológicas que cumplan nuevas y más estrictas leyes e investigaciones de ciberseguridad. Para Xi, la facilidad con la que el Kremlin ha manipulado Facebook y Twitter demuestra la necesidad de un mayor control de las propias plataformas de redes sociales chinas. El gobierno exige hoy asientos en compañías como WeChat, Weibo y Tencent, y acceso a los datos personales de sus usuarios.
Los ciberespías chinos también están estudiando el éxito de Rusia. No hay duda de que los hackers chinos no carecen de conocimientos técnicos: han lanzado ciberataques contra campañas presidenciales estadounidenses, movimientos tibetanos en el exilio y activistas uigures. Han logrado meterse en entidades noticiosas occidentales que han publicado historias embarazosas sobre la riqueza de los líderes chinos. Aun así, los chinos pueden aprender algunas cosas del bien coreografiado ejército en línea de trolls y bots rusos.
De manera similar, es probable que los estrategas del Ejército de Liberación del Pueblo (ELP) estén examinando las acciones del Kremlin para dar forma a sus propias tácticas de ciberguerra. El pensamiento estratégico chino sobre "guerra política" sostiene que las instituciones económicas, sociales y políticas de un adversario (particularmente los medios de comunicación) deberían ponerse en la mira incluso antes de comenzar los disparos. Para ese fin, podría ser instructiva la difusión por parte de Rusia de noticias falsas y teorías conspirativas a través de sus agencias noticiosas con financiación estatal RT y Sputnik.
Además de ampliar las cibercapacidades de China, Xi ha ido desarrollando iniciativas de poder blando en los ámbitos económico, social, cultural y de medios de comunicación. Y aunque todavía no ha vinculado estos programas con sus fuerzas clandestinas para lanzar en tipo de audaz ataque que revolvió las aguas de las elecciones presidenciales de 2016, no cabe duda de que va en esa dirección. Hace poco se reveló que China ha estado conduciendo amplias operaciones de influencia en Australia, haciendo uso de organizaciones universitarias oficiales para monitorear a los estudiantes chinos, asociaciones de negocios para promover abiertamente intereses chinos y a diplomáticos para vigilar los medios en idioma chino. Al final del año pasado, un senador australiano se vio obligado a renunciar debido a sus supuestos vínculos con un multimillonario chino.
China ha estado ampliando su presencia mediática global. Según algunas estimaciones, el gobierno destina cerca de $7 mil millones a nuevas entidades noticiosas y de difusión cada año. Su agencia de noticias oficial, Xinhua, tiene más de 170 oficinas en todo el mundo y publica en ocho idiomas. Televisión Central de China (CCTV) tiene más de 70 corresponsalías y difunde a 171 países en seis idiomas. Radio Internacional China es la segunda radioemisora mundial después de la BBC, transmitiendo en 64 idiomas desde 32 corresponsalías a 90 estaciones de radio en todo el mundo.
Ninguna de estas organizaciones se ha distinguido todavía como una fuente noticiosa de referencia, pero han ido ganando importancia en regiones con cobertura mediática insuficiente como Oriente Próximo y África, donde los puntos de vista chinos son bien recibidos y se han desarrollado públicos con simpatías.
Al mismo tiempo, China ha estado comprando "publicidad nativa" en periódicos australianos, estadounidenses y europeos, lo que le permite colocar contenidos de autoría oficial sobre asuntos controvertidos (como su construcción de islas militarizadas en el Mar del Sur de China) junto a las editoriales de dichas publicaciones.
Xi también juega sus fichas en el largo plazo, aprobando inversiones en películas y otras formas de entretenimiento de masas para influir la forma en que la cultura popular global ve todo lo chino. A pesar de la reciente campaña de restricciones del gobierno chino a los flujos de capital, las compañías chinas siguen añadiendo a sus carteras de inversiones importantes propiedades en Hollywood. El conglomerado chino Dalien Wanda ha adquirido por sí solo cerca de $10 mil millones en activos de este tipo en Estados Unidos, Europa y Australia. Y otros gigantes financieros y de internet chinos, como Alibaba, Tencent y Hony Capital, así como compañías estatales como el China Film Group han invertido decenas de miles de millones de dólares en proyectos cinematográficos estadounidenses.
Con estos intereses financieros, el gobierno chino tiene una influencia que va mucho más allá de la censura tradicional. Los jefes de estudios de Hollywood que tienen en mente el inmenso mercado interno chino sentirán la tentación de postrarse a las sugerencias "creativas" del gobierno en materia de guiones, decisiones de reparto y demás. Con $8,6 mil millones en 2017, los ingresos por taquilla de China solo son superados por los de Norteamérica. Sin embargo, China permite el acceso al país de 38 películas extranjeras, lo que induce a los equipos de dirección cinematográfica a intentar complacer al máximo a los censores.
Por supuesto, los ejecutivos de Hollywood no son los únicos occidentales que ayudan a Xi a hacer realidad su agenda. Otros actores como Apple, con su reciente decisión de renunciar al almacenamiento de datos de sus clientes chinos y cederlo a una empresa asociada china y Google, que anunció la ubicación en China de un nuevo centro de investigación en IA, demuestran que los gigantes tecnológicos estadounidenses no están solo haciendo acuerdos para beneficiar a sus "partes interesadas". También están entregando a Xi y sus ciberempleados tecnologías patentadas y los conocimientos necesarios para manejarlas, e incluso acceso potencial a objetivos en EE.UU.
Esto plantea una pregunta obvia: si Rusia pudo entrometerse en una elección presidencial estadounidense sin relaciones comerciales tan íntimas, ¿de qué será capaz China en los años venideros? Pensar que su único interés es ganar dinero, reconoció hace poco un ejecutivo de Hollywood, sería "bastante ingenuo y peligroso".
Traducido del inglés por David Meléndez Tormen