هل ستستعمل الصين شبكات التواصل الاجتماعي كسلاح؟
أتلانتا - منذ الانتخابات الرئاسية الأمريكية لعام 2016، وبعد الكشف عن التدخل الروسي، يترقب المسؤلون الأوروبيون حدوث هجمات مماثلة. ولكن الاهتمام المتزايد لا يظهر فقط من قبل الأوروبيين.والشيء نفسه يمكن أن يقال عن قيادة الصين، التي تفكر في ما يمكن أن تتعلمه من الكرملين ونجاحاته.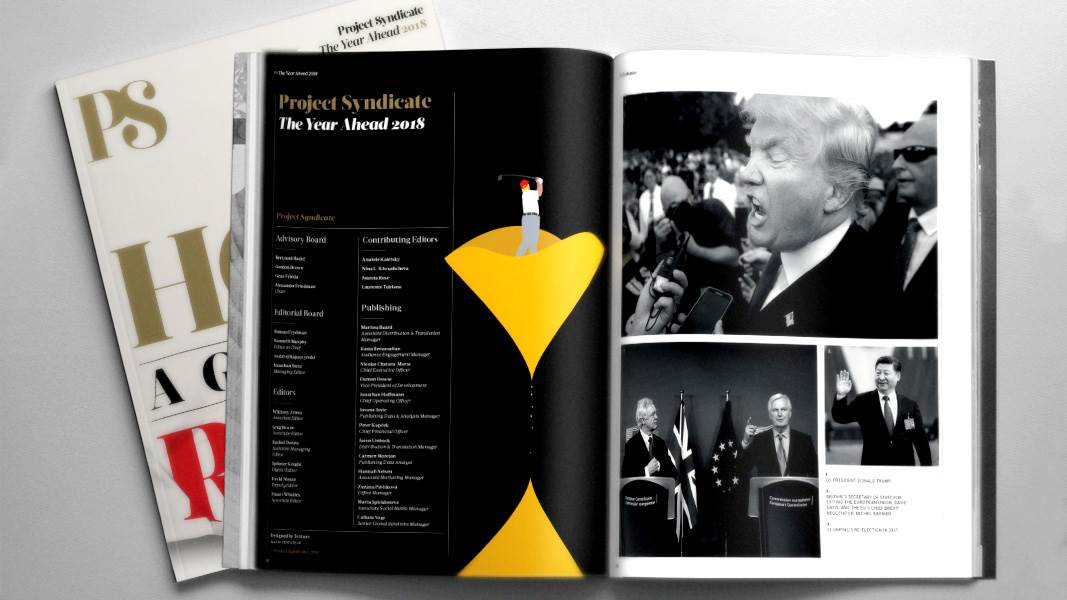 The Year Ahead 2018
The world's leading thinkers and policymakers examine what's come apart in the past year, and anticipate what will define the year ahead.
وبالنسبة للرئيس الصيني شي جين بينغ، يعتبر الحفاظ على الاستقرار الداخلي أولوية قصوى، وهي نقطة يؤكدها حجم الميزانية السنوية للصين للأمن الداخلي. إن حجم الإنفاق الرسمي الذي يتجاوز 100 مليار دولار، منخفض للغاية. إن الرقم الحقيقي لميزانية الدفاع أعلى بكثير، وذلك بسبب الإنفاق الخفي، والذي يشمل البحث والتطوير.
وعلى سبيل المثال، تستكشف الصين أساليب جديدة لاستخدام الذكاء الاصطناعي والبيانات الضخمة لرصد كل شيء، بدءا من شبكات التواصل الاجتماعي إلى الإنفاق على بطاقات الائتمان.وتعتزم الدولة أن تمنح لجميع المواطنين تصنيفا للضمانالاجتماعي للقضاء على المشاغبين المحتملين. وتركز إستراتيجية أورويل للنظام بشكل مباشر على شبكات التواصل الاجتماعي والسيطرة ليس فقط على ما يقال، ولكن أيضا على كيفية نشر المعلومات داخل البلاد وخارجها.
وعلاوة على ذلك، تجبر السلطات شركات التكنولوجيا على الامتثال للقوانين الصارمة الجديدة ومتطلبات الهيئات التي تتعامل مع الأمن السيبراني. وبالنسبة إلىالرئيس شي، فإن سهولة التعامل مع الكرملين على الفيسبوك وتويتر تظهر الحاجة إلى تشديد السيطرة على منصات شبكات التواصل الاجتماعي في الصين. وطالبت الحكومة الصينية بتخصيص  مقاعد في مجلس إدارة ويشات، ويبو وتينسنت، فضلا عن الوصول إلى البيانات الشخصية لمستخدميها.
يقوم الجواسيس السيبرانيون الصينيون أيضا بدراسة نجاحات روسيا. ومن المؤكد أن المخترقين الصينيين لا يفتقرون إلى المهارات التقنية. وقد شنوا بالفعل هجمات إلكترونية ضد الحملات الرئاسية الأمريكية، وحركة التبت في المنفى، ونشطاء اليوغور. وقد اخترقوا مراكز البحث والجامعات الغربية التي تدرس الصين. وقد تسللوا أيضا إلى بعض وكالات الأنباء الغربية التي نشرت قصص مروعة عن حجم ثروة القادة الصينيين. ومع ذلك، قد يتعلم الصينيون الكثير من جيش روسيا الالكتروني المصمم بشكل جيد.
وبالمثل، من المرجح أن يقوم خبراء إستراتيجيون في جيش التحرير الشعبي الصيني (PLA) بدراسة حِرفية خبراء الكرملين لإثراء تكتيكاتهم الخاصة بالحرب الإلكترونية. ووفقا للتعريف الاستراتيجي الصيني "للأسلحة السياسية"، يجب استهداف جميع المؤسسات السياسية والاجتماعية والاقتصادية للعدو، ولاسيما وسائط الإعلام، قبل أن تبدأ أي حرب حقيقية. وتحقيقا لهذه الغاية، فإن نشر روسيا للأخبار الوهمية ونظريات المؤامرة من خلال وسائل الإعلام الممولة من قبل الدولة "رت و سبوتنيك" يمكن أن  تكون مفيدة.
وبالإضافة إلى توسيع القدرة الصينية السيبرانية، يعمل الرئيس شي أيضا على بناء قوة الصين الناعمة من خلال المبادرات الاقتصادية والاجتماعية والثقافية والإعلامية. وفي حين أنه لم يستخدم هذه البرامج حتى الآن لضمان أن تطلق الأجهزة السرية في الصين شيئا مثل الهجوم الجريء الذي طغى على الانتخابات الرئاسية لعام 2016، لكن من الواضح أنه يبتكر الوسائل اللازمة للقيام بذلك. وقد تم الكشف مؤخرا عن قيام الصين بعمليات نفوذ واسعة النطاق في استراليا، وذلك باستخدام منظمات الطلاب الرسمية للإشراف على طلاب الجامعات الصينية والجمعيات التجارية لدفع المصالح الصينية والدبلوماسيين للسيطرة على الصحافة المحلية باللغة الصينية. وفي أواخر العام الماضي، أُجبر عضو في مجلس الشيوخ الأسترالي على الاستقالة بسبب علاقاته المزعومة مع ملياردير صيني.
وبالإضافة إلى ذلك، تعمل الصين على توسيع حضورها الإعلامي العالمي. وتشير التقديرات إلى أن الحكومة تنفق سنويا حوالي 7 مليار دولار على وسائل الإعلام الجديدة والبث في الخارج. ولدى وكالة الأنباء الصينية "شينخوا" شبكة تضم أكثر من 170 مكتبا في الخارج وتنشر الأخبار بثماني لغات. وتتألف شبكة "التلفزيون المركزي للصين" (CCTV) من أكثر من 70 مكتب أجنبي، وتجري عمليات البث في 171 بلدا بست لغات. ويعد راديو الصين الدولي ثاني أكبر إذاعة إخبارية في العالم بعد إذاعة بي بي سي البريطانية، إذ تبث الأخبار والبرامج ب 64 لغة من 32 مكتب أجنبي إلى 90 محطة إذاعية في جميع أنحاء العالم.
لم تشهد أي من هذه المنظمات بعد مصدرا رئيسيا للأخبار الدولية. لكنها أصبحت مصدرا هاما للمعلومات للأشخاص في المناطق النائية مثل الشرق الأوسط وأفريقيا. هذا يعزز وجهة نظر الصين ويبني جماهير متعاطفة.
وفي الوقت نفسه، تشتري الصين "إعلانات محلية" في الصحف الاسترالية والأمريكية والأوروبية. وهذا يسمح للصين بنشر مقالات مكتوبة من الحكومة حول قضايا مثيرة للجدل، على سبيل المثال، بناء جزر عسكرية في بحر الصين الجنوبي، جنبا إلى جنب مع المواد التحريرية المعتادة.
كما يلعب الرئيس شي لعبة طويلة الأمد، من خلال الموافقة على الاستثمارات في الأفلام وغيرها من أشكال الترفيه الجماهيري للتأثير على كيفية تعامل الثقافة الشعبية العالمية مع كل الأشياء على نحو صيني. على الرغم من الحملة الأخيرة للحكومة الصينية بشأن تدفقات رؤوس الأموال الصادرة، فإن الشركات الصينية لا تزال تضيف الأموال إلى حصصها الرئيسية في ممتلكات هوليوود. وتملك المجموعة الصينية داليان واندا (وهي شركة تكتل متعددة الجنسيات صينية تأسست في بكين) وحدها أصول ترفيه تقدر ب 10 مليار دولار في الولايات المتحدة وأوروبا وأستراليا. كما استثمرت شركات الانترنت الصينية العملاقة الأخرى مثل علي بابا وتينسنت وهوني كابيتال، بالإضافة إلى الشركات المملوكة للدولة مثل مجموعة الصين السينمائية، عشرات المليارات من الدولارات في مشروعات السينما الأمريكية.
وبفضل هذه المشاركة المالية، تتمتع الحكومة الصينية بنفوذ أكبر بكثير من الرقابة التقليدية. كما سيخضع زعماء استوديو هوليوود مع مراقبة السوق المحلية الضخمة في الصين لطلبات الحكومة "الإبداعية" عندما يتعلق الأمر بالسيناريوهات، وقرارات بث الأفلام، وما إلى ذلك. وفي عام 2014، بلغت عائدات شباك التذاكر الصينية  8.6 مليار دولار، حيت احتلت المرتبة الثانية بعد أمريكا الشمالية. ومع ذلك، فإن الصين لا تسمح بعرض أكثر من 38 فيلم أجنبي في البلاد كل عام، مما يشجع المخرجين على إرضاء المراقبين.
وبطبيعة الحال، في الغرب، ليس فقط كبار المديرين في هوليوود من يساعدون شي جين بينغ في تنفيذ برنامجه. أعلنت شركة آبل مؤخرا عن نقل قاعدة بيانات من المستخدمين الصينيين لشريكها في الصين، وذكرت جوجل نشر مركز جديد للبحث في الصين.لا تقوم الشركات التكنولوجية العملاقة في الولايات المتحدة بمثل هذه الصفقات لصالح "المساهمين". كما تتوفر للرئيس شي ومساعديه السيبرانيين تقنيات الملكية والدراية، وإمكانية الوصول إلى أهداف الولايات المتحدة.
وهذا يطرح سؤالا واضحا: إذا كان بإمكان روسيا التدخل في الانتخابات الرئاسية الأمريكية دون وجود علاقات تجارية ودية، فما الذي ستقوم به الصين في السنوات المقبلة؟ وصرح احد المسئولين التنفيذيين في هوليوود مؤخرا أن هدف الصين الوحيد ليس هو كسب المال، وهذه مسألة خطيرة للغاية.