Las lecciones perdidas de la Primera Guerra Mundial
PARÍS – Pasaron 100 años desde que terminó la Primera Guerra Mundial, y el centenario fue conmemorado este mes con grandes pompas en Australia, Canadá, Francia y el Reino Unido. Alemania envió autoridades de alto nivel a Francia para la ocasión, reafirmando así la reconciliación entre los dos países. Pero el hecho de que la reconciliación franco-alemana no ocurriera hasta que Europa hubiera sufrido otra guerra devastadora demuestra lo frágil que puede ser la paz, especialmente cuando los líderes políticos son tan miopes como suelen ser.
El historiador de Cambridge Christopher Clark correctamente tituló Sonámbulos su libro de 2012 sobre los orígenes de la Primera Guerra Mundial. Por una combinación de ceguera voluntaria, total complacencia y terquedad intensa, los líderes de Europa sometieron a sus países a un conflicto que sacudió a toda una generación.
Para cuando estalló la Primera Guerra Mundial, debería haber quedado en claro que la industrialización y la revolución del transporte habían transformado el conflicto bélico. La Guerra de Crimea de 1853-1856 tuvo más de un millón de víctimas; la guerra civil norteamericana de 1861-1865 resultó en más de 600.000 muertes.
A pesar de estas experiencias, los líderes de Europa se aferraron al dictado del teórico militar del siglo XIX Carl von Clausewitz de que "la guerra es la continuación de la política por otros medios". De manera que la política se continuó en forma de guerra, y esto resultó en 20 millones de bajas militares y civiles.
Sin embargo, ni siquiera eso fue suficiente para despertar a los sonámbulos. En los años posteriores al armisticio, los líderes de Europa no pudieron trascender las divisiones que había dejado al desnudo la Primera Guerra Mundial, y las tensiones entre los franceses y los alemanes resultaron particularmente desestabilizadoras.
Este fracaso quedó reflejado en el propio armisticio, que impuso requerimientos excesivamente duros a Alemania, incluidos miles de millones de dólares en pagos de reparaciones, en un momento en que el país enfrentaba una profunda crisis económica. Mientras tanto, la supervisión internacional era demasiado débil y la Liga de las Naciones se mantenía en gran medida silenciosa frente a los desenlaces peligrosos, como la remilitarización de Adolf Hitler de Renania. El rechazo por parte del Senado de Estados Unidos de la Liga de las Naciones en 1919 –y, en consecuencia, de los principios de internacionalismo y multilateralismo que había promovido el presidente Woodrow Wilson- ciertamente no ayudó.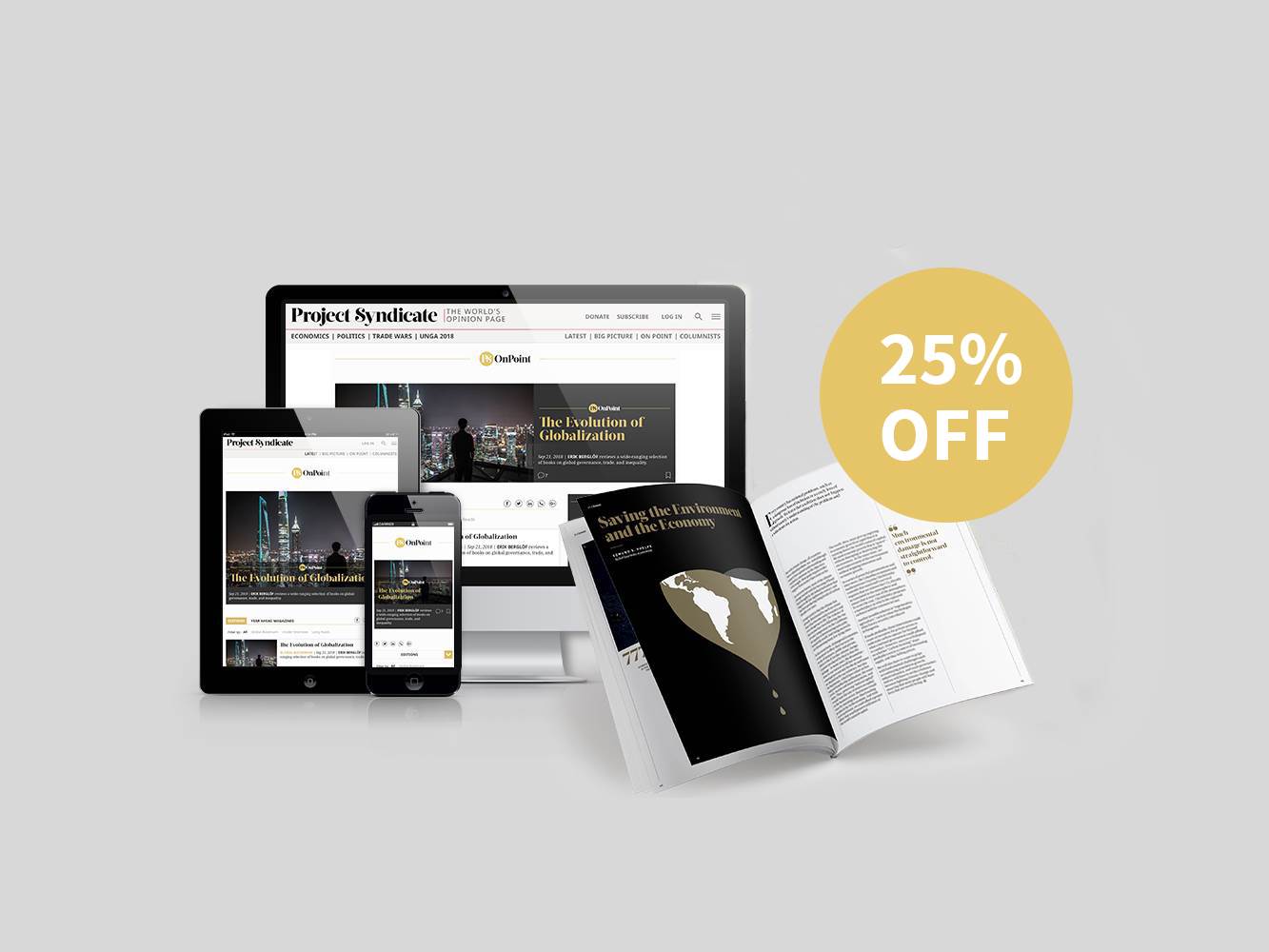 Subscribe now
For a limited time only, get unlimited access to On Point, The Big Picture, and the PS Archive, plus our annual magazine and a tote bag, for just $75.
En términos más fundamentales, la Segunda Guerra Mundial estalló porque se permitió que el nacionalismo siguiera agudizándose. El primer ministro francés Georges Clemenceau, por caso, siguió siendo profundamente nacionalista y, en particular, vehementemente anti-alemán. Pero mientras que actuar como Clemenceau podría servir para ganar la guerra (especialmente si aparece una potencia como Estados Unidos para ofrecer ayuda crucial), no sirve para ganar la paz; el nacionalismo duro naturalmente conduce al conflicto.
Sin embargo, hoy un líder mundial importante, el presidente Donald Trump, se comporta de manera muy parecida a Clemenceau. Esto tiene serias implicancias no sólo para Estados Unidos, sino también para Europa. Sin duda, el presidente francés, Emmanuel Macron, abraza los "principios wilsonianos" que Trump rechaza. Pero, como demostró claramente el período entre guerras, si las reglas y los principios centrales no son aceptados por todos, las instituciones que sostienen no se pueden sustentar.
La Segunda Guerra Mundial logró lo que ni la Primera Guerra Mundial pudo lograr: terminó con la era del predominio global europeo. Si bien Europa ha crecido y prosperado desde 1945, no ha recuperado el estatus de liderazgo global que alguna vez tuvieron sus principales países. Esto deja a la Unión Europea de hoy a merced de un Estados Unidos que ha rechazado el multilateralismo y abrazado el nacionalismo.
Por supuesto, muchos de los riesgos que enfrenta Europa residen al interior de sus propias fronteras. En Francia, por ejemplo, muchos están ignorando las advertencias pronunciadas por Macron –o, más concretamente, por sus libros de historia- en tanto actúan en contra de los esfuerzos del presidente por defender el multilateralismo.
El riesgo hoy es que las generaciones que no han conocido la guerra reproduzcan la cadena de acontecimientos que condujeron a ella. Un ejemplo de este riesgo son las recientes protestas de "chalecos amarillos" en Francia contra un impuesto ambiental al combustible. Las protestas también estuvieron destinadas a ser un rechazo más amplio de Macron, a quien muchos responsabilizan por la pérdida de su poder adquisitivo.
Los manifestantes probablemente piensen que están actuando en el espíritu de la Revolución Francesa de 1789, un espíritu que los franceses reviven periódicamente en la política de su país. Pero, en verdad, están recreando los años 1930, con sus movimientos de protesta y milicias de derecha. 
Esto no quiere decir que los ciudadanos franceses –y, en particular, los jóvenes- no tengan nada de qué quejarse. El desempleo se ha mantenido demasiado alto por demasiado tiempo, y si bien Francia no ha sufrido, en gran medida, el pico de desigualdad de ingresos que se ve en otros países, como Estados Unidos, las desigualdades sistémicas son dominantes.
Pero el hecho es que el rechazo emocional de cualquier persona o institución aunque remotamente asociada con las "elites" establecidas –incluidos los partidos políticos tradicionales y los sindicatos- se presta a la utilización por parte de los demagogos populistas. Y la historia no puede ser más clara respecto de los riesgos generados cuando estos demagogos llegan al poder.
El mundo ha cambiado profundamente en el último siglo. Nuestras economías están más profundamente entrelazadas que nunca, y la simple escala de destrucción que pueden generar las armas de hoy quizás invite a algo parecido a la moderación.
Pero como demuestra con crudeza la presidencia errática de Trump –incluidos sus desafíos a las antiguas alianzas y su postura nuclear imprudente-, las estructuras que hemos creado para preservar la paz están lejos de ser a prueba de tontos. En un momento en que las poblaciones de todo Occidente abrazan ideas nacionalistas y populistas, volvemos a bailar al borde un volcán.