Fünf Visionen für eine neue internationale Ordnung
MADRID – Die globale institutionelle Ordnung nach dem Zweiten Weltkrieg ist obsolet. Dies ist keine neue Entwicklung: Der Reformbedarf ist bereits lange Zeit offensichtlich. Und der Wandel muss umfassender sein, als viele begreifen, und er ist dringender als je zuvor.
Die Gründe dafür sind unschwer zu erkennen: Immer neue (und mehr) Akteure greifen nach der Macht. Nichtstaatliche Akteure haben an Einfluss gewonnen. Und die internationale Zusammenarbeit hat sich von einem harten juristischen Ansatz klarer Regeln und Abkommen zu einem sanften, selbstregulierenden Ansatz entwickelt – verdeutlicht durch das Pariser Klimaabkommen von 2015, das auf "national bestimmten Beiträgen" beruht.
Um inmitten solcher Veränderungen in wichtigen Bereichen (wie bei der Nichtverbreitung von Kernwaffen und beim Klimawandel) Stabilität und Zusammenarbeit bewahren zu können, müssen wir bestehende Ansätze und Strukturen grundlegend überdenken. Der Beginn der 76. Sitzung der Generalversammlung der Vereinten Nationen (UNGA 76) bietet einen nützlichen Einblick, wo diese Prozesse – und die internationale Ordnung selbst – momentan stehen.
Jenseits großer Erklärungen und vorhersehbarer To-do-Listen gehören zur UNGA 76 auch Visionen der "internationalen Ordnung" und ihrer Zukunft. Die Vertreter dieser Visionen fallen in fünf Kategorien: Bewahrer von Standards, Ambivalente Akteure, Geschickte Spieler, Disruptive Strategen, und Erneuerer.
Es überrascht nicht, dass die "Bewahrer der Standards" durch die Europäische Union vertreten werden. Insofern sie nur "in law" and "by law" existiert, ist die EU die führende Repräsentantin der regelbasierten Ordnung nach 1945. Außerdem versucht sie, eine wertorientierte, regulatorische Supermacht zu werden – eine Art weltweiter Akteur und Schiedsrichter.
Dies war auch in der UNGA-Rede des europäischen Ratspräsidenten Charles Michel offensichtlich, in der er die Führungsrolle der EU bei globalen, regulierten Initiativen betonte und das UN-System aufforderte, "zu den Grundlagen zurückzukehren", womit er "eine internationale Ordnung auf der Basis von Regeln" meinte. Allerdings ist die Position der EU nicht ohne Widersprüche: Die Gaspipeline Nord Stream 2, die russisches Gas direkt nach Deutschland bringt, ist mit der EU-Rhetorik schwer in Einklang zu bringen – ebenso wie der jüngste französisch-griechische Verteidigungspakt.
Subscribe to Project Syndicate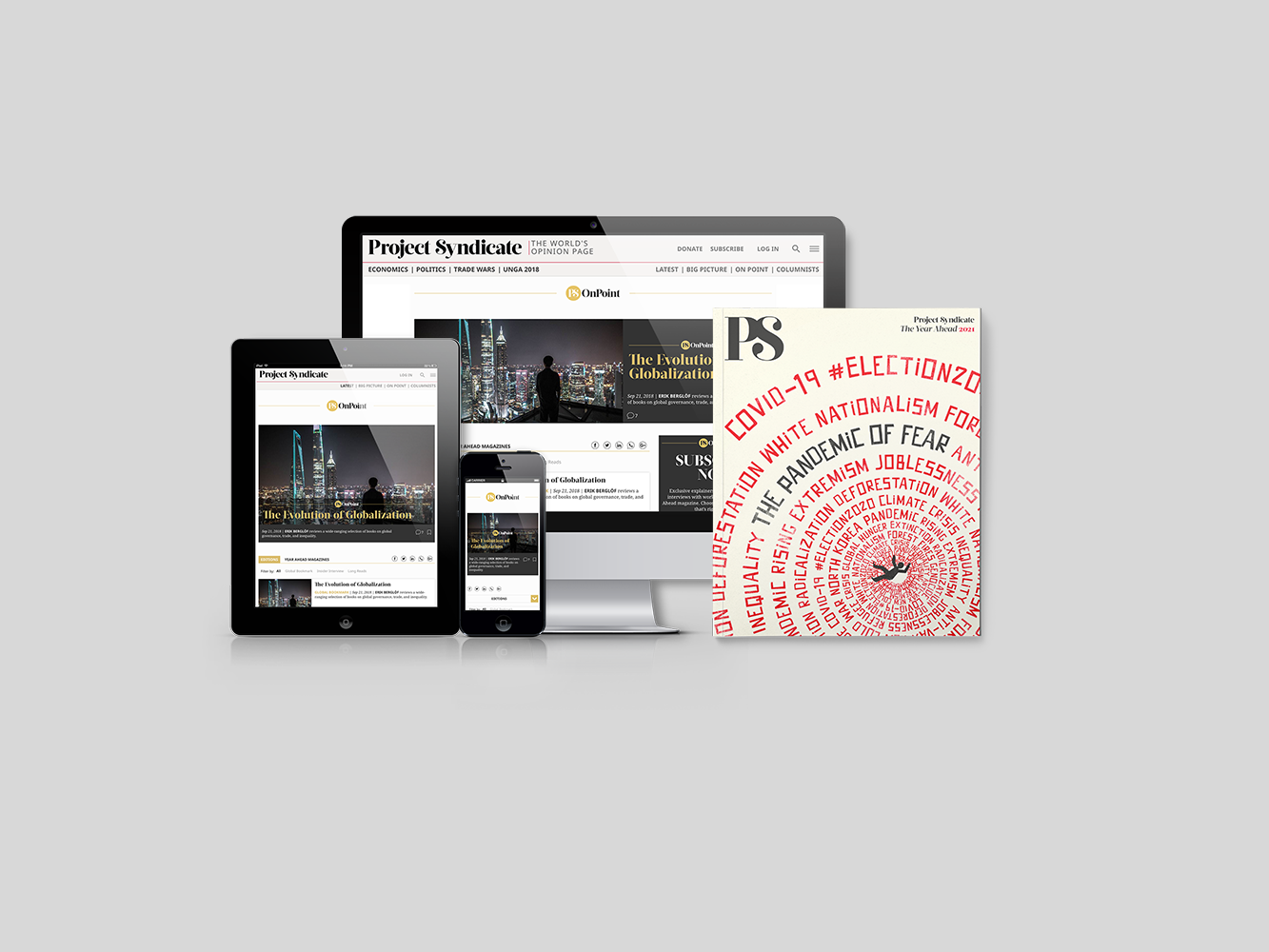 Subscribe to Project Syndicate
Enjoy unlimited access to the ideas and opinions of the world's leading thinkers, including weekly long reads, book reviews, topical collections, and interviews; The Year Ahead annual print magazine; the complete PS archive; and more – for less than $9 a month.
Die "Ambivalenten Akteure" werden heute – wie immer schon – von den Vereinigten Staaten repräsentiert. Sicherlich standen die USA an der Spitze der aktuellen internationalen Ordnung und waren über Jahrzehnte ihr prägender Akteur. Aber Amerika weiterte sich häufig, die von ihm unterzeichneten Abkommen auch zu ratifizieren. Erinnern wir uns nur daran, dass die USA gegen eine offizielle Mitgliedschaft in der UN-Vorgängerorganisation Liga der Nationen gestimmt hat, obwohl diese aufgrund einer Idee ihres Präsidenten Woodrow Wilson entstanden war.
Heute versucht US-Präsident Joe Biden eifrig, die Welt davon zu überzeugen, dass Amerika – nach den vier Jahren von Donald Trumps "America First"-Ansatz – "zurück" im Mittelpunkt der internationalen Ordnung ist. "Um unseren eigenen Leuten zu helfen", erklärte er in seiner UNGA-Rede, "müssen wir uns auch intensiv mit dem Rest der Welt beschäftigen. Um unsere eigene Zukunft zu sichern, müssen wir zusammen mit anderen Partnern – unseren Partnern – an einer gemeinsamen Zukunft arbeiten."
Aber trotzdem sind die USA so stark polarisiert wie immer, und die Biden-Regierung betreibt weiterhin eine Politik des Wettbewerbs der Großmächte gegen China. Tatsächlich war ein Großteil von Bidens Rede implizit an seinen chinesischen Kollegen Xi Jinping gerichtet. "Zweifellos", erklärte er, "werden die Vereinigten Staaten sich selbst, ihre Verbündeten und ihre Interessen weiterhin gegen Angriffe verteidigen" und "unsere zentralen nationalen Interessen verteidigen, und dies auch gegen andauernde und bevorstehende Bedrohungen".
Xi, der typische "Geschickte Spieler", verfolgt einen anderen Kurs. In seiner Videobotschaft an die UNGA – seit Beginn der Pandemie hat er China nicht verlassen – distanzierte er sich von seinen letzten "Wolfskriegerreden" und sagte, was die Welt hören wollte: Indem er eine Vision Chinas als "Stifter des Weltfriedens" und "Verteidiger der internationalen Ordnung" vertrat, sprach er von "Solidarität", "Win-Win-Zusammenarbeit" und "echtem Multilateralismus". Xi weiß eindeutig, wie er die Sprache des internationalen Rechts zu seinem Vorteil nutzen kann, obwohl das einzige Prinzip, das er wirklich verfolgt, eine "westfälische" Souveränität ist.
Diese ist auch ein Lieblingsprinzip Russlands – des wichtigsten "Disruptiven Strategen". Aber für den russischen Außenminister Sergei Lawrow ist staatliche Souveränität mit dem "westlichen" Konzept einer "regelbasierten Ordnung" grundsätzlich unvereinbar. Lawrow betont in seiner Rede eine häufig übersehene Wahrheit: Russland ist nicht nur ein "Störer". Putins Populismus und Demagogie sind Teile eines gründlichen Versuchs, die liberale Weltordnung zu untergraben.
Und nicht zuletzt sind da noch die "Erneuerer", an deren Spitze Indien steht. In seiner Rede hat Premierminister Narendra Modi sein Land als "Mutter der Demokratie" mit einer "großen demokratischen Tradition" bezeichnet, die "tausende Jahre" zurückreicht. Dass Modi die indische Demokratie vom Erbe des britischen Kolonialismus trennt, deutet auf seine zunehmenden Bemühungen hin, alte Institutionen mit neuem Leben zu füllen – was auf unterschiedliche Weise auch in einigen Reden der Staatschefs von Mittelmächten anklang.
Viele Beobachter haben sich beeilt, neue Bündnisse, Pakte und gemeinschaftliche Ansätze als Signal dafür zu sehen, dass aus den Resten der liberalen Nachkriegsordnung eine neue globale Ordnung entsteht. Ihre Sichtweise könnte sich durch die destruktiven und kaum überzeugenden Visionen einiger Weltmachtpolitiker bei der UNGA noch verstärken.
Die "Bewahrer der Standards" müssen einen ehrlichen, unvoreingenommenen Dialog mit den "Erneuerern" (und offensichtlich mit den USA) führen, um einen Weg zu finden, der sich nicht nur auf die ausgefransten Enden der fragmentierten liberalen Ordnung stützt, sondern auch bedeutsame, umsichtige und auf die heutige Welt zugeschnittene Reformen vorsieht. Die EU sollte bei diesen Bemühungen mit gutem Beispiel voran gehen.
Aus dem Englischen von Harald Eckhoff