The Global Hunger Crisis Is Here
A more resilient, sustainable, and equitable food system must be a pillar of any climate mitigation or adaptation agenda. But the barriers to building one should not be underestimated, especially for countries and regions where soil is poor, land has little agricultural value, and other natural resources, such as water, are limited or degraded.
DUBAI – Global food prices are soaring. The United Nations Food and Agriculture Organization's Food Price Index – which covers a basket of basic food commodities (cereals, meat, dairy, vegetable oils, and sugar) – reached an all-time high of 159.7 in March, up from 141.1 the previous month. While it declined slightly in April, to 158.5, ongoing developments – not least Russia's war in Ukraine – are set to keep driving prices to new highs, with devastating implications for global hunger.
The COVID-19 pandemic exposed the fragility and dysfunctionality of the world's food systems, with movement restrictions and supply-chain disruptions driving up prices, damaging rural livelihoods, and exacerbating food insecurity, especially for the poor. Now, the war in Ukraine is compounding these challenges, because both sides are major exporters of food, fuel, and fertilizer.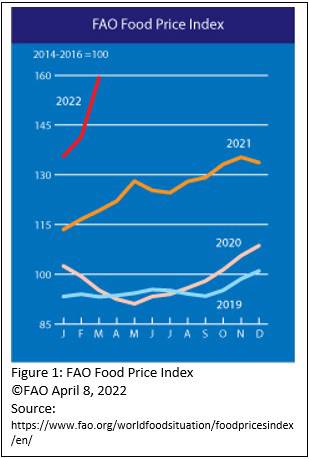 Moreover, climate change poses an even larger threat to global food security. Already, extreme weather like heatwaves, floods, and prolonged droughts has triggered shocks to agricultural production and food availability. As temperatures rise, these shocks will become increasingly frequent and powerful. If global warming crosses the 1.5° Celsius threshold (relative to Earth's pre-industrial temperature), they are likely to become catastrophic.
To continue reading, register now.
Already have an account? Log in