El riesgo de un nuevo no-orden económico
LONDRES – El mes próximo, cuando los ministros de finanzas y los gobernadores de los bancos centrales de más de 180 países se congreguen en Washington, para las reuniones anuales del Fondo Monetario Internacional y del Banco Mundial, se enfrentarán a un orden económico global bajo una tensión cada vez mayor. Al no haber ofrecido la prosperidad económica inclusiva de la cual es capaz, ese orden es objeto de crecientes dudas -y desafíos en alza-. A menos que se corrija el curso, los riesgos de que el orden de hoy conduzca a un no-orden económico mundial no harán más que intensificarse.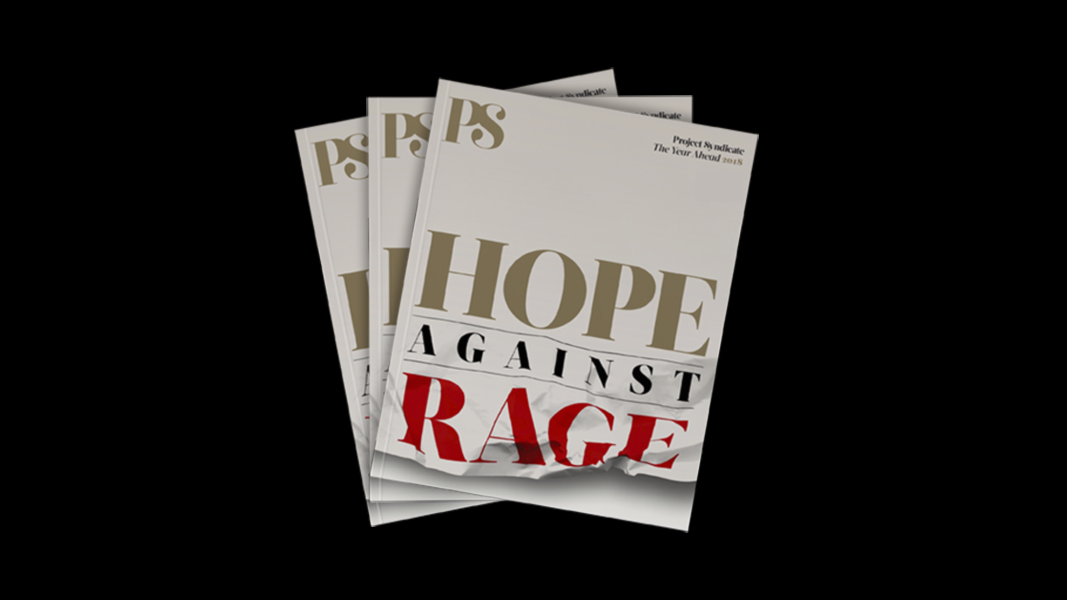 The Year Ahead 2018
The world's leading thinkers and policymakers examine what's come apart in the past year, and anticipate what will define the year ahead.
El actual orden económico internacional, encabezado por Estados Unidos y sus aliados luego de la Segunda Guerra Mundial, está apuntalado por instituciones multilaterales, entre ellas el FMI y el Banco Mundial. Estas instituciones fueron diseñadas para cristalizar las obligaciones de los países miembro, y representaban un conjunto de prácticas adecuadas en materia de política económica que evolucionaron hasta llegar a lo que se conoció como el "Consenso de Washington".
Ese consenso estaba arraigado en un paradigma económico que apuntaba a promover interacciones de beneficio mutuo entre los países, haciendo hincapié en la liberalización del comercio, los flujos transfronterizos de capital prácticamente sin restricciones, la libre fijación de precios y la desregulación doméstica. Todo esto estaba en un marcado contraste con lo que se desarrollaba detrás de la Cortina de Hierro y en China en la primera mitad del período de posguerra.
Durante varias décadas, el orden internacional liderado por Occidente funcionó bien, y ayudó a brindar prosperidad y una relativa estabilidad financiera. Luego se vio sacudido por una serie de sacudidas financieras que culminaron en la crisis financiera global de 2008, que desató una catarata de quiebras económicas que llevaron al mundo al borde de una depresión devastadora de varios años. Fue el colapso económico más grave desde la Gran Depresión de los años 1930.
Pero la crisis no surgió de la nada para desafiar un orden económico saludable. Por el contrario, hacía mucho tiempo que la evolución del orden global había sido superada por los cambios económicos estructurales en el terreno, en donde las instituciones de gobernancia multilateral se demoraron mucho tiempo en reconocer plenamente el significado de los acontecimientos del sector financiero y su impacto en la economía real, o en brindarle un espacio adecuado a las economías emergentes.
Por ejemplo, las estructuras de gobernancia, incluido el poder de voto, se corresponden mejor con las realidades económicas de ayer que con las de hoy y mañana. Y la nacionalidad, más que el mérito, sigue siendo la guía dominante para la designación de los líderes de esas instituciones, en las que las posiciones clave siguen estando reservadas para ciudadanos europeos y estadounidenses.
Las consecuencias desestabilizadoras de esta incapacidad obstinada para reformar lo suficiente la gobernancia multilateral se han combinado con la propia lucha por parte de China para reconciliar sus prioridades domésticas con sus responsabilidades económicas globales como la segunda economía más grande del mundo. Otros países, particularmente entre las economías avanzadas, también han fallado a la hora de transformar sus políticas domésticas en respuesta a las relaciones económicas que resultan de la globalización, la liberalización y la desregulación.
Como resultado de todo esto, el equilibrio de ganadores y perdedores se ha vuelto cada vez más extremo y más difícil de manejar, no sólo económicamente, sino también política y socialmente. Hay demasiadas personas que se sienten marginadas, olvidadas y desposeídas -y furiosas con los líderes y las instituciones que han permito que esto sucediera-, y la presión política interna se ha intensificado, lo que hace que los países se replieguen hacia adentro.
Esta tendencia se refleja en los recientes desafíos que sufrieron varios componentes del orden económico, como el Tratado de Libre Comercio de América del Norte, así como el retiro de Estados Unidos del Acuerdo Transpacífico y la renuncia del Reino Unido a ser miembro de la Unión Europea. Todo esto está arrojando una sombra sobre el futuro del sistema económico global.
El giro de Estados Unidos hacia adentro, que ya venía en marcha desde hacía varios años, ha sido particularmente significativo, porque deja al orden mundial sin un conductor principal. Frente al hecho de que ningún otro país o grupo de países no está ni siquiera cerca de poder llevar la batuta, la aparición de lo que el politólogo Ian Bremmer ha llamado la "era del G-cero" se vuelve mucho más probable.
China responde al debilitamiento medular del sistema global acelerando sus esfuerzos por construir redes pequeñas, inclusive en torno de las estructuras de poder tradicionales dominadas por Occidente. Esto ha incluido la creación del Banco Asiático de Inversión en Infraestructura, la proliferación de acuerdos de pago bilaterales y el desarrollo de la "Iniciativa un cinturón, un camino" para construir infraestructura que vincule a China con Asia occidental, Europa y África.
Estas dinámicas están atizando las tensiones comerciales y aumentando el riesgo de una fragmentación económica. Si esa tendencia continúa, la configuración económica y financiera global se volverá cada vez más inestable, amplificando las amenazas geopolíticas y de seguridad en un momento en el que la coordinación transfronteriza es vital para hacer frente a las amenazas de actores no-estados y regímenes disruptivos, como Corea del Norte. Con el tiempo, los riesgos asociados con este giro hacia un no-orden económico global podrían tener serios efectos adversos en la geopolítica y la seguridad nacional.
Nada de esto es nuevo. Sin embargo, año tras año, las máximas autoridades gubernamentales presentes en las reuniones anuales del FMI/Banco Mundial no logran enfrentarlo. Es probable que este año no sea diferente. En lugar de discutir medidas concretas para desacelerar y revertir la marcha hacia un no-orden económico global, las autoridades probablemente darán la bienvenida al repunte cíclico del crecimiento global e instarán a los países miembro a hacer más en pos de eliminar los impedimentos estructurales para un crecimiento más rápido, más duradero y más inclusivo.
Si bien esto es entendible, no es lo suficientemente bueno. Las próximas reuniones ofrecen una oportunidad crucial para empezar una discusión seria sobre cómo frenar las dinámicas en las que todos pierden que han venido consolidándose en la economía global. Cuanto más tiempo lleve sembrar las semillas de la reforma, menos probable que echen raíces -y más factible que surja un no-orden económico mundial en el que todos resulten perdedores.