Es hora de dejar que las mujeres prosperen
,
DAVOS – En debates públicos en todo el mundo, el empoderamiento de las mujeres está cada vez más reconocido como una máxima prioridad. La cuestión de cómo ofrecerles más oportunidades económicas a las mujeres está firme en la agenda de la reunión anual del Foro Económico Mundial en Davos este año. Por otro lado, quienes vienen abogando por las mujeres desde hace tiempo se sienten motivados, mientras que infinidad de hombres y mujeres por igual han llegado a reconocer la urgencia de la tarea.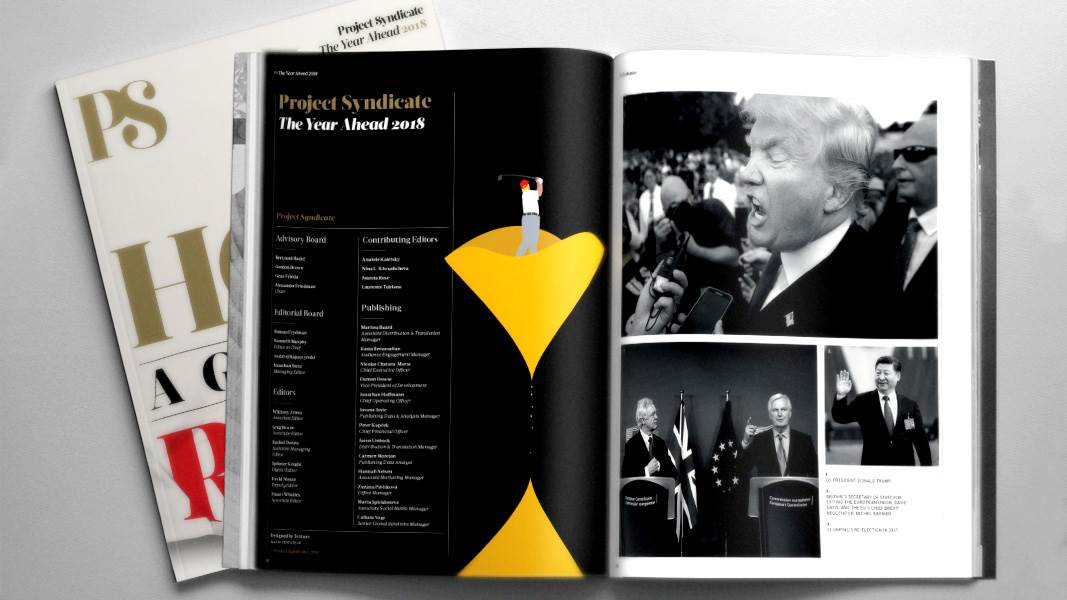 The Year Ahead 2018
The world's leading thinkers and policymakers examine what's come apart in the past year, and anticipate what will define the year ahead.
Brindarles a las mujeres y las jóvenes la oportunidad de triunfar no sólo es lo correcto; también puede transformar a las sociedades y las economías para el bien de todos. Por ejemplo, llevar la participación de las mujeres en la fuerza laboral al mismo nivel que los hombres impulsaría el PIB en hasta un 9% en Japón y 27% en India.
El Fondo Monetario Internacional ha documentado otros muchos beneficios macroeconómicos asociados con el empoderamiento de las mujeres. Reducir las brechas de género en el empleo y la educación ha demostrado que ayuda a las economías a diversificar sus exportaciones. Nombrar a más mujeres en los directorios del sector de supervisión bancaria puede impedir un pensamiento de grupo cómodo, garantizando así una mayor estabilidad y resiliencia en el sector financiero. Y achicar las desigualdades de género también reduce la desigualdad de ingresos, permitiendo un crecimiento más sustentable.
Achicar la brecha de género tal vez parezca mucho pedir, pero es esencial para el desarrollo económico y la prosperidad a largo plazo. El desafío para cada país entonces reside en aprovechar al máximo todos los talentos de su población.  
Reconocer el potencial de las mujeres es una misión universal. Pero algunas de las barreras que impiden el desarrollo de las mujeres también son universales. Curiosamente,  casi el 90% de los países tiene en vigor una o más restricciones legales basadas en el género. En algunos países, las mujeres todavía tienen derechos de propiedad limitados en comparación con los hombres; en otros, los maridos tienen el derecho de prohibir que sus esposas trabajen.
Más allá de las barreras legales, las mujeres también enfrentan obstáculos sociales y culturales que limitan su acceso a la educación, el trabajo y las finanzas. Esto es especialmente válido en países con sistemas políticos frágiles.
Ahora que la conciencia pública está creciendo, es hora de ejercer presión con medidas concretas para ayudar a las mujeres a permanecer en la fuerza laboral al mismo tiempo que crían a su familia. Para un pantallazo de cómo se podría llevar a cabo esto, consideremos el caso de Noruega, donde los programas asequibles de cuidado infantil y licencia por paternidad han demostrado ser exitosos a la hora de permitirles trabajar a madres y padres por igual. Sí, estos programas son costosos. Pero merecen la inversión, dada la enorme contribución de las mujeres empleadas al crecimiento económico.
Es más, los programas que ayudan a las mujeres a seguir trabajando también cambian el rol de los padres. En Noruega y otros países con políticas similares, los padres ahora tienen los mismos derechos en términos de licencia por paternidad y crianza de los niños. Como consecuencia de ello, más mujeres pueden salir a buscar empleos de liderazgo en el trabajo y la vida pública.
Por supuesto, los países que todavía no están al nivel de desarrollo económico de Noruega normalmente enfrenan otros desafíos relacionados con el género, incluido un acceso limitado al agua y la educación. Desafortunadamente, mientras que muchos países han hecho progresos a la hora de reducir las brechas de género en la inscripción en la escuela primaria, todavía hay mucho trabajo por hacer a nivel secundario y terciario. Mientras estas brechas persistan, las mujeres no podrán aspirar a un poder político y económico en iguales condiciones que los hombres. En consecuencia, Noruega ha hecho de la educación de las niñas una máxima prioridad en sus programas de desarrollo internacional.
Más allá de la educación, garantizar que las mujeres en los países en desarrollo tengan acceso a las finanzas es fundamental, porque les permite participar plenamente en la economía, inclusive como emprendedoras. Cuando las mujeres están empoderadas para abrir sus propias empresas, pueden impulsar la innovación y ayudar a sus pares a prosperar.
Como la participación de las mujeres en la fuerza laboral es tan importante para el crecimiento, hay organizaciones como el FMI que están comprometidas a trabajar junto con los gobiernos en todo el mundo para empoderar a las mujeres económicamente. Los programas respaldados por el FMI en Egipto y Jordania, por ejemplo, incluyen medidas para impulsar la inversión en guarderías públicas y transporte público seguro.
Además de políticas específicas, la conversación de hoy está cada vez más centrada en la necesidad de un mayor cambio social. Y ahora que movimientos como #Equalpay y #MeToo han ganado tanto impulso, parece que podría avecinarse el cambio. Ha resultado inspirador ver cuántas mujeres, jovencitas y -sí- hombres hablan en contra de las actitudes retrógradas hacia las mujeres, que nos impidieron avanzar a todos.
Frente a la recuperación económica global, los gobiernos ahora deben sentar las bases para un crecimiento de largo plazo, creando las condiciones para que las mujeres en todas partes concreten su pleno potencial. La discriminación y el abuso contra las mujeres ya no se pueden tolerar. Es hora de que las mujeres prosperen.