Het is tijd om vrouwen ruim baan te geven
,
DAVOS – In publieke debatten over de hele wereld wordt de empowerment van vrouwen steeds meer als topprioriteit onderkend. De vraag hoe we vrouwen meer economische kansen kunnen geven stond dit jaar prominent op de agenda van de bijeenkomst van het World Economic Forum in Davos. En veel pleitbezorgers voor vrouwenrechten voelen zich gesterkt, nu talloze anderen – zowel mannen als vrouwen – de urgentie van de taak onder ogen zijn gaan zien.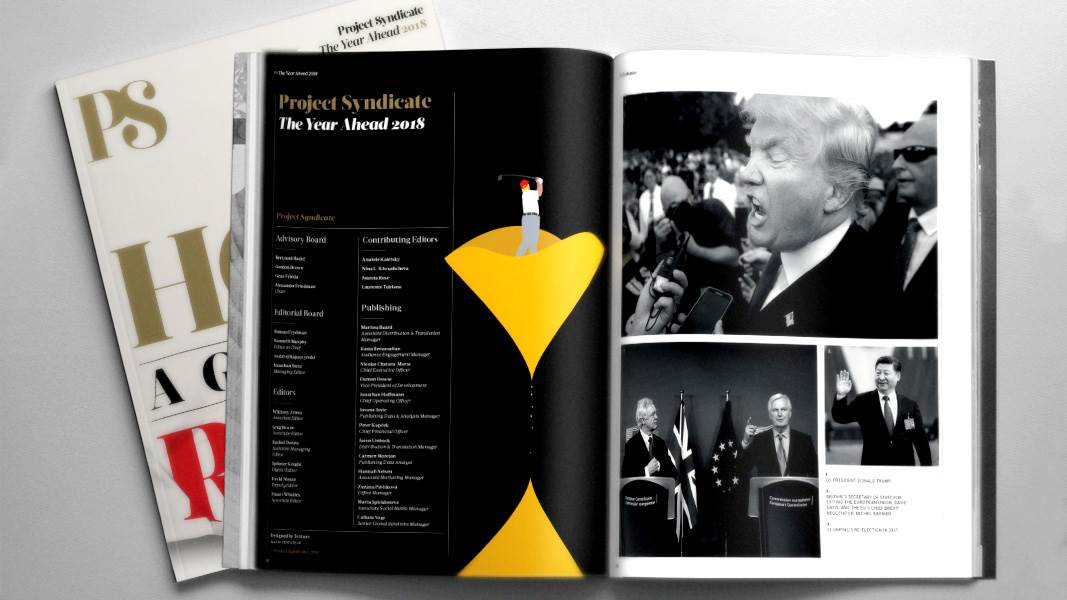 The Year Ahead 2018
The world's leading thinkers and policymakers examine what's come apart in the past year, and anticipate what will define the year ahead.
Het verschaffen van vrouwen en meisjes van de kans om te slagen is niet alleen de juiste weg; het kan samenlevingen en economieën ook transformeren ten goede van iedereen. Als we de participatie van vrouwen in de beroepsbevolking bijvoorbeeld op hetzelfde niveau brengen als die van mannen, kunnen we het bbp met wel 9% laten stijgen in Japan en met wel 27% in India.
Het Internationale Monetaire Fonds heeft ook veel andere macro-economische voordelen gedocumenteerd, die samenhangen met de empowerment van vrouwen. Gebleken is dat het terugdringen van de kloof tussen de geslachten op het gebied van de werkgelegenheid en het onderwijs economieën kan helpen hun exporten te diversifiëren. Het benoemen van meer vrouwen in toezichthoudende organen voor het bankwezen kan bepaalde vormen van groepsdenken voorkomen, waardoor de financiële sector van grotere stabiliteit en veerkracht kan worden voorzien. En het terugdringen van de ongelijkheid tussen de geslachten vermindert ook de inkomensongelijkheid, waardoor ruimte ontstaat voor duurzamer groei.
Het sluiten van de kloof tussen de geslachten kan een hele opgave lijken, maar is essentieel voor de economische ontwikkeling en welvaart op de lange termijn. De uitdaging voor ieder land is het beste te maken van de talenten van al zijn inwoners.
Het verwezenlijken van het potentieel van vrouwen is een universele missie. Maar een paar van de barrières die vrouwen tegenhouden zijn ook universeel van aard. Verbazingwekkend genoeg kent bijna 90% van de landen één of meer op het geslacht gebaseerde wettelijke restricties. In sommige landen hebben vrouwen nog steeds beperkte eigendomsrechten in vergelijking met mannen; in andere landen hebben mannen het recht om hun vrouwen te verbieden om te gaan werken.
Afgezien van deze wettelijke barrières worden vrouwen ook nog eens geconfronteerd met sociale en culturele obstakels die hun toegang tot onderwijs, werk en financiering beperken. Dat is vooral het geval in landen met fragiele politieke systemen.
Nu de publieke bewustwording toeneemt, is het tijd om haast te maken met concrete maatregelen om vrouwen te helpen deel te blijven uitmaken van de beroepsbevolking terwijl ze een gezin grootbrengen. Voor een glimp van hoe dat eruit zou kunnen zien, moeten we naar Noorwegen kijken, waar betaalbare kinderopvang en ouderverlof-programma's succesvol zijn gebleken in het mogelijk maken van moeders én vaders om te werken. Ja, deze programma's zijn duur. Maar zij zijn de investeringen zeker waard, gezien de enorme bijdrage van getrouwde vrouwen aan de economische groei.
Bovendien veranderen programma's die vrouwen helpen om te blijven werken ook de rol van de vaders. In Noorwegen en andere landen met soortgelijk beleid delen vaders nu gelijkelijk in het ouderschapsverlof en de kinderopvoeding. Als gevolg daarvan kunnen nu meer vrouwen leiderschapsrollen nastreven op het werk en in het openbare leven.
Uiteraard worden landen die Noorwegens niveau van de economische ontwikkeling nog niet hebben bereikt doorgaans geconfronteerd met andere met geslachtsdiscriminatie samenhangende problemen, zoals de beperkte toegang tot water en onderwijs. Helaas is er, hoewel veel landen vooruitgang hebben geboekt op het terrein van het terugdringen van de verschillen tussen de geslachten als het gaat om de toegang tot het basisonderwijs, nog veel meer werk te doen op het gebied van het middelbaar en het universitair onderwijs. Zolang deze verschillen blijven bestaan, zullen vrouwen niet in staat zijn op gelijke voet met mannen politieke en economische macht na te streven. Daarom heeft Noorwegen van meisjesonderwijs een topprioriteit gemaakt in zijn internationale ontwikkelingsprogramma's.
Naast onderwijs is het garanderen dat vrouwen in ontwikkelingslanden toegang hebben tot financiering cruciaal, omdat dit hen in staat stelt volledig deel te nemen aan de economie, ook als ondernemers. Als vrouwen de mogelijkheid krijgen hun eigen bedrijf te beginnen, kunnen ze de innovatie een impuls geven en hun landen helpen bloeien.
Omdat de participatie van vrouwen in de beroepsbevolking zo belangrijk is voor de groei, werken organisaties als het IMF graag samen met regeringen in de hele wereld om vrouwen economische macht te geven. Door het IMF gesteunde programma's in Egypte en Jordanië omvatten bijvoorbeeld maatregelen om de investeringen in publieke kinderopvang en veilig openbaar vervoer te bevorderen.
Naast specifiek beleid is de hedendaagse discussie steeds meer gericht op de noodzaak van bredere sociale verandering. Nu bewegingen als #Equalpay en #MeToo zoveel vaart hebben gekregen, lijkt het erop dat die verandering zich zou kunnen voordoen. Het is zeer inspirerend geweest om te zien dat zoveel vrouwen, meisjes en – ja – ook mannen zich hebben uitgesproken tegen ouderwetse houdingen ten opzichte van vrouwen, die ons allemaal op achterstand hebben gezet.
Nu de mondiale economie zich herstelt, moeten regeringen de basis leggen voor groei op de lange termijn, door overal de omstandigheden te scheppen waarin vrouwen hun volledige mogelijkheden kunnen verwezenlijken. De discriminatie en het misbruik van vrouwen kunnen niet langer stand houden. Het is tijd om vrouwen ruim baan te geven.
Vertaling: Menno Grootveld