Je načase umožnit ženám ekonomický úspěch
,
DAVOS – Ve veřejných debatách po celém světě se za jednu z nejvyšších priorit čím dál častěji uznává zlepšení pozice žen. Otázka jak ženám zajistit víc ekonomických příležitostí je pevnou součástí programu letošního výročního zasedání Světového ekonomického fóra v Davosu. Dlouholetí obhájci žen cítí čerstvou krev v žilách, neboť k poznání naléhavosti úkolu dospěl bezpočet dalších mužů i žen.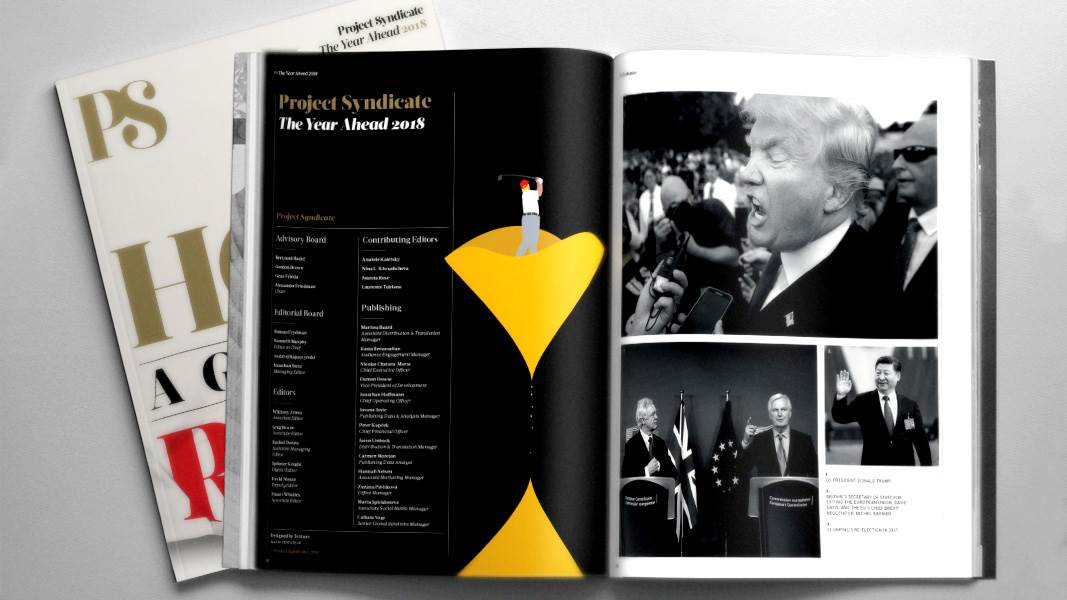 The Year Ahead 2018
The world's leading thinkers and policymakers examine what's come apart in the past year, and anticipate what will define the year ahead.
Dopřát ženám a dívkám příležitost uspět je nejen eticky správné, ale také to může proměnit společnosti a ekonomiky pro dobro všech. Například zvýšení zapojení žen do pracovních sil na stejnou úroveň jako u mužů by pozvedlo HDP o celých 9 % v Japonsku a o 27 % v Indii.
Mezinárodní měnový fond zdokumentoval řadu dalších makroekonomických přínosů spojených se zlepšením postavení žen. Bylo doloženo, že snížení rozdílů mezi pohlavími v oblasti zaměstnanosti a vzdělanosti pomáhá ekonomikám diverzifikovat svůj vývoz. Jmenování více žen do orgánů bankovního dohledu může předcházet pohodlnému skupinovému myšlení, a tedy zajišťovat větší stabilitu a odolnost finančního sektoru. Odstraňování genderových nerovností rovněž snižuje příjmovou nerovnost, což umožňuje udržitelnější růst.
Úkol zacelit genderovou mezeru může sice působit jako tvrdý oříšek, ale má zásadní význam pro dlouhodobý hospodářský rozvoj a prosperitu. Výzvou pro každou zemi je vytěžit co nejvíc z talentu všech svých obyvatel.
Uplatnit potenciál žen je celosvětová mise. Univerzální jsou však i některé bariéry, které ženy brzdí. Je zarážející, že téměř 90 % zemí má na kontě přinejmenším jedno právní omezení založené na pohlaví. V některých zemích mají ženy oproti mužům omezená vlastnická práva, v jiných má manžel právo manželce zakázat práci.
Kromě právních bariér narážejí ženy také na společenské a kulturní překážky, které omezují jejich přístup ke vzdělávání, práci a financování. To platí především v zemích s křehkými politickými systémy.
Teď, když povědomí veřejnosti sílí, je načase prosadit konkrétní opatření, která ženám pomohou během péče o rodinu zůstat v zaměstnání. Abychom nahlédli, jak to může vypadat, uvažme Norsko, kde programy finančně dostupné péče o děti a rodičovské dovolené prokázaly schopnost umožnit zaměstnání matkám i otcům. Ano, tyto programy jsou nákladné. Takové investice se ale naprosto vyplatí, vzhledem k ohromnému přínosu zaměstnaných žen k hospodářskému růstu.
Programy pomáhající ženám pracovat navíc také mění role otců. V Norsku a dalších zemích s podobnými přístupy se dnes otcové rovným dílem podílejí na rodičovské dovolené a výchově dětí. Víc žen proto v pracovním a veřejném životě může vykonávat vůdčí roli.
Samozřejmě, země, které dosud nejsou na norské úrovni hospodářského rozvoje, obvykle trápí další těžkosti související s rovností pohlaví, včetně omezené dostupnosti vody a vzdělávání. Řada zemí sice učinila pokrok ve snižování rozdílů mezi chlapci a děvčaty při zápisech do základních škol, stále je ale bohužel nutné udělat mnohem víc na úrovni středních a vysokých škol. Dokud budou tyto odlišnosti přetrvávat, ženy nebudou moci usilovat o politickou a ekonomickou moc za stejných výchozích podmínek jako muži. Norsko tudíž ve svých mezinárodních rozvojových programech učinilo ze vzdělávání dívek nejvyšší prioritu.
Kromě vzdělání je nezbytné zajistit, aby ženy v rozvojových zemích měly přístup k financování, protože jim umožňuje naplno se zapojit do ekonomiky, a to i jako podnikatelky. Když ženy dostanou možnost začít své vlastní podnikání, dokážou být motorem inovací a pomoci svým zemím k prosperitě.
Vzhledem k tomu, že zapojení žen do pracovních sil má pro růst takový význam, organizace jako MMF jsou odhodlané s vládami po celém světě spolupracovat na posílení ekonomické moci žen. Například programy podporované MMF v Egyptě a Jordánsku zahrnují opatření k posílení investic do veřejných mateřských škol a bezpečné veřejné dopravy.
Vedle konkrétních politik se dnešní debaty rostoucí měrou zaměřují na potřebnost širší společenské změny. Hnutí jako #Equalpay a #MeToo dnes už nabrala na síle tak, že se zdá, že už se taková změna možná blíží. Je podnětné sledovat tolik žen, dívek a – ano – mužů, jak se vyslovují proti zpátečnickým postojům k ženám, které brzdí pokrok nás všech.
Globální ekonomika se zotavuje a vlády musí položit základy dlouhodobého růstu tím, že vytvoří podmínky k tomu, aby ženy na celém světě mohly v úplnosti uplatnit svůj potenciál. Diskriminace a zneužívání žen nesmí přetrvat. Je načase umožnit ženám ekonomický úspěch.
Z angličtiny přeložil David Daduč