Hoe de economie de economische crisis heeft overleefd.
LONDEN – De tiende verjaardag van het begin van de Grote Recessie was aanleiding voor een elegant essay door Nobelprijswinnaar Paul Krugman, die noteert hoe weinig het debat over de oorzaken en gevolgen van de crisis het afgelopen decennium veranderd is. Terwijl de crisis van de jaren dertig de Keynesiaanse economie voortbracht en de stagflatie in de jaren zeventig het monetarisme van Friedman heeft de Grote Recessie geen vergelijkbare intellectuele verschuiving geproduceerd.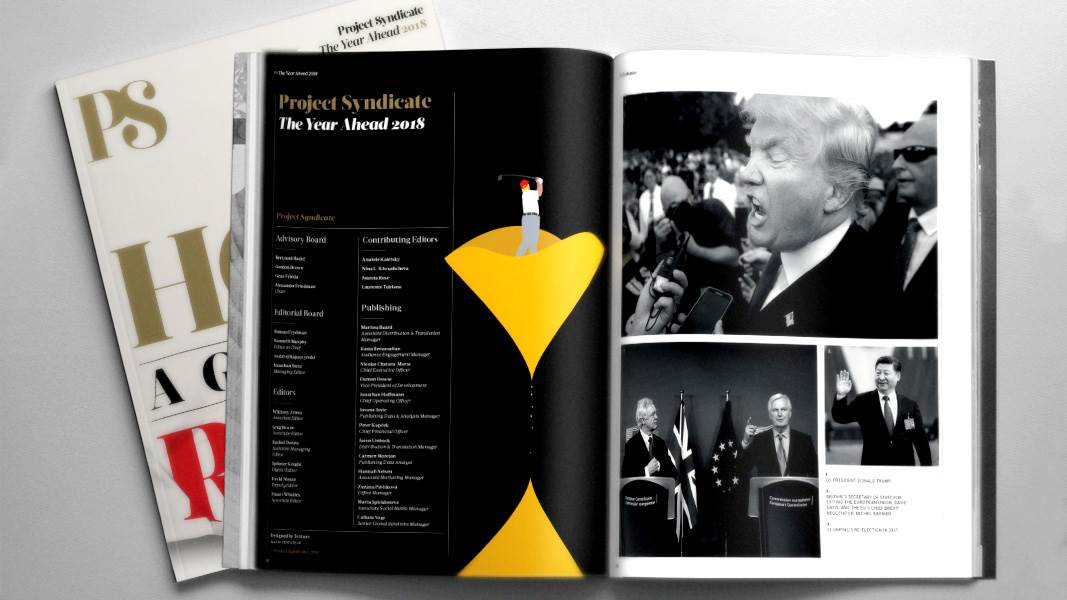 The Year Ahead 2018
The world's leading thinkers and policymakers examine what's come apart in the past year, and anticipate what will define the year ahead.
Dit is een zeer deprimerend gegeven voor jonge economiestudenten die hoopten op een passende en uitdagende respons uit het vakgebied. Waarom is die er niet gekomen?
Het antwoord van Krugman is zoals altijd ingenieus: de oude macro-economie was zoals het gezegde gaat 'goed genoeg om mee te besturen.' Nog een crisis zoals in de jaren dertig werd voorkomen. Dus studenten moeten ophouden met dromen en hun huiswerk doen.
Tot tien jaar geleden streden twee macro-economische scholen om de gunst: de Nieuwe Klassieke – ook wel 'freshwater' – School, afstammend van Milton Friedman en Robert Lucas en met het hoofdkwartier aan de University of Chicago, en de Nieuwe Keynesiaanse – ofwel 'saltwater' – School, afgeleid van John Maynard Keynes, en gevestigd aan MIT en Harvard.
Freshwater-adepten geloofden dat begrotingstekorten sowieso slecht waren, waar het saltwater-kamp geloofde dat tekorten tijdens een depressie heilzaam waren. Krugman is Nieuw Keynesiaan, en zijn essay was bedoeld om aan te tonen dat de Grote Recessie de standaard Nieuw Keynesiaanse modellen in het gelijk stelt.
Maar het verhaal van Krugman is ernstig problematisch. Om te beginnen is er zijn antwoord op de inmiddels beruchte vraag van koningin Elizabeth II: 'Waarom zag niemand het aankomen?' Krugmans opgeruimde respons is dat de Nieuw Keynesianen niet hebben opgelet. Hun falen was niet theoretisch maar kwam door de 'collectie van data.' Ze hadden cruciale institutionele veranderingen in het financiële systeem 'over het hoofd gezien.' Alhoewel spijtig wierp dit 'geen diep conceptueel probleem' op – wat betekende dat er geen noodzaak was tot het heroverwegen van hun theorie.
Met de crisis zelf geconfronteerd hebben de Nieuw Keynesianen de handschoen wel opgepakt. Ze hebben hun oude starre-prijs-modellen uit de jaren vijftig en zestig uit de kast gehaald, die ze drie dingen vertelden. Ten eerste zouden zeer grote begrotingstekorten de bijna nul rentetarieven niet opdrijven. Ten tweede zouden zelfs grote toenames in de monetaire basis niet tot een hoge inflatie leiden, of zelfs maar tot corresponderende toenames in bredere monetaire aggregaten. En ten derde zou er sprake zijn van een positieve nationale inkomensvermenigvuldiger, vrijwel zeker groter dan 1, als gevolg van veranderingen in de overheidsuitgaven en belastingheffing.
Deze voorstellen creëerden het argument voor de begrotingstekorten in de nasleep van de ineenstorting van 2008. Er werd hierop gebaseerd beleid geïmplementeerd en dit werkte 'opmerkelijk goed.' Het succes van het Nieuw Keynesiaanse beleid had het ironische effect dat het 'de meer onbuigzame vakgenoten (de Nieuwe Klassieken uit Chicago) toestond om de gebeurtenissen te negeren op een manier die in eerdere episodes niet mogelijk was.' Zo werd geen van beide scholen – sektes is een beter woord – uitgedaagd om zijn basisprincipes te heroverwegen.
Deze korte geschiedenis van de pre- en post-krach economie laat cruciale vragen onbeantwoord. Ten eerste, wanneer de Keynesiaanse economie 'goed genoeg' was, waarom vaardigden de Nieuw Keynesiaanse economen dan geen waarschuwingen uit tegen de ineenstorting van 2007-2008? Tenslotte sloten ze a priori de mogelijkheid van zo een ineenstorting niet uit.
Krugman geeft toe dat er een leemte in de 'collectie van bewijs' was. Maar de keuze van dit bewijs is theoriegedreven. In mijn ogen keken de Nieuw Keynesiaanse economen weg van onevenwichtigheden in de opbouw van het bankensysteem, omdat hun modellen ze vertelden dat financiële instituties risico accuraat konden inschatten. Er was dus wel een 'diep conceptueel probleem' in de Nieuw Keynesiaanse analyse: zijn falen om uit te leggen hoe banken kwamen tot het 'wereldwijd onderschatten van de risico's' zoals Alan Greenspan het stelde.
Ten tweede slaagt Krugman er niet in te verklaren waarom het Keynesiaanse beleid dat zo geprezen werd in 2008-2009 zo snel werd teruggedraaid en vervangen door fiscale soberheid. Waarom bleven de beleidsmakers niet bij hun stroperige vaste-prijs-modellen totdat ze hun taak hadden volbracht. Waarom ze in 2009 al loslaten, toen de Westerse economieën nog steeds 4 tot 5% onder hun pre-krach niveaus lagen?
Mijn antwoord zou zijn dat toen Keynes in 2008-2009 kortstondig voor een half jaar werd opgegraven dit om politieke en niet om intellectuele redenen was. Omdat de Nieuw Keynesiaanse modellen geen voldoende basis boden voor het vasthouden aan Keynesiaans beleid toen de economische noodtoestand eenmaal opgeheven was, werden ze snel losgelaten.
Krugman komt er dichtbij dit toe te geven: de Nieuw Keynesianen, zo schrijft hij, 'beginnen met rationeel gedrag en marktequilibrium als uitgangswaarde, en proberen economische dysfunctie te verkrijgen door aan de randen aan deze nullijn aan de peuteren.' Dit peuteren stelt Nieuw Keynesiaanse modellen in staat om tijdelijke reële effecten uit nominale schokken te genereren, en rechtvaardigt zo vrij radicale interventies in tijden van nood. Maar geen enkele aanpassing kan een sterk genoeg argument creëren om blijvend interventionistisch beleid te rechtvaardigen.
Het probleem voor Nieuw Keynesiaanse macro-economen is dat ze falen een radicale onzekerheid in hun modellen te erkennen, wat ze zonder enige theorie laat voor wat te doen in goede tijden om slechte te voorkomen. Hun focus op nominale lonen en prijsrigiditeit impliceert dat wanneer deze factoren afwezig zouden zijn het equilibrium gemakkelijk bereikt zou worden. Ze beschouwen de financiële sector als neutraal, en niet als van fundamentele waarde (de 'opzichter' van het kapitalisme, zoals Joseph Schumpeter het noemde).
Zonder erkenning van onzekerheid is de saltwater-economie gedoemd om in zijn freshwater onder te gaan. Nieuw Keynesiaans 'peuteren' zal enige politieke ruimte voor interventie creëren, maar lang niet genoeg om de klus te klaren. Dus het argument van Krugman is alhoewel provocerend zeker niet doorslaand. De macro-economie zal nog steeds met een nieuw groot idee moeten komen.
Vertaling Melle Trap