Невыполненные обещания блокчейна
НЬЮ-ЙОРК – Сфера финансовых услуг претерпевает революцию. Но локомотивом этой революции служат не переоцененные возможности блокчейна, такие как биткоин. Это революция искусственного интеллекта, больших данных и Интернета вещей.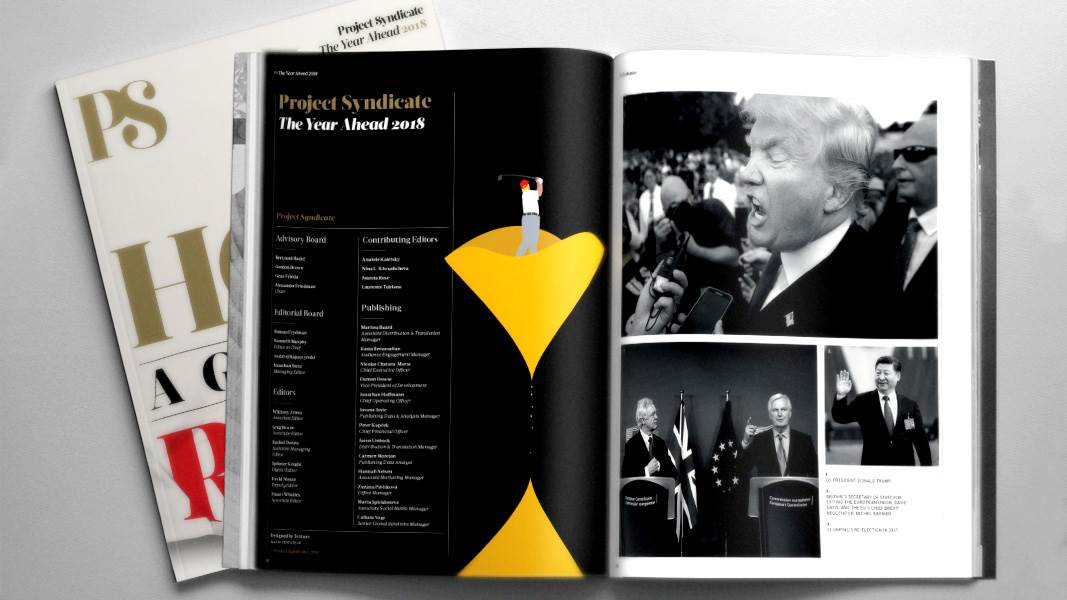 The Year Ahead 2018
The world's leading thinkers and policymakers examine what's come apart in the past year, and anticipate what will define the year ahead.
Тысячи видов традиционного бизнеса, пользуясь такими технологиями, подорвали роль каждого вида финансового посредничества. Десятки систем онлайн-платежей – PayPal, Alipay, WeChat Pay, Venmo и другие – миллионы пользователей используют ежедневно. А финансовые организации принимают взвешенные решения, связанные с выдачей кредитов, за секунды, а не недели благодаря обилию данных в Интернете о компаниях и частных лицах. Со временем эти информационные инновации кредитного бизнеса могут даже свести на нет циклы взлетов и падений, вызванных кредитной системой.
Подобным образом страховой андеррайтинг, оценка и обработка исков, а также мониторинг случаев мошенничества стали осуществляться быстрее и точнее. А деятельность, требующую активного участия человека, все чаще выполняют роботы-консультанты, работающие не хуже, а даже лучше высокооплачиваемых и конфликтующих консультантов-людей.
А теперь сравните эту настоящую, происходящую на ваших глазах финансово-технологическую революцию с послужным списком блокчейна, существующего почти десять лет, но пока имеющего только одно применение: криптовалюты. Сторонники блокчейна возразят, что его юность сравнима с юностью Интернета, еще не обладавшего коммерческими возможностями. Но такое сравнение попросту неверно. Интернет быстро дал ход возможностям электронной почты, Всемирной паутины и миллионам жизнестойких коммерческих предприятий, которыми пользуются миллиарды людей, а криптовалюты, такие как биткоин, даже не соответствуют своим заявленным целям.
Как вид валюты биткоин должен быть пригодной к использованию расчетной денежной единицей, средством платежа и стабильным средством сбережения. Но ничего этого у биткоина нет. Никто не выставляет цены в биткоинах. Немногие магазины принимают его. И это плохое средство сбережения, поскольку его цена может меняться на 20-30% за один день.
Что еще хуже, криптовалюты в целом основаны на ложной предпосылке. Согласно словам распространителей биткоина, его стабильное количество – 21 миллион единиц, и значит, его нельзя девальвировать как бумажные деньги. Но это заявление – чистая ложь, если принять во внимание, что биткоин уже распался на три группы: Bitcoin Cash, Litecoin и Bitcoin Gold. Кроме того, ежедневно придумывают сотни новых криптовалют наряду с таким жульничеством, как «первичное размещение токенов», которое связано преимущественно с обходом законов о регулировании рынка ценных бумаг. Так «стабильные» криптовалюты создают денежные запасы и девальвируют их намного быстрее, чем любой солидный центробанк.
Как это обычно бывает с финансовым пузырем, инвесторы покупают криптовалюты не для использования их в расчетах, а потому что ожидают, что они вырастут в цене. На самом деле, если бы кто-то хотел воспользоваться биткоином, ему пришлось бы напрячься. Создание биткоина требует больших энергозатрат (а значит, и вредит окружающей среде), а высокие расходы на транзакцию приводят к тому, что даже конференции по биткоину не признают его эффективной формой платежа.
До недавнего времени единственным реальным применением биткоина было упрощение нелегальных операций, таких как торговля наркотиками, уклонение от уплаты налогов или уход от контроля над движением капитала, а также отмывание денег. Неудивительно, что члены «Большой двадцатки» ведут совместную работу над регулированием работы криптовалют и устранением анонимности, которую предлагает криптовалюта, посредством обязательной отчетности по всем доходам и транзакциям с капиталом.
После того как азиатские регулятивные структуры нанесли свой удар, стоимость криптовалюты упала с декабрьского пика на 50%. Криптовалюты упали бы в цене еще больше, если бы грандиозный план по укреплению их стоимости посредством обычной манипуляции не был задействован быстро. Но, как и в случае субстандартного пузыря, большинство регулятивных служб США спят за рулем.
С того времени, как тысячи лет назад изобрели деньги, еще не было монетарной системы, в которой сотни различных валют сосуществовали бы совместно. Суть денег состоит в том, что стороны могут совершать транзакцию, не прибегая к бартеру. Если бы деньги не имели ценности и не создавали экономию масштаба, невозможно было бы сосуществование такого большого количества валют в одно и то же время.
Причина, почему здесь, в США, мы не используем евро или иены вдобавок к долларам, очевидна: делать это бессмысленно, и экономика будет работать гораздо хуже. Идея о том, что сотни криптовалют могут сосуществовать совместно, не только противоречит самой концепции денег, но и является полным идиотизмом.
Но то же самое можно сказать даже про то, что одна криптовалюта может заменить бумажные деньги. У криптовалют нет действительной стоимости, а у бумажных денег определенно есть, ведь их можно использовать для уплаты налогов. Бумажные валюты также защищены от обесценивания усилиями центробанков, направленными на сохранение стабильности цен, а если бумажная валюта теряет доверие, как это бывает у слабых монетарных систем с высокой инфляцией, ее место занимают более стабильные бумажные валюты или материальные ценности.
Так уж случилось, что предполагаемое преимущество биткоина является его же ахиллесовой пятой, поскольку даже если у него на самом деле есть стабильный запас в 21 миллион единиц, это уже дисквалифицирует его как жизнеспособную валюту. Если запас валюты не отражает потенциальный номинальный ВВП, цены подвергнутся дефляции.
Это значит, что, если стабильный запас биткоинов действительно постепенно заменит бумажную валюту, индекс цен всех товаров будет постоянно падать. Если на то пошло, то и любой номинальный долговой контракт, деноминированный в биткоинах, возрастет в реальной стоимости со временем и приведет к дефляции долга, которая, согласно мнению экономиста Ирвинга Фишера, ускорила наступление Великой депрессии. А в это время номинальная зарплата в биткоинах будет бесконечно расти, независимо от роста производства, что наиболее вероятно приведет к экономической катастрофе.
Несомненно, биткоин и другие криптовалюты отражают дух матери всех экономических пузырей, что объясняет, почему все люди, которых я встречал со Дня благодарения до Рождества 2017 года, спрашивали меня, покупать ли им криптовалюту. Мошенники, жулики, шарлатаны и карнавальные зазывалы (сами сомневающиеся) вбили в головы невежественных розничных инвесторов страх упустить свой шанс и надули их.
Что касается технологии блокчейна, на ее пути все еще есть значительные препятствия, хотя у нее более высокий потенциал, чем у криптовалют. Главное из них – отсутствие базовых общих и универсальных протоколов, благодаря которым Интернет стал повсеместно доступным (TCP-IP, HTML и т.д.). И что более важно, обещание децентрализованных транзакций в блокчейне без наличия каких-либо авторитетных посредников делает его несбыточной мечтой, реальность которой проверить нельзя. Неудивительно, что блокчейн относится к виду технологий с самыми раздутыми ожиданиями.
Поэтому забудьте про блокчейн, биткоины и другие криптовалюты и вкладывайте в финансово-технологические компании, которые занимаются реальным бизнесом и тяжелым трудом совершают революцию в сфере финансового сервиса. Вы не разбогатеете за одну ночь, но для вас это будет более разумной инвестицией.