Nenaplněné sliby blockchainu
NEW YORK – Sektor finančních služeb prochází revolucí. Jejím hnacím motorem však nejsou zveličované blockchainové aplikace, jako je Bitcoin. Je to revoluce vybudovaná na umělé inteligenci, velkých souborech dat a internetu věcí.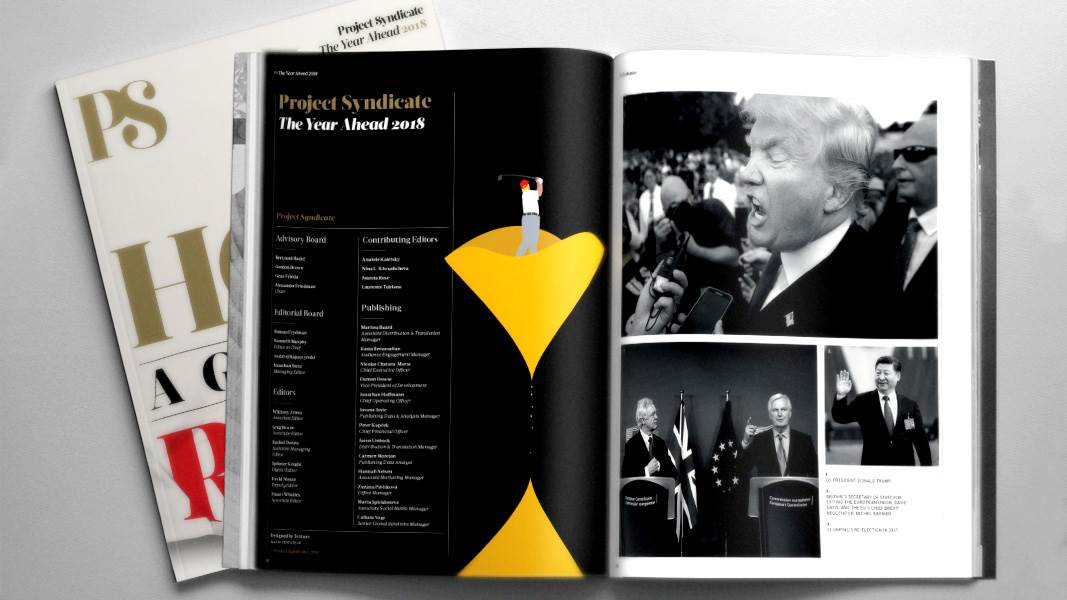 The Year Ahead 2018
The world's leading thinkers and policymakers examine what's come apart in the past year, and anticipate what will define the year ahead.
Tisíce reálných firem pomocí těchto technologií už dnes obracejí naruby všechny aspekty finančního zprostředkovatelství. Desítky internetových platebních služeb – PayPal, Alipay, WeChat Pay, Venmo a tak dále – mají stamiliony každodenních uživatelů. A finanční ústavy dělají přesná rozhodnutí o poskytnutí či neposkytnutí úvěru nikoliv v průběhu týdnů, nýbrž v řádu vteřin díky bohatství elektronických dat o jednotlivcích a firmách. Postupem času by tyto datově podložené pokroky v alokaci úvěrů dokonce mohly eliminovat úvěrově podmíněné cyklické boomy a recese.
Také schvalování pojistek, hodnocení a řízení pojistných nároků a monitoring podvodů se zrychlily a zpřesnily. A aktivně řízená portfolia jsou ve stále větší míře nahrazována pasivními roboporadci, kteří dokážou podávat stejné nebo i lepší výkony než velkoryse placení finanční poradci, u nichž hrozí střety zájmů.
A nyní porovnejme tuto reálnou a stále probíhající revoluci finančních technologií s bilancí blockchainu, který existuje už téměř deset let a stále má jen jednu aplikaci: kryptoměny. Podporovatelé blockchainu by namítli, že jeho raná éra připomíná ranou éru internetu, pro který také zpočátku neexistovaly komerční aplikace. Toto srovnání je však jednoduše falešné. Zatímco internet rychle vedl ke vzniku e-mailu, World Wide Webu a milionů životaschopných komerčních projektů, které využívají miliardy lidí, kryptoměny typu bitcoinu neplní ani svůj proklamovaný cíl.
Bitcoin jako měna by měl být užitečnou zúčtovací jednotkou, platebním prostředkem a stabilním úložištěm hodnoty. Není ani jednou z těchto věcí. Nikdo nestanovuje v bitcoinech cenu čehokoliv. Málokterý maloobchodník tuto měnu přijímá. A jako nositel hodnoty je bitcoin chabý, protože jeho cena může za jediný den kolísat o 20-30%.
Ještě horší je, že kryptoměny jsou obecně založeny na falešném předpokladu. Podle propagátorů bitcoinu má tato měna nabídku v ustáleném stavu ve výši 21 milionů jednotek, takže ji nelze znehodnocovat jako zákonné měny. Toto tvrzení je však zjevně podvodné vzhledem k tomu, že se dotyčná měna už dnes rozdělila do tří větví: Bitcoin Cash, Litecoin a Bitcoin Gold. Kromě toho se každý den vymýšlejí stovky jiných kryptoměn a vedle nich také podvody známé jako "prvotní veřejná nabídka měny" ("initial coin offering"), které jsou většinou určené k obcházení zákonů o cenných papírech. "Stabilní" kryptoměny tedy vytvářejí peněžní nabídku a znehodnocují ji mnohem rychlejším tempem, než to kdy dělala jakákoliv velká centrální banka.
A jak je pro finanční bublinu typické, investoři nenakupují kryptoměny proto, aby je používali při finančních transakcích, nýbrž proto, že očekávají růst jejich hodnoty. Kdyby chtěl někdo skutečně používat bitcoin, bylo by to pro něj velmi obtížné. Jeho výroba je navíc energeticky náročná (a tudíž škodlivá pro ekologii) a transakční náklady natolik vysoké, že ho jako platidlo nepřijímají ani na bitcoinových konferencích.
Až dosud měl bitcoin jediné reálné využití: umožňovat nezákonné aktivity typu drogových transakcí, daňových úniků, vyhýbání se kapitálovým kontrolám či praní špinavých peněz. Není nijak překvapivé, že členské státy skupiny G-20 dnes spolupracují na regulaci kryptoměn a eliminaci anonymity, kterou tyto měny údajně nabízejí, požadavkem na ohlašování veškerých transakcí, které generují příjmy nebo kapitálové zisky.
Po lednové razii ze strany asijských regulátorů klesly hodnoty kryptoměn oproti prosincovému vrcholu o 50%. Byly by se propadly ještě mnohem více, kdyby nebyl rychle zaveden rozsáhlý plán podpory jejich ceny prostřednictvím otevřené manipulace. Podobně jako v případě bubliny kolem podřadných hypoték však většina regulátorů v USA stále spí za volantem.
Od vynálezu peněz před několika tisíci let nikdy neexistovala měnová soustava, v níž by vedle sebe fungovaly stovky různých měn. Celý smysl peněz spočívá v tom, že umožňují jednotlivým stranám provádět transakce bez nutnosti směnného obchodu. Aby však měny mohly nést hodnotu a generovat úspory z rozsahu, může jich vedle sebe fungovat jen omezený počet.
Důvod, proč v USA nepoužíváme vedle dolaru euro ani jen, je zjevný: bylo by to bezúčelné a výrazně by to snižovalo efektivitu ekonomiky. Představa, že by vedle sebe mohly smysluplně fungovat stovky kryptoměn, je nejen v rozporu se samotným konceptem peněz, ale je i veskrze idiotská.
Totéž však platí o představě, že by zákonnou měnu mohla nahradit byť i jediná kryptoměna. Kryptoměny totiž nemají žádnou vnitřní hodnotu, zatímco zákonné měny rozhodně ano, protože je lze použít k placení daní. Zákonné měny jsou také chráněné před propadem hodnoty centrálními bankami, jejichž povinností je udržování cenové stability; a pokud zákonná měna ztratí důvěryhodnost, k čemuž u některých slabých měnových soustav s vysokou inflací skutečně dochází, lze ji vyměnit za stabilnější zahraniční zákonnou měnu nebo reálná aktiva.
A jak to tak bývá, proklamovaná výhoda bitcoinu je zároveň jeho Achillovou patou, protože i kdyby tato měna skutečně měla nabídku v ustáleném stavu ve výši 21 milionů jednotek, jako životaschopnou měnu by ji to diskvalifikovalo. Pokud nabídka určité měny nekopíruje potenciální nominální HDP, pak ceny projdou deflací.
To znamená, že kdyby nabídka bitcoinu v ustáleném stavu skutečně postupně nahradila zákonnou měnu, pak by cenový index veškerého zboží a služeb setrvale klesal. Jakákoliv dluhová smlouva denominovaná v bitcoinech by potažmo získávala postupem času na reálné hodnotě, což by vedlo k dluhové deflaci toho typu, jenž podle názoru ekonoma Irvinga Fishera uspíšil velkou hospodářskou krizi. Nominální mzdy v bitcoinu by současně v reálném vyjádření neustále rostly bez ohledu na růst produktivity, což by dále zvýšilo pravděpodobnost ekonomické katastrofy.
Je zřejmé, že bitcoin a další kryptoměny představují matku všech bublin, což vysvětluje, proč se mě každý člověk, s nímž jsem se setkal v období mezi loňským Dnem díkůvzdání a Vánocemi, dotazoval, zda by je měl nakoupit. Podfukáři, švindlíři, šarlatáni a pouťoví vyvolávači (vesměs insideři se střetem zájmů) využili strachu neinformovaných drobných investorů, že "u toho nebudou", a utáhli je na vařené nudli.
A pokud jde o samotnou blockchainovou technologii, stále jí stojí v cestě obrovské překážky, přestože má větší potenciál než kryptoměny. Hlavní překážku přitom představuje skutečnost, že tato technologie postrádá právě ty základní a obecně platné protokoly (TCP-IP, HTML a tak dále), které učinily internet všeobecně dostupným. A co je ještě zásadnější, její příslib decentralizovaných transakcí bez jakékoliv zprostředkovatelské autority se rovná neodzkoušenému, utopickému bláhovému snu. Není divu, že je blockchain řazen těsně pod vrchol cyklu technologií s přehnaným očekáváním.
Zapomeňte tedy na blockchain, bitcoin a další kryptoměny a začněte investovat do finančně-technologických firem se skutečnými podnikatelskými modely, které tvrdě pracují na tom, aby vnesly revoluci do sektoru finančních služeb. Nezbohatnete přes noc, ale uděláte chytřejší investici.
Z angličtiny přeložil Jiří Kobělka.