Trump-kopier i kulda
WARSZAWA – Valget av Joe Biden som ny president i USA har svekket autoritære og populistiske regimer verden rundt. For uavhengige stormakter som Russland, Brasil og Tyrkia, er ikke Donald Trumps avgang like alvorlig. Men for styresmaktene i Polen, Ungarn og Serbia — og muligens også Boris Johnsons regjering i Storbritannia — er det virkelig en katastrofe.
Ikke overraskende, har disse mindre maktene møtt Bidens valgseier med frykt og avsky. Serbias president Aleksandar Vučić er den som har har sagt det mest direkte. Han har allerede klaget over at han ikke «kom overens med Biden da han kom til Serbia» som visepresident for Obama og sier: «Jeg vil ikke komme overens med ham nå. Jeg har gratulert ham, og det får være det.» Russland, ikke USA, vil fortsatt være Vučićs ledestjerne.
Ungarns statsminister Viktor Orbán har på sin side gjort det klart at hans "Plan A" var at Trump ville vinne valget. Dette viser de tette båndene mellom de to. I likhet med Vučić, bærer den ungarske regjeringen fortsatt nag til Biden for ting han sa da han var visepresident. Ifølge den ungarske utenriksministeren, Péter Szijjártó, ble Ungarn utsatt for «vedvarende belæring, beskyldninger og kritikk».
Før Trump kom til makten, var Orbán en mer eller mindre uønsket person i Washington. Den siste amerikanske presidenten som besøkte Ungarn var George W. Bush i 2006, da Orbán ikke satt ved makten. Etter at Orbán inntok regjeringskontorene i 2010, ble han kritisert gjentatte ganger av Obama-administrasjonen for sine autoritære og kleptokratiske tendenser samt for den harde behandlingen av landets medier (både de private og de statlige). Som svar på kritikken, innførte Ungarn sanksjoner mot høyt rangerte amerikanske politikere og statsansatte. Og etter at Trump inntok det Hvite hus, ble det amerikansk-akkrediterte Central European University kastet ut av landet.
Men Orbán har lenge forsøkt å ha flere geopolitiske baller i lufta. Han har opprettholdt tette bånd til Russland og til dels Kina, samtidig som tyske, spesielt bayerske, politikere har holdt sin hånd over ham — politikere som ikke legger skjul på sin sympati for den ungarske statsministeren. Orbán har dermed sluppet unna med sine gjentatte angrep på grunnleggende europeiske prinsipper, som rettsstatsprinsippene. Han har til og med gitt utløp for åpenlys antisemittisme. Fremdeles er regjeringspartiet Fidesz en del av EPP, paraplyorganisasjonen for konservative partier i Europaparlamentet.
Det er styresmaktene i Polen som har størst grunn til bekymring. Da det regjerende Partiet for lov og rettferdighet (PiS) kom til makten i 2015, valgte det Storbritannia som sin nærmeste allierte i EU. Men siden det amerikanske presidentvalget i 2016 (noen måneder etter folkeavstemningen i Storbritannia om landet skulle forlate EU), har PiS satset alt på sitt nære bånd til Trump, en amerikansk leder som ikke bryr seg det minste om rettsstaten eller demokratiske prinsipper.
Subscribe to Project Syndicate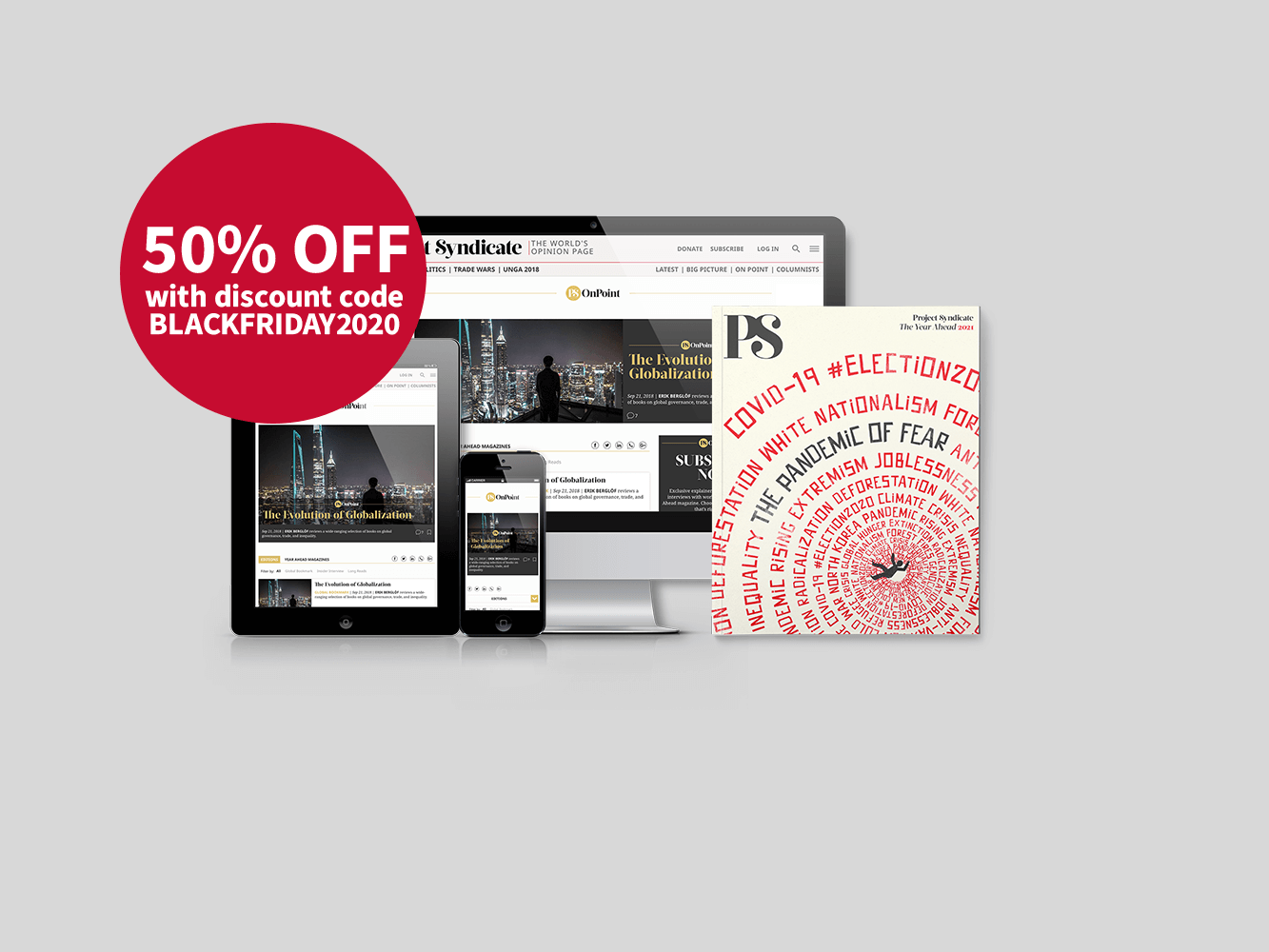 Subscribe to Project Syndicate
Enjoy unlimited access to the ideas and opinions of the world's leading thinkers, including weekly long reads, book reviews, and interviews; The Year Ahead annual print magazine; the complete PS archive; and more – All for less than $9 a month.
Nå som Trump er på vei ut, og Johnson (som den avtroppende amerikanske presidenten på klønete vis har kalt «Britain Trump») i all hast forsøker å komme på god fot med Biden, står polske styresmakter igjen uten mektige venner på den internasjonale arenaen. Siden Polen også er i sterk opposisjon til Russland, står landet nå helt alene. Denne utviklingen representerer nok en revne i Polens postkommunistiske diplomatiske strategi som har vært ledet av to prinsipper: ikke bli avhengig av ett land og unngå isolasjon for enhver pris.
PiS-regimet må ha forstått at det kunne miste sin siste internasjonale samarbeidspartner. Nylig gjorde Biden det klart hva han mener om den polske regjeringen da han trakk frem Polen, sammen med Ungarn og Hviterussland, som eksempler på «fremveksten av totalitære regimer i verden». Den polske presidenten, Andrzej Duda, var overstrømmende i sine gratulasjoner til Trump i 2016. Denne gangen gratulerte han Biden mer nøkternt «for en vellykket valgkamp».
For Trump var Polen bevis på at transaksjonsbasert utenrikspolitikk kunne fungere. PiS-regimet signerte flere våpeninnkjøpsavtaler med USA i bytte mot symbolske gester. Trump inviterte Duda på besøk til Det hvite hus i juni, midt under den polske presidentvalgkampen. 9. november signerte Duda en forsvarspolitisk samarbeidsavtale med USA som er gjennomsyret av trumpistiske overtoner. En tidligere polsk regjering ville ha gjort USA ansvarlig for byggekostnadene og gitt Polen jurisdiksjon over amerikansk personell og militære baser på polsk jord. I henhold til den nye avtalen, vil Polen motta amerikansk finansiering, og USA vil opprettholde domsmyndigheten.
De gode relasjonene til Trump skulle gjøre det mulig for Polen å avvise all kritikk fra EU og leve med kjølige bånd til Tyskland ettersom PiS-regimet tok kontroll over det polske rettsvesenet. På toppen av valgnederlaget til Trump må Polen nå ta til seg nok en dårlig nyhet.
Tidligere i år ble EU-rådet og Europaparlamentet enige om å stanse overføringer av penger til medlemsland som ikke ivaretar rettsstaten — prinsipper som PiS har undergravet helt siden partiet kom til makten. EU-rådet innfører de nye betingelsene med et kvalifisert flertall, hvilket betyr at Polen ikke kan legge ned veto. Polen kan fortsatt forsøke å stoppe et annet element ved EUs budsjettprosess — den såkalte egenressursbeslutningen (som sier hvor mye et land skal betale til EU) — men bare hvis landet er villig til å miste sine siste støttespillere i Tyskland. Ikke en gang Orbán er villig til å strekke ut halsen for Polen slik ting ser ut nå.
EU har sitt eget ultimate våpen. Unionen kan akseptere det nye hjelpefondet på 750 milliarder euro som en avtale mellom 25 + 2 land. Det vil være til fordel for mange av de landene som betaler inn mer enn det de får ut. Polen er på sin side et av de landene som mottar mest. Heller ikke her har Orbán noen god grunn til å strekke ut halsen for PiS. Orbán vil neppe nøle med å la polske myndigheter i stikken. Det har han gjort før, som da han støttet den tidligere polske statsministeren Donald Tusk (en politisk motstander av PiS) da han forsøkte å fornye sin tid som leder for EU-rådet.
Oversatt av Marius Gustavson