Is een vermogensbelasting geen goed idee?
BERKELEY – Ik was niet verbaasd toen koplopers bij de Democratische voorverkiezingen in de VS een "vermogensbelasting" gingen ondersteunen, langs de lijnen van wat is voorgesteld door mijn collega's Gabriel Zucman en Emmanuel Saez van de universiteit van Californië in Berkeley. Wat me wél heeft verbaasd is de lading kritiek die deze kandidaten over zich heen hebben gekregen, met name van degenen die voorstander zouden moeten zijn van alles wat de Verenigde Staten in de richting van een progressiever belastingsysteem brengt.
Toen ik begon met mijn studie overheidsfinanciën, werd mij geleerd dat er drie beginselen ten grondslag liggen aan de belastingheffing, die allemaal zijn afgeleid van de uitspraak van de 17e-eeuwse Franse politicus Jean-Baptiste Colbert dat "je de gans zo moet [plukken] dat je de grootst mogelijke hoeveelheid veren verkrijgt met de kleinst mogelijke hoeveelheid gesis."
Het eerste beginsel is altijd om de belastingbasis zo breed mogelijk te maken, zodat je je inkomstendoelstelling kunt verwezenlijken met de laagst mogelijke (de minst gesis-producerende) belastingtarieven. Het tweede is om zaken te belasten waarbij sprake is van een inelastische vraag, teneinde de ontwrichtende gevolgen van het belastingstelsel voor bredere patronen van de economische activiteit te minimaliseren. Tenslotte zijn de actoren die het meest belast moeten worden degenen voor wie de kosten van het betalen van belastingen het minst zijn – dat wil zeggen: de rijken.
Als je al deze drie beginselen in het achterhoofd houdt, wat is dan de breedst mogelijke basis waarop je de rijken kunt belasten? Hun vermogen natuurlijk. En wat willen de rijken het minst graag opofferen om hun belastinglast zo laag mogelijk te houden? Hun vermogen natuurlijk.
Gezien deze fundamentele beginselen is het vanuit een technocratisch perspectief bezien duidelijk dat het belastingstelsel een aanzienlijke component vermogensbelasting moet omvatten. Zelfs degenen die zich baseren op hetwerk van de economen Christophe Chamley en Ken Judd om te betogen dat je op de langere termijn de arbeidsinkomsten moet belasten lijken te aanvaarden dat het invoeren van een of andere vorm van vermogensbelasting op de korte termijn een hoge prioriteit moet hebben.
Dat is de reden dat ik verbaasd was om slimme en verstandige mensen met oog voor het publiek belang zich te horen verzetten tegen de voorstellen voor een vermogensbelasting van Elizabeth Warren, Bernie Sanders en anderen. Volgens Alan D. Viard van het American Enterprise Institute zou het "eenvoudiger en behoedzamer" zijn om "de inkomstenbelasting en de successiebelasting" te hervormen dan een vermogensbelasting in te voeren. Op dezelfde manier steunt William Gale van de Brookings Institution hogere belastingen voor de rijken, maar zegt hij vervolgens dat hij "nog niet bereid is om mee te gaan in een vermogensbelasting, om vele redenen." En Karl W. Smith van de Tax Foundation meent dat een vermogensbelasting "een centraal idee van het Amerikaanse kapitalisme zou ondermijnen."
Subscribe now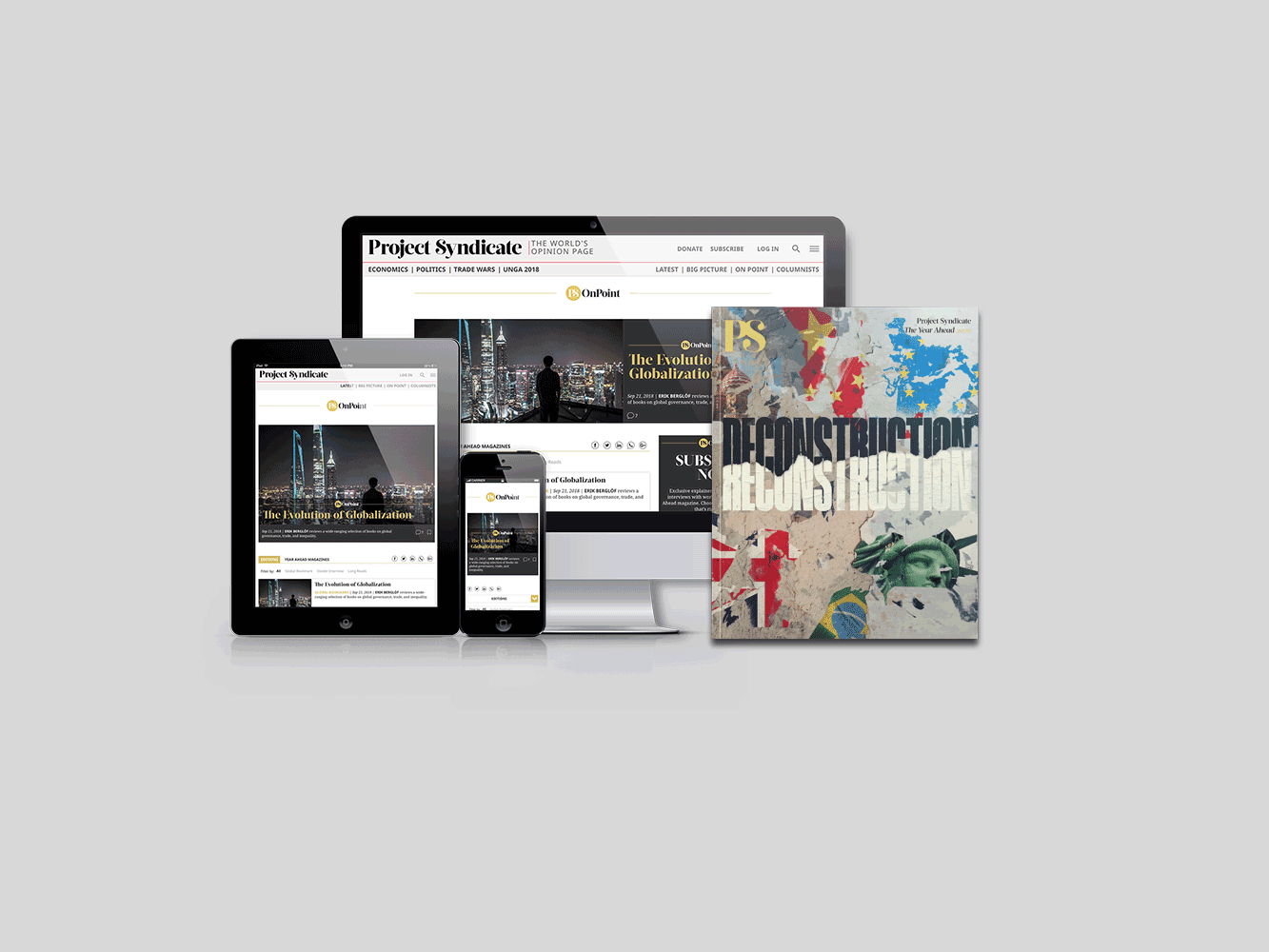 Subscribe now
Subscribe today and get unlimited access to OnPoint, the Big Picture, the PS archive of more than 14,000 commentaries, and our annual magazine, for less than $2 a week.
Bovendien: toen Saez en Zucman hun voorstel voor een vermogensbelasting presenteerden tijdens een conferentie van de Brookings Institution, werden ze geconfronteerd door een grote schare tegenstanders; velen van hen waren bang dat het beleid ten koste zou gaan van de bereidheid van de Amerikanen om riskante investeringen te doen. Zelfs mijn voormalige mede-auteur Dean Baker van het Center for Economic Policy Research maakt zich zorgen dat een vermogensbelasting de prikkel voor de rijken zou versterken om "accountants, juristen en andere mensen in te huren die betrokken zijn bij de belastingontduikingsindustrie."
Op dezelfde manier waarschuwt mijn goede vriend en vroegere beschermheer Lawrence H. Summers dat een vermogensbelasting feitelijk de invloed van het grote geld op de politiek en op de beleidsvorming kan vergroten, betogend dat als de rijken hun geld niet mogen houden om het door te geven aan toekomstige generaties, zij het in plaats daarvan zullen uitgeven aan het vormgeven van de samenleving in het hier en nu. Summers ziet de druk om tot een vermogensbelasting te komen als een afleidingsmanoeuvre: "Als progressieven hun energie steken in een voorstel dat zeer waarschijnlijk ongrondwettig zal worden verklaard door het Hooggerechtshof … lijkt me dat het opofferen van een enorme kans." Tenslotte signaleert Janet Holtzblatt van het Tax Policy Center – die, zoals ik in 1993 leerde, beter is op het gebied van de openbare financiën dan ik ben – dat een vermogensbelasting "ernstige problemen op het gebied van de tenuitvoerlegging en het beheer met zich mee zou brengen."
Het punt van Summers over een weggegooide kans lijkt steekhoudend. Als een effectieve vermogensbelasting duurzaam moet blijken, hebben de VS een regering nodig die de omvang van het Hooggerechtshof zou willen verdubbelen. Na Bush v. Gore(2000), Citizens United v. Federal Election Commission (2011) en de weigering van de Republikeinen in de Senaat om zelfs maar hoorzittingen te houden over de nominatie van Merrick Garland is een dergelijke stap meer dan gerechtvaardigd.
De zorgen over problemen op het gebied van het beheer en de afdwinging zijn ook begrijpelijk. Het definiëren van en toekennen van waarde aan het vermogen (en de inkomsten) van de rijken zou een gigantische en moeilijke onderneming zijn. Om de zaken te vereenvoudigen zou de Internal Revenue Service (de Amerikaanse belastingdienst) misschien slechts één taak moeten krijgen: het belasten van alle inkomsten, of het belasten van inkomsten uit vermogen en arbeid.
Maar als we verder kijken dan deze details kan ik het niet helpen om te denken dat deze discussie een heel verkeerde wending heeft genomen. Een fundamenteel punt lijkt verloren te zijn gegaan als we het hebben over de openbare financiën. Het zou een vaststaande technocratische doctrine moeten zijn dat een vermogensbelasting de ideale manier is om de rijken te belasten. Zou als zodanig de bewijslast niet moeten liggen bij al diegenen die een status quo verdedigen die van die ideale doctrine afwijkt, in plaats van bij de voorstanders van een vermogensbelasting? Ik ben oprecht verbaasd, en zou graag een overtuigend antwoord op die vraag willen hebben.
Vertaling: Menno Grootveld