El agua como fuerza para la paz
MUMBAI – El cambio de guardia en el 38.º piso del edificio de las Naciones Unidas en Nueva York, en el que António Guterres relevó a Ban Ki-moon como secretario general de la ONU, se produjo en un momento en que las ideas relativas a la paz y el conflicto atraviesan un cambio sutil. En particular, la importancia de los recursos (y especialmente el agua) ha comenzado a tener el reconocimiento que merece.
Esto no se dio de un día para el otro. Hace unos veinte años que Ban y su predecesor, Kofi Annan, sostienen que proteger y compartir los recursos naturales, en particular el agua, es crucial para la paz y la seguridad. Pero el pleno reconocimiento de la cuestión sólo llegó en noviembre pasado, cuando Senegal (presidente del Consejo de Seguridad de la ONU ese mes) celebró el primer debate oficial de la ONU sobre agua, paz y seguridad.
El debate, abierto a todos los estados miembros de la ONU, reunió a representantes de 69 gobiernos, que hicieron un llamado conjunto a convertir el agua de causa potencial de crisis a instrumento de paz y cooperación. Pocas semanas después, Guterres designó a Amina Mohammed, ex ministra de medioambiente de Nigeria, como vicesecretaria general.
El creciente reconocimiento de la importancia estratégica del agua es reflejo de lo que sucede en el mundo. En los últimos tres años, Estado Islámico (ISIS) capturó las represas de Tabqa, Tishrin, Mosul y Fallujah sobre los ríos Tigris y Éufrates. Más tarde perdió el control de todas, pero no sin antes usarlas para inundar o dejar sin agua a poblaciones situadas corriente abajo, como forma de presionarlas para que se le rindieran.
Muchos analistas esperan que ISIS sea eliminado de Irak y Siria en los próximos meses. Pero eso no implica que la milicia se desbandará; por el contrario, podría trasladarse a las áreas fronterizas entre Libia y Chad, poniendo en riesgo las ciudades e instalaciones hídricas del oeste de África.
Esta táctica no es exclusiva de ISIS. Grupos extremistas en el sur de Asia también amenazaron con atacar infraestructuras hídricas. Y por supuesto, los actores estatales también pueden usar los recursos hídricos para obtener ventajas estratégicas.
Subscribe to PS Digital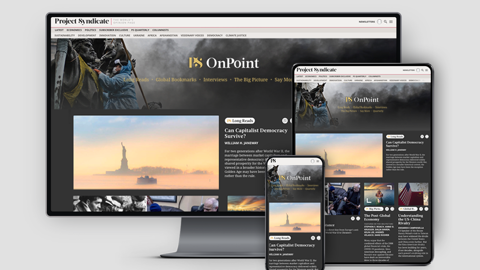 Subscribe to PS Digital
Access every new PS commentary, our entire On Point suite of subscriber-exclusive content – including Longer Reads, Insider Interviews, Big Picture/Big Question, and Say More – and the full PS archive.
Nunca se resaltará lo suficiente la importancia del agua en el siglo XXI, comparable a la del petróleo en el siglo XX. Pero algunos expertos en estrategia siguen subestimándola. Lo cierto es que para el petróleo hay alternativas (por ejemplo el gas natural y las energías eólica, solar y nuclear), pero tanto para la industria y la agricultura cuanto para el consumo humano y el saneamiento, la única alternativa al agua es, como dijo el expresidente esloveno Danilo Türk, el agua.
Esto también se aplica al comercio internacional. Piénsese en el río Chagres. Este curso de agua es poco conocido, pero sumamente importante, porque alimenta el canal de Panamá, por el que pasa un 50% del comercio entre Asia y América. Aunque no hay riesgo de agotamiento natural del flujo del río de aquí a cien años, si hubiera una crisis de seguridad en Centroamérica, el río podría caer bajo fuerzas rebeldes y el impacto sobre la economía mundial sería enorme.
El consenso sobre la necesidad de proteger los recursos e instalaciones hídricos en zonas de conflicto es claro. Lo que no está tan claro es cómo hacerlo. No se puede tirar agua desde un avión como si fueran paquetes con medicamentos o comida. Y las Fuerzas de Mantenimiento de Paz de la ONU están muy sobreexigidas.
Aunque el Comité Internacional de la Cruz Roja negocia el acceso seguro de técnicos a acueductos y depósitos de agua en Irak, Siria y Ucrania para su inspección y reparación, cada entrada demanda un proceso largo y tedioso de negociación con los gobiernos en conflicto y los comandantes rebeldes. Una estrategia mejor sería que las grandes potencias usen su considerable influencia para negociar armisticios temporales en áreas de conflicto prolongado, destinados específicamente a la reparación y restauración de sistemas hídricos.
Pero para hacerlo posible, antes es necesario que el Consejo de Seguridad de la ONU declare al agua "recurso estratégico de la humanidad" y apruebe una resolución que proteja los recursos e instalaciones hídricos, similar a la Resolución 2286 aprobada el pasado mayo para la protección de establecimientos médicos en conflictos armados.
A más largo plazo, los países que comparten sistemas fluviales deben instituir acuerdos de seguridad regionales para la preservación y protección de sus recursos. La gestión conjunta como base de la protección colectiva puede convertir el agua (que suele ser motivo de competencia y conflicto) en instrumento de paz y cooperación.
A la vanguardia de este movimiento está Denis Sassou-Nguesso, presidente de la República del Congo, quien lidera un grupo de ocho gobiernos que buscan instituir un Fondo Azul para la Cuenca del Congo. Si lo logran, el fondo ayudará a mitigar el cambio climático, crear nuevos instrumentos de empleo basados en el río y promover la seguridad colectiva en una región inestable. Los participantes de la Cumbre Africana de la Acción, celebrada hace dos meses en Marrakesh, describieron el fondo como una de las cuatro ideas clave que pueden transformar el continente.
El pasado marzo, en el Día Mundial del Agua, el príncipe Hassan bin Talal de Jordania y yo llamamos a que se instituya un Plan Marshall para las cuencas fluviales compartidas de todo el mundo. El Fondo Azul para la Cuenca del Congo es un paso en esa dirección. Ahora es necesario que se creen fondos similares para la protección de los 263 lagos y cuencas fluviales compartidos del mundo. Es un desafío inmenso, pero que debemos encarar con toda determinación, dado el poder del agua como fuente de conflicto o sostén de paz.
Traducción: Esteban Flamini