A nossa responsabilidade com os migrantes climáticos
RIPTON, VERMONT – No passado mês de novembro, quando a época mais ativa de furacões no Atlântico alguma vez registada chegou ao fim, as duas últimas grandes tempestades – Eta e Iota – dilaceraram a América Central. Um repórter do Washington Post que fazia a cobertura no rescaldo das tempestades, entrevistou uma mulher hondurenha de nome Blanca Costa, que estava abrigada sob um viaduto de estrada. Ela sustentava as suas três filhas a trabalhar como apanhadora de lixo e tinha três cavalos para puxar o seu carrinho de lixo. Com a exceção de que agora os cavalos se tinham afogado. "Agora, terei de ir a pé", disse Costa, 40 anos, uma das cerca de 100 pessoas que procuravam refúgio debaixo da ponte. "Mas será mais difícil".
As tempestades causaram danos massivos na América Central. De acordo com as primeiras estimativas, o prejuízo económico nas Honduras foi equivalente a 40% do PIB do país. Sendo assim, não deveria ser surpresa para ninguém o facto de muitas pessoas da região estarem agora a deslocar-se.
Quando ocorrem desastres causados ​​pelo clima, a grande maioria das pessoas não precisa ou quer mudar-se para longe. Se a seca obrigar uma quinta a cessar a sua atividade, os trabalhadores geralmente procuram novos empregos o mais próximo possível das suas casas. Quando o clima extremo destrói casas, as pessoas procuram uma solução temporária, não uma mudança permanente. Mas, à medida que os eventos climáticos adversos se vão tornando mais extremos – e isso vai acontecer – as pessoas irão precisar de se deslocar para mais longe e durante mais tempo.
É claro que é totalmente injusto, uma vez que os hondurenhos contribuíram muito pouco para a crise climática que agora está a causar tantas perdas na região. Alguém que recolhe lixo com uma carroça puxada por cavalos não gera muitas emissões de dióxido de carbono, ao contrário de alguém nos Estados Unidos a conduzir um veículo Ford Bronco SUV de 310 cavalos.
Por isso, através de um cálculo do ponto de vista moral, os Estados Unidos deveriam estar a decifrar quais são as suas responsabilidades com os migrantes climáticos da América Central. E, quer eles cruzem fronteiras internacionais ou não, a política dos EUA deve ser a de tornar as suas viagens o mais seguras e humanas possível.
Portanto, se a principal prioridade é limitar os aumentos de temperatura para que os desastres climáticos forcem menos pessoas a abandonar as suas casas, a segunda prioridade é gerir o trauma da migração involuntária. Quer os governos gostem ou não, milhões de pessoas em todo o mundo já estão a recorrer à migração para lidarem com a crise climática. Os EUA, em particular, têm de dar resposta com medidas que vão muito além da construção de muros, jaulas ou a firme advertência emitida pelo governo do presidente Joe Biden para os centro-americanos: "Não venham".
Subscribe to Project Syndicate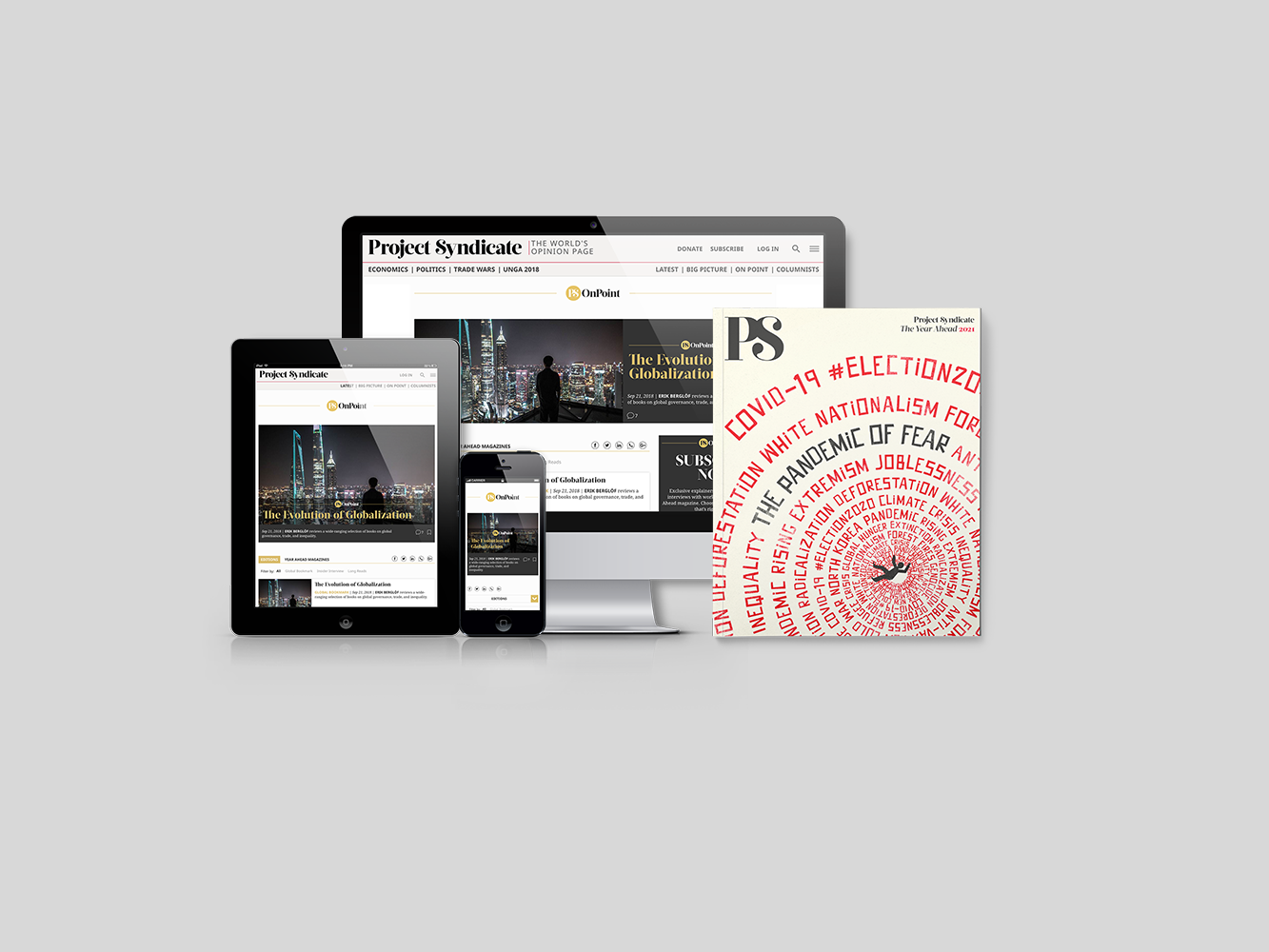 Subscribe to Project Syndicate
Enjoy unlimited access to the ideas and opinions of the world's leading thinkers, including weekly long reads, book reviews, topical collections, and interviews; The Year Ahead annual print magazine; the complete PS archive; and more. All for less than $9 a month.
Mas os migrantes climáticos não estão a ir para os EUA porque querem. Eles não têm escolha e as suas viagens são no mínimo tão traumáticas como as tempestades que as causaram. As famílias são despedaçadas e as pessoas viajam em condições difíceis e perigosas. Algumas morrem, outras são assassinadas e muitas outras são roubadas, extorquidas ou agredidas.
A principal causa do perigo, das mortes e do sofrimento que os migrantes enfrentam são geralmente as fronteiras internacionais. Quando é negado a pessoas desesperadas o direito de atravessar uma fronteira com segurança e legalmente, elas não têm outra opção a não ser fazer isso sob o manto da escuridão, através de desertos e oceanos e sobre cercas e muros.
Além disso, a militarização da fronteira é atualmente um grande negócio. As empresas de segurança privada patrulham as fronteiras com fins lucrativos, garantindo contratos com o governo que totalizam milhares de milhões de dólares para caçar, capturar e aprisionar migrantes e refugiados.
Esta militarização é um empreendimento que tem cada vez mais alta tecnologia. Os drones agora patrulham as fronteiras, enquanto ferramentas de reconhecimento facial e poderosos sistemas de inteligência artificial identificam e rastreiam as pessoas que tentam atravessá-las. Muitas empresas de tecnologia que desenvolveram boas imagens corporativas estão, na verdade, profundamente envolvidas na vigilância de pessoas que tentam escapar de algumas das condições mais difíceis e perigosas do planeta.
As empresas que atualmente lucram com a transformação das fronteiras em armadilhas mortais não vão simplesmente afastar-se deste negócio lucrativo, enquanto os governos viciados nas suas próprias políticas "duras com a migração" não vão recuar sem lutar. Mas aqueles que procuram justiça para os migrantes e refugiados têm lutado e vencido batalhas de imigração nas ruas. Além disso, ativistas e sindicatos estão a pressionar as empresas a livrarem-se dos seus contratos de vigilância de fronteiras e detenção – e os investidores estão a perceber, com as ligações entre a Microsoft e o Departamento de Imigração e Alfândega dos Estados Unidos a estarem recentemente sob os holofotes.
O movimento climático tem agora de agir em solidariedade com os ativistas que defendem os migrantes e os refugiados e fazer parte dos seus esforços para garantir uma migração segura e legal. Deveríamos estar a pensar em como apoiar as pessoas que fazem percursos perigosos, como gerar trabalhos significativos para elas e como fornecer educação, alojamento e assistência médica à medida que vão procurando novos lugares para se estabelecerem. E deveríamos estar a pensar em como construir comunidades que envolvam tanto os recém-chegados como os residentes existentes.
Estas questões já perturbaram a política de muitos países. Mas elas não vão desaparecer – muito pelo contrário. Para o bem dos migrantes climáticos de todo o mundo, temos de enfrentá-las. As nossas emissões de CO2 não prestam atenção às fronteiras nacionais nem tampouco a nossa compaixão deveria fazê-lo.