Onze verantwoordelijkheid jegens klimaatmigranten
RIPTON, VERMONT – Vorig jaar november, toen het meest actieve Atlantische orkaanseizoen ooit ten einde liep, raasden de laatste twee grote stormen – Eta en Iota – over Midden-Amerika. Een verslaggever van de Washington Post, die verslag deed van de nasleep van de stormen, interviewde een Hondurese vrouw, Blanca Costa, die schuilde onder een viaduct van een snelweg. Ze onderhield haar drie dochters door als vuilnisophaler te werken, en had drie paarden om haar vuilniswagen te trekken. Maar nu waren de paarden verdronken. ʻIk zal nu te voet moeten gaan,' zei Costa (40), een van de ongeveer honderd mensen die een schuilplaats vonden onder de brug. ʻMaar het zal moeilijker worden.'
De stormen hebben enorme schade aangericht in Midden-Amerika. Volgens eerste schattingen kwam de economische tol in Honduras overeen met 40 procent van het bbp van het land. Het mag dan ook niemand verbazen dat veel mensen uit de regio nu op de vlucht zijn.
Wanneer klimaatgerelateerde rampen toeslaan, hoeft of wil de overgrote meerderheid van de mensen niet zo ver weg. Als de droogte een landbouwbedrijf failliet laat gaan, zoeken de werknemers meestal zo dicht mogelijk bij huis een nieuwe baan. Wanneer huizen door extreem weer worden verwoest, zoeken mensen een tijdelijke oplossing, geen permanente verhuizing. Maar naarmate de ongunstige klimaatomstandigheden extremer worden – en dat zullen ze – zullen de mensen verder weg moeten gaan wonen, voor langere tijd.
Het is natuurlijk volkomen oneerlijk dat de Hondurezen nu zo zwaar getroffen worden door een klimaatcrisis waar ze zelf zo weinig aan hebben bijgedragen. Iemand die met een paard en wagen vuilnis ophaalt, stoot niet veel koolstofdioxide uit, in tegenstelling tot iemand in de Verenigde Staten die in een Ford Bronco SUV van 310 pk rijdt.
Volgens iedere morele maatstaf zouden de VS dus moeten onderzoeken wat hun verantwoordelijkheid is jegens Midden-Amerikaanse klimaatmigranten. En of ze nu internationale grenzen oversteken of niet, het zou Amerikaans beleid moeten zijn om hun reizen zo veilig en humaan mogelijk te maken.
Als het de eerste prioriteit is om de temperatuurstijging te beperken, zodat klimaatrampen minder mensen uit hun huizen dwingen, is het dus de tweede prioriteit om het trauma van de onvrijwillige migratie te beheersen. Of de regeringen dat nu leuk vinden of niet, wereldwijd nemen miljoenen mensen nu al hun toevlucht tot migratie om de klimaatcrisis het hoofd te bieden. De VS in het bijzonder moeten reageren met meer dan muren, kooien of de strenge waarschuwing van de regering van president Joe Biden aan Midden-Amerikanen: ʻKom niet.'
Subscribe to Project Syndicate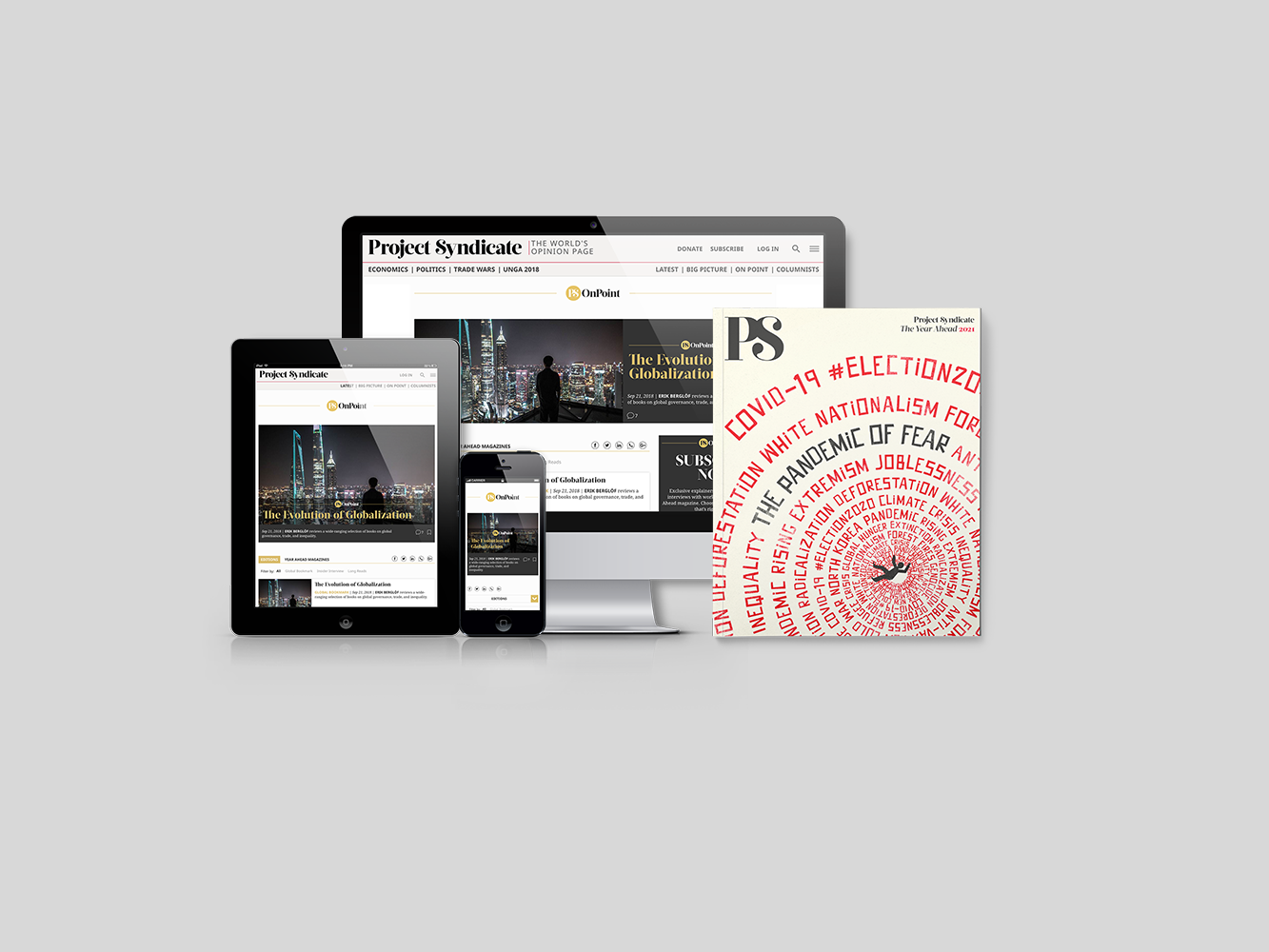 Subscribe to Project Syndicate
Enjoy unlimited access to the ideas and opinions of the world's leading thinkers, including weekly long reads, book reviews, topical collections, and interviews; The Year Ahead annual print magazine; the complete PS archive; and more. All for less than $9 a month.
Maar klimaatmigranten trekken niet naar de VS omdat ze dat zo graag willen. Ze hebben geen keus, en hun reis is minstens zo traumatisch als de stormen die er de oorzaak van zijn. Families worden uit elkaar gerukt, en mensen reizen in moeilijke en gevaarlijke omstandigheden. Sommigen sterven, anderen worden gedood, en nog veel meer mensen worden beroofd, afgeperst, of aangevallen.
De belangrijkste oorzaak van het gevaar, de dood en het lijden waarmee migranten te maken krijgen, wordt vaak gevormd door de internationale grenzen. Wanneer wanhopige mensen het recht wordt ontzegd om op een veilige en legale manier een grens over te steken, hebben zij geen andere keuze dan dit te doen in het donker, over woestijnen en oceanen, en over hekken en muren.
Bovendien is grensmilitarisering nu big business. Particuliere beveiligingsfirma's met winstoogmerk patrouilleren aan de grenzen en hebben voor miljarden dollars aan overheidscontracten binnengehaald om migranten en vluchtelingen op te jagen, gevangen te nemen en op te sluiten.
Deze militarisering is een steeds meer hoogtechnologische onderneming. Drones bewaken nu de grenzen, terwijl gezichtsherkenningsinstrumenten en krachtige kunstmatige-intelligentiesystemen mensen identificeren en opsporen die de grenzen proberen over te steken. Veel techbedrijven die zich een goed imago hebben aangemeten, zijn in feite nauw betrokken bij het surveilleren van mensen die proberen te ontsnappen aan de moeilijkste en gevaarlijkste omstandigheden op deze planeet.
De bedrijven die momenteel profiteren van het veranderen van grenzen in dodelijke vallen zullen niet zomaar weglopen van deze lucratieve business, terwijl regeringen die verslaafd zijn aan hun eigen ʻharde aanpak van migratie'-beleid dat beleid niet zonder slag of stoot zullen opgeven. Maar zij die rechtvaardigheid voor migranten en vluchtelingen nastreven, voeren en winnen nu al immigratiegevechten op straat. Daarnaast dringen activisten en vakbonden er bij bedrijven op aan hun contracten voor grensbewaking en detentie te beëindigen – en beleggers merken dat, waarbij de banden van Microsoft met de Amerikaanse Immigratie- en Douanedienst de laatste zijn die in de schijnwerpers zijn komen te staan.
De klimaatbeweging moet nu solidair zijn met migranten- en vluchtelingenactivisten, en deel uitmaken van hun inspanningen om veilige, legale migratie te garanderen. We moeten nadenken over hoe we mensen die een gevaarlijke reis maken, kunnen steunen, hoe we zinvol werk voor hen kunnen creëren en hoe we onderwijs, huisvesting en gezondheidszorg kunnen bieden als ze een nieuwe plek zoeken om zich te vestigen. En we moeten nadenken over hoe we gemeenschappen kunnen opbouwen die zowel nieuwkomers als bestaande bewoners omvatten.
Deze vragen hebben de politiek van veel landen al in beroering gebracht. Maar ze zullen niet verdwijnen – integendeel. In het belang van klimaatmigranten overal ter wereld moeten we ze aanpakken. Onze CO2-uitstoot trekt zich niets aan van landsgrenzen, en dat zou ons medeleven ook niet moeten doen.
Vertaling: Menno Grootveld