O Alarmismo da Inflação
NOVA YORK – Ligeiros aumentos na taxa de inflação nos Estados Unidos e na Europa geraram ansiedade no mercado financeiro. Terá a administração do presidente Joe Biden dos EUA arriscado superaquecer a economia com seu pacote de auxílio emergencial de US$ 1.9 trilhão e planos de gastos adicionais para investir em infraestrutura, criação de empregos e apoio financeiro às famílias americanas?
Essas preocupações são prematuras, considerando-se a profunda incerteza que ainda enfrentamos. Nunca antes experimentamos uma desaceleração induzida por uma pandemia, caracterizando uma recessão desproporcionalmente acentuada no setor de serviços, aumentos sem precedentes na desigualdade e crescentes índices de poupança. Ninguém sabe se ou quando o COVID-19 estará controlado nas economias avançadas, muito menos globalmente. Ao pesar os riscos, também devemos nos planejar para todas as contingências. Em minha opinião, o governo Biden decidiu corretamente que os riscos de se fazer muito pouco superam em muito os riscos de se fazer demais.
Além disso, grande parte da pressão inflacionária atual decorre de gargalos de oferta de curto prazo, que são inevitáveis ​​quando se reinicia uma economia que ficou temporariamente fechada. Não nos falta a capacidade global para construir carros ou semicondutores; mas quando todos os carros novos usarem semicondutores e a demanda por carros estiver atolada em incertezas (como foi durante a pandemia), a produção de semicondutores será reduzida. De forma mais ampla, coordenar todos os insumos de produção em uma complexa economia global integrada é uma tarefa extremamente difícil que geralmente consideramos garantida porque as coisas funcionam tão bem e porque a maioria dos ajustes são "na margem".
Agora que o processo normal foi interrompido, haverá contratempos, que se traduzirão em aumentos de preços para um ou outro produto. Mas não há razão para acreditar que esses movimentos irão alimentar as expectativas de inflação e, assim, gerar um ímpeto inflacionário, especialmente dado o excesso de capacidade geral em todo o mundo. Vale lembrar que recentemente alguns dos que agora alertam sobre a inflação por excesso de demanda falavam de uma "estagnação secular" nascida de uma insuficiente demanda agregada (mesmo a uma taxa de juros zero).
Em um país com profundas e antigas desigualdades que têm sido expostas e exacerbadas pela pandemia, um mercado de trabalho restrito é exatamente o que se esperava. Quando a demanda por mão-de-obra é forte, os pisos salários sobem e os grupos marginalizados são trazidos para o mercado de trabalho. Obviamente, o aperto exato do mercado de trabalho atual nos Estados Unidos é motivo de algum debate, dados os relatos de escassez de mão de obra, apesar da taxa de emprego permanecer notadamente abaixo do nível anterior à crise.
Conservadores atribuem a situação aos benefícios excessivamente generosos do seguro-desemprego. Mas estudos econométricos comparando a oferta de trabalho através dos estados americanos sugerem que esses tipos de efeitos desanimadores sobre o trabalho são limitados. E, em qualquer caso, os benefícios expandidos ao desemprego devem terminar no outono, mesmo que os efeitos econômicos globais do vírus persistam.
Back to Health: Making Up for Lost Time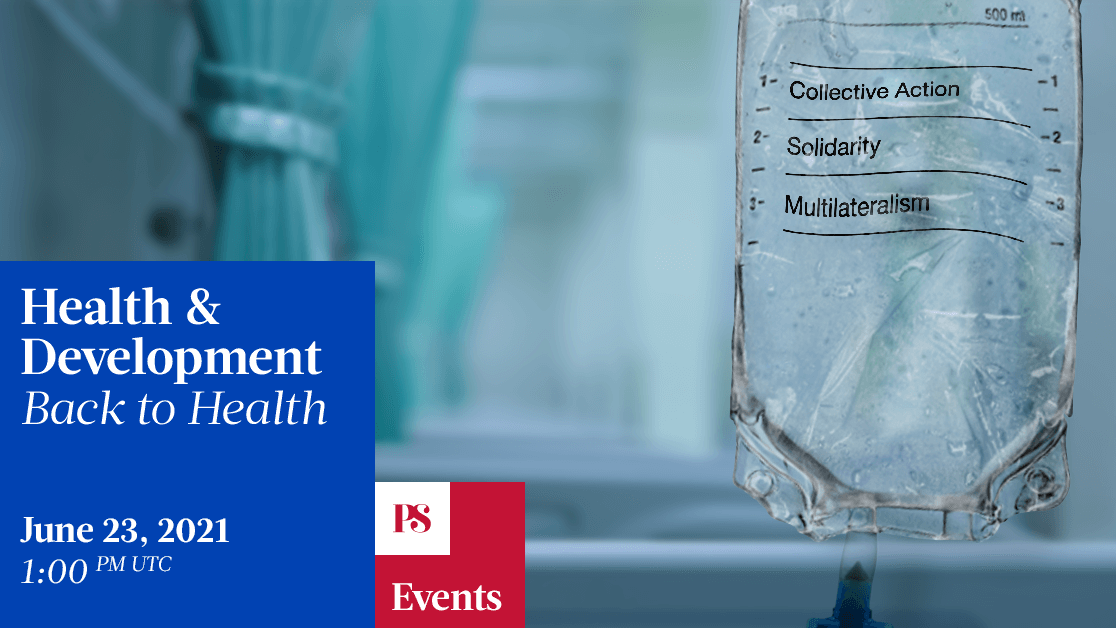 Back to Health: Making Up for Lost Time
The COVID-19 crisis has laid bare systemic inequities that will have to be addressed if we are ever going to build more sustainable, resilient, and inclusive societies. Join us on June 23, 2021, for our latest live virtual event, Back to Health: Making Up for Lost Time, where leading experts will examine the immediate legacy of the pandemic and explore solutions for bringing all communities and societies back to health.
Em vez de entrar em pânico com a inflação, deveríamos nos preocupar com o que acontecerá com a demanda agregada quando os fundos fornecidos pelos pacotes de auxílio fiscal se esgotarem. Muitos dos que estão na base da distribuição de renda e riqueza acumularam grandes dívidas – incluindo, em alguns casos, mais de um ano de atraso no aluguel, devido às proteções temporárias contra despejo.
A redução dos gastos das famílias endividadas provavelmente não será compensada pelos que estão no topo, a maioria dos quais acumulou poupança durante a pandemia. Uma vez que os gastos com bens de consumo duráveis ​​permaneceram robustos durante os últimos 16 meses, parece provável que os ricos tratarão suas economias adicionais como tratariam qualquer outro ganho inesperado: como algo a ser investido ou gasto lentamente ao longo de muitos anos. A menos que haja novos gastos públicos, a economia pode voltar a sofrer com uma insuficiente demanda agregada.
Além disso, mesmo que as pressões inflacionárias se tornem realmente preocupantes, temos ferramentas para amortecer a demanda (e usá-las fortaleceria as perspectivas de longo prazo da economia). Para começar, existe a política de taxas de juros do Federal Reserve dos EUA. A última década de taxas de juros próximas a zero não foi economicamente saudável. O volume de escassez de capital não é zero. As baixas taxas de juros distorcem os mercados de capitais ao desencadear uma busca por rendimento que leva a prêmios de risco excessivamente baixos. Retornar a taxas de juros mais normais seria uma coisa boa (embora os ricos, que foram os principais beneficiários desta era de taxas de juros extremamente baixas, possam discordar).
Por certo, alguns comentaristas olham para a avaliação de equilíbrio de risco do Fed e temem que ele não agirá quando for necessário. Mas acho que os pronunciamentos do Fed foram certeiros e acredito que sua posição mudará se e quando as evidências mudarem. O instinto de combater a inflação está embutido no DNA dos banqueiros centrais. Se eles não encaram a inflação como o principal problema que a economia enfrenta atualmente, ninguém mais deveria.
A segunda ferramenta são os aumentos de impostos. Garantir a saúde da economia a longo prazo requer muito mais investimento público, que terá de ser pago. A proporção dos impostos sobre o PIB dos EUA é muito baixa, especialmente devido às enormes desigualdades nos Estados Unidos. Há a necessidade urgente de uma tributação mais progressiva, para não falar de mais impostos ambientais para lidar com a crise climática. Dito isso, é perfeitamente compreensível que haja hesitação em instituir novos impostos enquanto a economia permanecer em estado precário.
Deveríamos reconhecer o atual "debate sobre a inflação" pelo que é: um alarme falso que está sendo levantado por aqueles que bloqueariam os esforços do governo Biden para enfrentar alguns dos problemas mais fundamentais dos Estados Unidos. O sucesso exigirá mais gastos públicos. Os EUA têm a sorte de finalmente ter uma liderança econômica que não sucumbirá ao alarmismo exagerado.
Tradução de Anna Maria Dalle Luche, Brazil