Falsche Fährte Inflation
NEW YORK – Leichte Anstiege der Inflationsrate in den USA und Europa haben an den Finanzmärkten Ängste ausgelöst. Läuft die Regierung von US-Präsident Joe Biden mit ihrem 1,9 Billionen Dollar schweren Rettungspaket und Plänen für zusätzliche Ausgaben für Investitionen in die Infrastruktur, zur Schaffung von Arbeitsplätzen und zur Unterstützung der amerikanischen Familien Gefahr, eine Überhitzung der Konjunktur herbeizuführen?
Derartige Sorgen sind angesichts der tiefen Unsicherheit, der wir nach wie vor ausgesetzt sind, verfrüht. Wir haben nie zuvor einen pandemiebedingten Abschwung mit überproportional steiler Rezession im Dienstleistungssektor, einer beispiellosen Zunahme der Ungleichheit und steil steigenden Sparquoten erlebt. Niemand weiß auch nur, ob oder wann COVID-19 in den hochentwickelten Volkswirtschaften eingedämmt sein wird, und weltweit weiß es erst recht keiner. Zudem müssen wir bei der Abwägung der Risiken alle Eventualitäten einplanen. Aus meiner Sicht hat die Biden-Regierung korrekt entschieden, dass die Gefahr, zu wenig zu tun, die Risiken, zu viel zu tun, deutlich überwiegt.
Zudem rührt der derzeitige Inflationsdruck weitgehend als kurzfristigen Engpässen beim Angebot her, die unvermeidlich sind, wenn man eine vorübergehend heruntergefahrene Wirtschaft wieder hochfährt. Wir haben ausreichende weltweite Kapazitäten zum Bau von Autos oder Halbleitern, doch wenn alle Neuwagen Halbleiter verwenden und die Nachfrage nach Autos (wie während der Pandemie) von Unsicherheit bestimmt ist, wird die Halbleiterproduktion eingeschränkt. Ganz allgemein ist die Koordinierung aller Vorleistungen für die Produktion in einer komplexen integrierten Weltwirtschaft eine enorm schwierige Aufgabe, die wir gewöhnlich als selbstverständlich hinnehmen, weil die Dinge so gut funktionieren und weil die meisten Anpassungsmaßnahmen Randbereiche betreffen.
Nun, da der normale Ablauf unterbrochen wurde, wird es kleinere Probleme geben, und diese werden bei dem einen oder anderen Produkt Preiserhöhungen verursachen. Doch gibt es insbesondere angesichts der insgesamt bestehenden weltweiten Kapazitätsüberschüsse keinen Grund zu der Annahme, dass diese Bewegungen Inflationserwartungen befeuern und so eine Inflationsdynamik herbeiführen werden. Es lohnt, sich zu erinnern, wie kurz es erst her ist, dass einige, die jetzt vor durch eine exzessive Nachfrage bedingten Inflation warnen, von einer durch eine unzureichende Gesamtnachfrage bedingten "säkularen Stagnation" sprachen (trotz Nullzinsen).
In einem Land mit tiefer, langjähriger, durch die Pandemie aufgedeckter und verschärfter Ungleichheit ist ein angespannter Arbeitsmarkt genau die richtige Medizin. Bei einer hohen Nachfrage nach Arbeitskräften steigen die Löhne in den unteren Lohngruppen, und marginalisierte Gruppen werden in den Arbeitsmarkt eingebunden. Freilich ist es angesichts von Berichten über Arbeitskräftemangel trotz nach wie vor deutlich unter dem Niveau vor der Krise liegender Beschäftigungszahlen diskussionswürdig, wie angespannt der US-Arbeitsmarkt derzeit tatsächlich ist.
Die Konservativen schieben die Lage auf übermäßig großzügige Leistungen aus der Arbeitslosenversicherung. Doch legen das Arbeitskräfteangebot in verschiedenen US-Bundesstaaten vergleichende ökonometrische Studien nahe, dass derartige von einer Beschäftigungsaufnahme abhaltende Effekte begrenzt sind. Und so oder so läuft die Ausweitung der Arbeitslosenunterstützung zum Herbst aus, während die weltweiten virusbedingten wirtschaftlichen Auswirkungen fortdauern werden.
Back to Health: Making Up for Lost Time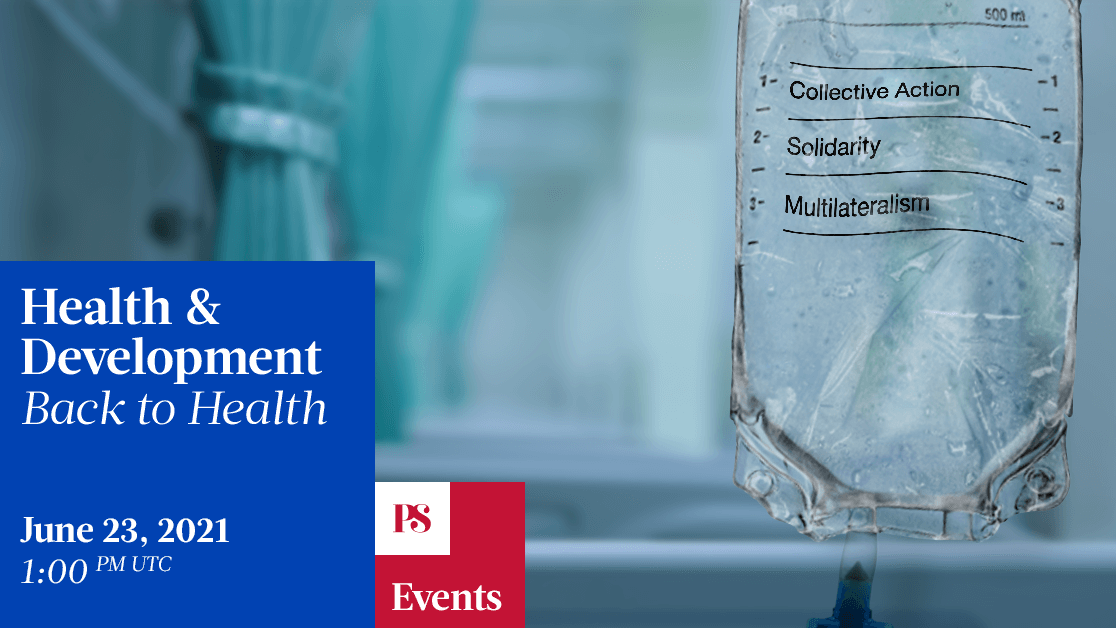 Back to Health: Making Up for Lost Time
The COVID-19 crisis has laid bare systemic inequities that will have to be addressed if we are ever going to build more sustainable, resilient, and inclusive societies. Join us on June 23, 2021, for our latest live virtual event, Back to Health: Making Up for Lost Time, where leading experts will examine the immediate legacy of the pandemic and explore solutions for bringing all communities and societies back to health.
Statt in Inflationsängste zu verfallen, sollten wir uns Sorgen darüber machen, was mit der Gesamtnachfrage passiert, wenn die durch die fiskalischen Rettungspakete zur Verfügung gestellten Mittel versiegen. Viele Menschen am unteren Ende der Einkommens- und Vermögensverteilung haben große Schulden angehäuft – darunter in einigen Fällen mehr als ein Jahr an Mietrückständen aufgrund des vorübergehenden Schutzes vor Zwangsräumung.
Die verringerten Ausgaben durch die verschuldeten Haushalte dürften von denen ganz oben, von denen die meisten während der Pandemie zusätzliche Ersparnisse aufgebaut haben, kaum ausgeglichen werden. Angesichts der Tatsache, dass die Ausgaben für langlebige Konsumgüter während der vergangenen 16 Monate robust geblieben sind, dürften die Wohlhabenden ihre zusätzlichen Ersparnisse so behandeln wie jeden anderen unerwarteten Geldregen – nämlich als etwas, das man investiert oder langsam über viele Jahre hinweg ausgibt. Ohne neue Staatsausgaben könnte die Wirtschaft erneut unter einer unzureichenden Nachfrage leiden.
Und selbst wenn der Inflationsdrück wirklich besorgniserregende Ausmaße annehmen sollte, verfügen wir über die Instrumente, um die Nachfrage zu dämpfen (und deren Einsatz würde die langfristigen wirtschaftlichen Aussichten tatsächlich verbessern). Zunächst einmal ist da die Zinspolitik der US Federal Reserve. Die in Nullnähe liegenden Zinsen der vergangenen mehr als zehn Jahre waren wirtschaftlich nicht gesund. Der Knappheitswert von Kapital ist nicht null. Niedrige Zinsen sorgen für Verzerrungen an den Kapitalmärkten, indem sie ein Renditestreben auslösen, das zu übertrieben niedrigen Risikoaufschlägen führt. Eine Rückkehr zu einem normaleren Zinsniveau wäre etwas Gutes (auch wenn die Reichen, die die hauptsächlichen Nutznießer dieser Ära ultraniedriger Zinsen waren, das womöglich anders sehen).
Natürlich betrachten einige Kommentatoren die Risikoabwägung der Fed und machen sich Sorgen, dass diese nicht handeln wird, wenn das nötig werden sollte. Doch lag die Fed aus meiner Sicht mit ihren bisherigen Äußerungen goldrichtig, und ich vertraue darauf, dass sie ihre Haltung ändern wird, falls und wenn sich die Sachlage ändert. Der Instinkt, die Inflation zu bekämpfen, ist in die DNA der Notenbanker eingebettet. Wenn sie die Inflation derzeit nicht als das Kernproblem ansehen, dem sich die Wirtschaft derzeit gegenübersieht, sollten Sie es auch nicht.
Das zweite Instrument sind Steuererhöhungen. Die langfristige Gesundheit der Volkswirtschaft sicherzustellen erfordert viel höhere staatliche Investitionen, und die müssen bezahlt werden. Die US-Steuerquote ist insbesondere angesichts der enormen Ungleichheit in Amerika viel zu niedrig. Es besteht die dringende Notwendigkeit einer stärker progressiven Besteuerung, von höheren Umweltabgaben zur Bekämpfung der Klimakrise gar nicht zu reden. Andererseits ist eine gewisse Zögerlichkeit bei der Verabschiedung neuer Steuern angesichts des anhaltend gefährlichen Zustands der Volkswirtschaft vollkommen verständlich.
Wir sollten die derzeitige "Inflationsdebatte" als das betrachten, was sie ist: eine falsche Fährte, die von denjenigen gelegt wird, die die Bemühungen der Regierung Biden zur Behebung einiger der grundlegendsten Probleme der USA zu behindern suchen. Eine erfolgreiche Politik erfordert mehr öffentliche Ausgaben. Zum Glück haben die endlich eine wirtschaftspolitische Führung, die der Panikmache nicht nachgeben wird.
Aus dem Englischen von Jan Doolan