Prosperidade "produzida nas Américas"?
WASHINGTON, DC – Enquanto Canadá, México e Estados Unidos se concentram na quinta rodada de negociações para a modernização do Acordo de Livre Comércio da América do Norte – uma meta bastante incerta – os governos do resto das Américas estão debatendo uma questão de comércio mais fundamental. Quem será seu parceiro comercial dominante do futuro: os Estados Unidos, a Europa ou a China?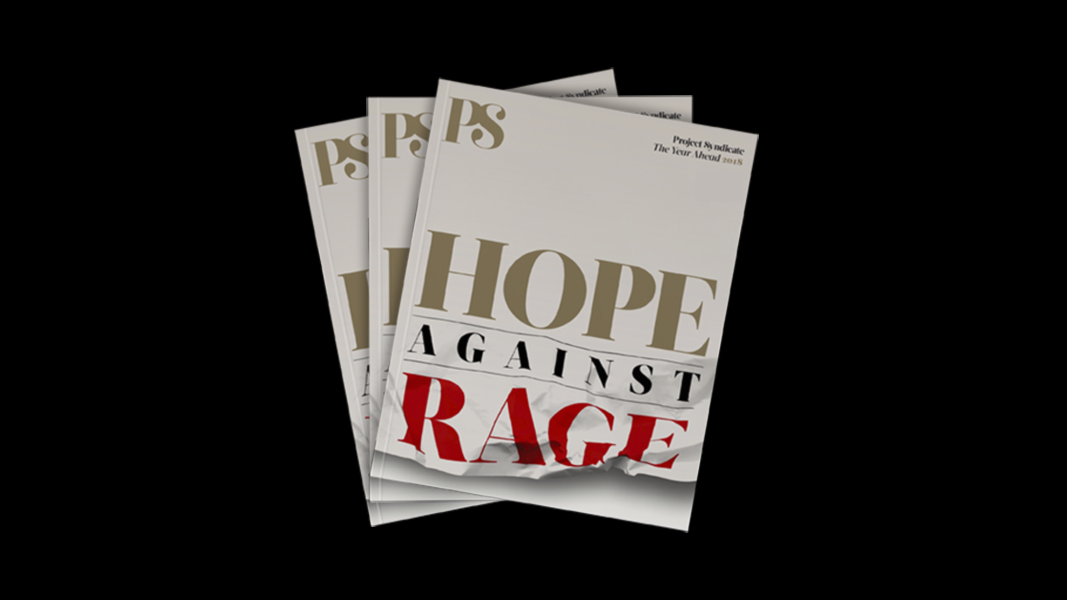 The Year Ahead 2018
The world's leading thinkers and policymakers examine what's come apart in the past year, and anticipate what will define the year ahead.
Durante mais de um século, a resposta óbvia a essa pergunta foi: "os Estados Unidos". A proximidade, o poder de influência e a própria força econômica do país faziam dele o centro natural de atenção comercial para a América Latina. E a América Latina é o primeiro ou segundo parceiro comercial mais importante de 37 dos 50 estados norte-americanos.
Em 2016, empresas norte-americanas exportaram um total de US$ 515 bilhões em bens e serviços para a América Latina e o Caribe – quase três vezes mais do que exportaram para a China. Além disso, enquanto os Estados Unidos têm um déficit comercial grande e recorrente com a China, o país tipicamente registra um superávit com seus vizinhos do sul, o que, tradicionalmente, favorece os bens de alto valor e serviços sofisticados que as empresas norte-americanas fornecem.
No entanto, esse quadro está mudando depressa. Nas duas últimas décadas, empresas chinesas estiveram discretamente capturando fatias de mercado na América Latina e no Caribe. A participação de importações dos Estados Unidos na América Latina caiu de 50% em 2000 para 33% em 2016, enquanto a da China saltou de 3% para 18%. Em muitos lares latino-americanos, laptops, smartphones, televisões e automóveis chineses substituíram marcas norte-americanas famosas.
Claro que essa mudança é em parte resultado dos fatores temporais que impulsionaram o rápido crescimento e expansão global da China. Mas também reflete a estratégia de longo prazo da China para consolidar sua posição em um dos mercados emergentes mais atraentes do mundo.
Até 2030, a América Latina e o Caribe terão uma população combinada de cerca de 720 milhões de habitantes. De acordo com previsões conservadoras, seu PIB estará por volta de US$ 9 trilhões, com apenas seis economias – Brasil, México, Argentina, Colômbia, Chile e Peru – respondendo por 86% desse total.
Além disso, os países da América Latina e do Caribe estão se movimentando para se tornar um bloco integrado. Graças a uma série de acordos, 80% do comércio entre países latino-americanos e caribenhos já é isento de tarifas. Várias medidas de facilitação do transporte, de procedimentos alfandegários menos burocráticos à harmonização de regras de origem, estão desmontando pouco a pouco as barreiras que ainda restam. Os dois maiores blocos regionais – Mercosul e Aliança do Pacífico, que, juntos, incluem as seis maiores economias da região – estão considerando muito a sério a possibilidade de uma convergência.
Essa tendência para uma maior integração regional oferecerá uma oportunidade única para explorar todo um mercado altamente lucrativo a partir de algumas poucas bases de operações. Empresas chinesas que estão agora fazendo aquisições e construindo fábricas no Brasil, por exemplo, poderão distribuir seus produtos com condições preferenciais em países vizinhos, ao mesmo tempo em que utilizam cadeias de valor regionais para peças e matéria-prima.
Como a China, a União Europeia reconhece o amplo potencial da América Latina como parceiro comercial. Na verdade, a participação da UE nas importações totais da América Latina esteve em declínio e encontra-se agora em 13,5%. Mas eles estão trabalhando com afinco para reverter essa tendência, inclusive fechando acordos que cobrem quase todas as economias da região. E as negociações para um acordo de livre comércio com os países do Mercosul estão nos estágios finais. Isso colocará a Europa à frente tanto da China como dos Estados Unidos em termos de acesso ao mercado.
Mas a China continua a se empenhar em muitas frentes para consolidar uma posição vantajosa na América Latina. Uma dessas estratégias é despejar grandes volumes de investimento direto na região. Por algumas estimativas, a China já investiu mais de US$ 106 bilhões na América Latina em anos recentes, incluindo US$ 60 bilhões somente no Brasil. O investimento chinês foi direcionado, até o momento, primariamente para agricultura, energia e projetos de mineração. Mas uma porcentagem crescente está sendo agora canalizada para a manufatura em setores que geram empregos de altos salários e transferem competências muito necessárias para as economias hospedeiras.
A China também se tornou um grande investidor na nova infraestrutura de que a América Latina precisa com urgência. O país está organizando esses investimentos no âmbito de sua Belt and Road Initiative, ou Iniciativa de Cinturão e Rota, uma visão global de conectividade, cooperação e prosperidade que tem sido muito bem recebida pelos líderes latino-americanos.
Enquanto a China e a UE agarram as oportunidades na América Latina e no Caribe, os Estados Unidos continuam a ceder participação no mercado. No entanto, essa é a sua vizinhança e o país poderia facilmente propor uma iniciativa de integração similar aqui. E os Estados Unidos certamente têm fortes incentivos para buscar uma estratégia de reaproximação ativa com a América Latina: o Banco Interamericano de Desenvolvimento calcula que, se os EUA recuperassem a fatia das importações para a América Latina que tinha em 2000, poderiam estar exportando por volta de US$ 788 bilhões a cada ano para a região. Isso é suficiente para possibilitar a criação de um milhão de empregos adicionais no país.
Essa estratégia poderia atrair o interesse e a iniciativa empreendedora dos 57 milhões de cidadãos norte-americanos que têm raízes ao sul do Rio Grande, incluindo os 3,3 milhões de empresas americanas de propriedade hispânica, muitas das quais estão ansiosas para se expandir para o exterior. Poderia até mesmo ajudar a conduzir os difíceis debates sobre migração e tráfico de drogas para uma direção mais produtiva.
Em um tempo de incerteza global, uma visão de prosperidade "produzida nas Américas" proporciona uma agenda unificadora para o continente. Com sua implementação, os Estados Unidos poderiam reafirmar sua liderança histórica entre um grupo de países que compartilham seus valores fundamentais, além de um interesse por um crescimento econômico inclusivo e melhores padrões de vida.