Trump hará a China grande otra vez
NUEVA YORK – Los mercados financieros recibieron con alegría la reciente noticia de que Estados Unidos y China llegaron a un acuerdo en "fase uno" para frenar una futura escalada de la guerra comercial bilateral. Pero en realidad no hay mucho de que alegrarse. A cambio de un compromiso tentativo de China de comprar más productos agrícolas (y algunos otros) estadounidenses y ligeras concesiones en materia de propiedad intelectual y el yuan, Estados Unidos acordó suspender la imposición de aranceles a otros 160 000 millones de dólares de exportaciones chinas y revertir algunos de los aranceles introducidos el 1 de septiembre.
La buena noticia para los inversores es que el acuerdo evitó una nueva ronda de aranceles, que podía empujar a la economía estadounidense y a la mundial a una recesión y provocar un derrumbe de las bolsas globales. La mala noticia es que no es más que otra tregua temporal en medio de una rivalidad estratégica mucho más amplia por temas comerciales, tecnológicos, de inversiones, monetarios y geopolíticos. Se mantendrán aranceles a gran escala, y la escalada puede reanudarse si cualquiera de los dos lados evade sus compromisos.
De modo que entre Estados Unidos y China habrá un amplio y cada vez más intenso desacople, sobre todo en el sector tecnológico. Estados Unidos ve como una amenaza a su seguridad económica y nacional la búsqueda china de alcanzar la autonomía y luego la supremacía en tecnologías de vanguardia (como inteligencia artificial, 5G, robótica, automatización, biotecnología y vehículos autónomos). Tras las restricciones impuestas a Huawei (líder en 5G) y otras empresas tecnológicas chinas, Estados Unidos seguirá intentando contener el crecimiento de la industria tecnológica del país asiático.
También habrá restricciones a los flujos transfronterizos de datos e información, lo que genera el temor a la aparición de una Internet dividida ("splinternet") entre Estados Unidos y China. En tanto, el aumento de los controles estadounidenses ya redujo la inversión extranjera directa china en Estados Unidos un 80% respecto del nivel de 2017. Y ahora nuevas propuestas legislativas amenazan con prohibir que fondos públicos de pensiones estadounidenses inviertan en empresas chinas, restringir la presencia de capitales de riesgo chinos en Estados Unidos y excluir a algunas empresas chinas de las bolsas estadounidenses.
En Washington también se están poniendo más suspicaces en relación con estudiantes e investigadores chinos radicados en Estados Unidos que pudieran estar en situación de robar conocimiento tecnológico estadounidense o practicar lisa y llanamente el espionaje. China, por su parte, redoblará esfuerzos para eludir el sistema financiero internacional controlado por Estados Unidos y protegerse de la instrumentalización estadounidense del dólar. Es posible que para lograrlo, esté planeando el lanzamiento de una moneda digital soberana o una alternativa al sistema de mensajería para pagos transfronterizos SWIFT (controlado por Occidente). También puede ser que intente internacionalizar el papel de Alipay y de WeChat Pay, sofisticadas plataformas de pago electrónico que ya reemplazaron la mayor parte de las transacciones con efectivo en China.
En todas estas dimensiones, los últimos acontecimientos hacen pensar en un cambio general de la relación sinoestadounidense hacia la desglobalización, la fragmentación económica y financiera y la balcanización de las cadenas de suministro. La Estrategia de Seguridad Nacional 2017 de la Casa Blanca y la Estrategia de Defensa Nacional de los Estados Unidos 2018 consideran a China como un "competidor estratégico" al que es preciso contener. Por toda Asia se están acumulando tensiones bilaterales por razones de seguridad, de Hong Kong a Taiwán y del mar oriental al mar meridional de China. Estados Unidos teme que el presidente chino Xi Jinping, habiendo abandonado el consejo de su predecesor Deng Xiaoping de "ocultar la fuerza y esperar el momento", se haya embarcado en una estrategia de expansionismo agresivo. China, en tanto, teme que Estados Unidos esté tratando de contener su ascenso y rechazar sus legítimas inquietudes en materia de seguridad en Asia.
Subscribe now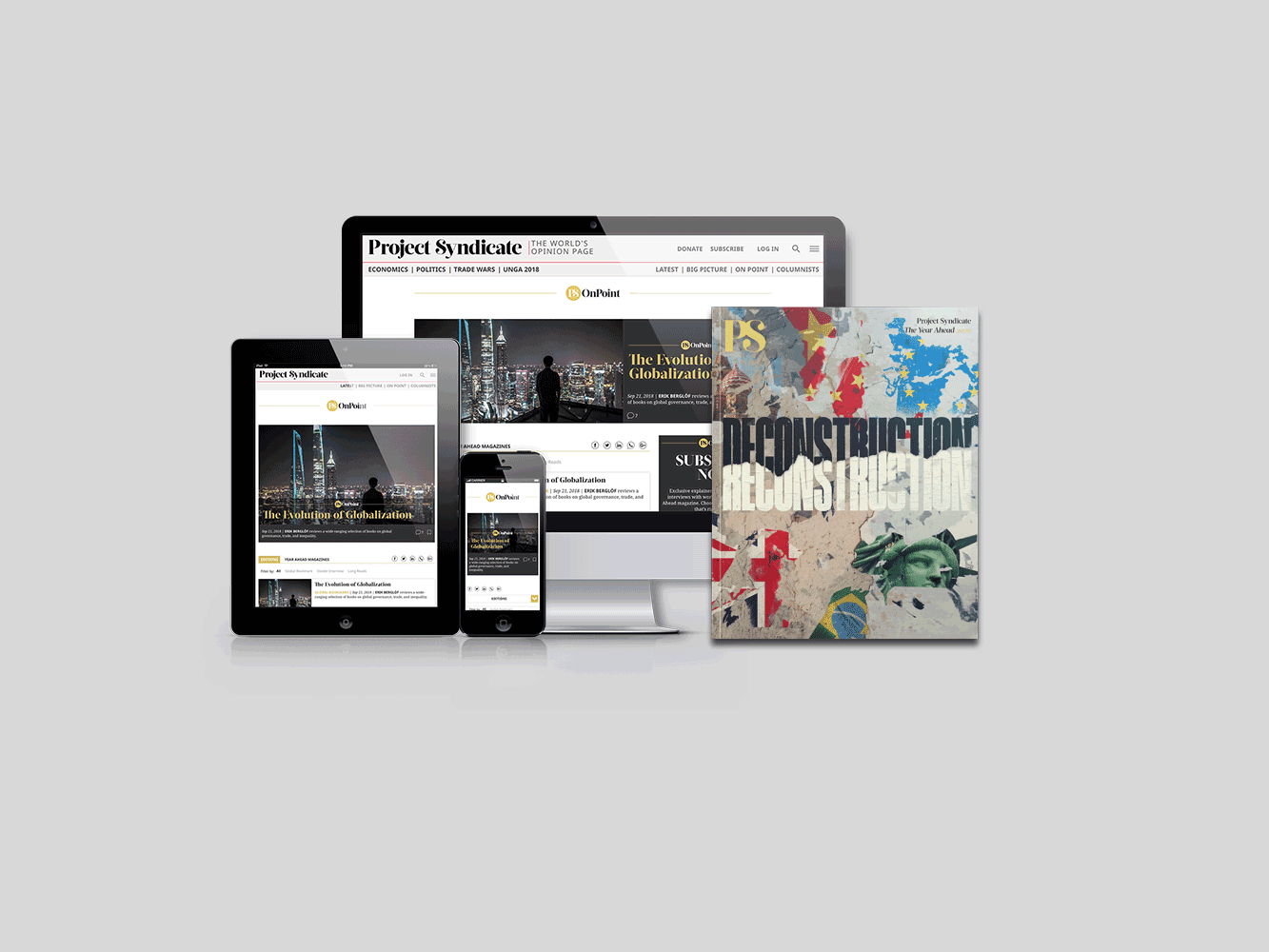 Subscribe now
Subscribe today and get unlimited access to OnPoint, the Big Picture, the PS archive of more than 14,000 commentaries, and our annual magazine, for less than $2 a week.
Hay que ver cómo evoluciona la rivalidad. El resultado casi seguro de una competencia estratégica descontrolada sería pasar en algún momento de una guerra fría creciente a una guerra caliente, con consecuencias desastrosas para el mundo. Es evidente la vaciedad del viejo consenso occidental, según el cual admitir a China en la Organización Mundial del Comercio y hacerle lugar a su ascenso la obligaría a transicionar hacia una sociedad más abierta con una economía más libre y justa. Con Xi, China creó un estado de vigilancia orwelliano y redobló la apuesta a una forma de capitalismo de Estado que es incompatible con los principios del comercio libre y justo. Y ahora está usando su creciente riqueza para dar muestras de poderío militar y ejercer influencia en toda Asia y en el resto del mundo.
De modo que la pregunta es si hay alternativas razonables a una guerra fría creciente. Algunos analistas occidentales, por ejemplo el ex primer ministro australiano Kevin Rudd, defienden la idea de "competencia estratégica controlada". Otros hablan de una relación sinoestadounidense basada en la "coopetición" (cooperación y competencia). En tanto, Fareed Zakaria (de la CNN) recomienda que Estados Unidos adopte ante China una postura de diálogo y disuasión simultáneos. Son todas variantes de la misma idea: una relación sinoestadounidense que incluya cooperar en algunas áreas (especialmente las relacionadas con bienes públicos globales como el clima y el sistema internacional de finanzas y comercio) y al mismo tiempo aceptar que habrá una competencia constructiva en otras.
El problema, por supuesto, es el presidente estadounidense Donald Trump, que no parece entender que una "competencia estratégica controlada" con China exige diálogo y cooperación de buena fe con otros países. Para tener éxito, Estados Unidos debe colaborar con sus aliados y socios para poner su modelo de sociedad abierta y economía abierta a tono con el siglo XXI. Aunque a Occidente no le agrade el autoritario capitalismo de Estado chino, tiene que poner en orden sus propios asuntos. Los países de Occidente deben implementar reformas económicas que reduzcan la desigualdad e impidan dañinas crisis financieras, junto con reformas políticas para contener la reacción populista contra la globalización, sin dejar de sostener el Estado de Derecho.
Por desgracia, el gobierno estadounidense actual carece de una visión estratégica de esa naturaleza. Al parecer, el proteccionista, unilateralista e iliberal Trump prefiere llevarles la contra a los amigos y aliados de Estados Unidos, lo que deja a Occidente dividido y mal preparado para defender y reformar el orden mundial liberal que creó. Es probable que los chinos prefieran la reelección de Trump en 2020. Podrá ser un incordio en el corto plazo, pero con suficiente tiempo en el cargo, destruirá las alianzas estratégicas en las que se basan el poder blando y el poder duro de Estados Unidos. Como el personaje de "The Manchurian Candidate", Trump puede terminar siendo un agente inconsciente para "hacer a China grande de nuevo".
Traducción: Esteban Flamini