Die große Disruption
BERLIN – Die Ordnung der Weltwirtschaft, in den vergangenen drei Jahrzehnten auf einem einheitlichen Weltmarkt, auf den Regeln der WTO und dem freien Warenverkehr und internationalen Wertschöpfungsketten beruhend, hat dieser Tage eine fundamentale Veränderung erfahren.
Die USA und China befinden sich seit einiger Zeit in einem Handelskrieg, in dem es scheinbar um Zölle und eine ausgeglichene Handelsbilanz geht. Drohungen und Gegendrohungen werden dabei regelmäßig ausgetauscht, gleichwohl wurde bis vor kurzem immer weiter verhandelt.
Vor wenigen Tagen nun, kündigte unter dem Druck der Regierung Trump, Google die Zusammenarbeit mit Huawei, d. h. dem chinesischen Smartphone-Produzenten wurde für den Gebrauch der Android-Software und der damit verbundenen Dienste in seinen Smartphones die Lizenz entzogen. Für Huawei ist dieser Schritt existenzbedrohend.
Er stellt nicht nur den bisherigen Höhepunkt im Handelskonflikt zwischen China und den USA dar, sondern markiert zugleich auch der Endpunkt der Globalisierung unter US-amerikanischer Führung. Die Botschaft lautet sehr klar: Technologie und Softwareexporte folgen nicht mehr Geschäftsinteressen, sondern gehorchen fortan zuerst und vor allem den Interessen der Macht – Macht geht ab sofort vor Markt.
Dieser Schritt der USA macht klar, dass es in diesem Handelskonflikt zwischen den beiden wirtschaftlichen und politischen Giganten um sehr viel mehr geht als um Zölle und ausgeglichene Handelsbilanzen. Es geht um die globale Technologieführerschaft und so auch um die Rolle der globalen machtpolitischen Nr. 1.
China wird aus diesem existenzbedrohenden Softwareboykott für eines seiner High-Tech-Vorzeigeunternehmen die Konsequenz ziehen, sich mit Hochdruck von Lieferketten, die von Hochtechnologielieferungen aus den USA abhängen, zu lösen, koste es was es wolle, und alle technologisch notwendigen Komponenten, vor allem auch elektronische Halbleiterchips, weitgehend selbst zu produzieren.
Subscribe now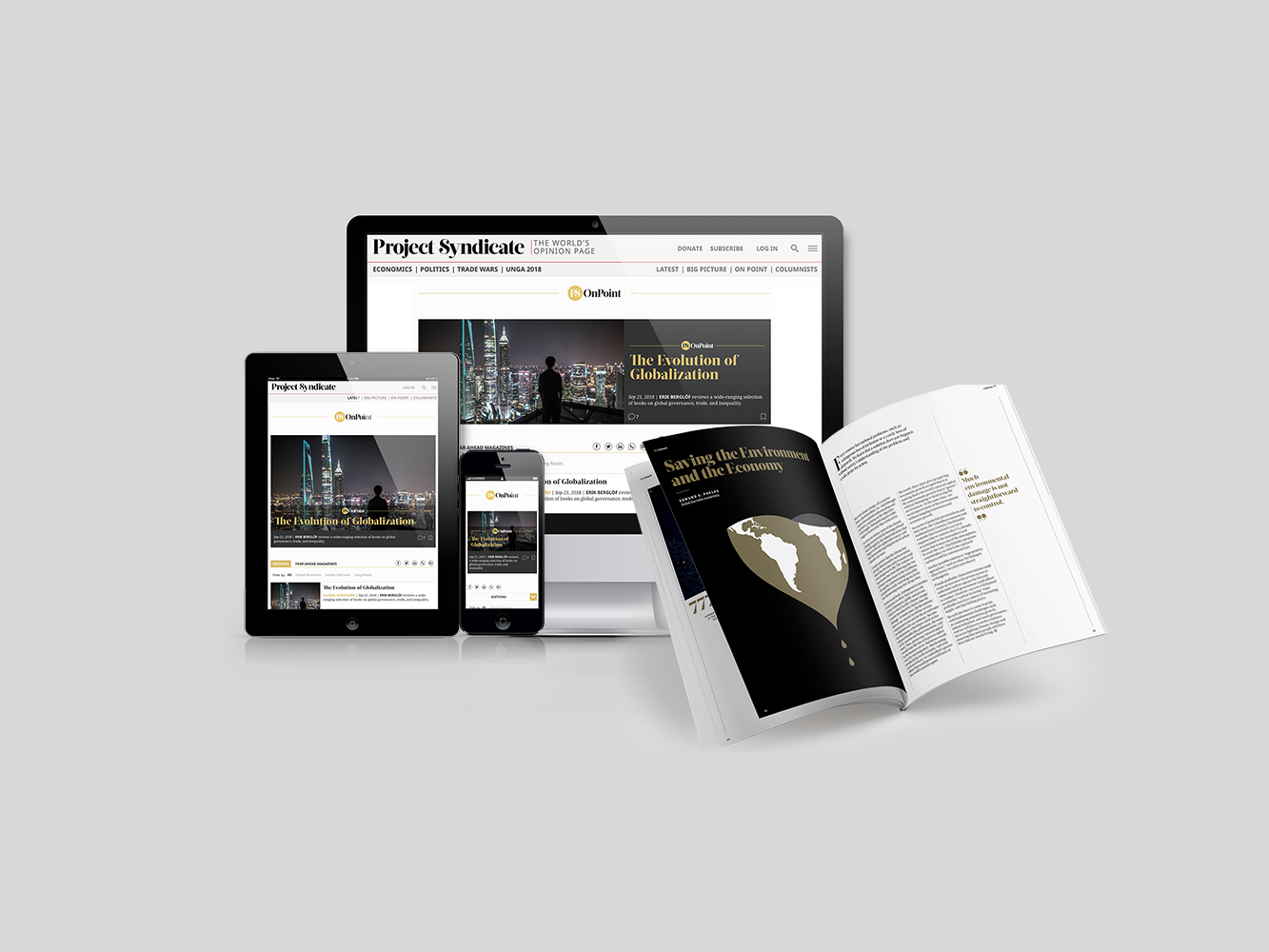 Subscribe now
Get unlimited access to OnPoint, the Big Picture, and the entire PS archive of more than 14,000 commentaries, plus our annual magazine, for less than $2 a week.
Auf mittlere Sicht werden so zwei wirtschaftlich, technologisch und machtpolitisch konkurrierende Wirtschaftsräume entstehen, eine neue Zweiteilung der Welt. Und die von diesen konkurrierenden Wirtschaftsräumen anhängigen kleineren Mächte werden über kurz oder lang von den jeweiligen Vormächten zur Entscheidung für eine der beiden Seiten gezwungen werden, so sie nicht stark genug sind, sich diesem Druck zu widersetzen. Diese Frage richtet sich vor allem an Europa, Indien und Japan.
Fortan wird Eindeutigkeit verlangt werden, und d. h., Exporte in einem Technologiekrieg werden unter einer ganz anderen Risikodrohung stehen.
Ein offener, einheitlicher Weltmarkt ist damit perdu und an seine Stelle droht ein neuer technologiebasierter Kalter Krieg zu treten, der durchaus auch in den Raum der Politik und internationalen Beziehungen übergreifen kann.
Denn wie wird China reagieren? Wird es seine schärfste Waffe, der größte Gläubiger der USA zu sein, zum Einsatz bringen? Dann würde dieser Technologiekrieg eine neue, noch gefährlichere Stufe erreichen.
Es wäre allerdings ein verhängnisvoller Irrtum zu meinen, diese Entwicklung wäre allein von Donald Trump und seinem Neonationalismus abhängig. Am Tag der Verkündung der Entscheidung von Google befand sich in der New York Times ein langer Kommentar von Thomas L. Friedman, dem bisherigen ideologischen Hohepriester der Globalisierung ("The World is flat") und einer der profiliertesten Sprecher des liberalen Amerikas, der Trumps chinakritische Position darin übernahm und nochmals die Vorwürfe der USA gegen die unfairen Praktiken Chinas zusammenfasste (Thomas L. Friedman – It took a human wrecking ball to get China's attention. NYT, 21. Mai 2019). In diesem Konflikt hat es China also nicht nur mit dem Amerika Donald Trumps zu tun, sondern auch mit dem linken liberalen Amerika.
Dieser Technologiekrieg zwischen den USA und China beinhaltet jedoch eine weitere Botschaft: Die USA werden China nicht kampflos die globale Führung überlassen, schon gar nicht technologisch. Gewiss, eine Entflechtung der bisherigen Handelsbeziehungen zwischen den USA und China wird nicht nur einseitig zu immensen Kosten und Verlusten führen, sondern auch die USA werden darunter zu leiden haben. Der Zentralkonflikt des 21. Jahrhunderts zwischen den beiden Giganten USA und China um die globale Vorherrschaft wird dadurch gefährlich politisch aufgeladen werden.
Unruhige Zeiten liegen vor uns, vor allem für Europa, da einerseits das europäische und vor allem deutsche Exportmodell grundsätzlich infrage gestellt wird und andererseits die EU noch sehr lange von der amerikanischen Sicherheitsgarantie und den Exporten in die USA abhängen wird, zugleich aber der chinesische Markt für sie immer wichtiger wird. In einer Entscheidungssituation kann Europa nur verlieren.
Darüber hinaus stellt ein zweigeteilter Weltmarkt das bisherige europäische Geschäfts- und Exportmodell grundsätzlich infrage. Internationale Wertschöpfungsketten werden es in Zukunft schwer haben, Unternehmen werden zunehmend technologiebasierten Exportbeschränkungen aus geopolitischen Machtkampfinteressen heraus unterworfen werden, und generell werden die politischen Risiken zunehmen. Technologiesouveränität wird an die Stelle von Handel und Austausch treten und die Heimatflagge auch sehr großer Unternehmen wird erneut an Bedeutung gewinnen. Für Europas exportorientierte Volkswirtschaften sind das keine berückenden Aussichten.
Andererseits wird der Wert der EU als Bündnispartner der USA in diesem Technologiekrieg steigen und die Risiken für Strafzölle auf europäische Exporte abnehmen. Die zunehmende europäische Abhängigkeit vom chinesischen Markt wird allerdings zu Pressionen durch beide Seiten führen. Das Gefährliche an dieser Entwicklung besteht nicht nur in der Wiederkehr von Protektionismus, Rivalität und der Einschränkung des freien Handels nebst des damit einhergehenden Wohlstandsverlustes, sondern auch in den zunehmenden Risiken einer politischen Konfrontation und wachsenden negativen nationalistischen Emotionen.
Die Erfahrung lehrt uns aber auch, dass sich die EU immer nur unter Druck entwickelt hat, da sie krisen- und nicht strategiegetrieben ist. Insofern liegt in der amerikanisch-chinesischen Konfrontation auch eine Chance für Europa.