Donald Trump está jugando a perder
BERKELY – Estados Unidos efectivamente tiene un tipo diferente de presidente de lo que está acostumbrado a tener. Lo que distingue a Donald Trump de sus antecesores no es sólo su temperamento y su ignorancia generalizada, sino también su estrategia en materia de formulación de políticas.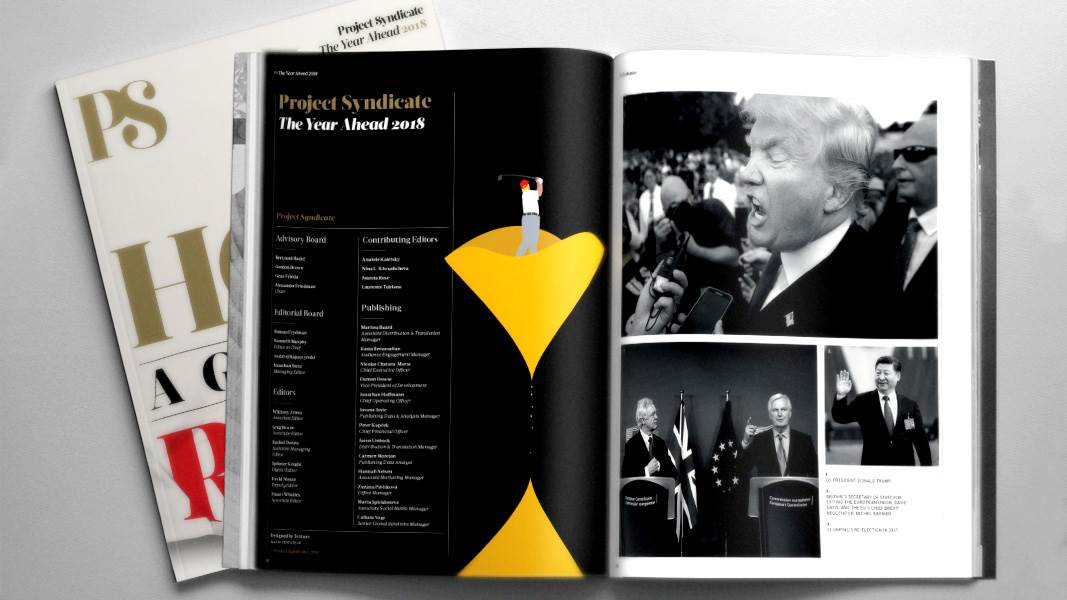 The Year Ahead 2018
The world's leading thinkers and policymakers examine what's come apart in the past year, and anticipate what will define the year ahead.
Primero, consideremos el caso de Bill Clinton, que en 1992, al igual que Trump, fue elegido sin una mayoría de los votos. Una vez en el cargo, Clinton apeló a la izquierda con sendos proyectos de ley de estímulo fiscal y de atención médica (ambos infructuosos), pero también viró hacia el centro con un proyecto de ley pro-crecimiento y de reducción del déficit. Apeló a la centroderecha al firmar el Tratado de Libre Comercio de América del Norte (TLCAN), que había sido concebido por sus antecesores republicanos; y al firmar un importante proyecto de ley penal. Y volvió a nombrar al incondicional conservador Alan Greenspan para presidir la Reserva Federal de Estados Unidos.
Clinton esperaba lograr tres cosas con esta estrategia de "triangulación": implementar políticas que efectivamente resolvieran los problemas del país; convencer a los votantes que no lo habían apoyado de que también estaba cuidando sus intereses, y mantener su propia base intacta.
En 2008, el ex presidente Barack Obama fue elegido con una mayoría popular. Pero, al igual que Clinton, moderó muchas de sus posturas una vez en el poder. Viró hacia el centro con planes tecnocráticos de rescate financiero y estímulo fiscal. Y forzó para que se aprobara un proyecto de ley de atención médica orientado al mercado y modelado según legislación que el republicano Mitt Romney había implementado cuando era gobernador de Massachusetts.
Obama también apeló directamente a la derecha con un intento (infructuoso) de un "gran acuerdo" para reducir déficits y gasto social. Su plan de derechos de emisión orientado al mercado para regular las emisiones de gases de tipo invernadero prácticamente no se distinguía del de su opositor republicano en la elección presidencial de 2008, el senador por Arizona John McCain. Y volvió a nombrar a Ben Bernanke, originalmente nombrado por el presidente republicano George W. Bush, para presidir la Fed.
Obama se esforzó por representar no a los Estados Unidos "rojos" o "azules", sino a los Estados Unidos "púrpura". Quiso implementar políticas cautelosas y tecnocráticas que, esperaba, contarían con el respaldo republicano. Y cuando sus propios seguidores pusieron objeciones, les recordó que la unidad nacional y el respeto mutuo, no el partidismo estrecho, finalmente inclinarían el arco moral del universo hacia la justicia.
Trump, por el contrario, ganó la presidencia perdiendo el voto popular por un amplio margen. Sin embargo, una vez en el cargo, rápidamente apeló a los nativistas blancos de derecha al emitir su prometida prohibición de viaje contra los musulmanes. Intentó destruir la Ley de Atención Médica Asequible de 2010 (Obamacare) sin tener un plan para reemplazarla. Nuevamente apeló a la derecha nativista al desestimar la brutalidad policial contra los afronorteamericanos, y al describir a los supremacistas blancos como "gente muy buena". Y terminó su primer año firmando una legislación que recorta los impuestos para los ricos, pero que no le sirve de mucho para ganarse otros votantes.
Esto no es política normal. Trump claramente no tiene ningún interés en unificar al país o implementar políticas que en verdad funcionen. No le ha dado a la mayoría de los norteamericanos que se oponen a él algún motivo para cambiar de opinión, tampoco aconsejó a su tropa sobre la necesidad de políticas duraderas en lugar de victorias legislativas evanescentes. Más importante, no hizo nada para ayudarse a sí mismo a ser reelegido.
Por supuesto, lo mismo hoy se aplica a muchos republicanos. Aquí en California el año pasado, fuimos testigos de un espectáculo remarcable en el que la delegación republicana del estado en la Cámara de Representantes de Estados Unidos ni siquiera se preocupó por defender un paquete impositivo que beneficiara a sus electores. Fue como si ya se hubieran resignado a no ir por la reelección, y no vieran la hora de marcharse del Congreso para tomar empleos mejor pagos como lobistas.
Según la administración Trump, su próxima prioridad legislativa es la infraestructura. Esto suena como una cuestión en la que Trump podría virar hacia la izquierda, al diseñar un plan con efectos distributivos igualitarios y cláusulas basadas en evidencia para fomentar el crecimiento económico.
Pero no deberíamos contar con ese desenlace. La administración Trump no parece tener ningún proceso coherente de diseño de políticas. No ha habido ninguna audiencia o libro blanco para evaluar los costos y beneficios de varias propuestas de infraestructura. Tampoco ha habido ninguna discusión con los legisladores para establecer un consenso aproximado sobre el cual basar la legislación. Como sucedió con la prohibición de viajar y el intento de derogar la ley Obamacare, no hubo ninguna deliberación pública de ningún tipo. Lo único que tenemos son los tuits del presidente.
Allá por 1776, Adam Smith sostuvo que, en un sistema basado en la "libertad natural", las tres tareas del gobierno son las de brindar defensa nacional, garantizar la seguridad pública y el cumplimiento de los derechos y contratos de propiedad y ofrecer infraestructura. Según Smith, el gobierno tiene la obligación de "erigir y mantener ciertas obras públicas y ciertas instituciones públicas, que nunca pueden erigirse ni mantenerse según el interés de un individuo, o de un pequeño grupo de individuos".
Para Smith, la razón por la que los gobiernos deben asumir la tarea de construir infraestructura era clara: "el beneficio nunca podría pagar el gasto a ningún individuo o pequeño grupo de individuos, aunque frecuentemente puede hacer mucho más que pagarlo para una gran sociedad". Hoy sabemos que se puede hacer que los bienes públicos sean rentables, pero sólo otorgando monopolios, lo que conlleva un costo elevado para la sociedad.
Desafortunadamente, los funcionarios de Trump no parecen haber recibido el memo de Smith sobre buen gobierno. La administración muy probablemente propondrá un programa de infraestructura basado en subsidios públicos para inversores privados, que luego seleccionarán proyectos de los cuales pueden sacar provecho cobrando precios monopólicos. El plan será bien recibido en Fox News, y posiblemente inclusive por analistas de The New York Times, que pueden acariciarse la barbilla y lamentar que los demócratas estén rechazando la mano abierta de Trump en materia de infraestructura.
Pero, a diferencia de Clinton y Obama, Trump habrá demostrado una vez más que no tiene intenciones de ser el presidente de la mayoría de los norteamericanos, mucho menos de todos. En lugar de usar la oportunidad que ofrece un debate sobre infraestructura para promover la causa de la unidad nacional, lo que hará es empujar a Estados Unidos un poco más hacia la cleptocracia.