Donald Trump joue pour perdre
BERKELEY – L'Amérique est aujourd'hui gouvernée par un président très différent des précédents. Ce qui distingue Donald Trump de ses prédécesseurs, ce n'est pas seulement son tempérament et son ignorance généralisée, mais également son approche de l'exercice de la politique.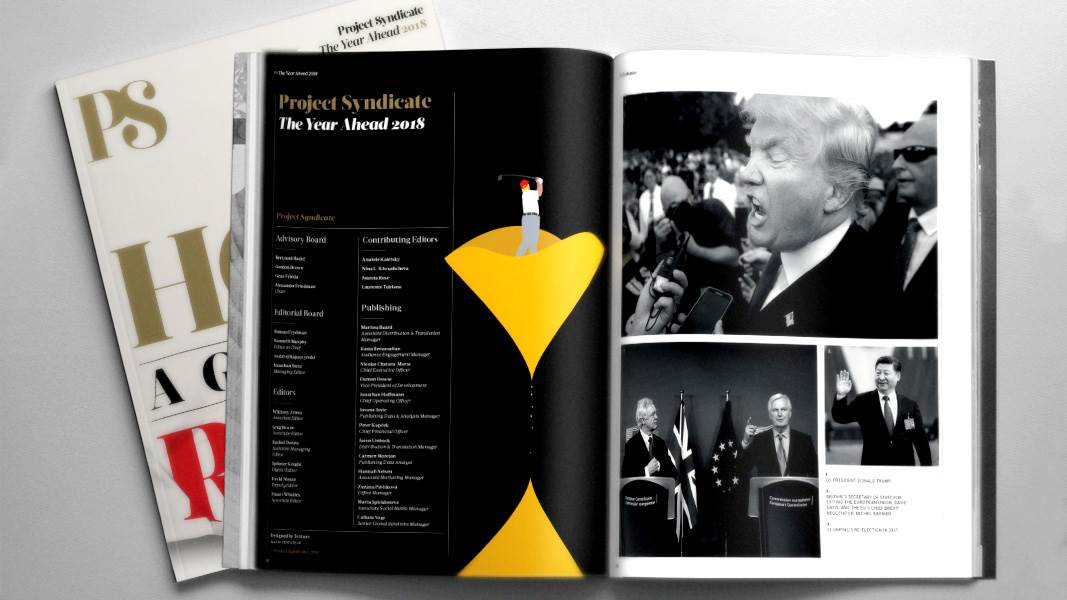 The Year Ahead 2018
The world's leading thinkers and policymakers examine what's come apart in the past year, and anticipate what will define the year ahead.
Songeons tout d'abord à Bill Clinton, qui comme Trump a été élu en 1992 sans avoir réuni une majorité d'électeurs. Une fois au pouvoir, Clinton a su plaire à la gauche en défendant des projets de loi de santé et de relance budgétaire (dans les deux cas sans succès), mais aussi au centre dans le cadre d'un projet de loi de réduction du déficit, pour dynamiser la croissance. Il a également contenté le centre-droit en concluant l'Accord de libre-échange nord-américain (ALÉNA), qui avait été élaboré sous le mandat de ses prédécesseurs républicains, ainsi qu'en adoptant une importante loi en matière criminelle. Clinton a par ailleurs renouvelé le mandat du pilier conservateur Alan Greenspan à la présidence de la Réserve fédérale américaine.
Via cette stratégie de « triangulation », Clinton entendait accomplir trois choses : mettre en œuvre des mesures politiques visant à répondre efficacement aux problèmes du pays, convaincre les électeurs qui n'avaient pas voté pour lui qu'il veillait bel et bien sur leurs intérêts, et conserver intacte son propre électorat.
En 2008, Barack Obama a été élu président avec une majorité populaire. Mais à l'instar de Clinton, il a tempéré un grand nombre de ses positions une fois au pouvoir. Il a séduit le centre via des projets technocratiques de sauvetage financier et de relance budgétaire. Il a également œuvré pour une loi de santé axée sur le marché, modélisée sur la base de la législation promulguée par Mitt Romney lorsque celui-ci occupait les fonctions de gouverneur républicain du Massachusetts.
Obama a également contenté directement la droite en essayant (sans succès) d'aboutir à un « grand compromis » de réduction des déficits et dépenses sociales. Son programme de marché fondé sur un principe de plafonnement et d'échange pour réguler les émissions de gaz à effet de serre était quasiment indiscernable de celui de son opposant républicain à l'élection présidentielle de 2008, le sénateur de l'Arizona John McCain. Obama a par ailleurs renouvelé Ben Bernanke dans ses fonctions, alors que celui-ci avait été initialement désigné à la tête de la Fed par le président républicain George W. Bush.
Obama n'entendait représenter ni l'Amérique « rouge », ni l'Amérique « bleue », mais l'Amérique « mauve ». Il a poursuivi des politiques prudentes et technocratiques dont il espérait qu'elles lui vaudraient le soutien des Républicains. Et lorsque ses propres partisans s'y opposaient, Obama leur rappelaient que l'unité nationale et le respect mutuel, plutôt que l'esprit de parti, permettraient en fin de compte à l'arc moral de l'univers de tendre vers la justice.
Par opposition, Trump a remporté la présidence en ayant perdu le vote populaire avec un large écart. Or, une fois aux fonctions, il s'est empressé de faire le bonheur des nationalistes blancs de droite en émettant comme promis une interdiction d'entrée contre les musulmans. Trump a entrepris d'anéantir l'Affordable Care Act de 2010 (Obamacare) sans pour autant prévoir aucun plan de remplacement. Puis il a de nouveau ravi la droite nationaliste en minimisant la gravité des brutalités policières contre les Afro-américains, ainsi qu'en décrivant les suprématistes blanc comme « des gens très bien ». Trump a achevé sa première année de mandat sur l'adoption d'une législation qui réduit l'imposition des plus fortunés, sans rien apporter d'autre qui puisse contenter le reste de la population.
Ce n'est pas une conduite normale de la politique. Trump ne démontre clairement aucun intérêt pour l'unification du pays, ou la mise en œuvre de mesures qui fonctionnent réellement. Il n'a donné à la majorité d'Américains qui s'oppose à lui aucune raison de changer d'avis sur sa présidence, ni expliqué à sa propre base électorale la primauté des politiques durables sur les victoires législatives éphémères. Plus révélateur encore, il n'a rien accompli qui puisse contribuer à sa réélection.
Bien entendu, ceci vaut également pour de nombreux Républicains. Ici en Californie, nous avons assisté l'an dernier à un spectacle stupéfiant, lors duquel les membres de la délégation républicaine à la Chambre des représentants américains n'ont même pas pris la peine de défendre un paquet budgétaire pourtant favorable à leurs électeurs. C'est comme s'ils avaient déjà renoncé à une réélection, et qu'il leur tardait de quitter le Congrès pour pouvoir occuper des postes de lobbyistes grassement rémunérés.
D'après l'administration Trump, la prochaine priorité législative réside dans les infrastructures. En théorie, il s'agit d'un domaine dans lequel Trump pourrait contenter la gauche, en élaborant un programme prévoyant des effets de répartition équitable, ainsi que des dispositions réfléchies de dynamisation de la croissance économique.
Mais il ne faut pas trop y compter. Ici encore, l'administration Trump ne semble suivre aucune feuille de route cohérente dans l'élaboration des politiques. Aucune commission préparatoire, aucun livre blanc préalable, les coûts et avantages des différentes propositions d'infrastructures demeurent inconnus. De même, aucune discussion n'a eu lieu avec le législateur qui puisse établir le moindre consensus sur lequel baser cette législation. Comme pour le travel ban et la tentative d'abrogation de l'Obamacare, aucune délibération publique n'a eu lieu. Tout ce dont nous disposons, ce sont les tweets du président.
En 1776, Adam Smith fait valoir que dans un système fondé sur la « liberté naturelle », les trois grandes missions du gouvernement consistent à assurer la défense nationale, la sécurité publique ainsi que le respect de la propriété et des contrats, sans oublier la construction d'infrastructures. D'après Smith, le gouvernement a pour devoir d'«[ériger et entretenir] certains travaux publics qu'il ne peut jamais être de l'intérêt d'un individu ou d'un petit groupe d'individus d'ériger et de maintenir ». 
Pour Adam Smith, la raison pour laquelle les gouvernements doivent assurer la construction d'infrastructures est tout à fait claire : « le profit ne peut jamais couvrir la dépense d'un individu ou d'un petit nombre d'individus, quoiqu'à l'égard d'une grande société ce profit fasse beaucoup plus que rembourser les dépenses. » Nous savons aujourd'hui que les biens publics peuvent en réalité s'avérer rentables, mais seulement via l'octroi de monopoles, qui représentent un lourd tribut pour la société.
Malheureusement, l'équipe de Trump ne semble pas avoir reçu le mémo de Smith sur la bonne gouvernance. Il faut en effet s'attendre à ce que cette administration propose un programme d'infrastructures basé sur des subventions publiques pour les investisseurs privés, lesquels sélectionneront ensuite les projets dont ils pourront tirer des bénéfices en facturant des prix monopolistiques. Ce programme sera sans doute salué par Fox News, voire par certains experts du New York Times, qui pourraient bien déplorer que les Démocrates rejettent la libre démarche de Trump en matière d'infrastructures.
Mais contrairement à Clinton et Obama, Trump prouvera de nouveau qu'il n'entend pas être le président d'une large majorité d'Américains, et certainement pas leur président à tous. Incapable d'exploiter l'opportunité d'un débat sur les infrastructures pour faire avancer la cause de l'unité nationale, il poussera un peu plus les États-Unis vers la kleptocratie.
Traduit de l'anglais par Martin Morel