Wat gebeurt als de eerstelijns gezondheidszorg universeel wordt?
,
BOSTON – Twee jaar na de dood van haar echtgenoot woont Valeria, een 67-jarige grootmoeder uit het Costaricaanse San José, alleen. Vorig jaar werd bij haar een hoge bloeddruk en diabetes vastgesteld, aandoeningen waarvoor – hoewel ze niet onmiddellijk levensbedreigend zijn – een goede gezondheidszorg vereist is. Maar dankzij de kwaliteit van de eerstelijns gezondheidszorg in Costa Rica is Valeria in staat geweest haar onafhankelijkheid en haar gezondheid te behouden, zelfs bij ontstentenis van een familie.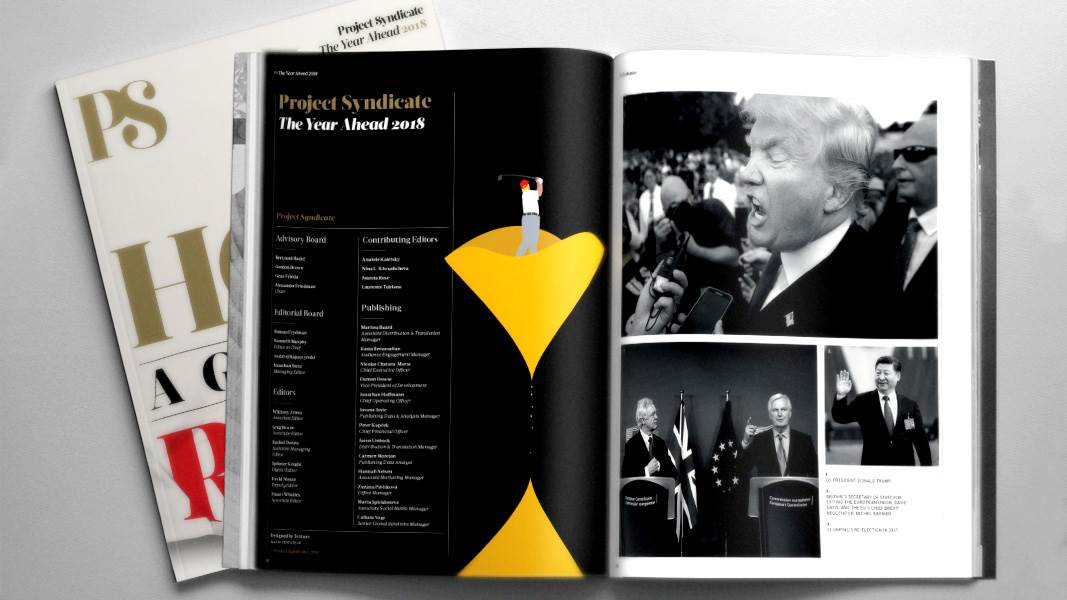 The Year Ahead 2018
The world's leading thinkers and policymakers examine what's come apart in the past year, and anticipate what will define the year ahead.
Costa Rica, een dat ernaar streeft zijn bevolking van universele gezondheidszorg te voorzien, kent betere gezondheidsresultaten, hoewel het minder dan de meeste andere landen van de wereld aan gezondheidszorg besteedt. In feite heeft Costa Rica de op twee na hoogste levensverwachting in de Amerika's verwezenlijkt – waarbij het slechts Canada en Bermuda voor zich hoeft te dulden, maar de Verenigde Staten achter zich heeft gelaten. Het geheim van dit succes wordt onthuld in ons nieuwe rapport, "Building a Thriving Primary Health-Care System: The Story of Costa Rica". ("Het opbouwen van een bloeiend systeem van eerstelijns gezondheidszorg. Het verhaal van Costa Rica.")
Nadat bij haar diabetes was vastgesteld, werd Valeria automatisch toegelaten tot het verzorgingsprogramma voor mensen met chronische diabetes bij de haar toegewezen kliniek, op tien minuten lopen van haar huis. Ze legt daar met haar eerstelijns-zorgteam iedere drie maanden een bezoekje af om haar bloeddruk te laten meten en om ervoor te zorgen dat haar diabetes onder controle is. Eéns per jaar bezoekt een gezondheidswerker van de gemeenschap haar huis om zeker te stellen dat het veilig is, haar injecties te geven en informatie met haar te delen over het behoud van een gezonde levensstijl.
Nu de mondiale gezondheidszorggemeenschap haar best doet de Duurzame Ontwikkelingsdoelstellingen (SDG's) van de Verenigde Naties te implementeren, inclusief SDG3 – die zich richt op het verwezenlijken van tegen 2030 – biedt Costa Rica een model dat de moeite van het nabootsen waard is. Over de hele wereld neemt het aantal gevallen van chronische ziekten toe en vergrijzen de bevolkingen, zodat universele toegang tot betaalbare zorg een topprioriteit is geworden. Helaas zullen veel patiënten het met een veel minder goede gezondheid moeten doen dan Valeria, eenvoudigweg omdat ze niet in staat zijn toegang te verkrijgen tot eerstelijnszorg van hoge kwaliteit.
Goed georganiseerde systemen voor de eerstelijnszorg – waarbij de nadruk ligt op preventieve en permanente zorg, met praktijkmensen als eerste contactpunten – kunnen de kwaliteit verhogen en de verbrokkeling van de dienstverlening tegengaan. Uit onderzoek blijkt dat gebieden met meer eerstelijnsartsen een lager sterftecijfer en betere gezondheidsresultaten kennen dan die met minder eerstelijnsartsen. Eerstelijnszorg is ook een belangrijke route naar het verwezenlijken van een uitgesproken doel van de internationale gemeenschap.
De afgelopen twintig jaar heeft het ministerie van Sociale Zekerheid van Costa Rica een systeem voor de eerstelijnszorg gebouwd dat vandaag de dag bijna iedereen in het land bereikt. De eerstelijnsposten zijn de eerste plek waartoe Costaricanen zich wenden als ze een gezondheidsprobleem hebben, omdat ze snelle, permanente en preventieve zorg bieden. Een soortgelijk systeem is ook in andere landen met succes opgezet, en stelt patiënten en hun families in staat langetermijnrelaties op te bouwen met de verstrekkers.
De aanpak van Costa Rica is van start gegaan met de hervormingen in de jaren negentig, toen het land een aantal eenvoudige veranderingen doorvoerde om zijn gezondheidszorg op te vijzelen. Een paar daarvan kunnen vandaag de dag door andere landen worden overgenomen.
Om te beginnen hebben functionarissen in San José diverse gezondheidszorginstanties tot één dienst laten fuseren, waarbij het nieuwe lichaam de bevoegdheid kreeg financiële besluiten te nemen en toe te zien op de levering van diensten – uiteenlopend van inentingen tot ingewikkelde operaties. Hoewel een dergelijke aanpak misschien niet voor ieder land werkt, kunnen veel landen hun voordeel doen met een meer geïntegreerde bureaucratische aanpak.
In de tweede plaats heeft Costa Rica het land in 104 dekkingsgebieden verdeeld, waarbij iedere burger een eerstelijnsteam kreeg toegewezen. Dit heeft aanbieders geholpen de gezondheidstrends nauwkeuriger in de gaten te houden, en proactief en kosteneffectief gezondheidszorgbeheer mogelijk gemaakt.
In de derde plaats hebben de autoriteiten multidisciplinaire gezondheidszorgteams opgezet, die in staat zijn preventieve zorg te bieden, zoals inentingen en educatie, in samenhang met acute en permanente medische zorg. Deze holistische aanpak maakt gebruik van de gezamenlijke expertise van artsen, verpleegsters, gezondheidswerkers uit de gemeenschap, apothekers en data-analisten.
Tenslotte heeft het ministerie van Volksgezondheid een systeem in het leven geroepen om op statistische wijze de kwaliteit van de geleverde zorg te meten. Deze gegevens worden momenteel gebruikt voor aanhoudende controles ter verbetering van de verstrekking van gezondheidszorg in real time.
Deze vier verbeteringen hebben een dramatisch effect op het systeem gehad. De toegang tot de eerstelijnszorg is enorm toegenomen, van 25% van de bevolking begin jaren negentig naar 93% in 2006. Vandaag de dag is ruim 94% van de bevolking toegewezen aan een specifiek eerstelijnsteam. De kwaliteit is ook gestegen en de kosten zijn, dankzij de efficiency-winst, een fractie van wat andere landen betalen.
Nu landen universele dekking van de gezondheidszorg nastreven, zullen ze behoefte hebben aan bewezen methoden om goedkopere zorg van betere kwaliteit bij de minderbedeelden te krijgen. Costa Rica biedt één succesvolle aanpak. Door de eerstelijnszorg in het centrum van het systeem te plaatsen, heeft het land de dekkingspercentages en -uitkomsten verbeterd, terwijl er tevens sprake is van een meer gepersonaliseerde behandeling.
Voor patiënten als Valeria heeft dit een systeem opgeleverd dat toegankelijk is en makkelijk in het gebruik, en voor permanente zorg garant staat. De Costaricaanse hervormingen hebben haar levenskwaliteit enorm verbeterd, en ongetwijfeld zijn er in iedere uithoek van de wereld veel andere patiënten zoals zij die kunnen profiteren van een soortgelijke aanpak.
Vertaling: Menno Grootveld