Co se stane, když je primární péče všeobecná?
,
BOSTON – Dva roky po smrti svého chotě žije sedmašedesátiletá Valeria z kostarického San José sama. Loni jí byly diagnostikovány vysoký krevní tlak a cukrovka, které ji sice bezprostředně neohrožují na životě, avšak život s nimi vyžaduje zdravotní péči. Díky kvalitě primární péče na Kostarice se naštěstí Valerii daří udržovat si nezávislost a zdraví i při absenci rodiny.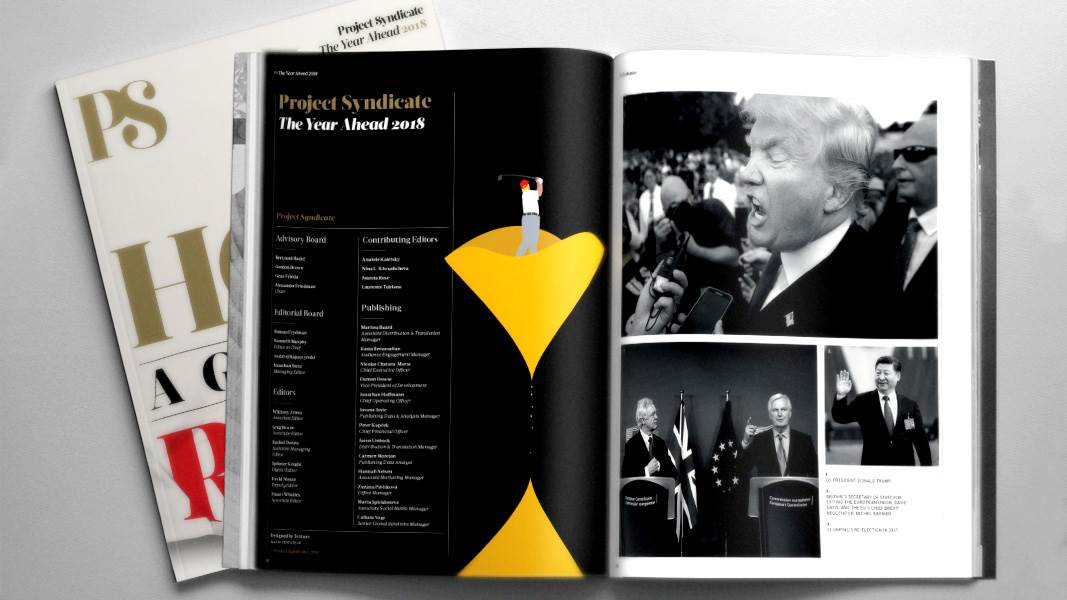 The Year Ahead 2018
The world's leading thinkers and policymakers examine what's come apart in the past year, and anticipate what will define the year ahead.
Kostarika – středněpříjmová země, která svým obyvatelům zajišťuje všeobecnou zdravotní péči, vykazuje v oblasti zdravotnictví lepší výsledky a utrácí méně než většina jiných států světa. Dokonce dosáhla třetí nejvyšší střední délky života na americkém kontinentu – za Kanadou a Bermudami a výrazně před Spojenými státy. Tajemství kostarického úspěchu odhaluje naše nová zpráva "Jak vybudovat prosperující systém primární zdravotní péče: Příběh Kostariky".
Jakmile Valerii diagnostikovali cukrovku, automaticky vstoupila do programu chronické diabetologické péče na spádové klinice, která se nachází deset minut chůze od jejího domu. Každé tři měsíce tam navštěvuje tým primární péče, který jí měří krevní tlak a dbá na to, aby byla její cukrovka pod kontrolou. A jednou ročně ji doma navštíví komunitní zdravotník, ubezpečí se, že je všechno v pořádku, podá jí vakcínu a sdělí jí informace o zdravém životním stylu.
V době, kdy globální zdravotnická komunita pracuje na implementaci cílů trvale udržitelného rozvoje OSN včetně SDG 3 – který si klade za cíl zajistit do roku 2030 kvalitu života pro všechny –, nabízí Kostarika model, jehož napodobení stojí za úvahu. Jelikož se počet chronických onemocnění na celém světě zvyšuje a populace stárnou, stává se všeobecný přístup k dostupné péči nejvyšší prioritou. Mnozí pacienti se bohužel setkávají s mnohem horšími zdravotnickými výstupy než Valeria – jednoduše proto, že nemají přístup ke kvalitním službám primární zdravotní péče.
Dobře organizované systémy primární péče – které kladou důraz na podpůrnou, preventivní a chronickou péči, kdy všeobecní lékaři fungují jako první kontaktní bod – zvyšují kvalitu a snižují fragmentaci služeb. Z výzkumů vyplývá, že oblasti s větším počtem lékařů primární péče vykazují nižší úmrtnost a lepší zdravotnické výsledky než oblasti s nižším počtem těchto lékařů. Primární zdravotní péče je rovněž klíčovou cestou k dosažení všeobecného zdravotního pojištění, což je vytčený cíl mezinárodního společenství.
Kostarické ministerstvo sociálních věcí vybudovalo v posledních 20 letech systém primární péče, který dnes podchycuje téměř každého člověka v zemi. Primární poskytovatelé jsou prvními, na něž se Kostaričané obracejí se zdravotními problémy, neboť všeobecní lékaři nabízejí akutní, chronické i preventivní služby. Podobný systém byl úspěšně použit i v dalších zemích, jako je Nový Zéland, a umožňuje pacientům a jejich rodinám vybudovat si s všeobecnými lékaři dlouhodobý vztah.
Kostarický přístup začal reformami v 90. letech, kdy se země odhodlala k několika jednoduchým změnám s cílem zvýšit kvalitu svých zdravotnických služeb. Některé z nich by mohly ostatní státy napodobit i dnes.
Za prvé státní činitelé v San José sloučili řadu zdravotnických úřadů do jediného a vybavili ho pravomocemi v oblasti rozhodování o financích a zajišťování služeb – od vakcinací po složité operace. Konsolidovaný přístup by možná v každé zemi nefungoval, ale z integrovanějšího úředního přístupu by řada z nich těžit mohla.
Za druhé rozdělila Kostarika zemi na 104 oblastí a každému občanovi přidělila tým primární péče. To pomohlo poskytovatelům péče přesněji sledovat vývoj ve zdravotnictví a umožnilo to jeho proaktivní a nákladově efektivní řízení.
Za třetí vytvořily úřady víceoborové týmy primární péče, schopné zajišťovat preventivní služby, jako jsou vakcinace a osvěta, spolu s akutní a chronickou zdravotní podporou. Tento celostní přístup čerpá z kombinovaných poznatků lékařů, zdravotních sester, komunitních zdravotníků, farmaceutů a úředníků vyhodnocujících data.
A konečně vytvořilo ministerstvo zdravotnictví systém, který statisticky měří kvalitu poskytované péče. Data se v současné době používají k průběžnému monitoringu za účelem zkvalitňování zdravotní péče v reálném čase.
Tato čtyři zlepšení měla na systém dramatický dopad. Přístup k primární péči se výrazně zvýšil z 25% obyvatel na počátku 90. let na 93% v roce 2006. Dnes má více než 94% populace přidělen konkrétní tým primární zdravotní péče. Zvýšila se také kvalita, přičemž díky přírůstkům efektivity představují náklady jen zlomek toho, co platí jiné země.
Země usilující o všeobecné pokrytí obyvatel zdravotní péčí budou potřebovat odzkoušené metody, jak zajistit kvalitnější a dostupnější péči těm, jimž se jí nedostává. Kostarika nabízí jeden úspěšný přístup. Umístěním primární péče do těžiště systému zlepšila tato země poměr obyvatel krytých zdravotní péčí i její výsledky a současně zajistila personalizovanější léčbu.
Pro pacienty jako Valeria to znamená systém, který je dostupný, snadno použitelný a zajišťující průběžnou péči. Kostarické reformy nesmírně zvýšily kvalitu jejího života a ve všech koutech světa bezpochyby žije mnoho jiných pacientů jako ona, jimž by obdobný přístup mohl prospět.
Z angličtiny přeložil Jiří Kobělka.