Die Marktkonzentration bedroht die US-Wirtschaft
NEW YORK – Die hochentwickelten Volkswirtschaften leiden unter einer Anzahl tiefgreifender Probleme. In den USA insbesondere ist die Ungleichheit auf dem höchsten Stand seit 1928, und das BIP-Wachstum bleibt verglichen mit den Jahrzehnten nach dem Zweiten Weltkrieg beklagenswert niedrig.
Statt des versprochenen jährlichen Wachstums von "vier, fünf oder sogar sechs Prozent" haben US-Präsident Donald Trump und seine Republikanischen Wegbereiter im Kongress nur beispiellose Defizite hervorgebracht. Laut jüngsten Prognosen des Congressional Budget Office wird das Haushaltsdefizit des Bundes in diesem Jahr 900 Milliarden Dollar erreichen und in jedem Jahr nach 2021 die Billionengrenze übersteigen. Dabei ist der durch die jüngste Defiziterhöhung ausgelöste Zuckerrausch bereits am Schwinden; der Internationale Währungsfonds prognostiziert ein US-Wachstum von 2,5% für 2019 und von 1,8% in 2020, nach 2,9% in 2018.
Viele Faktoren tragen zum Problem niedrigen Wachstums bei hoher Ungleichheit der US-Volkswirtschaft bei. Die schlecht konzipierte "Steuerreform" von Trump und den Republikanern hat die bestehenden Mängel des Steuergesetzbuches verschärft und einen noch größeren Teil des Einkommens in Richtung der Spitzenverdiener gelenkt. Zugleich wird die Globalisierung weiterhin schlecht gesteuert, und die Finanzmärkte sind nach wie vor darauf ausgerichtet, Gewinne abzuschöpfen (im Sprachgebrauch der Ökonomen wird dies als "Rentenstreben" bezeichnet), statt nützliche Dienstleistungen zu erbringen.
Doch ein noch tiefer greifendes und grundlegenderes Problem ist die zunehmende Konzentration der Marktmacht, die es den dominanten Unternehmen erlaubt, ihre Kunden auszunutzen und ihre Mitarbeiter, deren Verhandlungsmacht und rechtliche Absicherung laufend geschwächt werden, auszupressen. Unternehmensführer und Führungskräfte lassen sich auf Kosten von Arbeitnehmern und Investitionen immer höher bezahlen.
So haben die Führungskräfte der US-Konzerne dafür gesorgt, dass die enorme Mehrheit der Ersparnisse aus der Steuersenkung in Dividenden und Aktienrückkäufe floss. Diese übertrafen 2018 den Rekordwert von 1,1 Billionen Dollar. Die Rückkäufe trieben die Aktienkurse und das KGV in die Höhe, auf denen die Vergütung vieler Führungskräfte beruht. Zugleich blieben die jährlichen Investitionen mit 13,7% vom BIP niedrig, und viele Betriebsrenten sind unterfinanziert.
Belege für die steigende Marktmacht sind nahezu überall zu erkennen. Hohe Aufpreise tragen zu hohenUnternehmensgewinnen bei. In immer mehr Branchen – von kleinen Dingen wie Katzenfutter bis zu großen wie Telekommunikationsanbietern, Kabelanbietern, Fluglinien und Technologieplattformen – dominieren inzwischen einige wenige Firmen 75-90% des Marktes (wenn nicht noch mehr), und auf Ebene der lokalen Märkte ist das Problem sogar noch ausgeprägter.
Subscribe now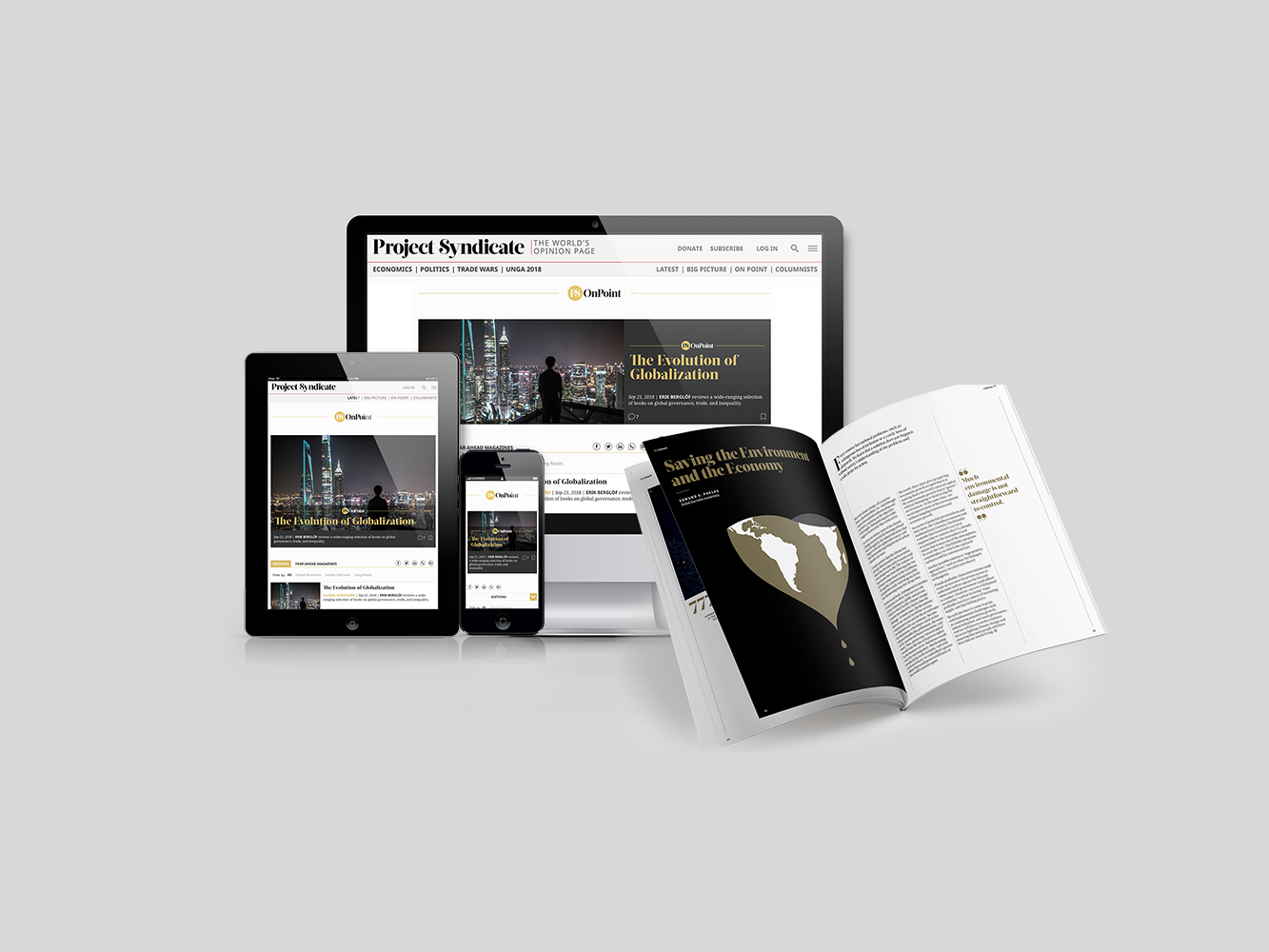 Subscribe now
Get unlimited access to OnPoint, the Big Picture, and the entire PS archive of more than 14,000 commentaries, plus our annual magazine, for less than $2 a week.
Zusammen mit der Marktmacht der Konzernriesen hat sich auch deren Fähigkeit zur Beeinflussung der geldgetriebenen Politik Amerikas erhöht. Und angesichts der Tatsache, dass das System zunehmend zugunsten der Unternehmen manipuliert ist, wird es für Normalbürger immer schwieriger, bei schlechter Behandlung oder Missbrauch eine Wiedergutmachung zu erhalten. Ein perfektes Beispiel ist die Verbreitung von Schlichtungsklauseln in Arbeits- und Nutzerverträgen, die es Unternehmen erlaubt, Rechtsstreitigkeiten mit Mitarbeitern und Kunden durch einen ihnen geneigten Schlichter statt vor Gericht beizulegen.
Mehrere Faktoren treiben die Zunahme der Marktmacht voran. Einer ist das Wachstum von Sektoren mit großen Netzwerkeffekten, wo ein einziges Unternehmen – wie Google oder Facebook – problemlos dominieren kann. Ein weiterer ist die inzwischen unter Unternehmensführern vorherrschende Einstellung, dass Marktmacht der einzige Weg zur Absicherung dauerhafter Gewinne ist. Der Wagniskapitalgeber Peter Thiel hat es so formuliert: "Wettbewerb ist für Verlierer."
Einige amerikanische Unternehmenslenker haben viel Einfallsreichtum bei der Schaffung von Markteintrittshürden gezeigt, die jeden echten Wettbewerb verhindern. Unterstützt werden sie dabei durch eine lasche Durchsetzung der bestehenden Kartellgesetze und das Versäumnis, diese Gesetze an die Bedingungen des 21. Jahrhunderts anzupassen. Infolgedessen nimmt der Anteil neuer Unternehmen in den USA ab.
Nichts davon lässt für die US-Wirtschaft Gutes erwarten. Steigende Ungleichheit bedeutet eine fallende Gesamtnachfrage, weil diejenigen an der Spitze der Vermögensverteilung tendenziell einen kleineren Anteil ihrer Einkommen verkonsumieren als jene mit eher bescheidenen Mitteln.
Zudem schwächt eine angebotsseitige Marktmacht die Anreize zum Investieren und zur Innovation. Die Unternehmen wissen, dass sie, wenn sie mehr produzieren, ihre Preise senken müssen. Darum bleiben die Investitionen trotz der Rekordgewinne und billionenschweren Barreserven der US-Konzerne niedrig. Und außerdem: Warum soll man sich die Mühe machen, etwas von Wert zu produzieren, wenn man seine politische Macht nutzen kann, um durch Ausbeutung des Marktes höhere Rentenerträge zu erzielen? Politische Investitionen zum Erhalt von Steuersenkungen bringen viel höhere Renditen als echte Investitionen in Maschinen und Anlagen.
Was die Sache noch schlimmer macht: Die niedrige Steuerquote in den USA – die schon vor Trumps Steuersenkungen bei bloßen 27,1% lag – hat zur Folge, dass das Geld für Investitionen in die Infrastruktur, die Bildung, die Krankenversorgung und die Grundlagenforschung fehlt, die erforderlich sind, um künftiges Wachstum sicherzustellen. Dies sind angebotsorientierte Maßnahmen, die tatsächlich einen "Trickle-down-Effekt" für alle bewirken.
Die politischen Strategien zur Bekämpfung wirtschaftlich schädlicher Machtungleichgewichte sind ganz einfach. Während des vergangenen halben Jahrhunderts haben Ökonomen der Chicagoer Schule, ausgehend von der Annahme, dass die Märkte im Allgemeinen durch Wettbewerb geprägt sind, den Fokus der Wettbewerbspolitik allein auf die wirtschaftliche Effizienz verengt, statt auch breiter angelegte Sorgen über Macht und Ungleichheit zu berücksichtigen. Die Ironie dabei ist, dass sich diese Annahme in politischen Kreisen just zu einem Zeitpunkt durchsetzte, als die Ökonomen begannen, deren Fehler aufzuzeigen. Die Entwicklung der Spieltheorie und neuer Modelle unvollkommener und asymmetrischer Informationen hat die profunden Beschränkungen des Wettbewerbsmodells aufgezeigt.
Der Gesetzgeber muss diesbezüglich aufholen. Wettbewerbsfeindliche Praktiken gehören schlicht verboten. Und darüber hinaus bedarf es einer Vielzahl weiterer Veränderungen, um die US-Kartellgesetzgebung zu modernisieren. Die Amerikaner müssen beim Kampf um mehr Wettbewerb dasselbe Maß an Entschlossenheit an den Tag legen, das ihre Konzerne beim Kampf dagegen zeigen.
Die Herausforderung ist wie immer politischer Art. Doch ist es angesichts der von den US-Konzernen angehäuften enormen Macht zweifelhaft, ob das politische System Amerikas der Reformaufgabe gewachsen ist. Bedenkt man dann noch die Globalisierung der Konzernmacht und die Deregulierungsorgie und den Amigo-Kapitalismus unter Trump, so wird klar, dass Europa in dieser Frage die Vorreiterrolle übernehmen muss.
Aus dem Englischen von Jan Doolan