Danças com o limite para o endividamento
BERKELEY – Em 2011, quando ainda era vice-presidente da Reserva Federal dos EUA, Janet Yellen tranquilizou os seus colegas, afirmando que o drama sobre o limite para o endividamento do governo federal "normalmente, não passa de teatro". Poderíamos acrescentar: um teatro do absurdo. Uma década depois, o debate sobre o limite para o endividamento faz antever uma tragédia que será lembrada durante muito tempo.
Para compreendermos o carácter absurdo do limite para o endividamento, recordemos as suas origens. O decreto que o criou foi adoptado em Setembro de 1917, conjuntamente com uma lei que autorizava a emissão de obrigações para ajudar a financiar a entrada dos EUA na I Guerra Mundial. Foi concebido para garantir, a quem se opunha ao envolvimento dos EUA na guerra, que existiam limites para até onde o país poderia ir.
A Constituição dera poderes ao Congresso para fazer a microgestão do endividamento contraído pelo Tesouro, um processo pouco prático em tempo de guerra. Por isso, os legisladores delegaram este poder no presidente. Mas para apaziguar aqueles que se opunham a qualquer expansão dos poderes executivos, bem como os germano-americanos que se opunham à guerra contra a Alemanha e os irlandeses-americanos que se opunham à aliança com o Reino Unido, depois da forma violenta como esse país reprimiu a Revolta da Páscoa, em 1916, que visava uma Irlanda independente, o Congresso definiu um limite para esse endividamento.
Estes quase-esquecidos agravos de há mais de um século criaram o dilema que os Estados Unidos enfrentam hoje. O termo "absurdo" é perfeitamente aplicável.
Até agora, o Congresso tem sempre conseguido evitar o pior. Mesmo em 2013, um ano de rancor partidário, os Democratas e os Republicanos concordaram em suspender os limites para o endividamento uma semana antes de o Tesouro, já incapaz de emprestar, ter ficado sem reservas de caixa. Mas este ano poderá ser diferente.
De forma mais óbvia, a polarização política é ainda maior do que era em 2013. As normas do comportamento político (nomeadamente, a ideia de que os dois partidos devem colaborar para evitar um desastre previsível) desapareceram, desde o ataque de 6 de Janeiro ao Capitólio dos EUA pelos apoiantes do presidente da altura, Donald Trump. Num mundo pós-factual, os membros Republicanos do Congresso, mesmo sendo os verdadeiros agentes da calamidade, podem ser bem-sucedidos na culpabilização (pelo menos, aos olhos das bases Republicanas) dos legisladores Democratas e da sua propensão para gastar.
Subscribe to Project Syndicate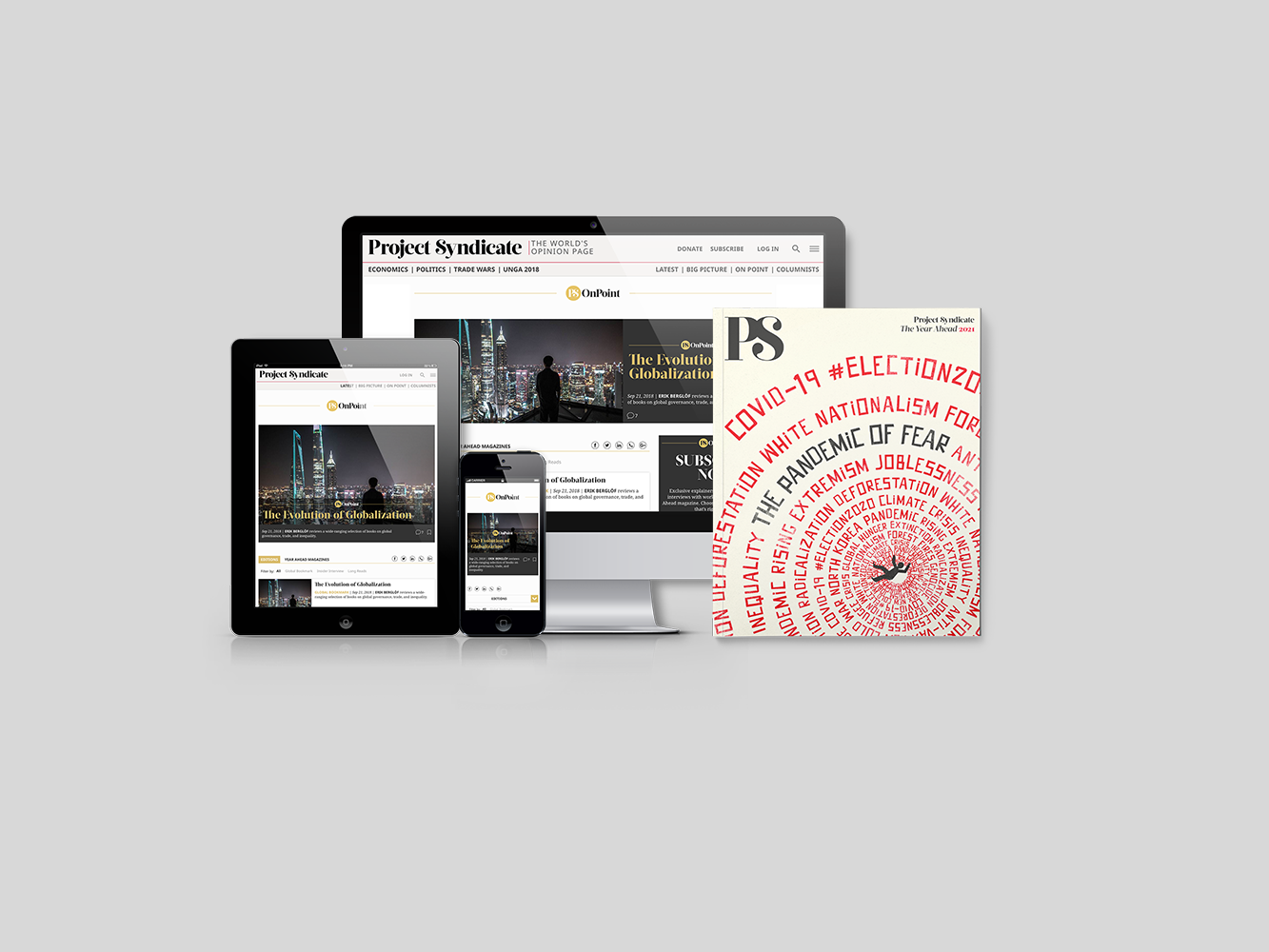 Subscribe to Project Syndicate
Enjoy unlimited access to the ideas and opinions of the world's leading thinkers, including weekly long reads, book reviews, topical collections, and interviews; The Year Ahead annual print magazine; the complete PS archive; and more – for less than $9 a month.
A consequência imediata da incapacidade de aumentar ou suspender o limite para o endividamento seria uma despromoção da notação de crédito do governo. Se a dívida do Tesouro dos EUA perdesse a sua notação de qualidade de investimento, os mandatos dos investidores institucionais proibi-los-iam de a deter, e os investidores estrangeiros, incluindo bancos centrais, pensariam duas vezes. Os custos do crédito nos EUA subiriam.
Alguns estudos concluem que o estatuto de porto seguro do dólar poupa ao Tesouro mais de 700 mil milhões de dólares em pagamentos de juros durante uma década – ironicamente, o suficiente para financiar quase três quartos do pacote bipartidário de infra-estruturas. Já começam a aparecer evidências de que este bónus está a perder-se.
A incerteza, como a crise da COVID-19 nos relembrou, é aquilo que os investidores mais temem, e a incerteza dispararia com uma suspensão do pagamento de juros de duração desconhecida. Os mercados bolsistas reagiriam negativamente. Além disso, como os títulos do Tesouro são usados como garantia numa grande gama de transacções financeiras privadas, os mercados do financiamento de curto prazo seriam prejudicados se o Tesouro fosse forçado a suspender os pagamentos de juros. Os levantamentos obrigariam os fundos mútuos do mercado monetário a envolver-se em vendas repentinas de títulos do Tesouro e, plausivelmente, a suspender resgates.
As estimativas das consequências económicas vão das profundamente lesivas às catastróficas. Uma previsão representativa sugere que o PIB diminuiria 4% e que o desemprego subiria para os 9%.
Evidentemente, a Fed interviria, como faz durante todas as crises. Activaria medidas de emergência já debatidas durante a preparação de anteriores crises com o limite para o endividamento. Adquiriria títulos do Tesouro vencidos e aceitá-los-ia como garantia para as suas próprias operações de crédito, mesmo a preços de mercado mais reduzidos. Mas isto fragilizaria em muito a posição da Fed. Esta ver-se-ia no meio de um conflito político. Os Democratas criticá-la-iam por poupar os Republicanos às consequências da sua inacção. Os Republicanos acusariam a Fed de cumplicidade com a agenda "socialista" dos Democratas.
Analistas mais astutos sugerem que tudo isto poderia ser evitado se o Tesouro desse prioridade aos pagamentos de juros. Poderia continuar a pagá-los integralmente à medida que as receitas fiscais fossem sendo cobradas, ao mesmo tempo que reduziria outras despesas em 40%. Mas isto envolve problemas técnicos enormes (pense-se na reprogramação dos computadores do governo). E se alguém acredita que o Congresso estaria preparado para cortar benefícios sociais e salários de militares para pagar a detentores de obrigações, essa pessoa vive num país de fantasia política.
Ainda resta alguma esperança. O parlamentarista Senado poderia autorizar a associação do aumento do limite de endividamento a uma lei reconciliatória aprovada pelas linhas do partido. Os Democratas poderiam engolir um sapo e aprová-lo com essas condições, tomando a atitude correcta independentemente das consequências eleitorais.
Ou os redutos Republicanos poderiam reconsiderar, dada a gravidade das suas acções. Lembre-se a forma como, no meio da crise financeira global de 2008, o então Secretário do Tesouro dos EUA, Henry Paulson, se ajoelhou para implorar o apoio da liderança depois de o Congresso ter rejeitado o seu resgate financeiro de 700 mil milhões de dólares. Foi bem-sucedido, e a Câmara aprovou a medida da segunda vez que foi apresentada, com votos dos Democratas e dos Republicanos. Mas não tenhamos grandes expectativas. Nessa altura, o líder recalcitrante do Congresso era a Democrata Nancy Pelosi. Hoje, é o líder da minoria Republicana no Senado, Mitch McConnell.